6 kitchen flooring design tips to make your room look bigger
Experts advise how your kitchen flooring can combine practicality and style to enhance the illusion of spaciousness and openness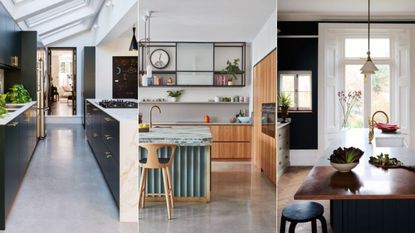 (Image credit: HUX London / The Vawdrey House / deVOL)
Sign up to the Homes & Gardens newsletter
Decor Ideas. Project Inspiration. Expert Advice. Delivered to your inbox.
Thank you for signing up to Homes & Gardens. You will receive a verification email shortly.
There was a problem. Please refresh the page and try again.
Kitchens can be one of the busiest rooms in a house, which is why it's important to have a kitchen that feels as spacious as possible. A carefully selected kitchen floor can be transformative in making this area appear bigger than it is.
From color, finish, size and pattern, there are plenty of different types of kitchen flooring ideas which will create the illusion of more room, whether you have a small kitchen or just want to enhance your already spacious kitchen.
Our experts advise how to choose the best kitchen flooring to make your space seem larger.
How can kitchen flooring create the appearance of spaciousness?
Kitchen flooring, as one of the driving design features of the room, can be utilized to enhance the light and brightness of your kitchen. In addition, flooring features such as shapes and patterns can make the room seem wider or longer, making the room feel more open. It's simply a matter of finding the flooring that works best for your kitchen and personal style.
1. Use light colors
One of the main ways to make your kitchen appear roomier is to enhance the natural light by choosing bright and reflective colors.
'When selecting flooring for a small kitchen, light and bright colors are often the best choices for creating the illusion of a larger space. A light wood tone, light grey, or white floor will reflect light and make the room feel more open', advises Rosie Elliot, Owner of Kitchen Appliance Answer. Other neutral colors such as beige, ivory, creams and pastels can also open up the space.
'Dark floors tend to have the opposite effect, making a small kitchen feel closed in and cramped', continues Rosie Elliot. While dark colors can be an elegant flooring choice, they will make a kitchen feel smaller, since darker colors have a tendency to pull the eye downwards.
Rosie is a professional chef with experience in Western, Mediterranean, and Italian cuisine who has been cooking professionally for over 15 years.
2. Create continuity
Another way to enhance the illusion of a more expansive kitchen space is by using the same flooring in your kitchen and adjoining rooms to create a flow. This can mean using the same kitchen tiles or light-coloured hardwood flooring in the hall or dining room, making your kitchen and the other rooms feel more sizable.
You can also create homogenous look in your kitchen by pairing your flooring with walls and cabinets of similar shades, expanding the perceived spaciousness.
Artem Kropovinsky, interior designer and founder of Arsight suggests, 'Sticking to a monochromatic color scheme can be beneficial. It reduces visual fragmentation, which can make the room feel constricted. A cohesive color palette, where the flooring and walls are close in shade, can make all the difference.'
'Using the same color or similar shades on both the walls and the floor creates a seamless look, allowing your eyes to travel smoothly through the space. This gives an illusion of a more expansive area', agrees Mohammad Ahmed, interior designer and founder of The Home Guidance.
Ultimately, you should aim to strike a harmonious balance between the colors of your flooring and other parts of your kitchen in order to maximise the perception of space while in keeping with your personal aesthetic and style.
Mohammad Ahmed is a graduate of the University of Minnesota with a degree in Interior Design. He has worked as an interior designer for one of the world's most renowned companies, where he helped design homes all around the globe.
Based in New York, Artem Kropovinsky, founder of Arsight, has a decade of extensive and considerable global design experience. Prioritizing minimalism, sustainability, and authenticity, Artem, alongside his team of professionals, works on projects in the US and worldwide.
3. Flooring size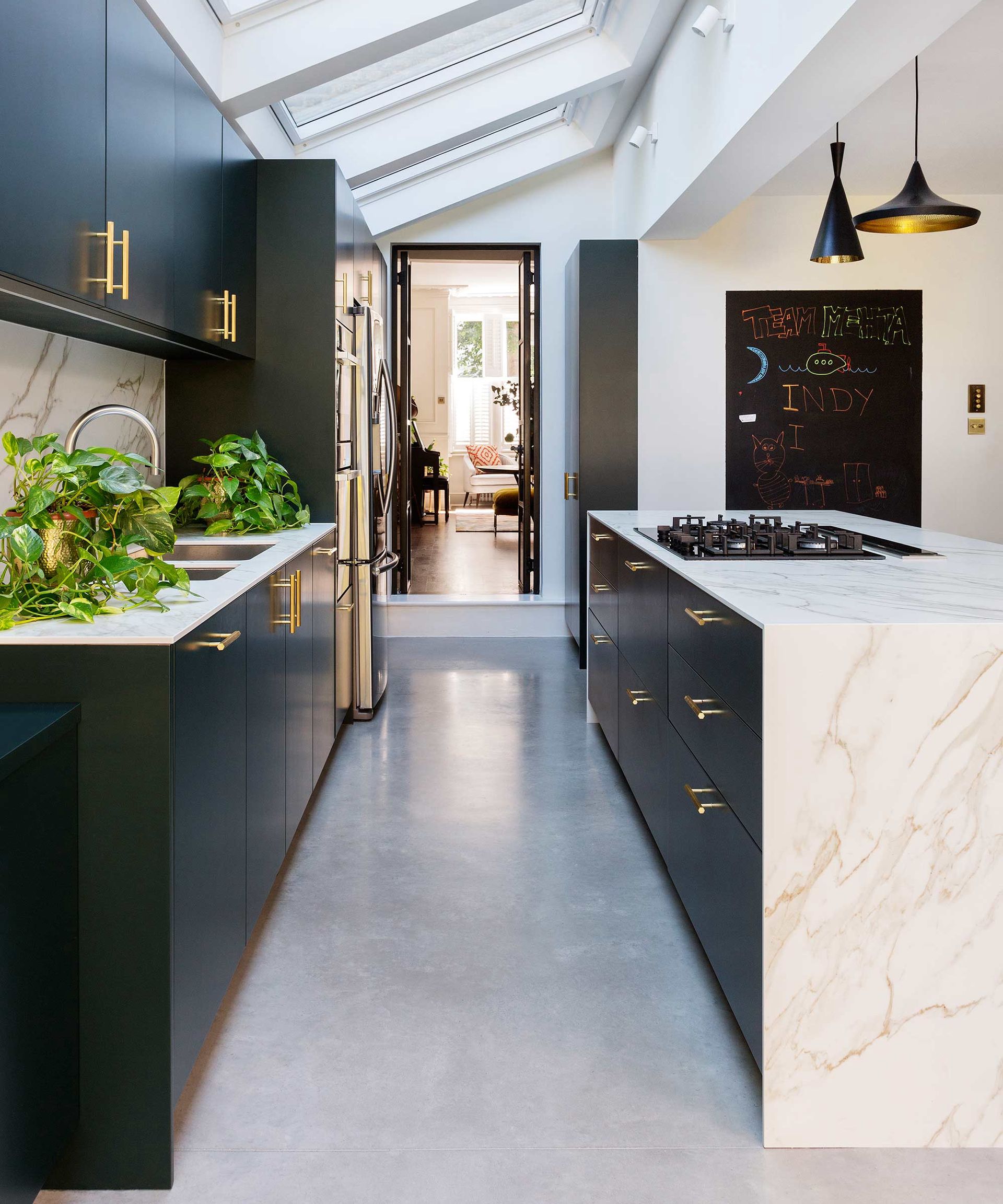 'In the world of tiles or wooden planks, size does matter', advises lead designer at Hearth and Petals, Bob Thomas. 'Larger tiles/planks mean fewer grout lines or seams, leading to a more unified look and a feeling of spaciousness.'
Moreover, thin grout lines can create the illusion of a continuous surface which will make a kitchen look more substantial.
Bob Thomas is a seasoned painter and decorator with over 10 years of
experience in transforming residential spaces. With a keen eye for
detail and a passion for blending functionality with style, Bob Thomas
has successfully designed and overseen the execution of numerous
projects. As the lead designer at hearthandpetals.com, Bob's approach is
rooted in the philosophy that interiors should reflect the personalities
of their inhabitants while also maximizing space and utility.
4. Patterns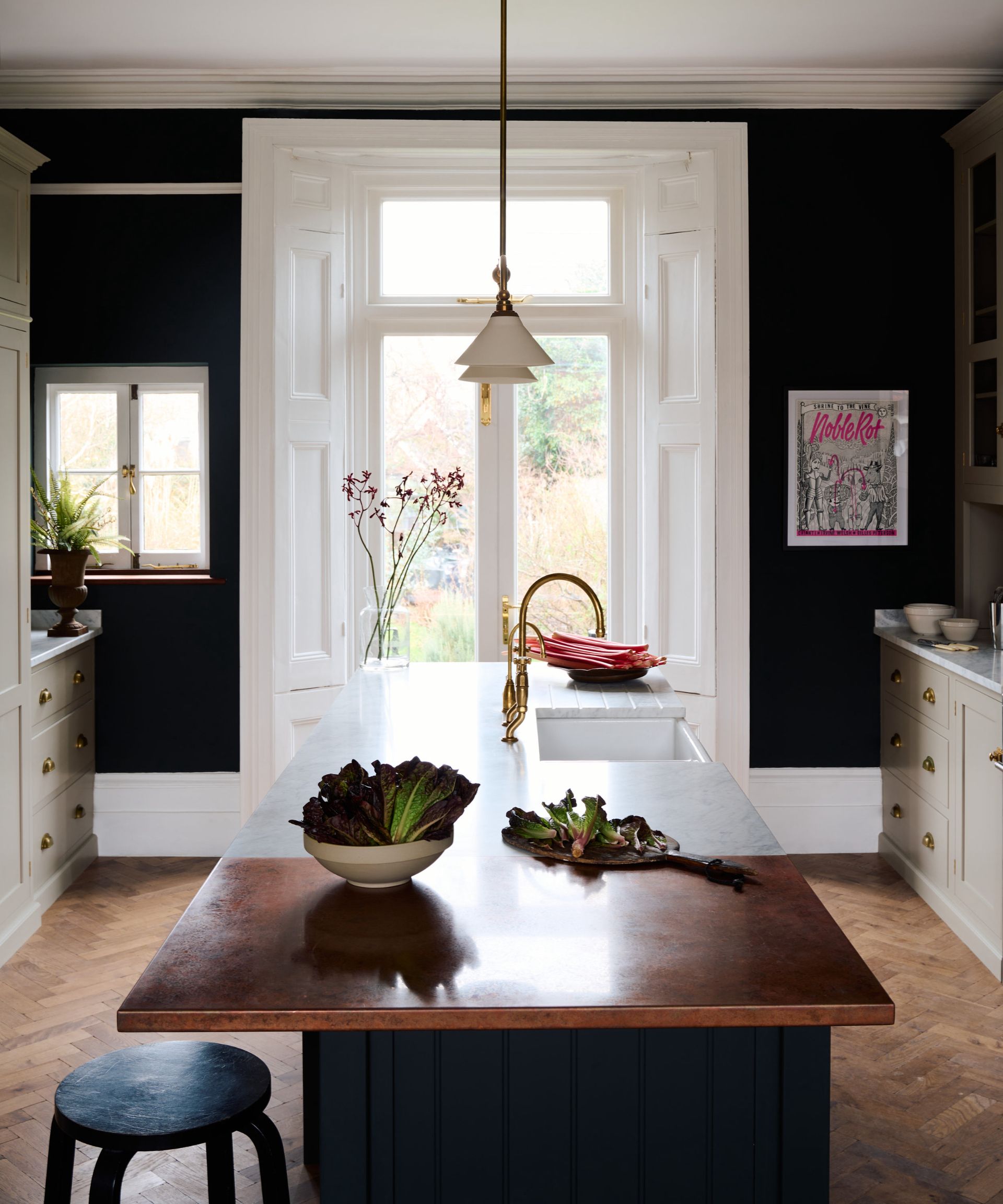 Subtle patterns can be used to make a kitchen look bigger by adding dimension to the space without overwhelming it.
Avoid patterns that are too busy or dark. We recommend using a light-coloured patterned tile with a small repeating pattern or a wood flooring with a grain pattern such as oak or pale birch.
How your flooring is laid can also create a pattern effect to expand the appearance of your kitchen. Directional flooring can draw the eye outwards, creating the impression of a longer and wider space. Bob Thomas advises, 'For narrow kitchens, laying planks or tiles diagonally or perpendicular to the longest wall can stretch the appearance of the floor. In broader kitchens, parallel alignment might work best.'
'No matter the kitchen size, sticking to a minimal, streamlined style will also enhance the perception of space. Limit patterns and keep flooring uncomplicated. The cleaner the look, the bigger the kitchen will seem. So consider a wood tone with little variation or solid grey floors for a seamless, expansive aesthetic', recommends Rosie Elliot.
5. Flooring finishes
Flooring with a reflective surface or glossy finish in soft shades can further enhance a rooms openness. 'The reflective quality bounces light around the room, which further amplifies the feeling of space', says Artem Kropovinsky. This will be a favorable option over flooring with a matte finish.
There are plenty of kitchen floor tile ideas that have finishes perfect for reflecting light.
6. Contrasts
Although consistent coloring is usually the way to go, an alternative way to create the perception of more space in a kitchen is by using contrasting colors that can add depth. So, if you do want to introduce dark colors into your kitchen, you can still keep it looking spacious.
If you opt for darker floors, having light walls and cabinets will elevate the perception of height in the room. Conversely, dark walls or cabinets and a lighter floor can create depth. 'This balance prevents the kitchen from feeling too 'heavy' at either the top or bottom', advises Bob Thomas.
In larger kitchens, you have broader color options that wont compromise the appearance of spaciousness, so you can use rich browns or deep grey flooring, but make sure to balance the darker flooring with light-colored walls and cabinets to maintain an open feel.
Artem Kropovinsky adds, 'While lighter colors will always make spaces seem larger, in an already spacious kitchen, introducing a contrast – such as a dark island counter against light floors and walls – can add depth without making it feel cramped.'
FAQs
What color grout should I use to make my kitchen look bigger?
We recommend using a grout that is the same color as the tiles used in your kitchen to make the space look bigger. This is because a more consistent and unified looking floor will make a room feel less busy and more seamless, making it appear more spacious.
---
In essence, tactically choosing the color, size, pattern and finish of your kitchen flooring in accordance with the rest of your kitchen can remarkably alter the appearance of spaciousness in your kitchen. Maximising the light in your kitchen through your flooring choices is key to making any kitchen, no matter the size, feel large and open.
Sign up to the Homes & Gardens newsletter
Decor Ideas. Project Inspiration. Expert Advice. Delivered to your inbox.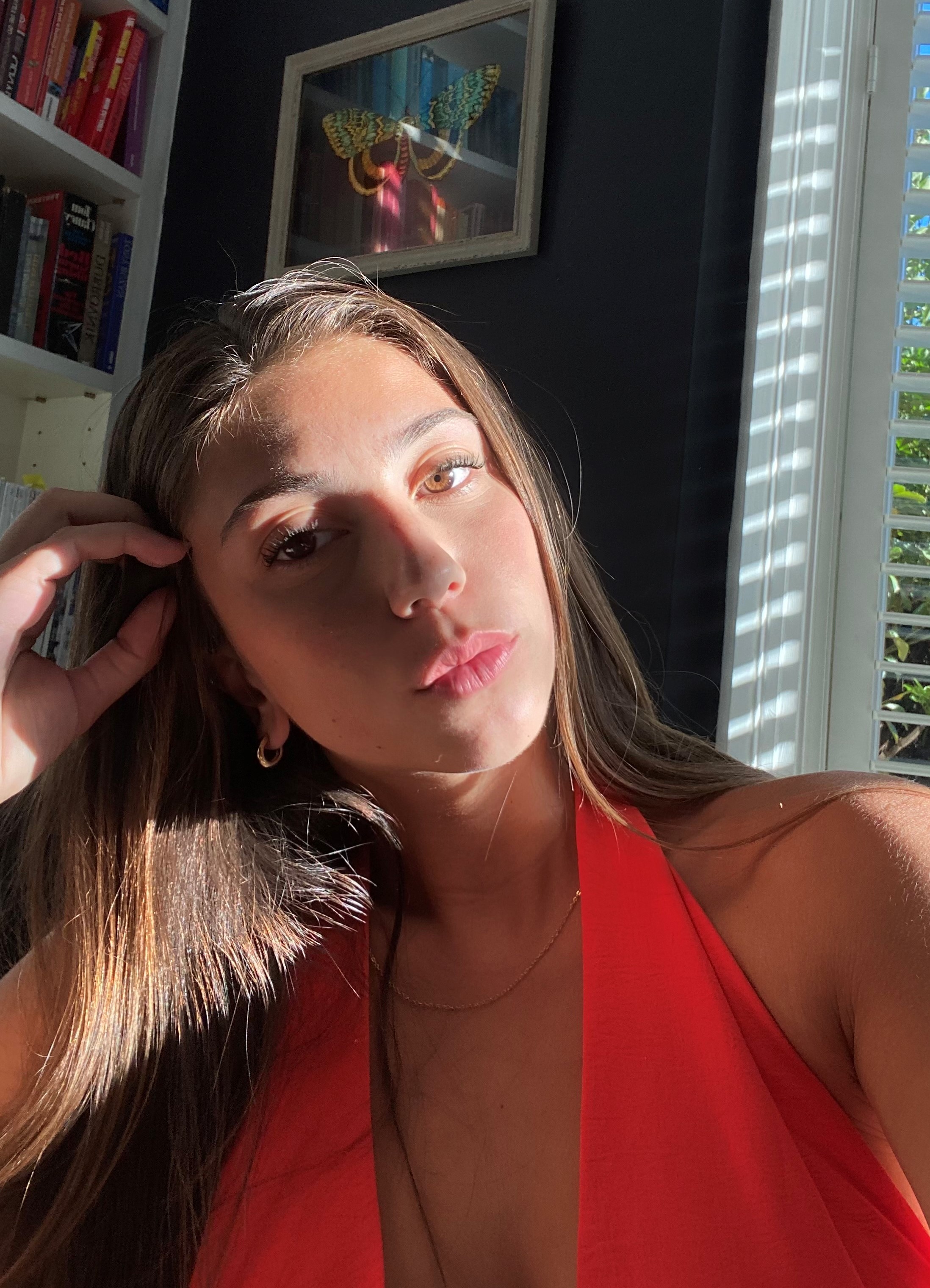 Lola Houlton is a news writer for Homes & Gardens. She has been writing content for Future PLC for the past five years, in particular Homes & Gardens, Real Homes and GardeningEtc. She writes on a broad range of subjects, including recipe articles, reviewing products, writing 'how to' and 'when to' articles. Lola now writes about everything from organization through to house plants. Lola is a graduate student, who completed her degree in Psychology at the University of Sussex. She has also spent some time working at the BBC.