'The pay-off can be huge in terms of visual impact' – 5 dynamic kitchen island shapes to transform your kitchen
From curvaceous, sweeping silhouettes to stacked structures, these unique kitchen islands are far from the ordinary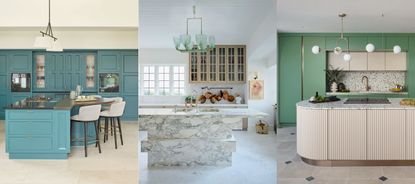 (Image credit: Martin Moore | Cullifords stocks Arabescato Vagli marble, from £1,400sq m. Design, Tamsin Johnson Interiors, Anson Smart | Sheraton Interiors)
A kitchen island is a design feature that should command attention and sit both visually (and physically) at the center of your kitchen design scheme.
There is, of course, much to consider when planning kitchen island ideas, such as material, storage, integrated appliances, and more, but your chosen shape will have the biggest impact on the look and usability of your kitchen.
Gone are the days of choosing regular rectangular forms, today, kitchen designers and interior designers alike are transforming the look of classic kitchen island trends and kitchen ideas by embracing more unconventional, artistic, and sculptural kitchen island shapes – and the result is breathtaking.
5 unique kitchen island shapes to consider for your scheme
'Whatever your island size, don't be afraid to opt for a dynamic shape. The pay-off can be huge in terms of visual impact,' says Jane Powell, kitchen designer at Roundhouse.
From small kitchen island ideas, to how a unique shape can influence your kitchen island seating ideas, explore our five favorite kitchen island shapes that set the tone for the future of innovative kitchen trends.
Jane Powell is an award-winning kitchen designer at Roundhouse kitchens in Richmond, London. Jane has been with the brand since 2010 and works with her colleague, Ben Hawkswell to design beautiful, bespoke kitchens.
1. Make a statement with a strong silhouette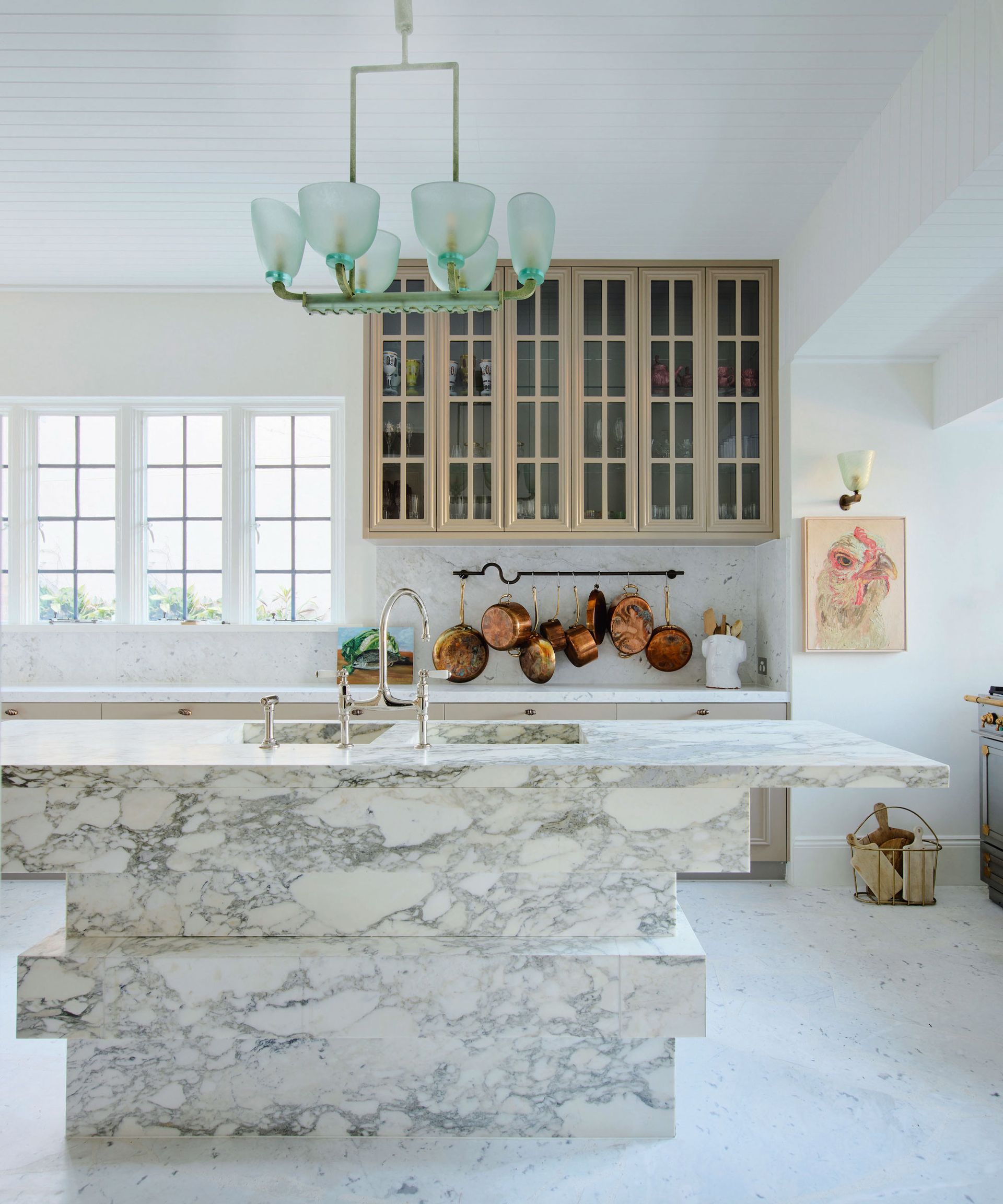 A strong silhouette lends a truly sculptural feel, as shown by this striking, stacked marble island in interior designer Tamsin Johnson's own kitchen.
'We wanted some obscure lines to complement and offset the traditional joinery,' she says. Clever vein matching makes it appear as if the island is carved from a single block. In reality, it is made from thin cuts of stone with mitered edges and steel supports, which allows storage within.'
A kitchen design defined by an exquisite union of contrasts, this kitchen island really takes center stage in the traditional white kitchen, creating a bold, graphic and memorable statement.
Melbourne-born Tamsin is an interior designer who is known for her refined yet relaxed aesthetic. After studying interior design at London's Inchbald School of Design and working with a Sydney design firm for several years, Tamsin set up her own Sydney-based practice in 2013.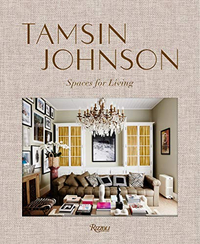 Spaces for Living, Tamsin Johnson| $48.30 at Amazon
The first book from Australian interior designer Tamsin Johnson, known for her fresh interiors that do away with outdated trends and styles.
2. Embrace rounded and sweeping lines
Think outside the box by moving away from square or rectangular islands and embrace the latest look that has dominated this year's interior design trends...curves, curves, and more curves!
'Rounded and sweeping lines help break the status quo of linear kitchen island design,' says Shehryar Khan, director, of Sheraton Interiors. 'Curves soften a space, especially when used with pastel colors. A curved island is more inviting, ideal for socializing, plus it's safer to navigate around without knocking hips or young heads on sharp corners.'
Jane Powell from Roundhouse also suggests, 'shaped islands, such as L-shaped or deeply curved, can also help to zone an open-plan room, creating clear boundaries between cooking and relaxing.'
Shehryar Khan is the director of the London-based kitchen and design brand, Sheraton Interiors; a family-owned business with over 15 years experience of in designing and installing exquisite bespoke kitchens.
3. Choose a sociable shape
In lieu of a linear breakfast bar stretching the length of an island, consider a shapely, asymmetrical design that connects in a more inventive and engaging way.
'In this kitchen, we used a rounded bar to create a more sociable seating arrangement,' says Richard Moore, design director at Martin Moore. 'Curving the bar outwards makes a striking shape that allows guests to sit facing one another, rather than in a long line, so they can chat comfortably for a more convivial atmosphere.'
Richard Moore is a design director at the family-run kitchen design business, Martin Moore; a brand renowned for their elegant, bespoke kitchens and with 8 showrooms across the UK.
4. Embrace a shape with tiers to establish clear zones
'Vary the worktop depth on a large island to divide it into zones,' suggests Jayne Everett, design director, Naked Kitchens. 'Here, the thicker breakfast bar helps to conceal the messier side of cooking and keeps diners safe from hot pots and pans.'
Playing with different countertop levels and heights can help to zone an island shape, creating subtle separations between areas used for cooking, prepping, relaxing, and dining – remember, the best kitchen island shapes always have a working side and a social side.
5. Take cues from furniture design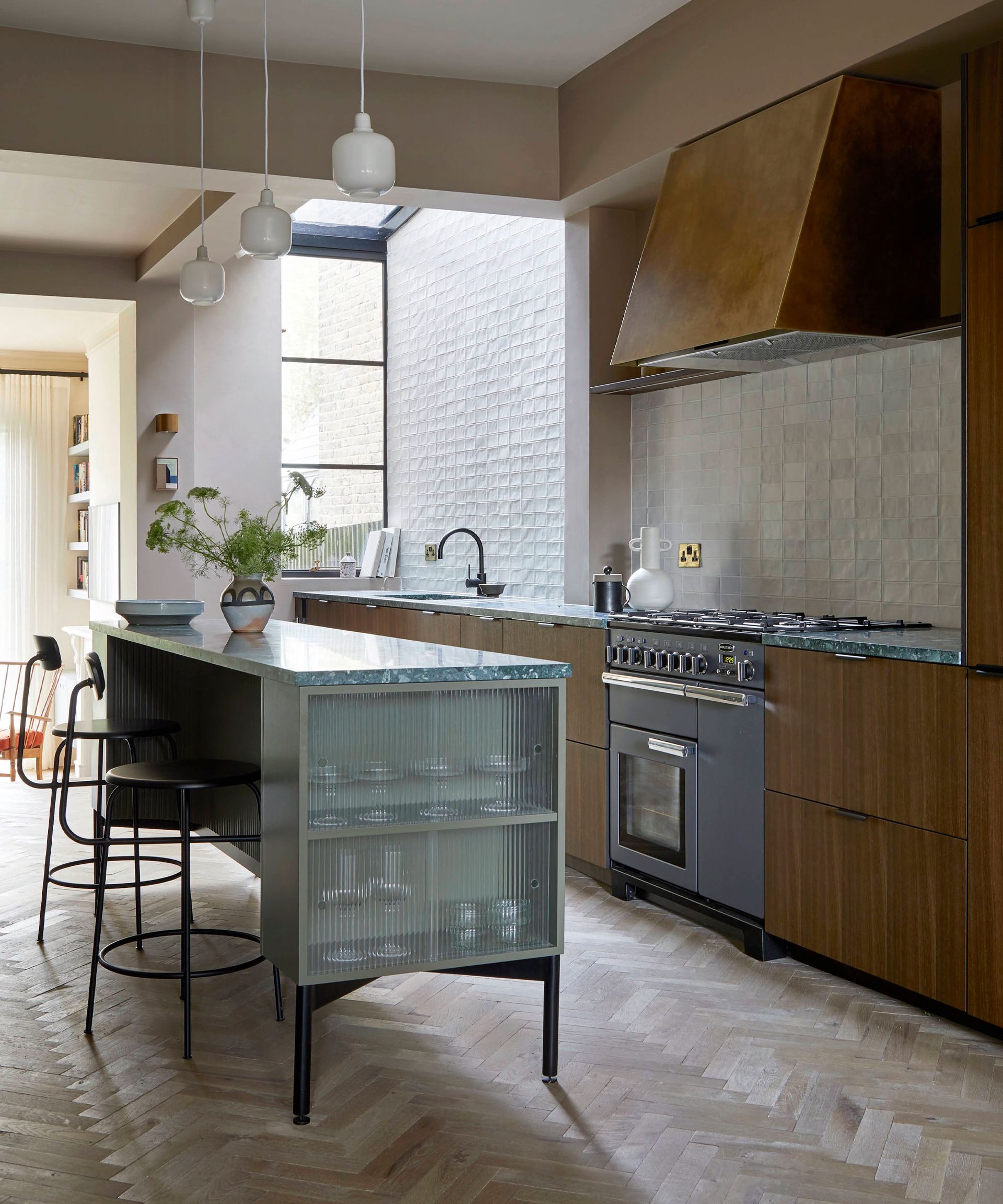 For this kitchen, Andrew Griffiths, founder of A New Day, conceived a slimline, freestanding steel-framed island with raised legs. 'We wanted it to feel more like a piece of furniture than a monolithic island, yet it's still full of storage and provides useful counter space, while the reeded glass sliding doors add to the sense of lightness,' he explains.
Elevating an island off the floor encourages the flow of light through the space, and choosing a more compact, lightweight shape can be a great option to consider for small kitchen ideas.
This island shape may be simple, but it is still bursting with character, with the elevated, slim structure and elegant design details making for a stylish, smaller island that fits perfectly into this narrow kitchen.
Founder of London-based interior design firm, A New Day, Andrew is known for creating thoughtful spaces that improve how you live, and that bring a smile to the face.
FAQs
Does a kitchen island have to be rectangle?
As we have explored in this piece, a kitchen island definitely does not have to be rectangular.
Of course, a rectangular island shape is one of the most popular designs to embrace in the kitchen, and they can work wonderfully in spaces both classic and contemporary, but there are also many other creative, more unusual options to consider when designing a kitchen island.
A round island is great for balancing out the harsh lines in a kitchen, but make sure it's not too big, or it may become more obstacle than advantage, whereas a rectangular shape may fit more neatly into your space.
For any island shape, check that you will be able to reach the middle to wipe the surface without excessive stretching.
---
A unique kitchen island shape can make for a stand-out structure that brings drama, style and dynamic character to your kitchen space – but these designs are not all just about aesthetics.
As we have explored, unconventional shapes can help to zone your island space and help you to create a more organized and hardworking design for this multipurpose hub of the home.
Linda graduated from university with a First in Journalism, Film and Broadcasting. Her career began on a trade title for the kitchen and bathroom industry, and she has worked for Homes & Gardens, and sister-brands Livingetc, Country Homes & Interiors and Ideal Home, since 2006, covering interiors topics, though kitchens and bathrooms are her specialism.