Kitchen sink organizing rules – 7 ways to keep this high-traffic area in order
Follow these seven simple rules for a sleek sink space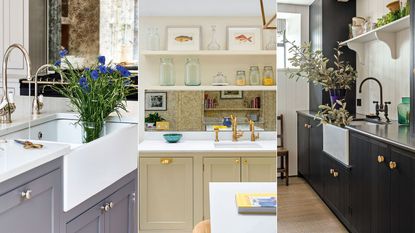 (Image credit: Future)
Sign up to the Homes & Gardens newsletter
Decor Ideas. Project Inspiration. Expert Advice. Delivered to your inbox.
Thank you for signing up to Homes & Gardens. You will receive a verification email shortly.
There was a problem. Please refresh the page and try again.
In many homes, it may seem like there is rarely a moment when the kitchen sink is clear of clutter.
Whether it be dishes or soaps and sponges, kitchen sinks are one of the most high-traffic areas of our homes. While it is normal for this spot to show clear signs of a busy life, there are a few rules you can implement to help keep this space in order.
Below, we look at the seven things you can do to reduce kitchen sink clutter and make cleaning a kitchen sink simpler.
Kitchen sink organizing rules
As a niche spot in the home, you may not think about organizing your kitchen sink, but this problem area can make cleaning a kitchen and organizing a kitchen more bothersome, and clutter could even harbor bad smells and bacteria.
1. Keep your soap and sponge in the cabinet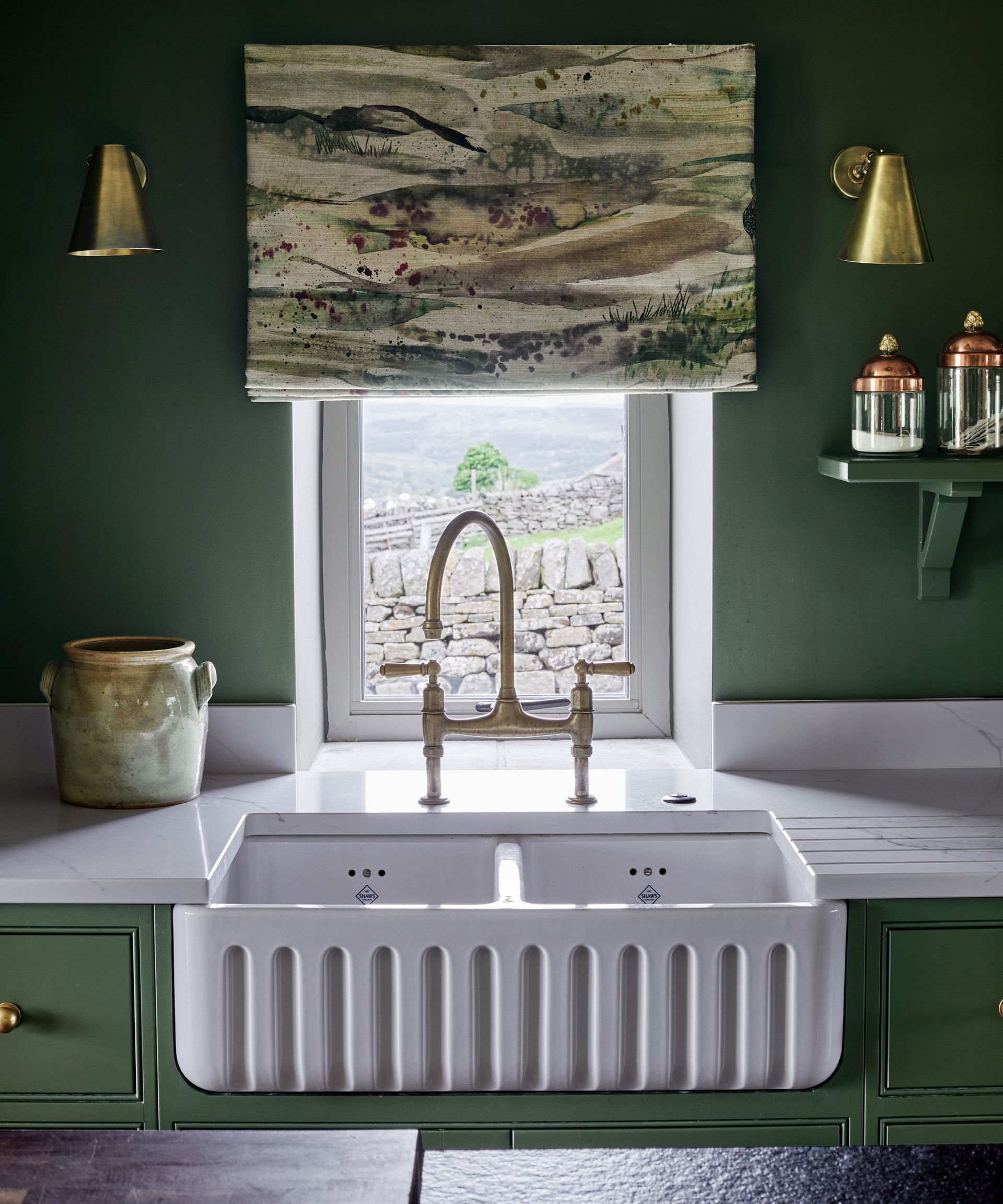 A conventional sink setup usually has the soap and sponge right beside the faucet or on a window ledge behind, but this can add to clutter and make it harder to wipe down surfaces. 'I have a tiny kitchen, so the less on show, the better. I was inspired by a friend of mine who keeps her dish soap and sponge in the kitchen cabinets under the sink and now I keep them there all the time,' says Millie Hurst, section editor at Homes & Gardens.
'It seems a bit extreme but in reality, leaning down to take them out of the cabinet takes seconds and just means the area around my sink feels less cluttered.'
Millie Hurst the section editor of Homes & Gardens, oversees the Solved section, which provides readers with practical advice for their homes. Millie has written about and tried out countless cleaning and DIY hacks in the six years since she became a journalist, and has worked in both London and New York. She is currently completing a diploma in interior design with the Interior Design Institute.
2. Decant your soaps into prettier containers
While your dish soap can live in the cabinet, it makes sense for hand soap to remain in easy reach when your hands are too dirty to be opening cabinet doors. That doesn't mean you have to keep the original soap packaging, however. 'I always keep my soaps in an amber glass jar from Etsy, so when it is out on the counter it won't ruin the vibe of my kitchen,' says Millie Hurst.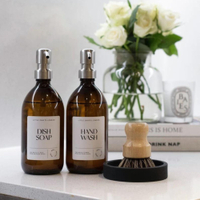 Reusable Amber Glass Bottles | $8.33 at Etsy
These eco-friendly reusable glass bottles are great for helping to reduce single-use plastic while elevating your sink space.
3. Invest in a sturdy dish rack
A sturdy dish rack is an essential kitchen organizer if you wash anything by hand. Not only does it help dishes to dry more efficiently but protects your pots and crockery from being damaged while air drying. Our tip? Choose a rack large enough to fit your largest frying pan or plate to ensure that you can fit everything you need at a time and make washing up more streamlined.
If you have a small kitchen, or mainly use your dishwasher, then a smaller or foldable dish drying rack could be a better alternative so you can store it away when not in use, points out Raquel Kehler of home blog Room Crush. 'These are perfect as you can simply rinse the rack and put it away when you're done. The best part about roll-up racks is that they're meant to be placed directly over the kitchen sink, allowing for easy drainage and saving valuable counter space.'
The collapsible dish drying rack come with a free storage tray for containing drying utensils
4. Set up an organized space under the sink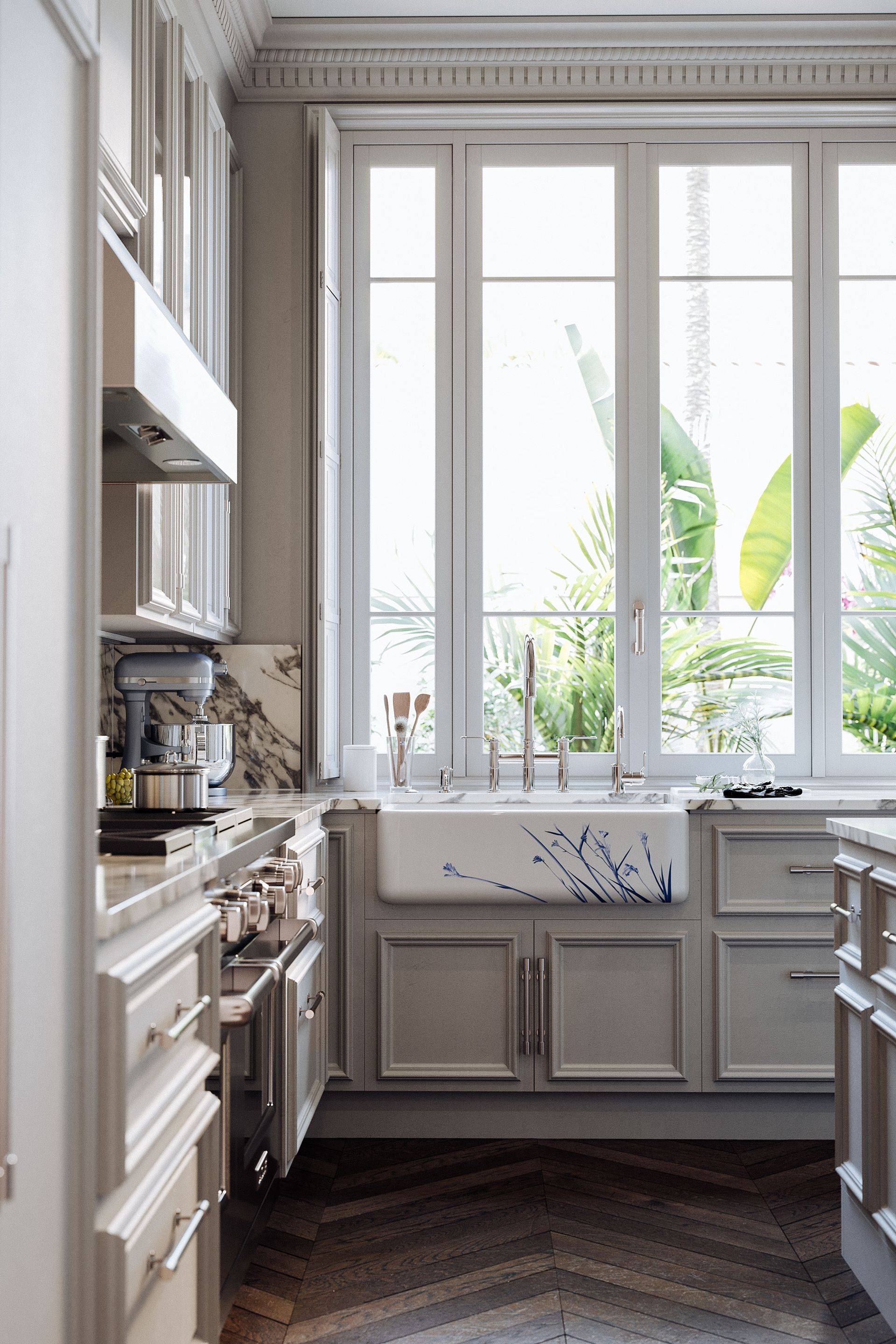 Organizing under the sink can help make space for soap, sponges, and brushes to free up space on your kitchen countertops.
'The fun stuff to organize in a kitchen is the pantry and the dishes, and there are lots of attractive storage options. The not-so-sexy spot that really needs some organizing help, however, is under the sink!' says Lucy Wahl, home organizer and founder of LMW edits.
'I use this expandable under-sink organizer from The Container Store in virtually all my clients' kitchens. It transforms the area from a black hole of potentially toxic products to a neatly organized storage space, and expands or contracts to fit virtually any kitchen.'
Lucy Milligan Wahl originally created LMW Edits for her successful friends to help them get their homes as organized as her own. She has since developed her company to help busy high achievers living in smaller urban spaces achieve the organized home of their dreams alongside their demanding careers.
5. Add a dish towel hanger for your cabinet door
Having a dish or hand towel close to the sink is practical not only for drying your hands or dishes after washing, but to help prevent dripping water around your kitchen floor too. Pick out some attractive kitchen towels that match your kitchen's aesthetics and then use small over-door hangers to suspend them on the cabinet by your sink for easy use.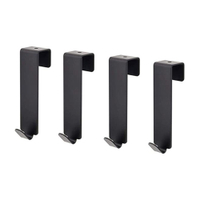 Cabinet Door Hooks | $16.99 at Amazon
This set of four cabinet hangers have non-slip pads to ensure a secure fit without damaging cabinets.
6. Consider a faucet sponge holder to help dry sponges and cloths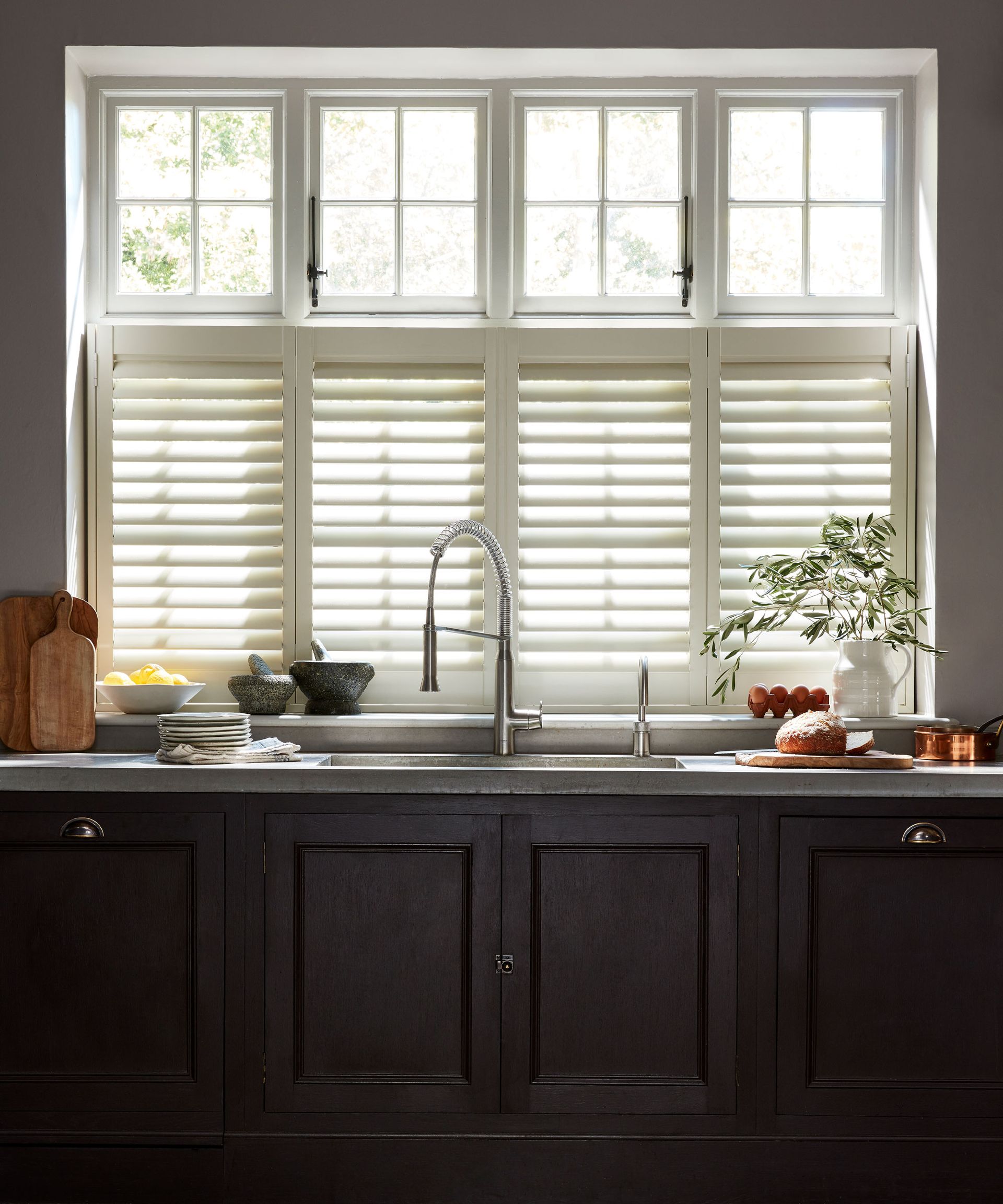 If you don't have the space under your sink to store your sponge or dish rag, or you find that they are not drying properly in an enclosed space, then consider opting for a wire faucet attachment to keep them clear of counters.
'These consist of a wire rack that attaches to your kitchen faucet, and it can hold both your dish soap and your sponges,' explains Raquel Kehler. 'The added benefit of these is that they allow your sponges to drain, helping them stay cleaner and last longer. Some versions of this also have a telescopic attachment where you can hang dishcloths to dry.'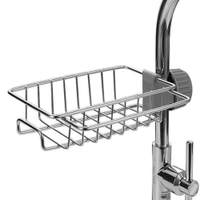 Kitchen Sink Faucet Sponge Holder | $9.99 at Walmart
This holder is fixed on the water pipe of the faucet, freeing up space around the sink.
7. Add a kitchen sink cover to hide unwashed dishes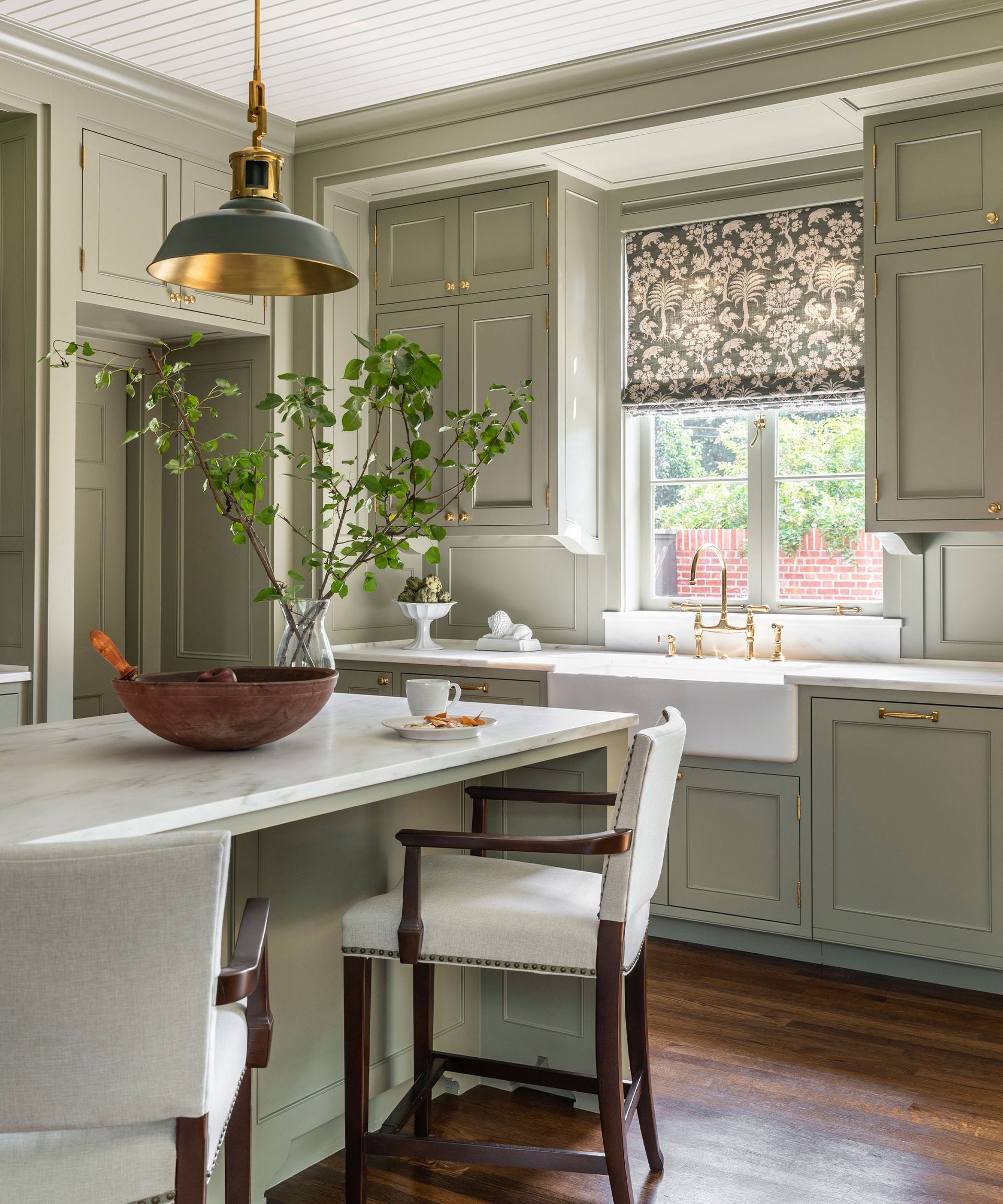 If you like to leave some dishes in the sink between washing up to allow them to build up for one big clean, then a kitchen sink cover could be a great option for concealing clutter and adding some extra functional workspace in small kitchens. These covers can also help to contain bad smells from dishes or drains (although you should always find the source of the smell if it persists).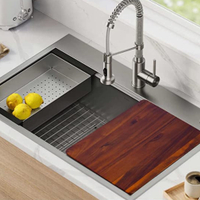 Sink Cover Cutting Board | $34.95 at Amazon
This cover's non-skidding, adjustable, and easy-to-clean features make it the perfect kitchen sink cover.
What should be stored under the kitchen sink?
The cabinets below a sink are one of the best places to store household cleaners and cloths, wipes, brushes, and sponges, and other chore essentials as the space is not suitable for perishable goods.
Why do people put a rack in the bottom of their sinks?
A sink grid or rack helps protect the bottom of your sink from scratches or marks, while also buffering the sound of utensils hitting the bottom of your basin. What's more, these racks help to filter larger bits before they reach your drain to help prevent blockages.
Sign up to the Homes & Gardens newsletter
Decor Ideas. Project Inspiration. Expert Advice. Delivered to your inbox.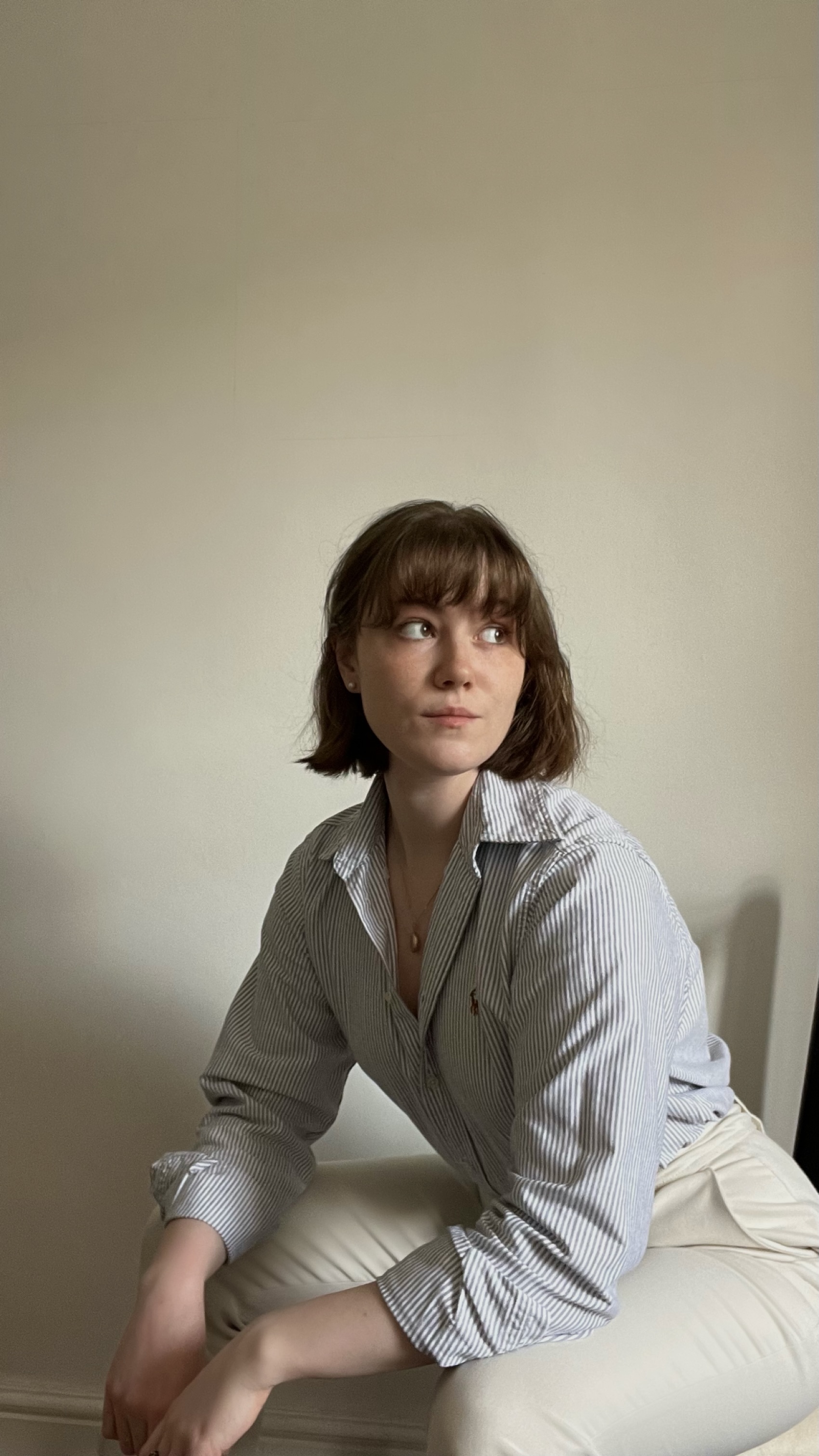 Chiana has been at Homes & Gardens for a year, having started her journey in interior journalism as part of the graduate program. She spends most of her time producing content for the Solved section of the website, helping readers get the most out of their homes through clever decluttering, cleaning, and tidying tips – many of which she tests and reviews herself in her home in Lancaster to ensure they will consistently deliver for her readers and dabbles in the latest design trends. She also has a first-class degree in Literature from Lancaster University.