Should kitchen cabinets be lighter or darker than walls? 7 expert techniques to get it right
Experts share the key things to think about when choosing kitchen color combinations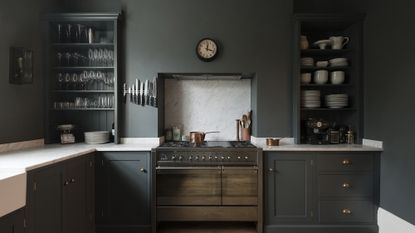 (Image credit: Devol)
The question 'should kitchen cabinets be lighter or darker than your walls?' is not always the first question that comes to mind when designing a kitchen, but it is an important one to consider as it can have a big impact on the look and feel of your space.
Color is a wonderful way to bring personality to kitchen cabinet ideas, and while many of us have an idea of the kitchen cabinet colors we like, finding the right color combinations for walls and cabinets can be tricky.
When it comes to kitchen palettes there are so many variables for combining tone: dark walls with dark cabinets, light walls with dark cabinets, light walls with dark islands... the choice can be baffling. Plus, when you start thinking about it, it can throw up all sorts of additional questions.
To help you guide your decision making process we asked the experts for their advice on choosing wall and cabinet color combinations.
Should kitchen cabinets be lighter or darker than walls?
There are no strict rules as to whether painted kitchen cabinets should be lighter or darker than the walls, essentially it comes down to personal preference and the look you're trying to achieve.
However the kitchen color ideas you use and how they're combined can transform the space, plus whether your cabinets are lighter or darker on the wall does come with pros and cons, so it's important to consider the options. Here's what the experts had to say:
'You can go either way - the most important thing to consider is the light and architecture of the room,' says Louisa Eggleston, creative director of Humphrey Munson. 'Think about how you want the room to feel when you walk in and let that guide your choice – it's important to choose what you love and stay true to your original vision for the space. Friends will always have an opinion but this is your kitchen so choose what you love!'
Adrian Bergman, design manager at British Standard by Plain English agrees that there are no set rules, but instead stresses that, 'the most important thing is that they complement each other.'
Kitchens are a big investment, so if you're worried about committing to a certain color combination, consider opting for wood cabinets, as they can easily be repainted in a different shade should tastes evolve.
1. Choose light tones to maximize space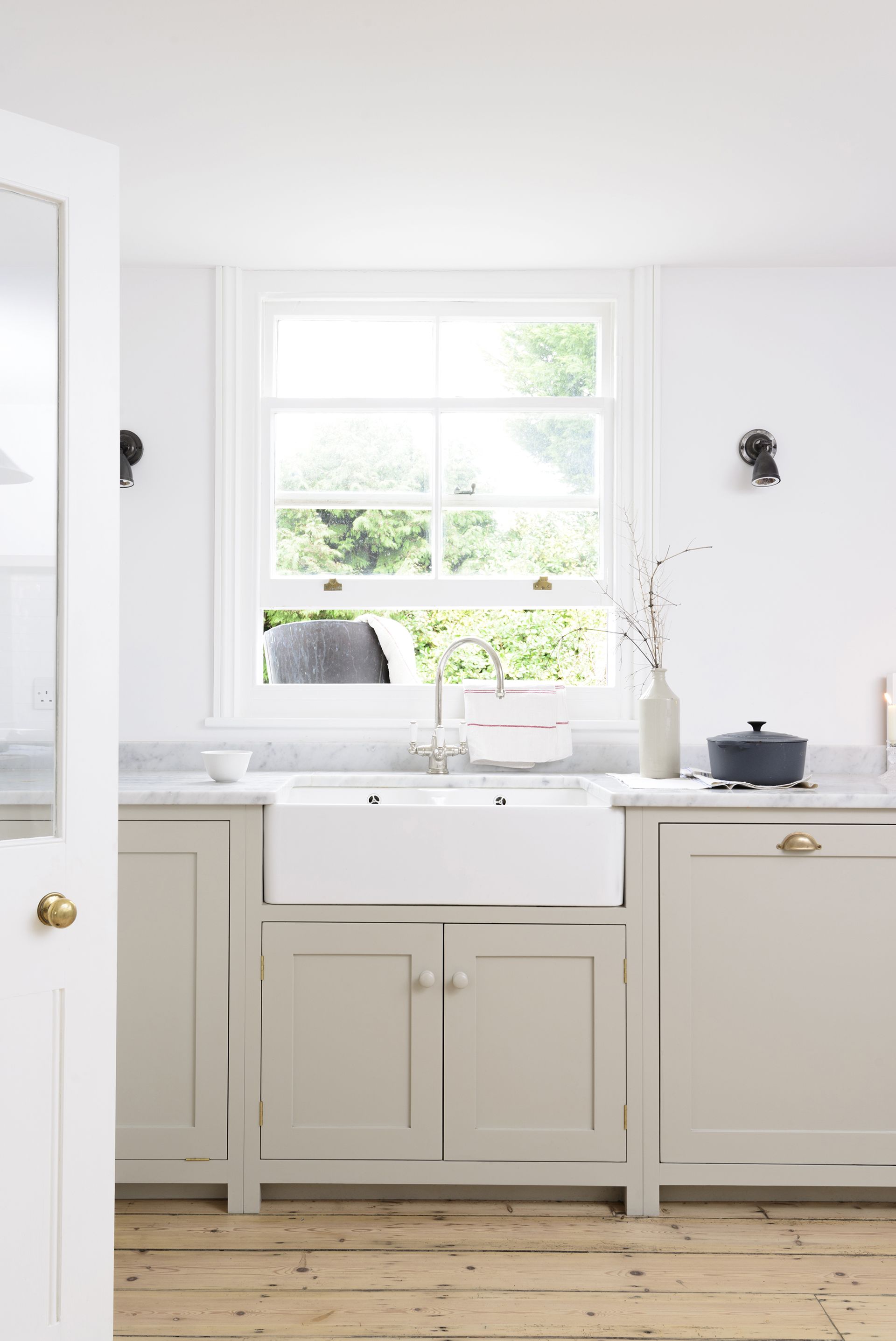 If you have a small kitchen then keeping the walls and cabinets light is the best option says, Helen Parker, deVOL's creative director.
'If your aim is to make your kitchen look bigger, then the best way to achieve this is by not filling the room full of cupboards and leaving plenty of light and space around windows, so avoid wall cupboards. It is also a good idea to keep the colors and materials similar, so soft light woods and flooring and similar color walls and cupboards. This will have more of an impact than just painting your walls in a light color.'
While all white kitchens can look super fresh and sleek, they can sometimes feel stark and austere. Painting the cabinets in a slightly darker neutral shade to the walls, as done here in this neutral kitchen with cabinets in deVOL's Mushroom, will bring softness and depth.
2. Choose contrasting tones for a bold look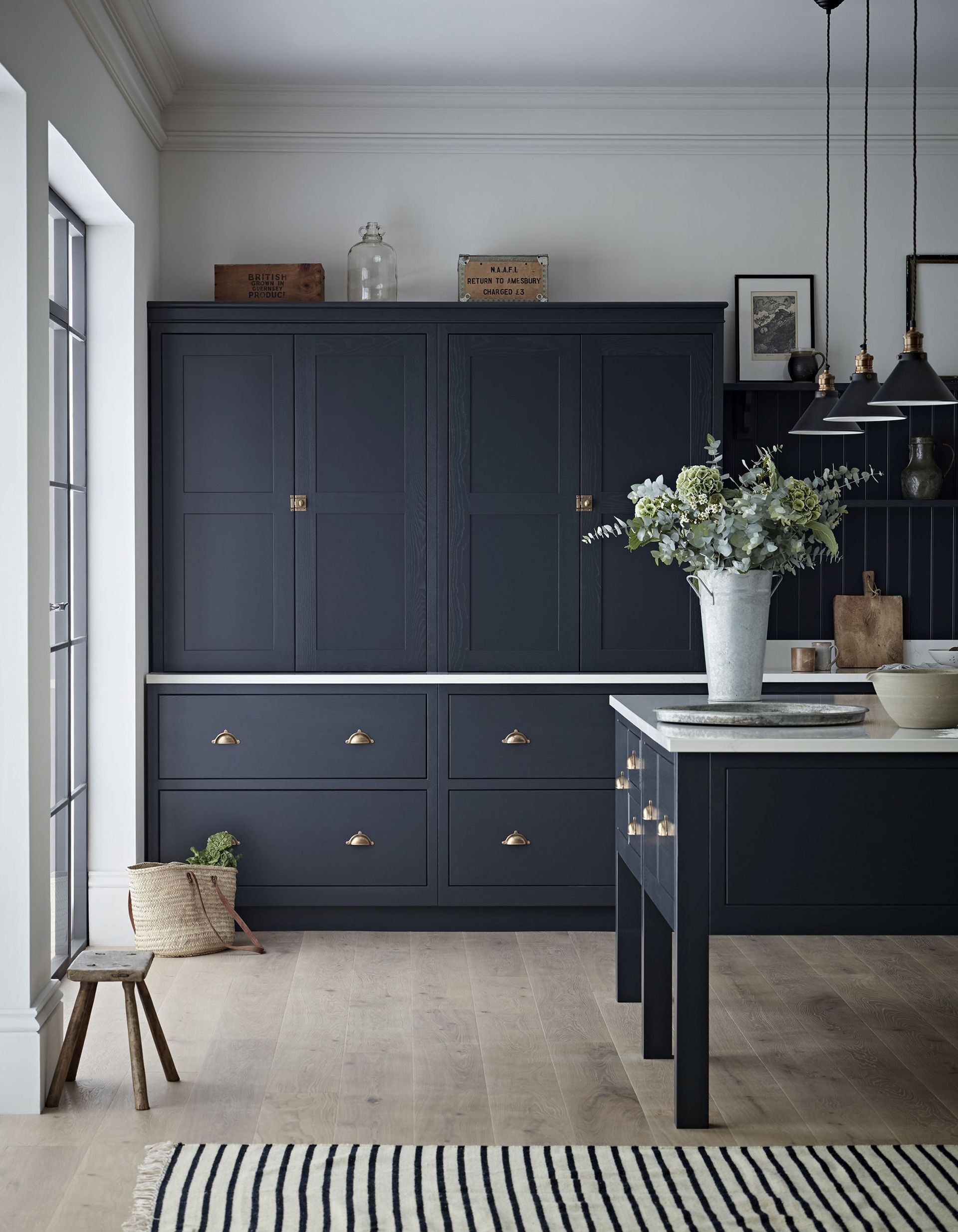 Opting for dark kitchen cabinet ideas and light walls as part of a high contrast look is a bold choice but can look wonderfully stylish. If you have a large kitchen then painting cabinets in a dark color can also be a clever way to ground the space bring the walls in.
'Bold color contrasts take confidence but can deliver a high end look. A great way of achieving this is using one color for cabinetry that's situated along the floor and another for the walls and units above. This works especially well with dark greys, blues or greens paired with white or off white tones,' Ben Burbidge, managing director of Kitchen Makers.
'Don't be afraid to use color in a small kitchen, rather than just opting for white. Darker rooms, no matter what the size, can add wow factor to your home and the kitchen is no exception to this,' adds Ben.
3. Create a focal point with a darker island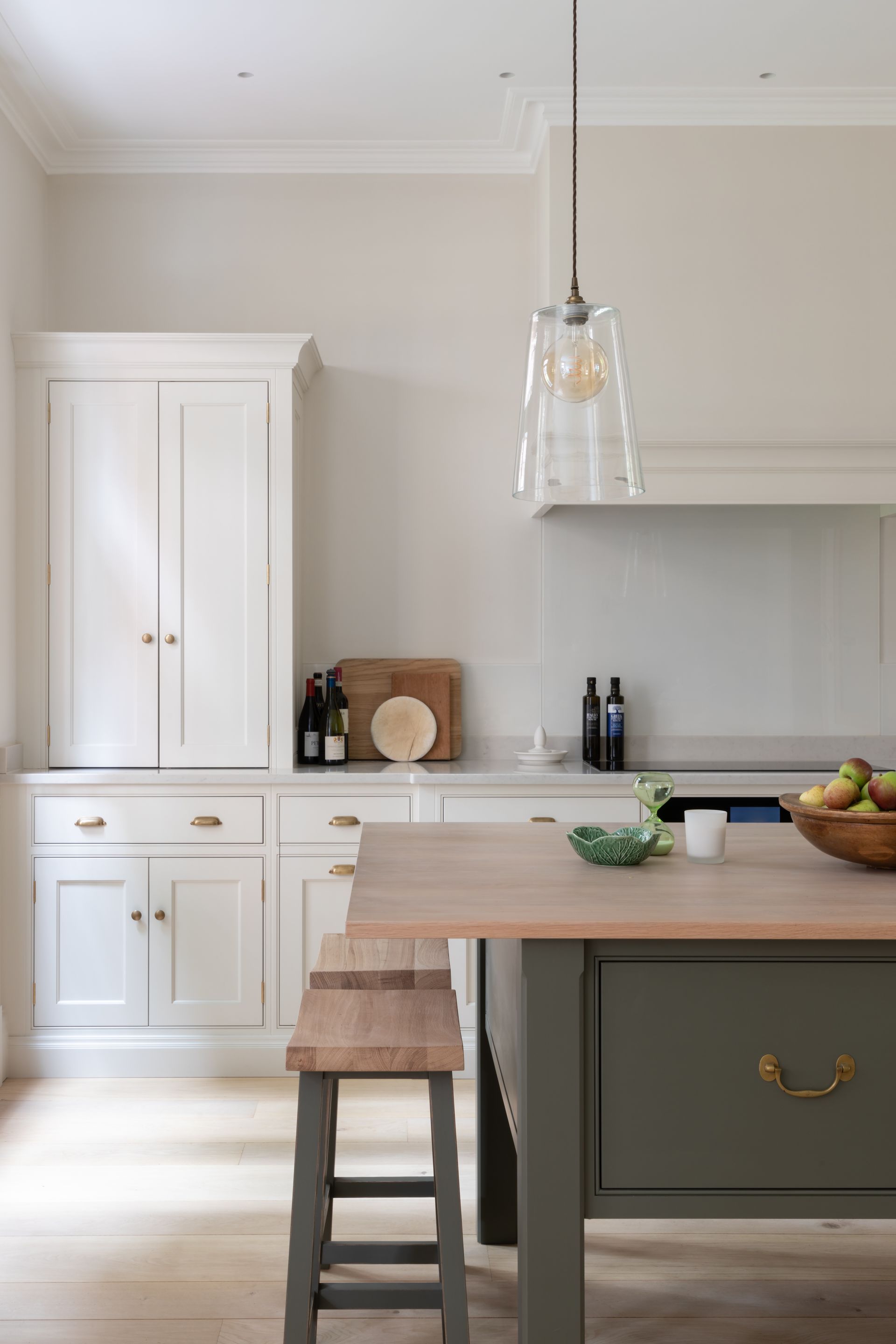 As well as providing extra workspace and storage, kitchen island ideas are a great opportunity to experiment with color in a kitchen. If you're keen to embrace darker colors, but are a little cautious, then limiting the darker shade to an island is a great place to start. Choosing light, neutral kitchen cabinets can also provide a versatile backdrop for a bolder kitchen island paint color ideas, which is an approach that the designers at Humphrey Munson took when designing this space.
'Lock & Load – the color on the prep table – was an immediate first choice with no other colors considered. We chose Linen for the perimeter cabinetry paired with the aged brass hardware to have a contrast and really let the prep table stand out. For this reason we also painted the walls in the same color for a soft and seamless finish,' explains Louisa Eggleston, creative director at Humphrey Munson.
4. Bring wow-factor with dark walls and cabinets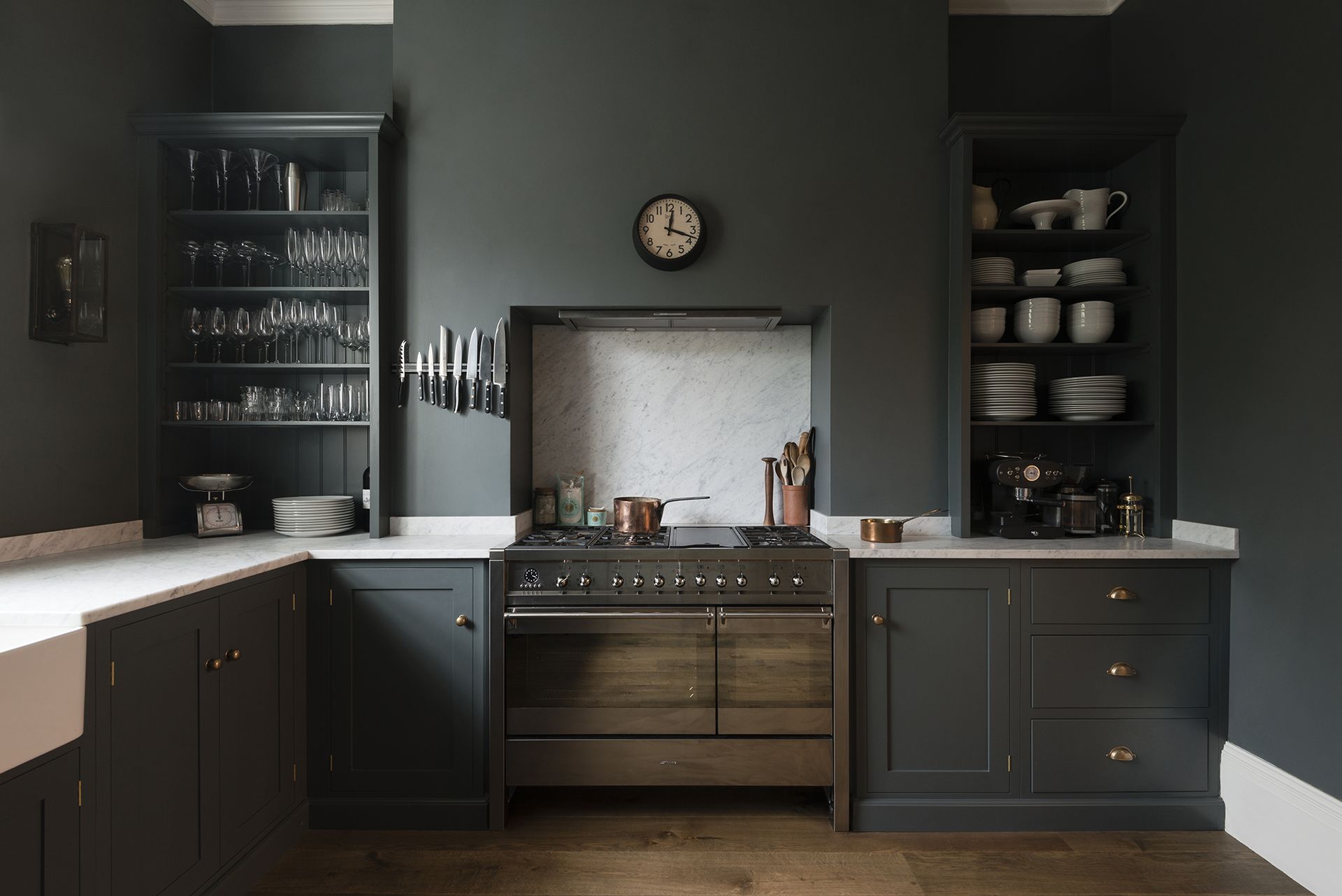 Painting your walls and cupboards in the same color is a true commitment and will reward you with a cohesive and always impressive look says Helen Parker, creative director of deVOL.
'The all-encompassing color creates an atmosphere of calm where nothing is fighting for dominance. Limited color palettes make styling a room easier too, you can be much more selective, not necessarily keeping to that same color but being a little more restrained with your choices. A rich muted color on the walls and cupboards with flashes of crystal and copper is enough to create drama,' Helen Parker, deVOL's creative director
'Similarly, in a light colored kitchen, the constraints of using only natural earthy colors helps to instantly create a soft and mellow feel.'
5. Create harmony with similar tones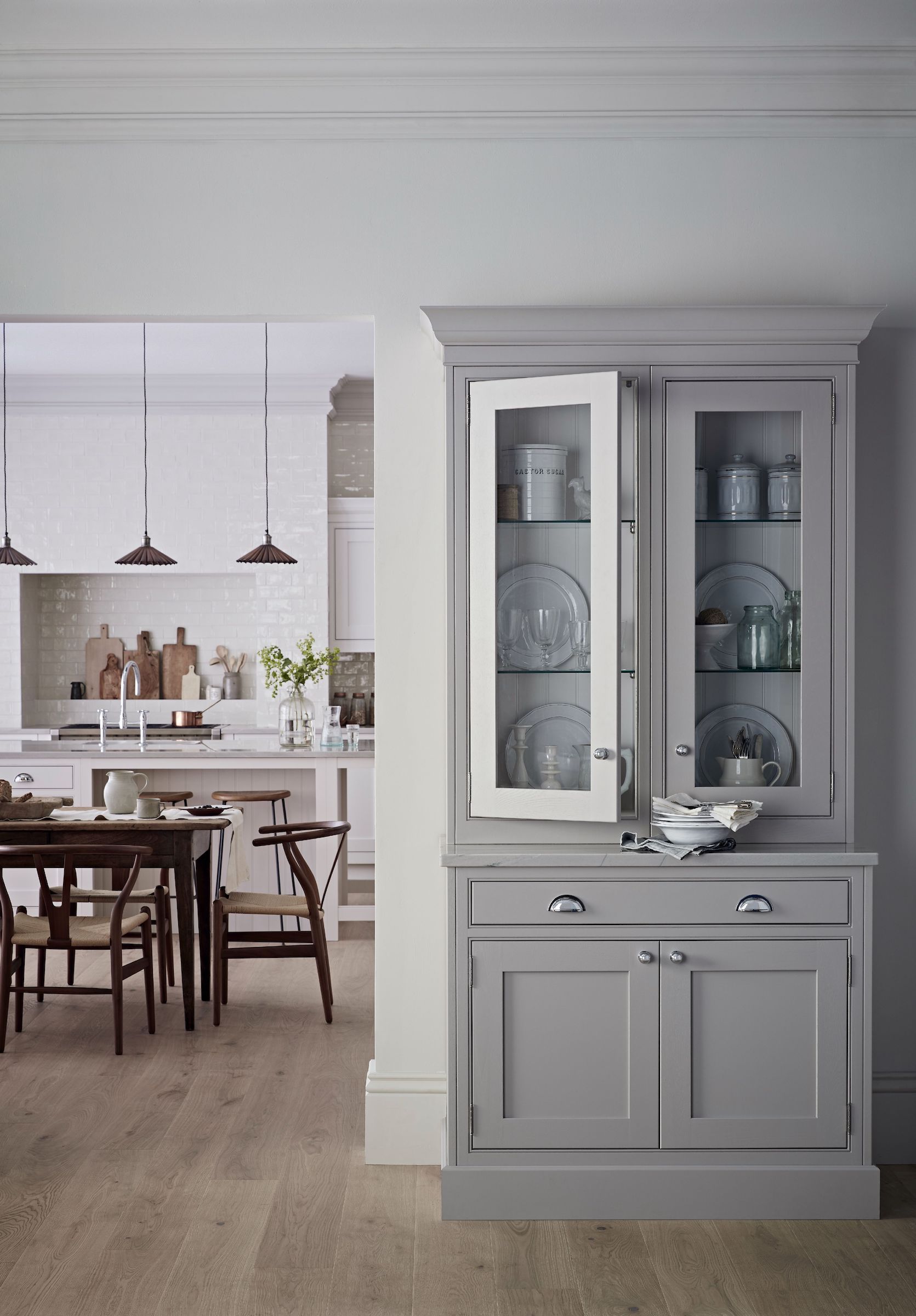 While bold wall and cabinet combinations can be eye catching, choosing a combination of subtle neutral tones can often have more enduring appeal.
'Longevity is a priority for a new kitchen so you need to ensure your chosen design and colors are styles that you will love to live with for many years,' says Ben Burbidge of Kitchen Makers. 'Opting for a tonal look combining darker and lighter shades of the same color will provide a sophisticated finish. You can use one color for cabinetry and the other for splash backs, trim or your island.
Whether or not your cabinets are lighter or darker than your walls, it is important to choose complimentary tones when decorating with neutrals, adds Rebecca Nokes, head of design & brand creative, John Lewis of Hungerford.
'Tone is very important rather than light and dark. For example, you wouldn't go with a cream wall and dark grey cabinets – instead, opt for a lighter grey on the wall with a grey kitchen or slightly darker cream cabinetry on a lighter cream wall.'
6. Extend the base cabinet color onto the wall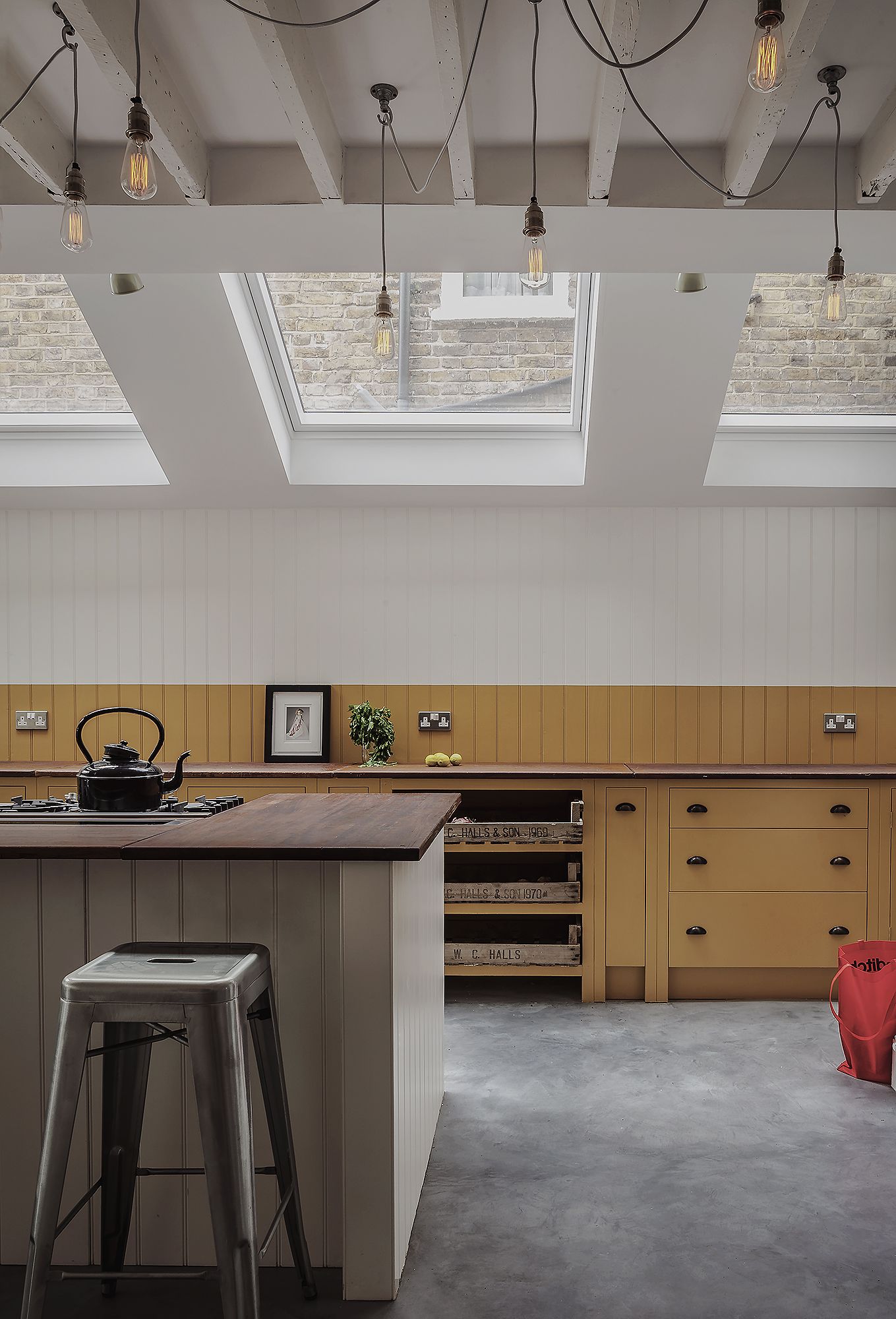 We often think about painting walls and cabinets in separate colors, but blurring the boundaries and painting just part of the wall in the same color as the wall cabinets can be a clever visual device explains Adrian Bergman, design manager at British Standard by Plain English.
'At British Standard by Plain English we often use a Tide Line paint effect, whereby the color of the cabinets extends above the worktop to eye level, creating one continuous line around the room.This technique works particularly well in rooms with high ceilings, as it lowers the focus and grounds the joinery, with the added benefit of adding color and personality to a space.'
7. Create a contrast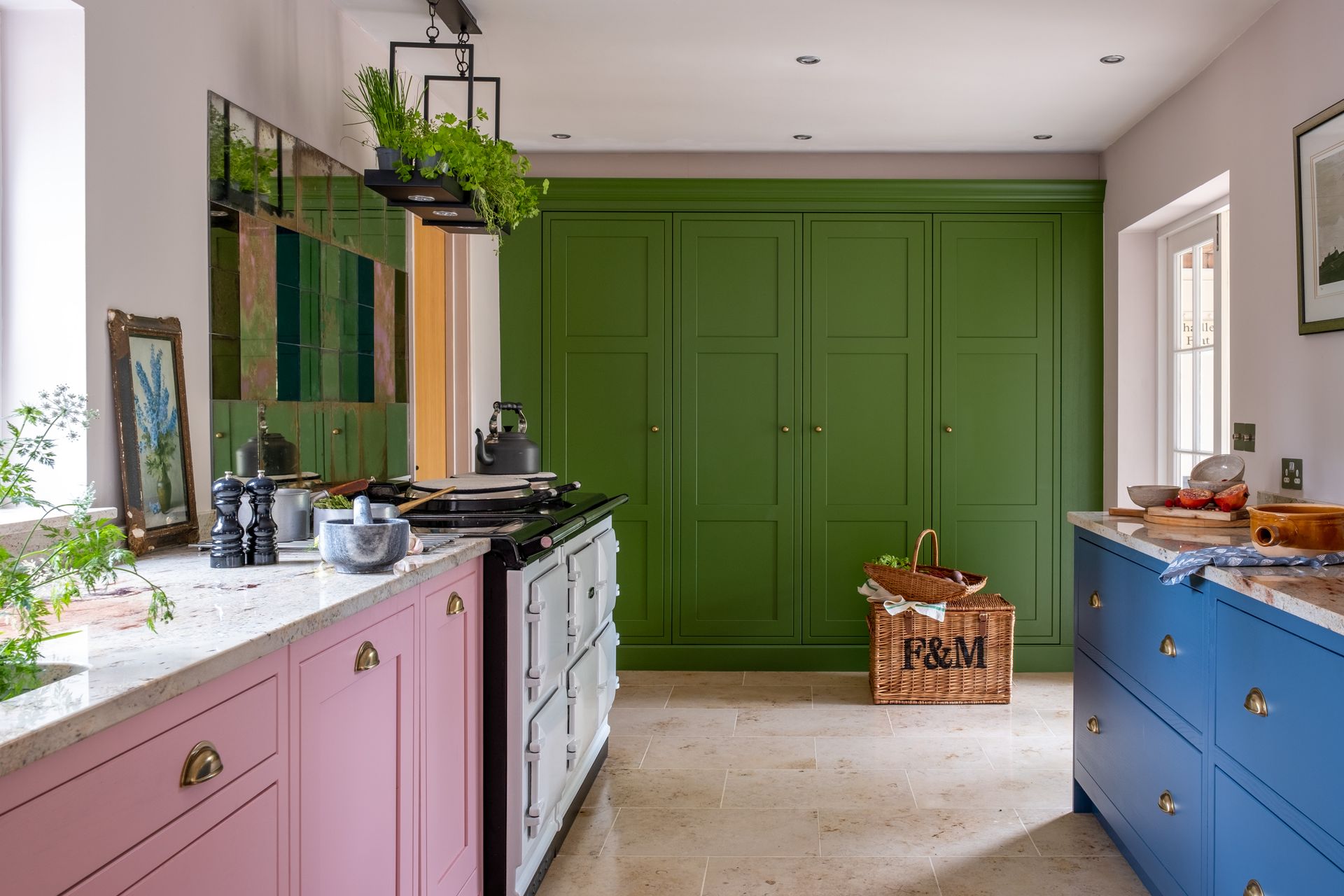 As everyday spaces kitchens are a great place to experiment with vibrant color combinations and decorating with white can make a great base for bold colors on cabinetry. Often we stick to one color, but why not use an array of uplifting tones for a fun and unique look?
'Whether opting for contrasting wall and floor mounted cabinetry or choosing an island in an eye-catching hue, mixing colors and finishes is the perfect way to make a kitchen design stand out from the crowd,' says Ben Burbidge of Kitchen Makers.
FAQs
---
As with many decorating questions, there isn't always a definite answer; and there are many pitfalls to avoid when choosing whether your kitchen cabinets are lighter or darker than the walls. Bear in mind when remodelling that painted kitchen cabinets will give you the opportunity to tweak your room over the years; though not an easy job, painting kitchen cabinetry annually will freshen up your space and allow you to change the color, and therefore the light levels and mood in the room.
Sign up to the Homes & Gardens newsletter
Decor Ideas. Project Inspiration. Expert Advice. Delivered to your inbox.
Pippa is Content Editor on Homes & Gardens online contributing to Period Living and Country Homes & Interiors print issues. A graduate of Art History and formerly Style Editor at Period Living, she is passionate about architecture, creating decorating content, interior styling and writing about craft and historic homes. She enjoys searching out beautiful images and the latest trends to share with the Homes & Gardens audience. A keen gardener, when she's not writing you'll find her growing flowers on her village allotment for styling projects.