Where should a refrigerator be placed? Expert advice on the perfect placement
Explore our top tips that answer the question, where should a refrigerator be placed?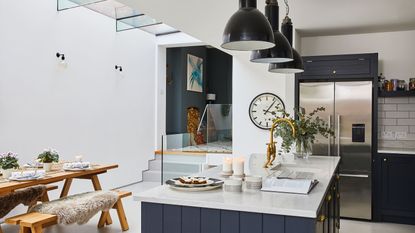 (Image credit: Future)
You may be wondering where to place a refrigerator if you are planning a kitchen remodel. A room in the home that has to meet many demands and fit a collection of essential appliances, your kitchen needs to be homey and inviting but most importantly, it needs to embody a long-lasting, practical and functional design that caters to your needs and lifestyle.
A good refrigerator is often the largest appliance to install and make room for in the kitchen, so to help you refine your kitchen layout ideas, we examine the question: where should a refrigerator be placed?
Of course, there are some obvious factors to follow, such as placing the refrigerator near an electrical outlet and buying a refrigerator that's the right size for your kitchen to allow it to be perfectly positioned. However, these expert tips will introduce more considerations you might like to note.
Where should a refrigerator be placed?
Knowing where to position a fridge is vital when designing a kitchen. Though you will be largely guided by practicalities and limitations, ensure you consider these expert tips.
1. Consider fridge position with the kitchen triangle in mind
First things first, you need to consider the layout of your kitchen. This may sound simple, but there are six types of kitchen layout and even then, every kitchen layout is different. Depending on the size of your space, there may only be a limited number of areas a refrigerator can be placed, too.
So where to start? The kitchen triangle design rule. This rule dictates that the three most important appliances to influence your kitchen layout – the refrigerator, oven and sink – are positioned to loosely form a triangle on your floor plan, increasing the efficiency and flow of the room. So asking where should a kitchen sink be at the same time as working out the best oven and fridge position will be helpful.
Adrian Bergman, senior designer at British Standard by Plain English says that 'the purpose of the kitchen triangle is to allow you to move seamlessly and easily between working areas of the kitchen,' and while this is no hard and fast rule, we would advise bearing it in mind, whatever your kitchen's shape and size.
2. Place the refrigerator near your 'food zone'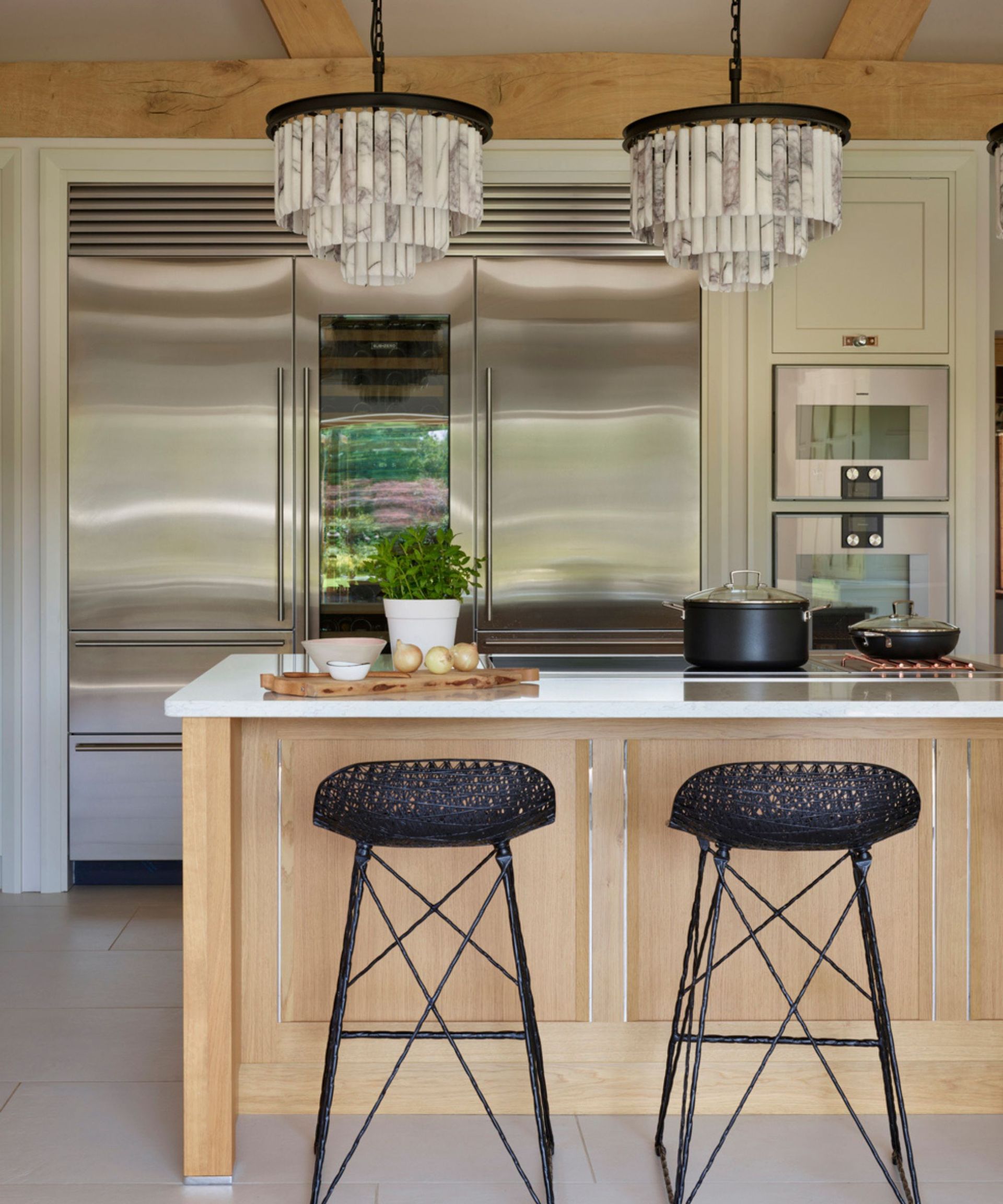 Ideally, you should organize your kitchen so that food is all stored in one area. With this in mind, placing your refrigerator near your pantry or the cabinets where dried foods, such as pasta, rice, tins and even cookies, are stored can help when packing away groceries and gathering ingredients for cooking and food preparation.
Instead of locating your refrigerator at the opposite side of the kitchen to your dried food, placing them adjacent to each other will save you moving unnecessarily through the space, and make it easier when organizing a refrigerator and pantry organization, for example.
Whether you position your fridge in a bespoke alcove space, surrounded by cabinetry, or in an open space at the end of a countertop near other food storage areas, this placement can make your stored food items more easily accessible and improve the usability and effectiveness of your kitchen.
Evan Nelson, creative director at Nelson Cabinetry states, 'consider how often you use your fridge and what kinds of items you typically store inside. If you find that you're constantly opening and closing the fridge door, it makes sense to place it in a more conveniently accessible spot. On the other hand, if you tend to use your fridge mainly for storing food that doesn't need to be kept cold (such as condiments and leftovers), then you might want to place it further away from high-traffic areas.'
3. Ensure a food prep counter is nearby
Kitchen countertop ideas and where a refrigerator goes in a kitchen should be considered together. Chef, Aysegul Sanford of Foolproof Living states, 'I like to have my refrigerator near my prepping station for the most efficient ingredient retrieval. This is handy as it prevents you from constantly going back and forth for new items.'
Placing your refrigerator near a counter can make it easier when cooking, and provide a practical place you can rest groceries after a food shop so you can easily unload and put away items.
4. Avoid high-traffic thoroughfares
The kitchen is often a busy, multipurpose space used for cooking, eating, entertaining and relaxing – and as a thoroughfare to get to the backyard.
Your refrigerator needs to be easily accessible, but you also need to try to avoid placing it in a high traffic area that people use to pass through or congregate in frequently. You need to leave enough space for the doors to be opened fully, but you do not want them to be constantly opening and closing in a busy spot.
Lucy Searle, Homes & Gardens' Editor in Chief says, 'If you have a large family that spends a ton of time in the kitchen or you entertain regularly in there, ensure your fridge is placed where you can access it without disrupting the usability of the space.'
5. Double up on refrigerators
'The perfect scenario for a larger, busy home is, in fact, two refrigerators: one at the perimeter of the kitchen packed with the ingredients you need for cooking; the other either in the kitchen island, in the pantry or utility room which is used only for storing away drinks, and even teen snacks and any food you're not planning to use until later in the week,' says Lucy Searle.
'That way, using the fridge that's really only needed for mealtime prep becomes a breeze, while the other one can be accessed constantly by the less neat members of the family (they know who they are), without irritating the cook or disrupting the flow in the kitchen.'
Can you place a refrigerator next to an oven?
Traditionally, it it advised to place a refrigerator away from an oven and out of direct sunlight, to ensure that your fridge isn't wasting energy and working unnecessarily to keep cool, ultimately so that it is as cold as it can be at all times.
However, as technology and design has advanced over time, many modern refrigerator designs have effective integrated cooling systems and stronger insulation, meaning that they are better protected if placed near or exposed to heat sources.
'Usually there will be some cabinet space separating the refrigerator and oven if they are placed next to one another; this will then create a divide and some cooling between the two appliances,' says Jennifer Ebert, Homes & Gardens' digital editor.
Does your refrigerator have to be in the kitchen?
No, your refrigerator does not have to be in the kitchen, it is completely up to you where you place it in your home – many homeowners have separate refrigerators and freezers in utilities, basements and garages.
You want to place your refrigerator in a place that is practical and convenient to you and your family and fitting with your overall kitchen and home design.
For example, if you have a large family but do not want a big refrigerator sitting in your kitchen space, make room for a smaller design in the kitchen and keep a large fridge in a separate room, such as a utility.
If you do lots of home cooking and baking, positioning a fridge near your central prep station, whether that be an island or perimeter countertop, will make your prep feel easier and more enjoyable.
Sign up to the Homes & Gardens newsletter
Decor Ideas. Project Inspiration. Expert Advice. Delivered to your inbox.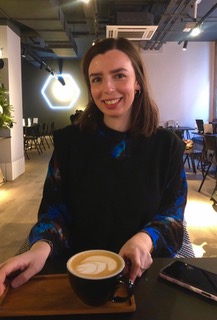 Zara joined Homes & Gardens in February 2022 as a Content Editor. After studying English Literature at University, she worked as an Ecommerce Website Editor, Content Writer and Buying Intern at multiple independent businesses within the luxury retail and lifestyle sectors. Her role at Homes & Gardens unites her love, experience and passion for the world of design and desire to create inspiring written content. She enjoys nothing more than discovering new trends, brands and products, whether that be in fashion, interior design or lifestyle.