Where to put utensils in a kitchen without drawers – 10 alternative ways to contain your culinary tools
Keep utensils neat, tidy and close to hand with these savvy solutions for storing them in a kitchen without drawers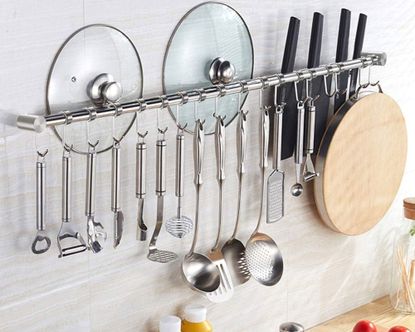 (Image credit: Amazon)
Working out where to put utensils in a kitchen without drawers can be a bit of a head scratcher, but there are plenty of space-saving solutions you can employ – some you may find more preferable, in fact.
Whether you've got drawers or not, knowing a few alternatives for storing utensils can actually make for a smoother-running kitchen overall. Not only does it give you more freedom to position them where you need them, it also frees up space for other kitchen items – handy in general, but particularly when organizing a small kitchen. There's even potential for a bit of kitchen styling, too.
With the help of the experts, we've compiled a list of the most innovative ideas on where to put utensils in a kitchen without drawers. They might not all suit your kitchen layout, but even incorporating one or two could make all the difference.
Where to put utensils in a kitchen without drawers
Before you make any decisions on where to put utensils in a kitchen without drawers, experts advise you familiarize yourself with how to declutter a small kitchen.
'Have a peeler that isn't sharp? Replace it. Have a melon baller that you haven't used in years? Time to pass it along to someone who will use it. Now that you've removed those extra spatulas and unused utensils, and you've grouped like items together, you are ready to dive into how best to organize them in your kitchen,' says professional organizer Lauren Saltman, founder of Living. Simplified.
It's also worth having a good think about what you use to cook with, and the frequency with which you use them. While lesser-used utensils can be stored out of the way, or as part of organizing kitchen cabinets, those you use frequently might work better as part of a kitchen wall storage idea, or stored in style on the countertop. Like with most home organizing ideas, there's no 'right answer', it's what works best for you.
1. Be rebellious with 'drawer' organizers
While they may be more commonly used for organizing kitchen drawers, there's nothing stopping you lining a shelf inside a cabinet or pantry with a horizontal utensil organizer, or even individual storage bins. Stackable or expandable versions are handy for utilizing dead space; simply adjust to the width and depth of your shelf. Either way, choose shallow designs so you can access things easily.
'Designate bins by use, such as baking utensils, or wooden spoons, and label accordingly. This should save you time when it comes to locating what you need', advise Brigid Steiner and Elizabeth Krueger of luxury lifestyle concierge, The Life With Be.
2. Line open shelving with caddies and baskets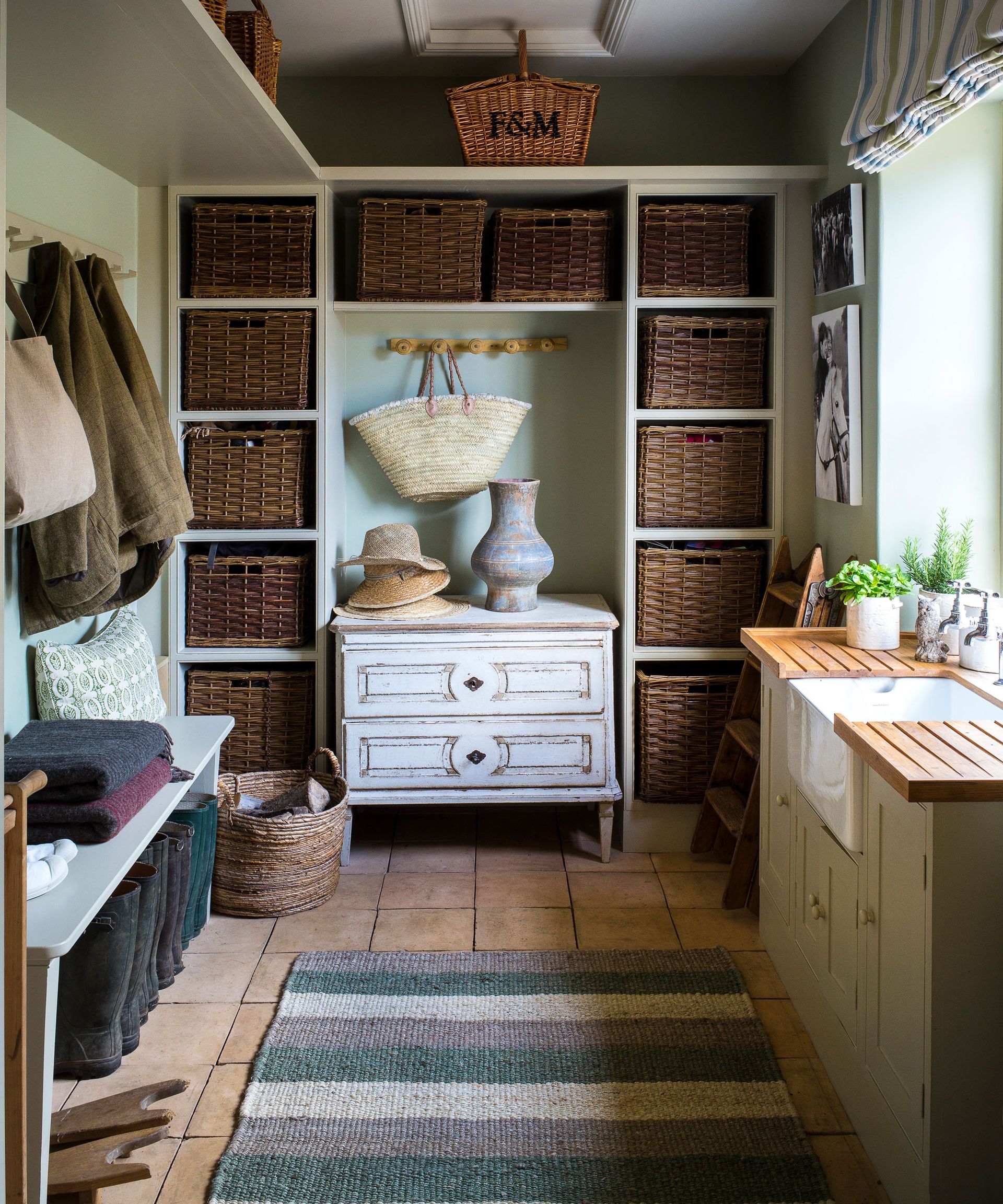 If you've not got cabinet space to spare, consider installing open shelving on walls and lining it with stylish flatware caddies (we like this bamboo design at Target), wooden canisters or chunky glass jars – natural materials tend to suit most kitchen schemes, so they're always a good option style-wise. Choose designs with handles so you can pull them down onto the countertop and have a good rifle through, plus move them around the countertops as you cook.
Utensils, and appliances, you don't use much can be consigned to a similar arrangement in the pantry or mudroom.
3. Choose stylish countertop crocks for everyday utensils
In an ideal world, you want to declutter countertops so they're as clear as possible, but when you're lacking in small kitchen storage ideas, it's important you be realistic. We're not suggesting you store your entire utensil collection there, but a few (ideally good-looking) utensils that you use regularly can actually make for a useful addition to a countertop – the trick is to store them in style.
'From farmhouse style enamel containers to modern sleek ceramics, it's important you find a crock or canister to complement your kitchen aesthetic. Choose the same style of storage, or utensils that look good when grouped together, for a coherent look,' says professional organizer Shannon Krause, founder of Tidy Nest.
4. Hang utensils
Kitchen shelving can be a little imposing, so if you're dealing with a smaller kitchen, hanging your utensils on the wall might be a better small space storage idea.
For versatility, try running a length of peg rail above the countertops, or (underneath wall-mounted cabinets, if you have them); you can add hooks, as well as wire baskets for holding silverware, smaller items, or any utensil that doesn't have a hole in the handle.
5. Mount a magnetic knife rack
A wall-mounted magnetic strip allows you to show off your knife collection in a safe and stylish way, but it's also a space-savvy storage solution for larger, more 'awkward' utensils – think ladles, whisks, tongs etc, anything that has a tendency to get trapped in drawers.
'Mount the strip close to where you chop and prepare food so you can just grab them while you're cooking. This is also a great option if you have small children whose little fingers can get into drawers in easy reach,' says professional organizer Laura Price, founder of The Home Organisation.
We love this eco-friendly bamboo magnetic holder from Amazon; not only does it look good, but it's extremely durable, as well as being resistant to stains and cooking smells.
6. Install pull-out cabinets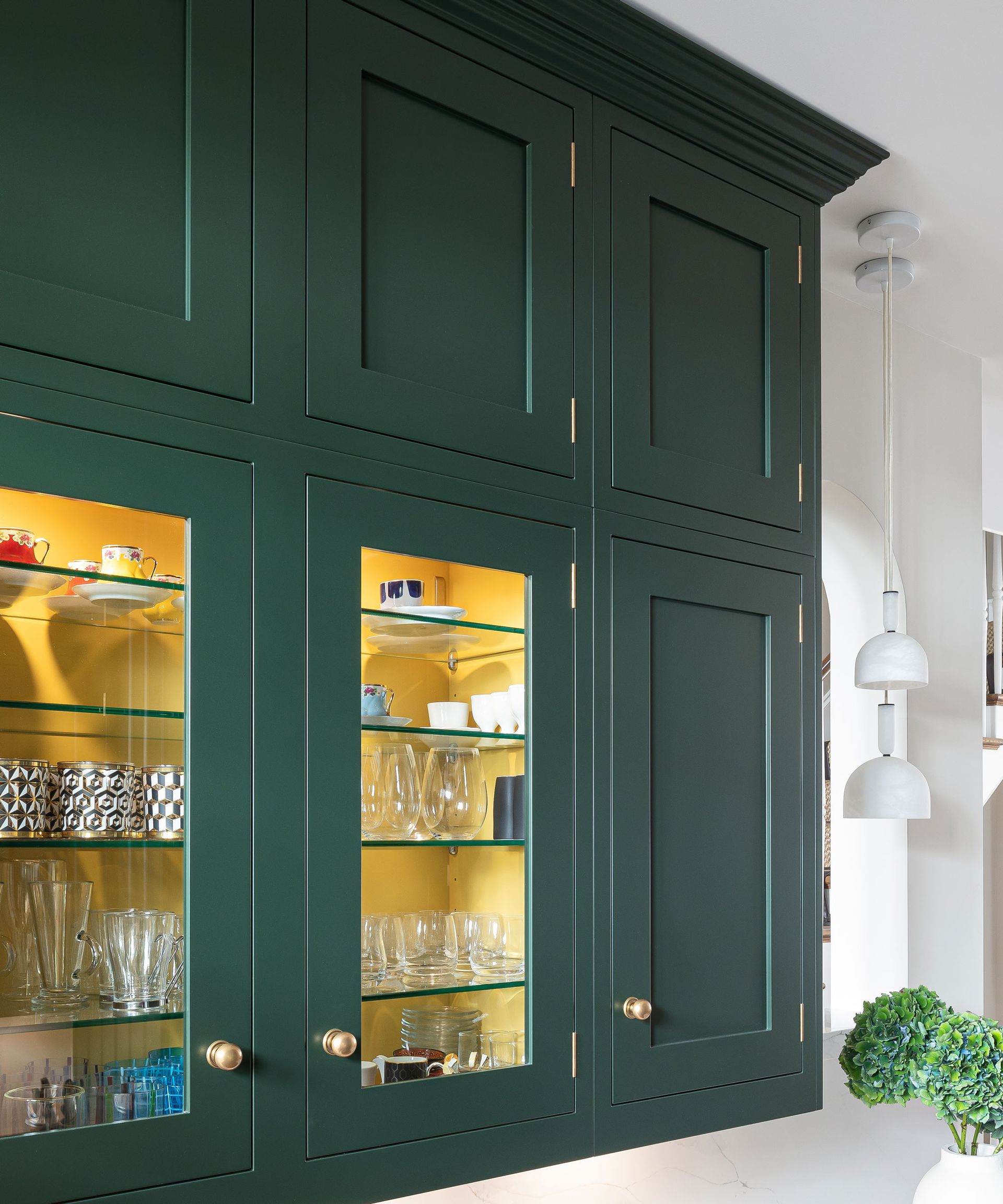 Drawers may not be an option, but you'll often find unused gaps between appliances and cabinets that can easily be transformed into pullout cabinets. Tall and narrow, they lend themselves brilliantly to longer utensils, such as spatulas and slotted spoons, and storing them upright is great for access, too.
If you're going bespoke, you can ask for built-in storage, but a DIY approach is fine too. Line the bottom of the cabinet with drawer liners, then use heavy-bottomed jars or canisters with a weighted base to prevent things from falling over as you open and close.
7. Invest in a rolling cart
If you're organizing a small kitchen that's short on drawers, it's probably lacking in storage space in general – and countertop space, for that matter. If that's the case, a portable kitchen island is a worthwhile investment.
Three-tiered designs are practical for utilizing vertical space for storage, rather than using up precious square footage in your small kitchen layout. Load up the shelves with bins, trays and dividers to give utensils designated compartments, so you can put your hands on things quickly and easily. Prioritize top shelves for everyday items and store larger, heavier items, such as appliances and crockery at the bottom', says home organizer Michelle Urban, founder of The Organized House.
8. Make cabinets work harder
Cabinets have hidden potential when it comes to utensil storage – with a little customization and a few helpful kitchen organizers, they're just as effective as drawers.
Consider mounting a small hook and rail to the side of the cabinet, or invest in an over-the-door storage rack if you'd rather keep utensils concealed. 'If you can adjust your shelving, create space so you can store items horizontally in sturdy, cylinder-style containers, like these heavy-based designs from Amazon', suggests Mary Jo Contello, founder of Organized by MJ.
You could also consider fitting drawers underneath your cabinets, into the recess. You'll still achieve that sleek look that a toe kick provides, but you'll have hidden space to store slim items such as chopping boards and baking trays.
9. Make the most of space outside the kitchen
Chances are you've got a fair few utensils hanging around that you tend not to use that often – common culprits include novelty cookie cutters, egg slicers, and spiralizers. First, ask yourself first whether you really need them – there's never room for clutter, regardless of whether you have drawer space or not!
Place into baskets or plastic containers and store outside of the kitchen, or at least outside of prime storage areas (the tops of tall kitchen cabinets are always good, just be sure you have a sturdy stool to hand) to free up more space for everyday items.
10. Customize a pegboard
Not only do pegboards make for a versatile kitchen storage idea, they also have the added benefit of looking lovely, too – assuming you keep on top of organization, that is.
'The beauty of a pegboard is that you can so easily adjust it according to your needs. If it's utensils you're looking to store, a shallow shelf can be added, lined with containers for forks, knives, spoons etc, while cooking utensils can be hung directly from hooks. You could also add in trays, bins and containers to store spices and other cookware items', says home organizer Sarah Nelson, owner of Less Is More Organizing Services.
FAQs
Should utensils be in a drawer or on a countertop?
This really comes down to personal preference. Experts usually advise against storing too much on a countertop, so would likely come down on the side of drawers, but there is a case for storing a few everyday utensils on the side.
'If you like to see what you have and keep them close to hand, then a decorative canister next to your stove top is a great solution. Just be sure not to overload it; keep only the most commonly used items within arm's reach', says Lauren Saltman, founder of Living. Simplified.
---
So, while it may take a little bit of extra planning, as you can hopefully now see, there are plenty of benefits to employing these alternative utensil storage solutions –whether you have drawers in your kitchen or not.
Sign up to the Homes & Gardens newsletter
Decor Ideas. Project Inspiration. Expert Advice. Delivered to your inbox.
For 10 years, Tara King worked as a Content Editor in the magazine industry, before leaving to become freelance, covering interior design, wellbeing, craft and homemaking. As well as writing for Ideal Home, Style at Home, Country Homes & Interiors, Tara's keen eye for styling combined with a passion for creating a happy – and functional – family home has led to a series of organization and cleaning features for H&G.