A 16th-century farmhouse is transformed into a magical retreat at Christmas
This formerly lackluster farmhouse has been carefully restored and is now a warm and welcoming country home that looks its best at Christmas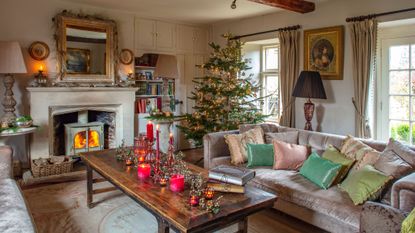 (Image credit: Clive Nichols)
December is Anna de Keyser's favorite month of the year. It's when she took up the tenancy of her old Cotswolds home in 2010 and, exactly one year later, became its owner.
The former fashion buyer and interior stylist had left the bright lights of London for a quieter life in the country, and downsized to a decluttered, 'temporary' rental – a stone farmhouse of a former dairy farm, in an Oxfordshire village.
The Grade II-listed Cotswold stone property was sparsely clad, with bolt-on 20th-century fixtures and fittings, the signature of a decade of tenants. However, Anna appreciated the house's beautiful bones and began to imagine how she could realize its full potential. By the following December she was its owner, and today the house looks at its most magical when dressed for the holidays with Christmas decor ideas.
Structurally, the 16th-century property was sound, spacious enough, and reasonably laid out, but Anna made a few simple changes.
Converting a passageway to create useful space
A worn old stone passageway cut right through the house, from front to back, dividing a large underused storage space from the main living areas. As a cottage hallway idea, Anna converted this hidden gem to create a back kitchen/utility/laundry/boot room and so freed up space in the dark, closed-in main kitchen.
In the holidays, Anna decorates this area with a mix of Christmas ornament ideas.
Kitchen
'By knocking down the internal, breeze block partition pantry wall, I was able to create a more open, light-filled, but still cozy kitchen,' explains Anna.
As a kitchen flooring idea, she replaced the red terracotta floor tiles with limestone flags in keeping with the original floors in the rest of the house. The old kitchen units were reduced, rejigged, and given a face-lift with Shaker-style doors and maple wood tops made by a local carpenter for a farmhouse kitchen feel.
Anna found space for a Victorian housekeeping cupboard. As a painted kitchen idea she painted it chocolate on the outside with pink inside and stacked it with piles of mismatched vintage china, to which are added a Christmas wreath and baubles for the festive season.
The kitchen's industrial-style strip lights were removed, with an engaging pair of vintage Toleware flower pendants put in their place as a kitchen lighting idea.
Dining room
The dining room mixes tradition with opulence, the stone fireplace, oak ceiling beams, and revealed parquet wood flooring are vestiges from the past, layered with vintage furniture from England, Italy and France.
The dining room's parquet flooring was dark and treacly in color, recalls Anna, but a hired sander and restorative wax brought out its lustrous, lighter shades. The walls were painted and hung with gilt-framed mirrors, to reflect the flicker of chandeliers and candelabras in this atmospheric room.
The dining table is an old Oxford College refectory and the 1950s Italian dining chairs were an Ebay find.
Anna's Christmas dining room decor includes a lot of traditional gold, including in the Christmas tree theme.
Living room
Soft candlelight, lighting, and layers of gilt and reflective surfaces and textures create a beautifully atmospheric and cozy scene for the Christmas living room idea.
The ornamental French gilt mirror is trimmed with a filigree gold foliage and cone garland, which catches light from the vintage French candelabra on the mantelpiece and an assortment of red glass lanterns, candlesticks, and holders set on the coffee table.
Bedrooms
This dreamy vintage bedroom has a wonderfully opulent feel from the Damask covered French bed, and pair of flanking gold, Florentine bedside drawers.
A banquette has been recovered in crushed velvet, adding a further textural element to this cosseting space.
The faded vintage dressing table is dressed for Christmas with a gold beaded garland and rose gold and copper-colored pleated paper decorations as Christmas bedroom decor ideas.
These accompany gilt and glass candelabras, gilt and china teacups from Anna's collection, and warm-colored glass tea light holders. All is mirrored from behind by a large faded wall mirror.
Filled with luxury bedroom ideas, the master bedroom suite is decorated using satin, faux fur, filigree metal work, and beading.
An Italian chandelier and ornate bedside candelabra add a further touch of opulence to this wonderfully warm and atmospheric home decorated for Christmas.
'A candle is not just for Christmas,' says Anna, and indeed, her warm and inviting home bathes in candlelight all year round.
A creative freelance writer, stylist and photographer, Jacky Hobbs has created home and garden features for prestigious lifestyle magazines for over two decades.
An earlier career travelling the world as a fashion and homeware buyer developed her passion for lifestyle, interiors, vintage, travel and later gardens.