Vintage bedroom ideas – 11 characterful schemes to inspire
Create relaxed spaces full of nostalgic charm with these vintage bedroom ideas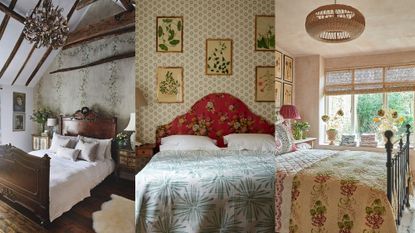 (Image credit: Brent Darby / Rachel Whiting / Cutter Brooks / Mike Garlick)
Vintage bedroom ideas are brimming with unique personality, rustic charm and stories to tell.
From the colors and prints you decorate with, to storage and the all-important bed, there's plenty of things to think about when it comes to choosing bedroom ideas, and each element can play a part in shaping the vintage style of your space.
Decorating with vintage and antique furniture is a good place to start. Whether passed down through the generations, specially sourced, or found at a yard sale, vintage pieces have a charm, and often quality, which is inimitable by modern designs, plus are often a fraction of the price.
If you're embarking on a new bedroom design or are looking for quick updates to add instant nostalgic appeal, these beautiful vintage bedroom ideas will help get you inspired.
Pippa has been writing articles on decorating and interiors for over 10 years, many of which focus on traditional style. As former Style Editor of Period Living magazine, she is passionate about vintage style and is experienced in sourcing unique antique pieces. Here she shares their tips on using vintage pieces in the bedroom.
Vintage bedroom ideas
When it comes to vintage bedroom ideas, it can be easy to fall into the trap of interiors feeling dated – the key to success, say interior designers, is in artfully blending old with new as well as choosing pieces you love.
'Some people will stumble over the need to focus on one period or genre which perhaps reflect the time in which the house was built. This can be important for those who are trying to restore a room or house to the original design. But my approach with clients is to encourage them to mix pieces from different countries, styles and periods,' says Henriette von Stockhausen, founder of VSP Interiors. 'The truth is that often the more contrived and forced an interior is, the less successful it is. The last thing anyone wants is to live in a museum.'
'Whether choosing one piece in an otherwise modern interior for major impact or a whole house for settled comfort, it's about blending and mixing periods and styles to make the space come alive.'
1. Celebrate period features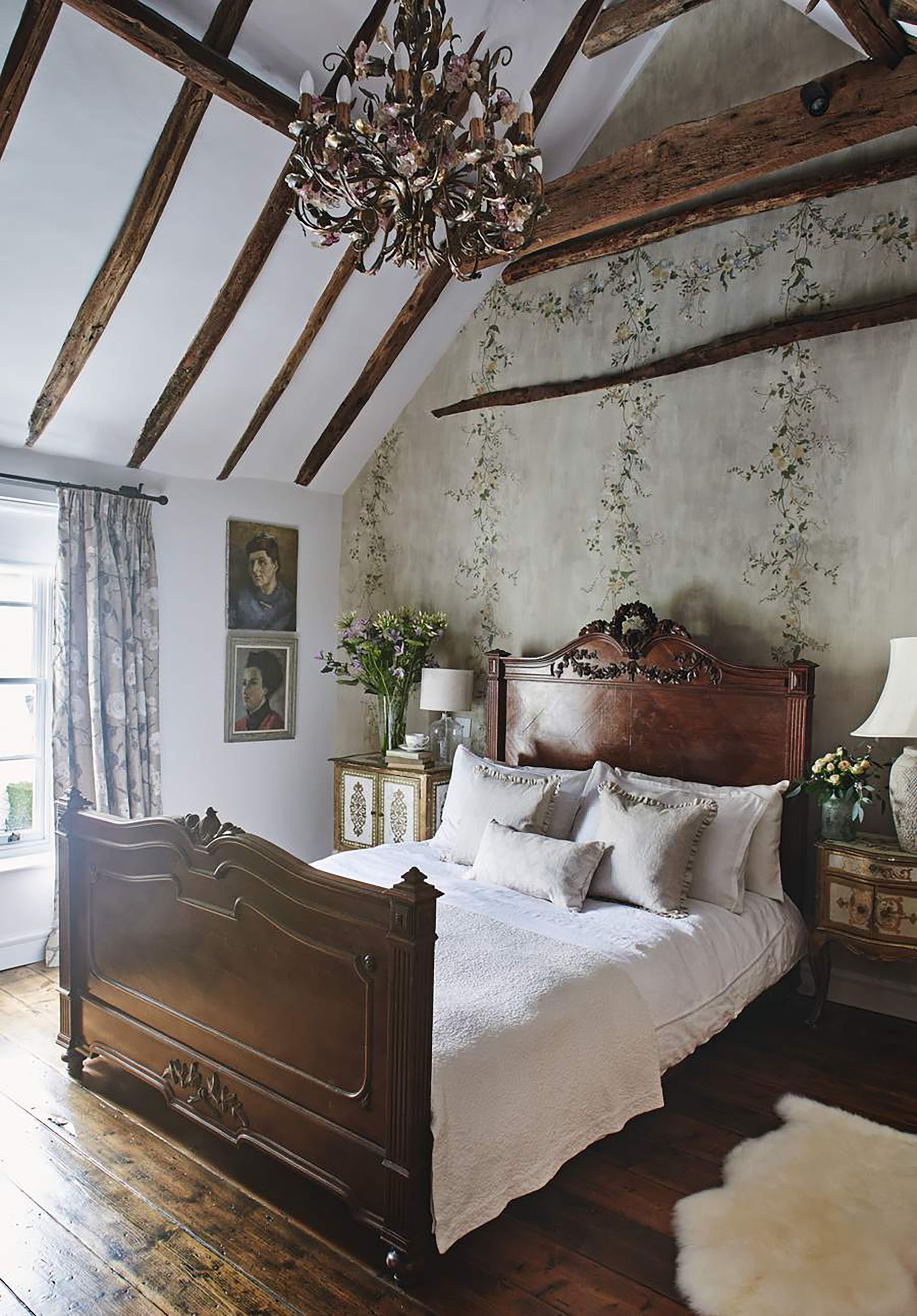 If you are lucky enough to have a traditional bedroom or period property with beautiful original features then be sure to showcase them as part of your design as these are guaranteed to give your space vintage charm. Antiques dealer, Holly Clements, carefully designed this bedroom to make the most of its original ceiling beams and wooden flooring, choosing a muted bedroom color ideas and adding in feminine prints to soften the rustic surfaces.
The bedroom accent wall idea papered in a hand-painted design from Flora Roberts makes the most of the height of the room and creates a romantic focal point, while vintage side tables, a carved bed and chandelier all contribute to a French country feel.
2. Create a focal point with a fabric wall hanging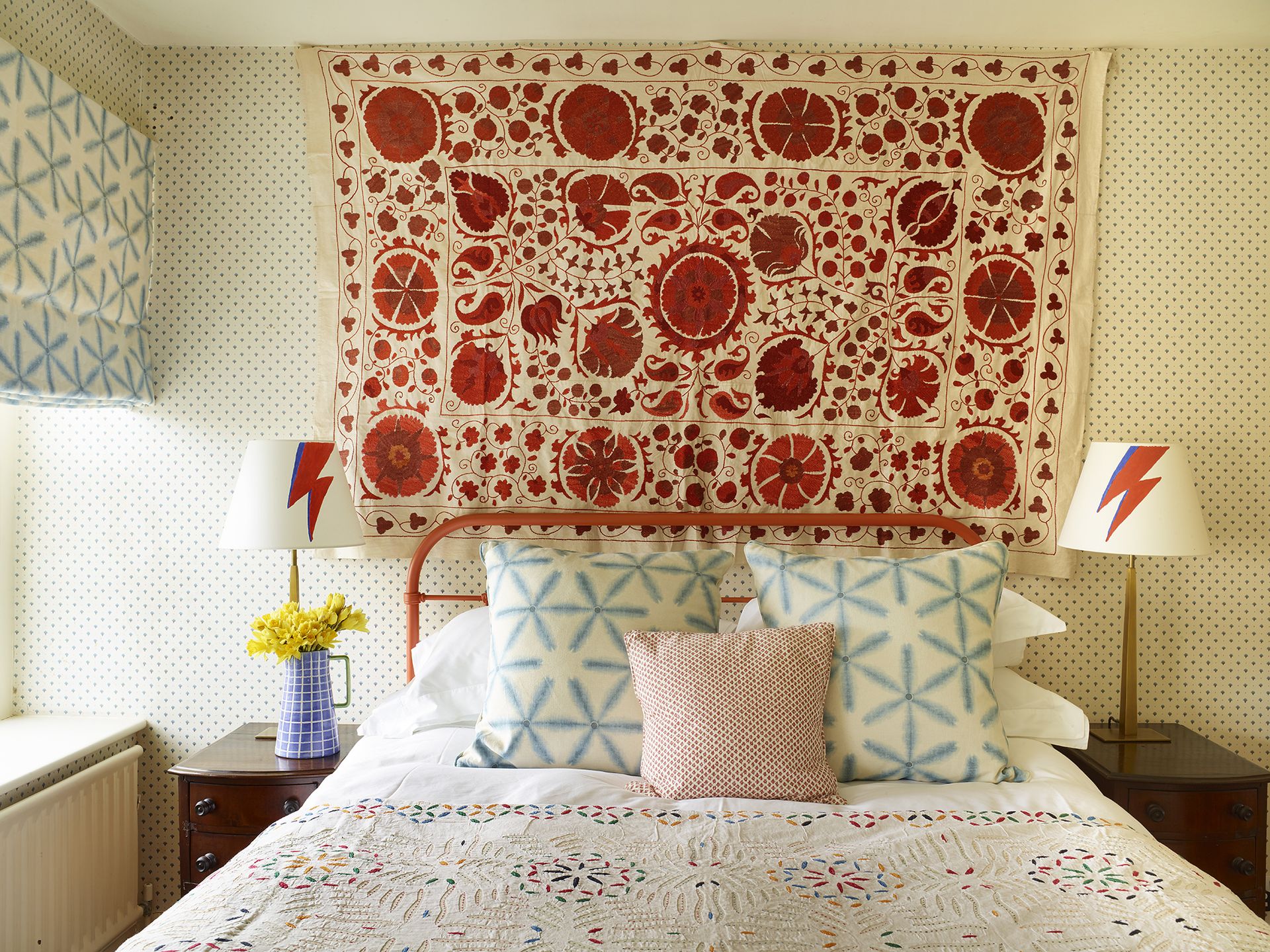 Whether introduced as wall decor or a few cushions, vintage fabrics can be a wonderful way to bring color and pattern into a bedroom. Often made by hand using time-honoured techniques, old textiles from across the globe are a beautiful way to celebrate craftsmanship and connect homes with the past.
'The options for using vintage pieces to decorate a bedroom are endless such as Kantha curtains or blinds, placing a Suzani on the bed as a throw or behind it as a headboard,' says Chloe Jonason, founder of Chloe Jonason Interiors. 'I love a statement Suzani headboard with a simple bed canopy over the top, finished off with a Kantha quilt. Silk sari lampshades also work really in various sizes dotted around the room.'
3. Decorate with ornate wallpapers and fabrics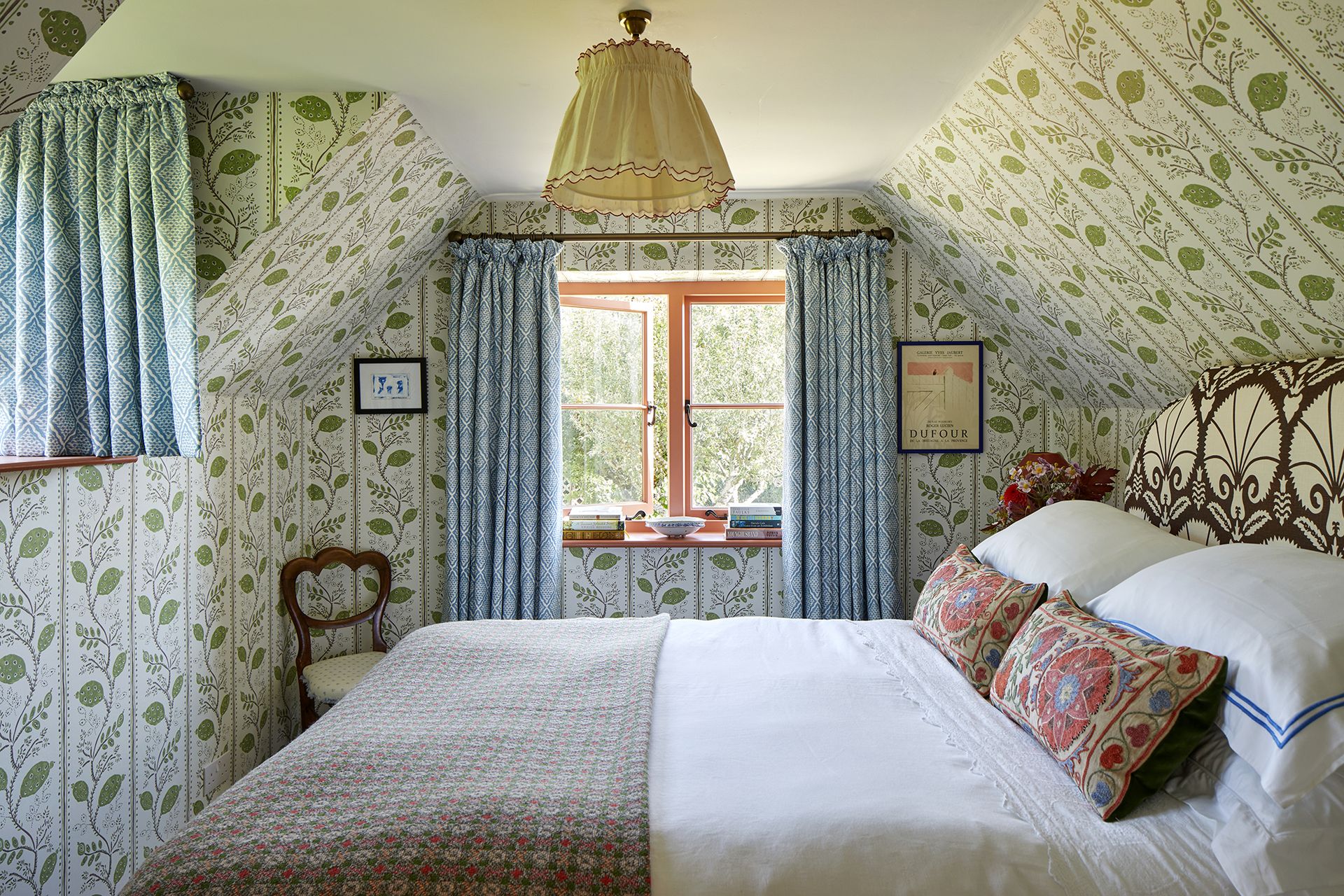 Using wallpapers wall-to wall in a small bedroom can feel daunting, but it can be a fabulous way to bring personality and create an eclectic vintage look, as demonstrated in this attic bedroom designed by Sarah Vanrenen.
'Being a fairly small space with sloping bedroom ceiling warranted pretty fabrics and wallpapers to create intrigue and make the room interesting. In rustic situations we often use gathered curtains and mix in some traditional furniture like mahogany chests of drawers and an old chair with some modern patterns to keep everything from looking too dated,' says the interior designer.
4. Choose a traditional bed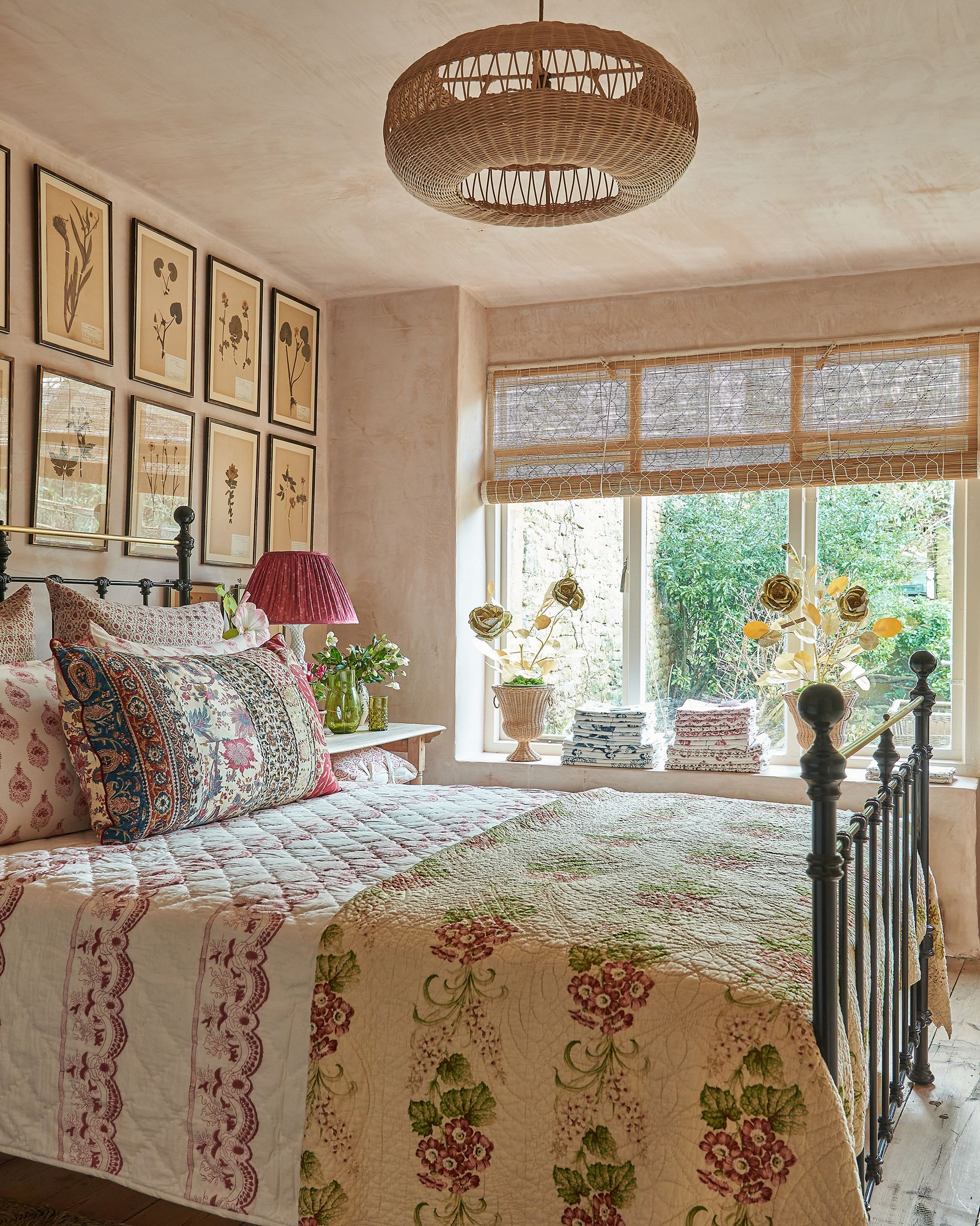 The bed is the largest and most commanding feature of any bedroom design, so if you're looking to create a certain look its the obvious place to start. With its traditional cast iron frame, brass detailing and finials, this Victorian-style Rebecca bed from The Cornish Bed Company makes the perfect centerpiece for this cottage bedroom.
To complete the look the team at Cutter Brooks have beautifully styled the space with a floral quilted bedspread, vintage floral cushions and botanical prints to create a relaxed, vintage feel.
5. Decorate with heritage prints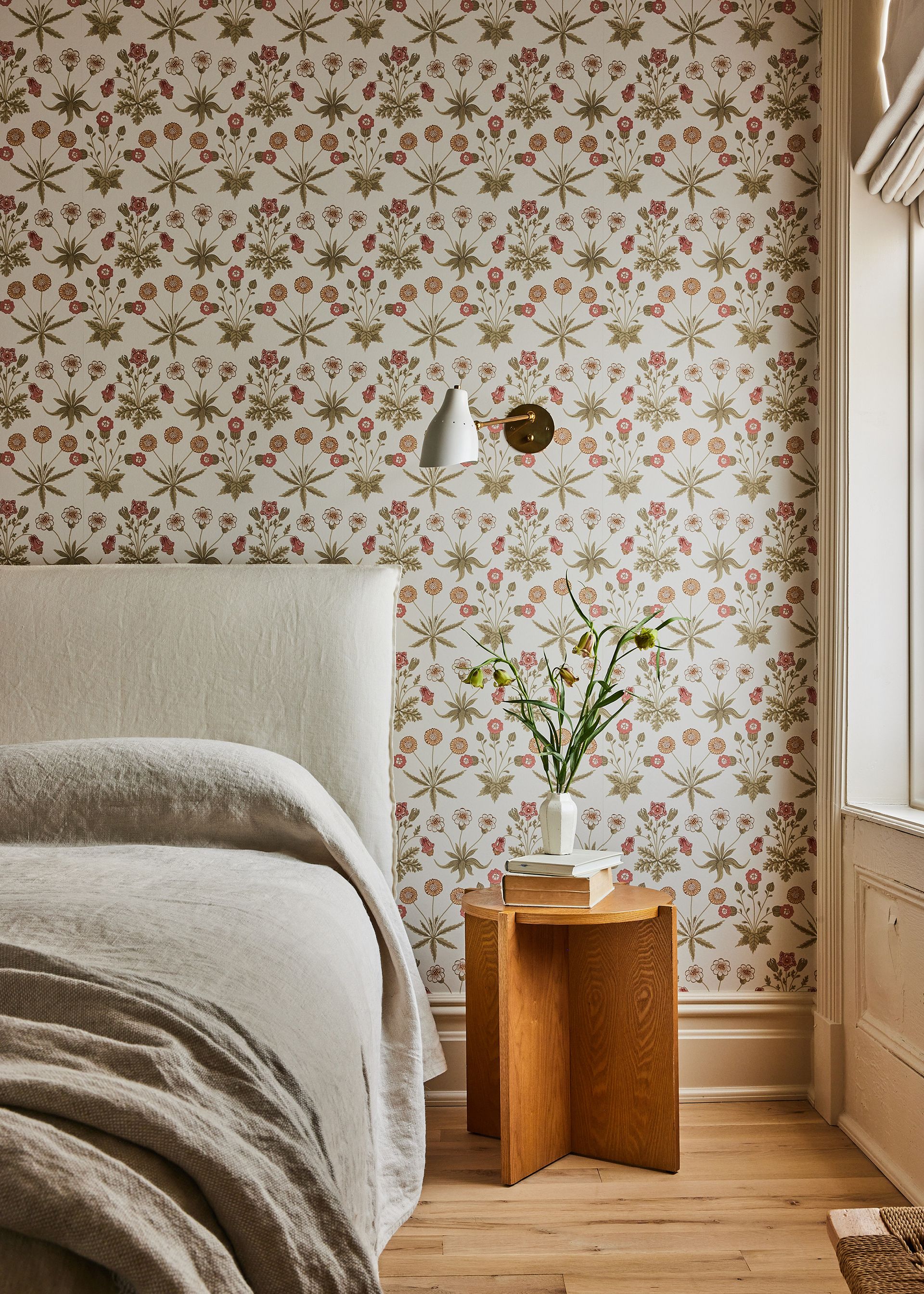 Bedroom wallpaper can instantly change the look and feel of the room, and there are plenty of companies that offer heritage prints in modern and more muted colorways suited to 21st-century living.
For interior designer Arianna De Gasperis of And Studio, Morris & Co's Daisy wallpaper in the subdued coral/manilla palette was the perfect choice for this guest bedroom. A stylized ditsy print, it complements the history of the property and brings a touch of pattern without overwhelming the space.
6. Think about lighting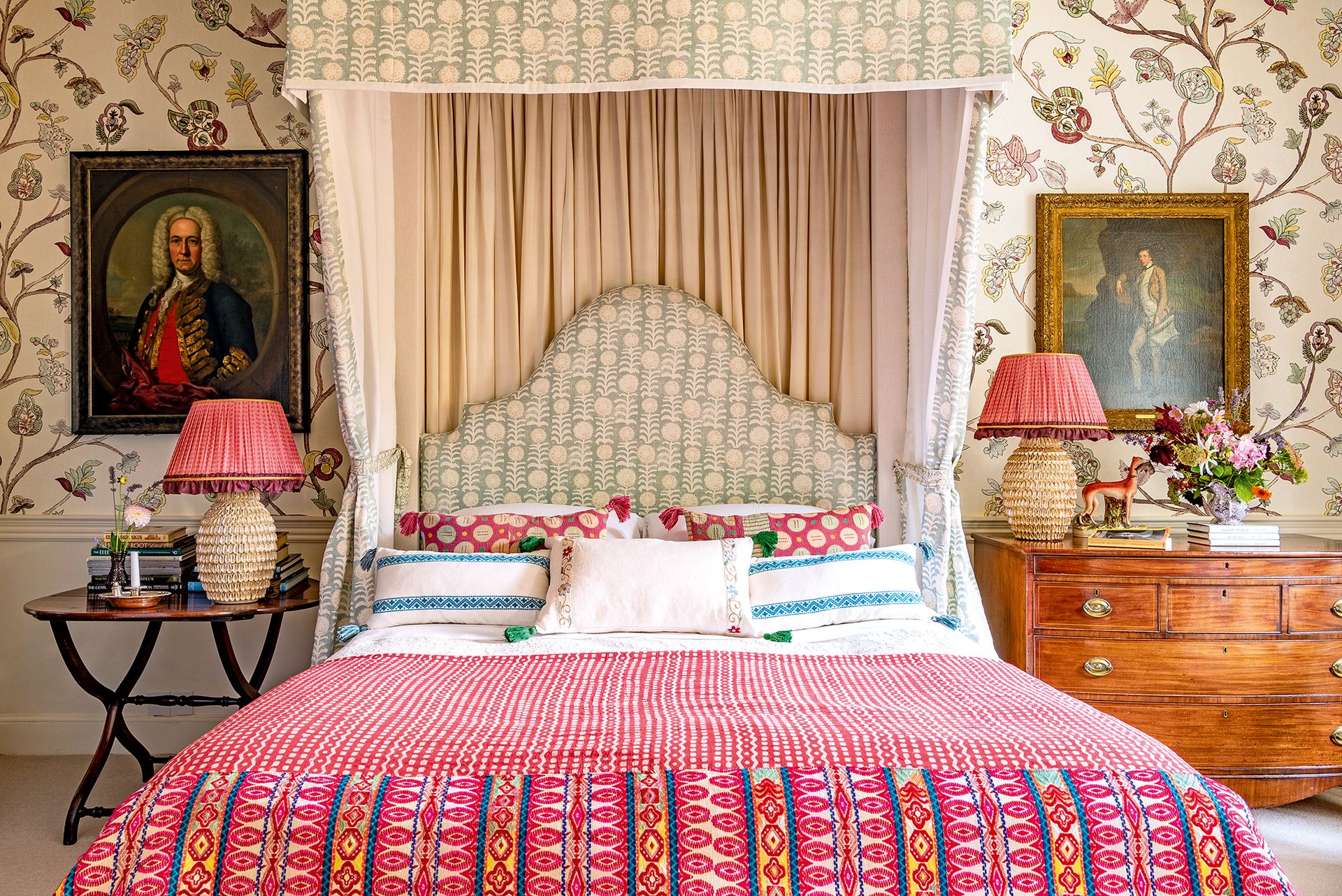 When it comes to bedroom lighting in a vintage bedroom aim for traditional style table lamps, not only will these add soft, ambient glow and offer the opportunity to get creative with lampshade in vintage prints, they also negate the need for rewiring which can cause harm to the fabric of a traditional property.
'Use as many wall lights and lamps as the space allows. As well as wall lights you should have down lights on a dimmer switch in each corner of the room – this always makes rooms feel larger and brighter,' says interior designer, Penny Morrison.
'Choose large high bed with proportionally quite a high headboard. Bedside tables must be large enough for a lamp, books, water and flowers and must be at least as high as the mattress,' she adds. 'A stool at the base of the bed is pretty and useful, and if there's space an armchair with standing lamp to sit and read.'
7. Add a canopy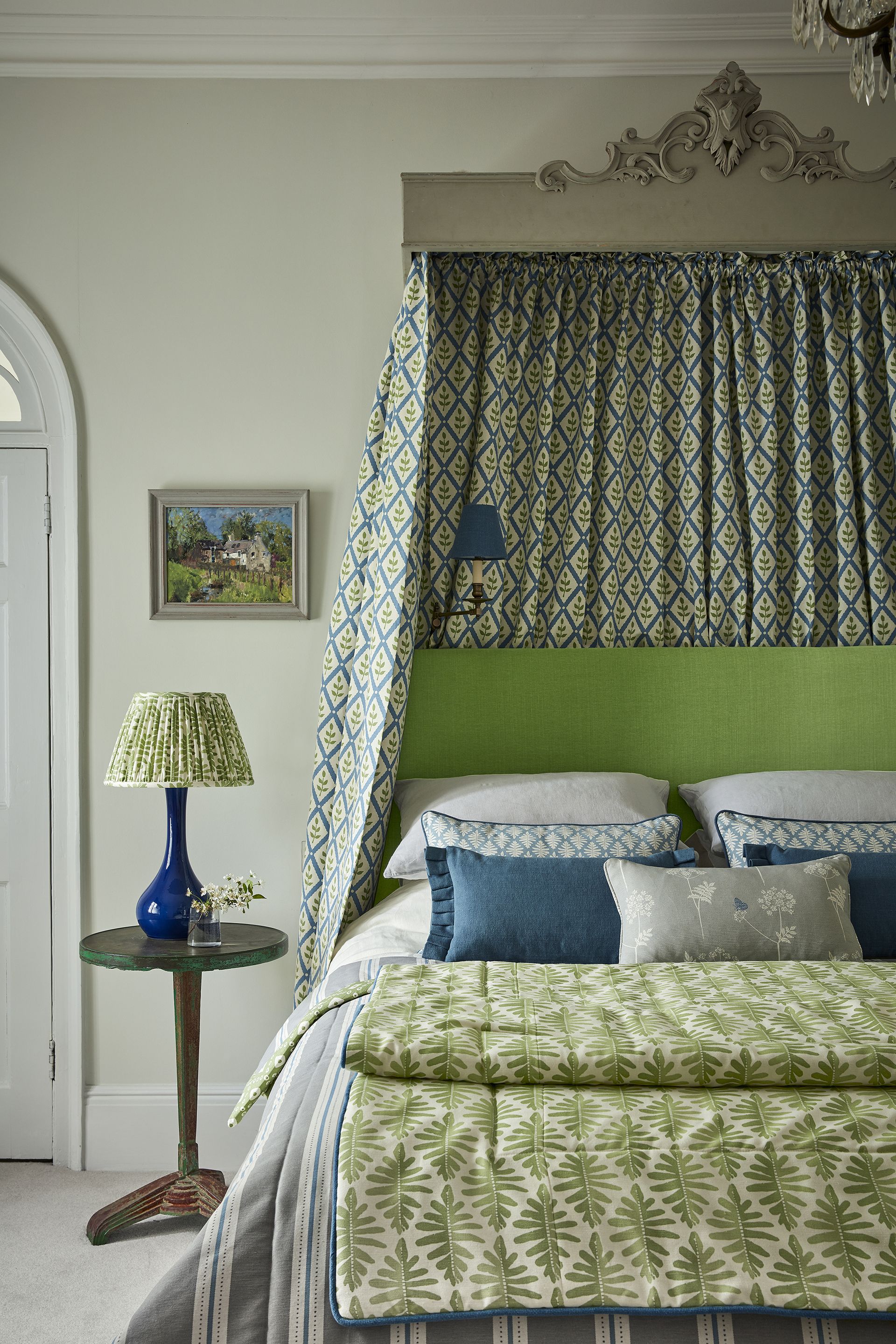 Reminiscent of European palaces, adding a coronet and a fabric canopy above the bed is a wonderful way to create a romantic focal point in a bedroom. Originally used to bring privacy and to symbolise wealth and status, these features are today used in a more decorative manner, but can help to bring a cozy and intimate feel.
To freshen up the look consider trading in chintz or damask fabrics for modern artisan prints in vibrant colors to keep the space feeling fresh.
However, this needn't mean ruling out vintage fabrics all together suggests Vanessa Arbuthnott. 'I do love old vintage linen sheets in particular from French markets and Brocantes. Heavy linen in particular in natural shades look wonderful made up into loose covers on old armchairs. They also make the perfect cushions for beds and sofas.'
8. Don't be afraid to layer pattern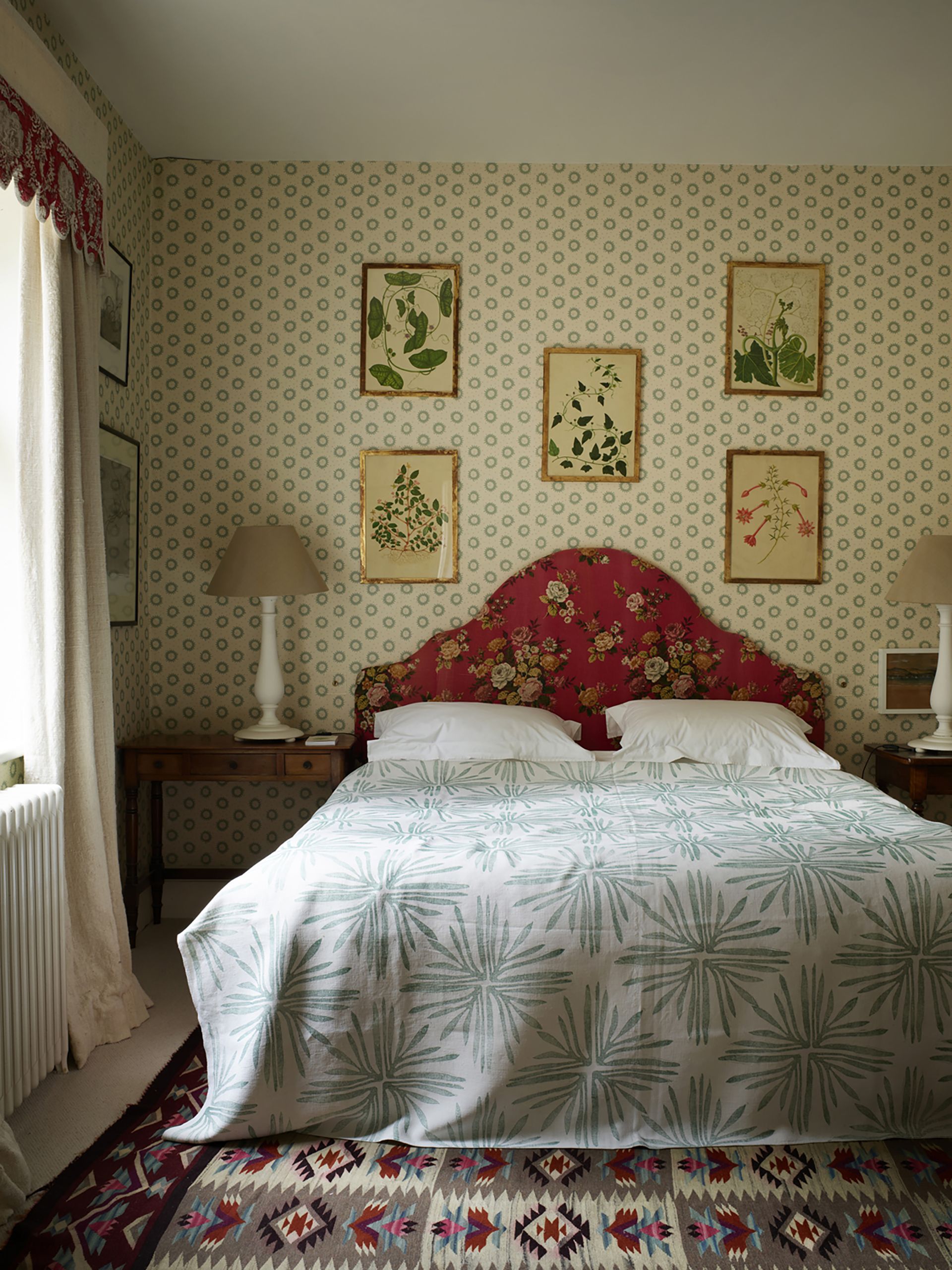 When it comes to using pattern in a vintage bedroom you can never have too much – mixing an array of fabrics and wallpapers in different patterns is an easy way to create an eclectic vintage look. The key to getting it right is to mix up the scales – too many loud, large-scale florals and you can risk overpowering the room.
Here the muted ditsy wallpaper creates a gentle patterned backdrop for the statement headboard idea in a vintage floral fabric, an abstract bedspread from Hares Tail Printing and a geometric antique rug.
9. Add wall paneling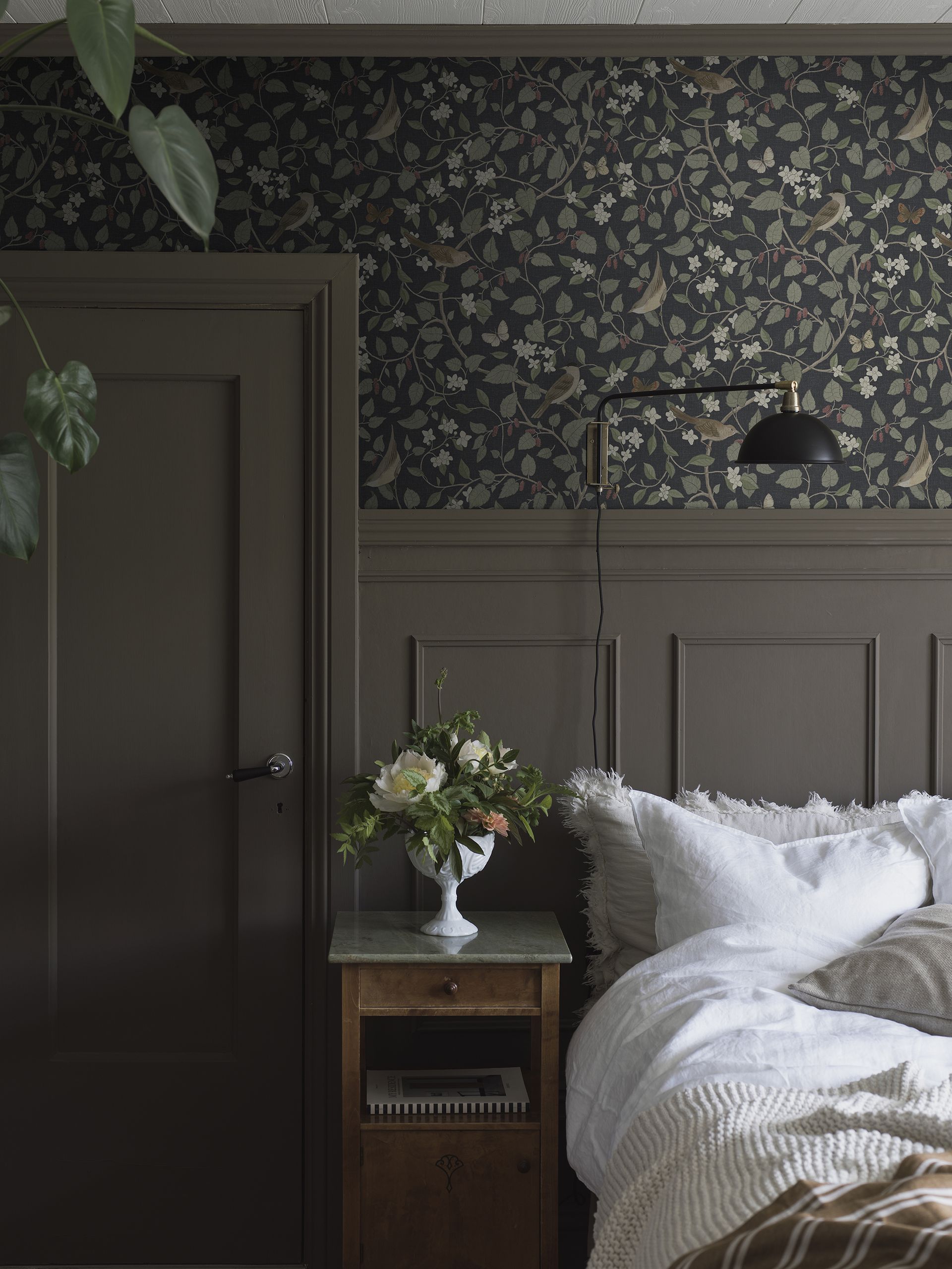 Whether it is part of the original fabric of your home or retro-fitted, wall paneling is an easy way to bring structure and texture to a room and is guaranteed to create a traditional look. While today it is installed for decorative purposes, historically, in Tudor, Elizabethan and Jacobean homes, paneling in bedrooms was a display of wealth and status but also played an important practical role.
'To aid in warming these often draughty homes, wooden paneling was the go-to, though the expense of paneling in earlier periods meant that in smaller homes – such as those of aspiring merchants and yeoman farmers – only one or two rooms were paneled, usually the parlour and the bedchamber above. These were the best rooms of a house and were treated as such,' explains Lee Bilson, architectural historian and contributor to Period Living magazine.
10. Display vintage items as wall decor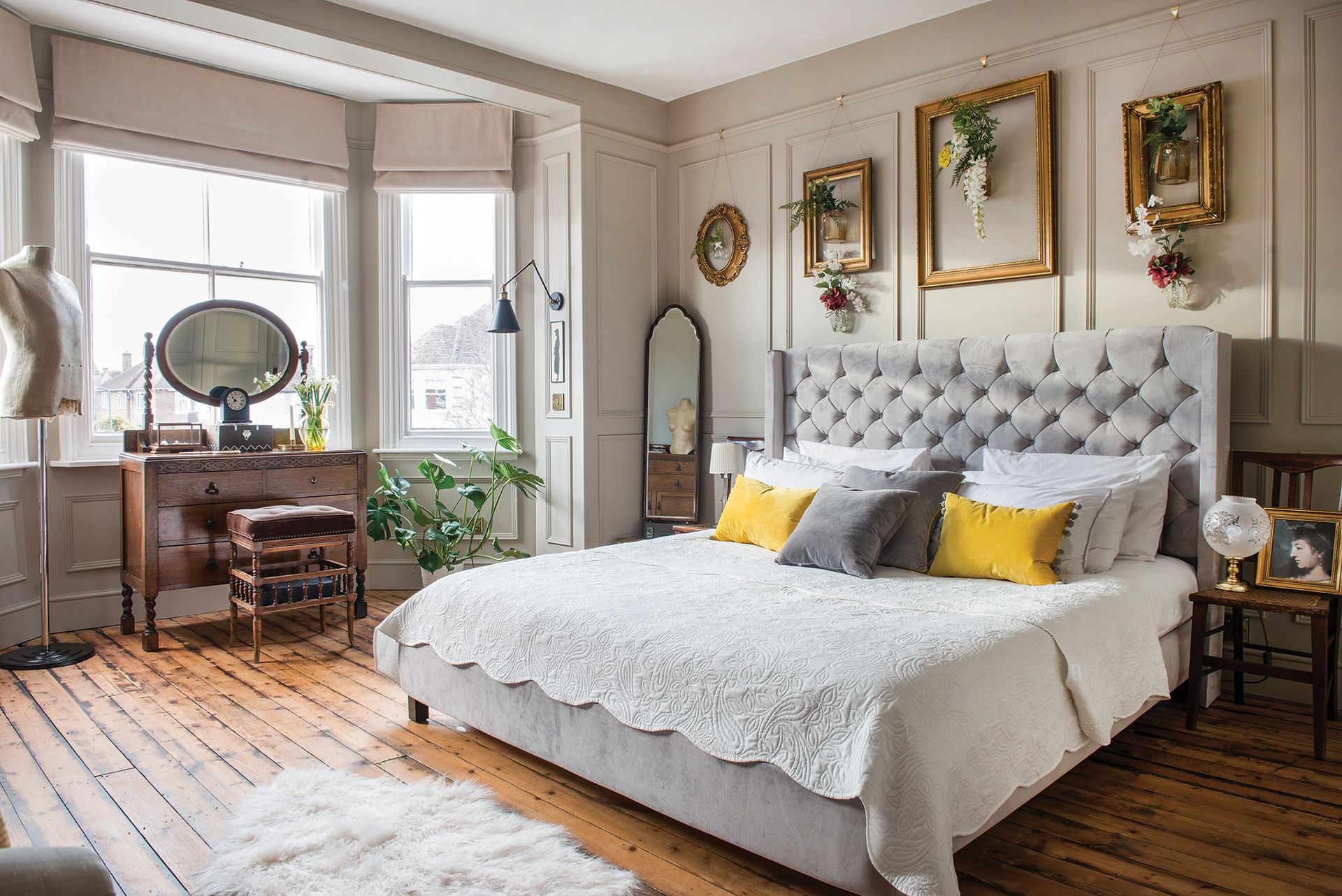 'Use vintage pieces in a beautiful way to showcase special objects that may otherwise be stored away as keepsakes,' says interior designer Phillip Thomas. 'I am a firm believer in decorating with pieces that have meaning, that you love to look at. Grouping heirloom pieces or found, collected objects in a unique display on the wall or framing a special family memento creates personalized art that you will love to look at every day.'
Here homeowner Carla Isolano has created unique bedroom wall decor by hanging an array of empty vintage gilt frames and decorating with flowers.
11. Repurpose vintage items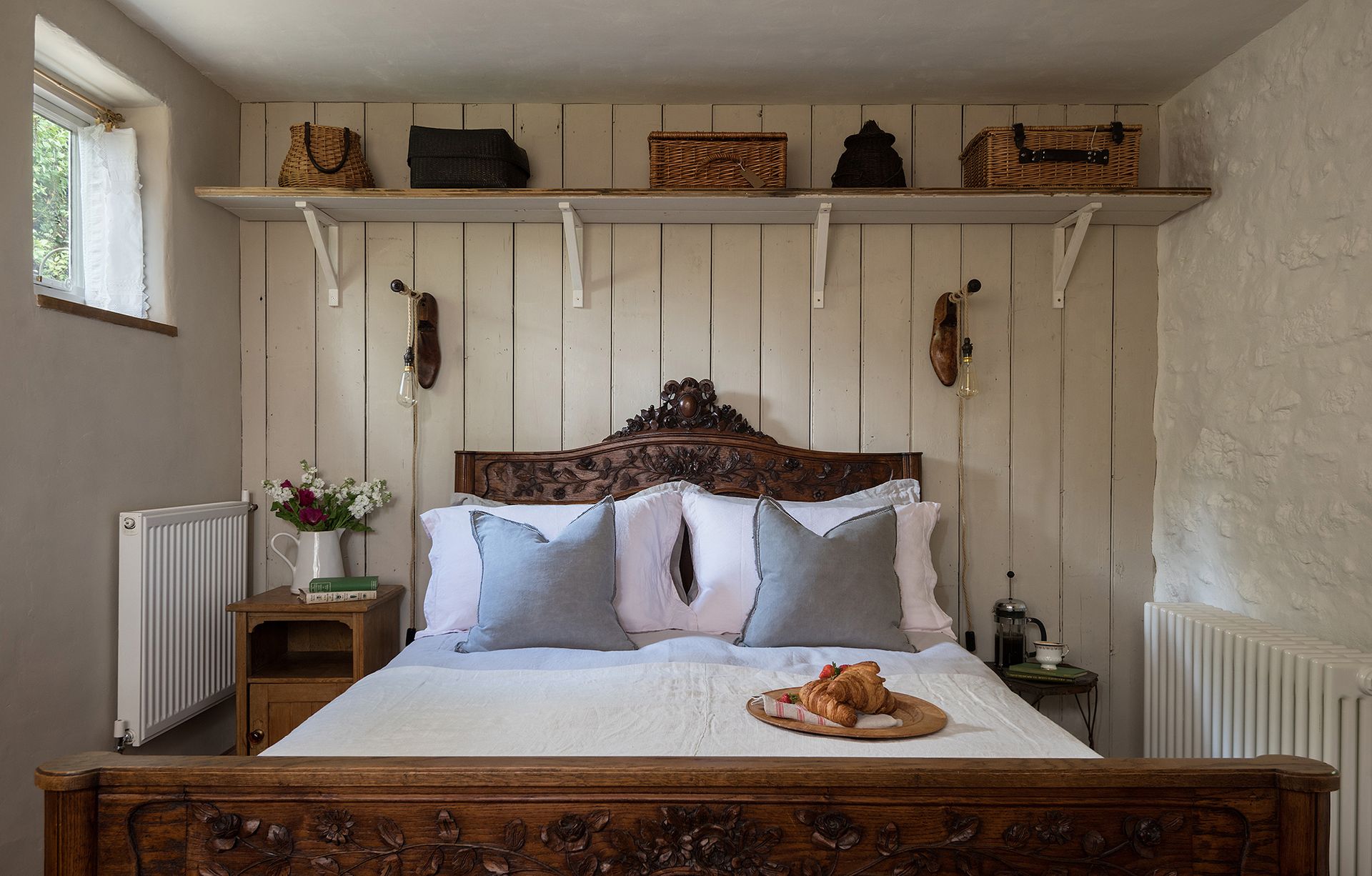 When creating a vintage bedroom get creative about how you can incorporate unwanted vintage pieces into your interior, not only will this approach provide playful talking points, it will also help reduce waste.
'There are so many ways to incorporate antiques with perhaps the only rule being not to be afraid to mix and experiment. Old paravent screens can become cupboard doors, rugs can become headboards, urns can become lamps and tables can become kitchen islands. Creativity is key – let your imagination run wild and tell your own story!' says interior designer Henriette von Stockhausen.
In this rustic bedroom old wooden shoe lasts have been wired to create unique bedroom wall lights and old hampers double as storage.
How can I make my bedroom look vintage?
There are many ways to make your bedroom look vintage, such as choosing dusky, soft paint colors, adding wall paneling and decorating with ornate heritage wallpapers. Alternatively, for a quick update you could try adding in cushions or a headboard covered in vintage floral fabrics. Furnishing with vintage and antique pieces will bring instant rustic charm and character, plus they are often better quality and cheaper than newer pieces.
'Pieces of furniture which have been passed down through generations are a wonderful addition to the home. Not only are these pieces often finely crafted to stand the test of time, but they bring much needed character and charm to what otherwise might be a more contemporary home,' says Emma Sims Hildtich, founder of interior design practice Sims Hilditch.
'Searching antique shops, thrift stores, online marketplaces, or even the side of the road is a great way to find quality pieces of furniture with vintage character,' adds Rudy Saunders, interior designer at Dorothy Draper & Company, New York. 'Painting and reupholstering are great ways to freshen vintage pieces up.'
When it comes to creating a vintage bedroom Rudy suggests adding in two key pieces. 'Whether you own or rent, swap out overhead lighting for a chandelier or lantern. This will add a lot of charm to the space and is an easy fix,' he explains. 'A bed canopy can bring such an elegant, special feeling to a bedroom with lots of vintage flair.'
Sign up to the Homes & Gardens newsletter
Decor Ideas. Project Inspiration. Expert Advice. Delivered to your inbox.
Pippa is Content Editor on Homes & Gardens online contributing to Period Living and Country Homes & Interiors print issues. A graduate of Art History and formerly Style Editor at Period Living, she is passionate about architecture, creating decorating content, interior styling and writing about craft and historic homes. She enjoys searching out beautiful images and the latest trends to share with the Homes & Gardens audience. A keen gardener, when she's not writing you'll find her growing flowers on her village allotment for styling projects.