How to hang stockings – expert stylist tips for a flawlessly festive home
Learn expert home stylist tips for hanging Christmas stockings on mantels and stair rails for a flawlessly festive home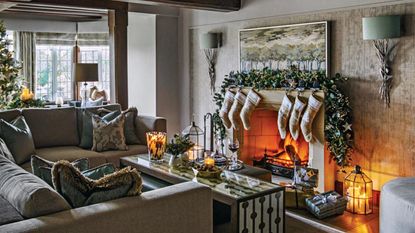 (Image credit: Future)
There is little more exciting when decorating for Christmas than digging out Christmas stockings and hanging them up ready for the big day. But given that these festive socks are only used once a year, not many people (if any) have a permanent hanging set-up waiting for the annual decorations. So, how do you hang stockings?
A pinnacle of Christmas decor ideas, the stocking is arguably one of the most iconic decorations for any family – big and small.
Whether you are looking to put together some traditional Christmas mantel decor ideas, or are hoping for some festive Christmas wall decor advice, hanging stockings can be a difficult task – especially if you don't want to use something as permanent as nails.
Here, we offer some expert home stylist tips on how to hang stockings.
How to hang stockings
Hanging stockings needs not damage your mantel place or your walls, there are plenty of ways to temporarily hang your festive decor pieces and make sure they can still hold all your festive goodies.
How to hang stockings without nails
'When it comes to hanging stockings I always use command hooks [opens on Amazon],' says Pippa Blenkinsop, home stylist, and writer for Homes & Gardens. 'Command hooks come away from surfaces easily without marking and come in a range of sizes to hold different weights. This makes them ideal for holding up overladen stockings on walls and mantels come Christmas eve.'
When hanging stockings as a part of your Christmas fireplace decor, make sure they are not hung too close to fires or log stoves as this may create a fire hazard, Pippa adds. 'If you regularly use your stove or log burner then consider hanging your stockings elsewhere in your home such as on the wall or a stair rail for peace of mind. If your mantel is purely decorative, however, then hanging stockings in their traditional place is fine.'
An alternative to command hooks for a fireplace (especially rough textured mantlepieces that command hoods may struggle to adhere to) are mantel stocking holders such as these on Amazon which can be weighed down on top of your mantel by other decor pieces and allow your stuffed stockings to hang with ease.
How to hang stockings with string
If you want to avoid damaging your mantelpiece (or have a marble or stone mantel) then twine such as this on Amazon could be used to create a more rustic look.
'Strong twine can be tied to something on either side of the fireplace and draped along the front to hang stockings from over Christmas – just be careful how much weight you add to your stockings to prevent the twine snapping,' Pippa suggests.
You may also want to consider using twine to tie your stockings to your Christmas garland ideas which can be added across a mantel or up stair rails to spruce up your Christmas hallway decorations.
How to hang stockings from mirrors and art
'If you have a heavy mirror or framed artwork in your home then hanging stockings up with these is possible, although may damage your wall depending on your method,' explains Pippa. 'Use a pin such as a thumbtack if your stockings are decorative and not intended to hold gifts, or a command hook if you want to stuff your stockings, and hang your stockings loop behind the mirror or frame.
'This is a great alternative if you do not have a mantel suitable to hang your stockings from and want to keep your festive decorations looking tidy as it hides any fixtures in your Christmas living room decor ideas.'
How do I display my stockings without a fireplace?
If your home does not have a fireplace or mantel, then you could hang your stockings from your stair rail, on the end of your bed frame or dresser, or even just on the wall in place of artwork. There are plenty of ways to create a festive stocking display without a traditional mantlepiece.
Should Christmas stockings match?
While matching Christmas stockings gives a cohesive look, mismatched stockings can feel more homey and traditional. Whether or not you have matching stockings will depend entirely on your decorating style and whether you want a sleek Christmas scheme or a more nostalgic appeal.
Chiana has been at Homes & Gardens for six months, having started her journey in interior journalism as part of the graduate program. She spends most of her time producing content for the Solved section of the website, helping readers get the most out of their homes through clever decluttering, cleaning, and tidying tips – many of which she tests and reviews herself in her home in Lancaster to ensure they will consistently deliver for her readers and dabbles in the latest design trends. She also has a first-class degree in Literature from Lancaster University.