Sove ute: could this Scandinavian sleep trend be the secret to better sleep or curing your insomnia?
It might not be conventional, but it is hard to deny the benefits of this niche Nordic sleep practice of creating an outdoor sleep station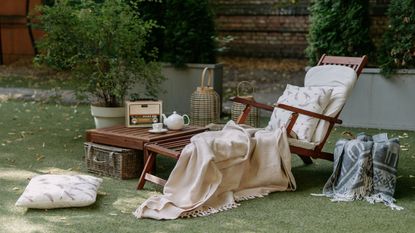 (Image credit: Getty Images)
Sign up to the Homes & Gardens newsletter
Decor Ideas. Project Inspiration. Expert Advice. Delivered to your inbox.
Thank you for signing up to Homes & Gardens. You will receive a verification email shortly.
There was a problem. Please refresh the page and try again.
When it comes to sleep, our beds and couches are the go-to snooze spots for the vast majority of us. But, as usual, Nordic countries do things a little differently, and experts are saying they have the right idea. The trick? Sleeping outdoors.
A cultural norm, it is not uncommon for Scandinavian parents to put their child down for a nap outside – come rain or shine, and, while it may seem irresponsible, there are some fantastic benefits that cannot go unnoticed.
From sleeping better to strengthened immune systems, this is what the experts want you to know about sleeping outdoors – and how to set up the perfect sleeping spot in your backyard.
The benefits of sleeping outdoors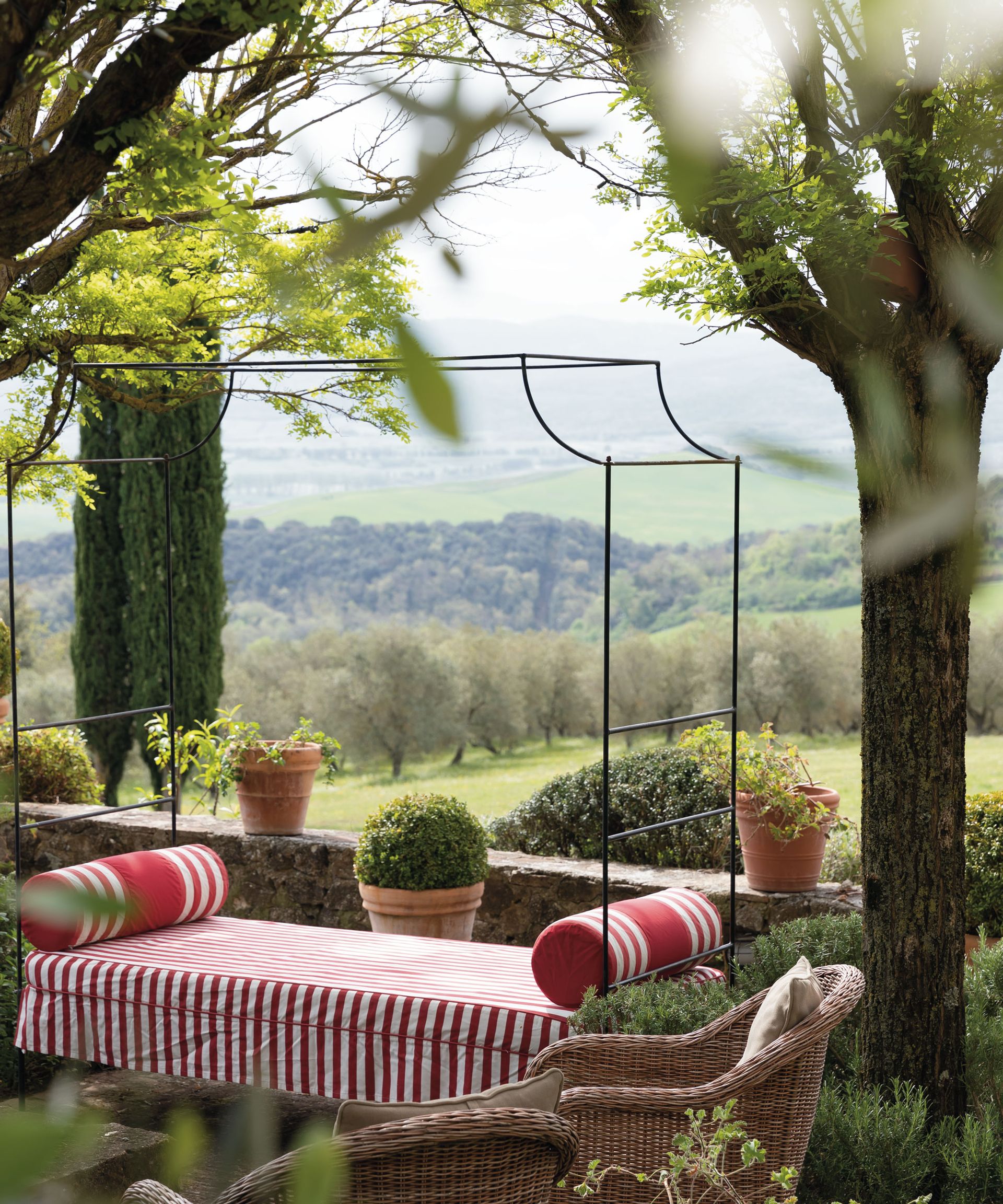 Of course, if you are reading this, you are not a Scandinavian baby. But the benefits are all the same, regardless of age and location, and still help to improve your sleep, explains Hafiz Shariff, sleep expert and founder of Owl+Lark.
'We are creatures of nature, so it only makes sense that sleeping or napping outdoors will only have benefits,' he says. 'Three things change when we sleep outside. Firstly is our sleep quality – fresh air and exposure to natural light can help regulate sleep patterns and enhance the quality of sleep. As a result, sleeping outdoors may lead to deeper and more restful sleep, allowing you to wake up feeling rejuvenated.'
Hafiz started his working life as a lawyer, but found his work was losing him sleep. he started to research circadian rhythms, teaching himself how to listen to his body and sleep better, before deciding to help others with the same problem. He founded Owl + Lark to help others find the best sleep tips and now curates luxury sleep products to help too.
Next, and least noticeably is the improvement in vitamin D levels, Hafiz adds. 'Outdoor napping allows for exposure to sunlight, which can help boost vitamin D levels in the body.'
Adequate vitamin D has been linked to better sleep and overall well-being, including a strong immune system, stronger bones, and reduced inflammation throughout the body.
Finally, there is the positive effect that the fresh air and calming sounds of nature have on the ability to truly relax, reducing stress levels helping you feel more rested, Julio Arco, designer and founder of Bark and Chase adds.
Julio Arco has been practising as an architect, interior designer, and online interior designer for the past several years in the United States. He holds a degree in Architecture from ITESM and a Master's degree in Urban Design and Housing from McGill University. He is also a member of the Royal Architectural Institute of Canada (RAIC).
How to create the perfect outdoor sleep spot
If you are looking to take your midday snooze outside, creating the perfect sleep spot is essential, says Samantha Pratt, interior designer and founder of Samantha Ashley Designs.
'I recently completed my own outdoor sleep spot project at home and I love it. I can certainly see them becoming more of a timeless request than a passing trend,' she says. 'They are a great new way to enjoy some fresh air, and get some mental clarity.'
Samantha is an experienced interior designer with a history of working in textiles and ceramics industry, having started her career in set design for theatre. She started her design company nearly four years ago, with a goal of carrying the skills she had learned in the past to her own business and developing her style.
1. Seek out a shady spot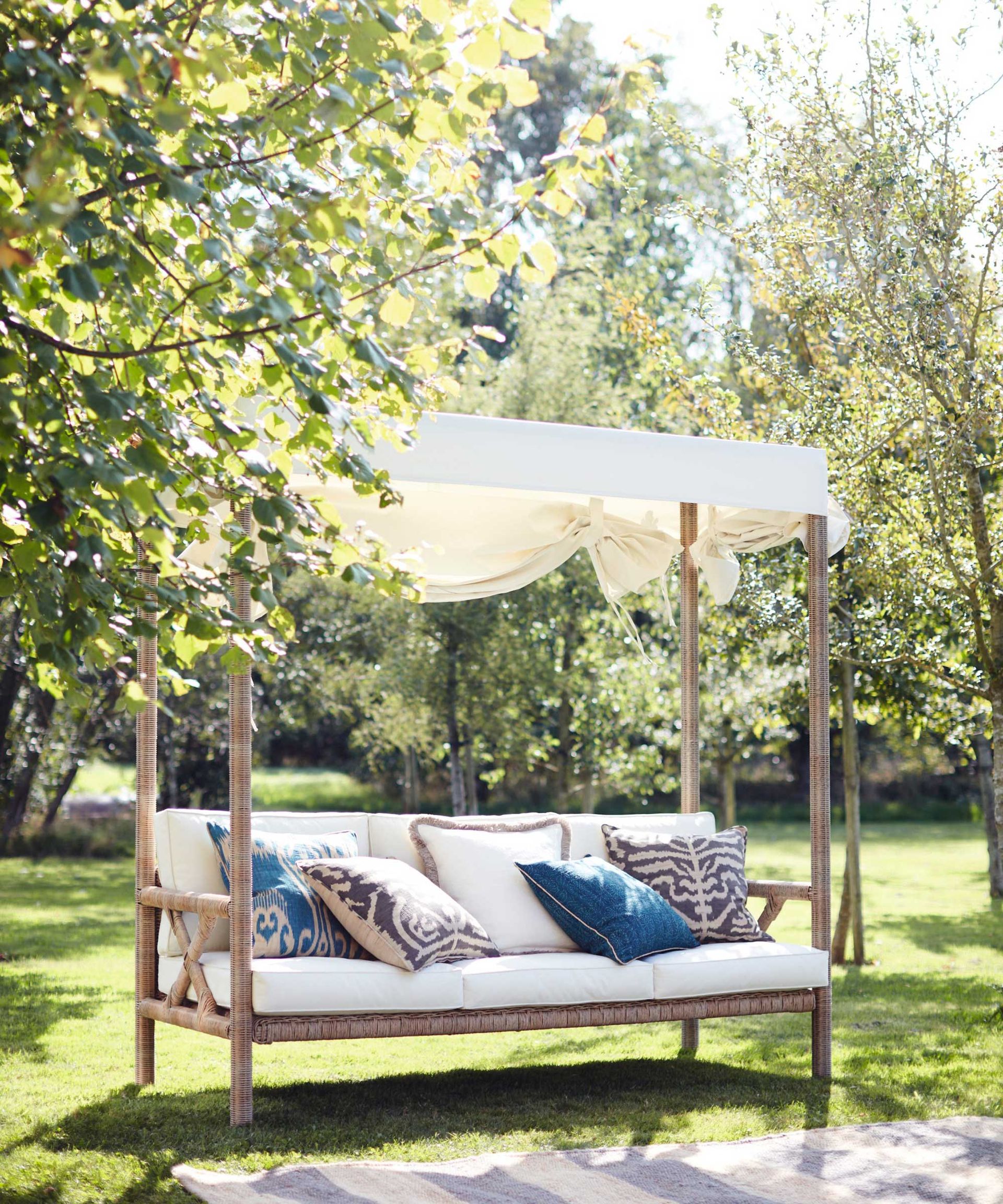 As with any garden seating ideas, it helps to seek out some shade to make the area comfortable and usable at any time of day. Thayer Joyce, design consultant and sleep expert reminds us that the number one consideration with outdoor naps should always be sun protection.
'I recommend a chic umbrella, like these stunning scalloped parasols from Business and Pleasure. The colors and details evoke Miami Beach in the 60s – and who doesn't love a vacation you can take in your own backyard? Pair that with some SPF and you're good to go.'
Alternatively, if you have the space and budget, you could have a more solid structure built, such as an open-air garden room, designed to stand up to any weather that comes your way.
2. Pick somewhere private
Not any spot in your yard is suitable for sleeping outside. For your own peace of mind, and to help you relax into your nap, finding some privacy is crucial, says Samantha Pratt, interior designer.
'Placing it somewhere private, shaded, and with access to breeze is ideal,' she advises. 'I suggest placing this nap space off of a covered patio or somewhere under a roof or awning to prevent overlooking neighbors, or even a curious bird – then you have the added benefit of being able to nap during a rainstorm, and there is very little as peaceful as that.'
3. Double up on sleep space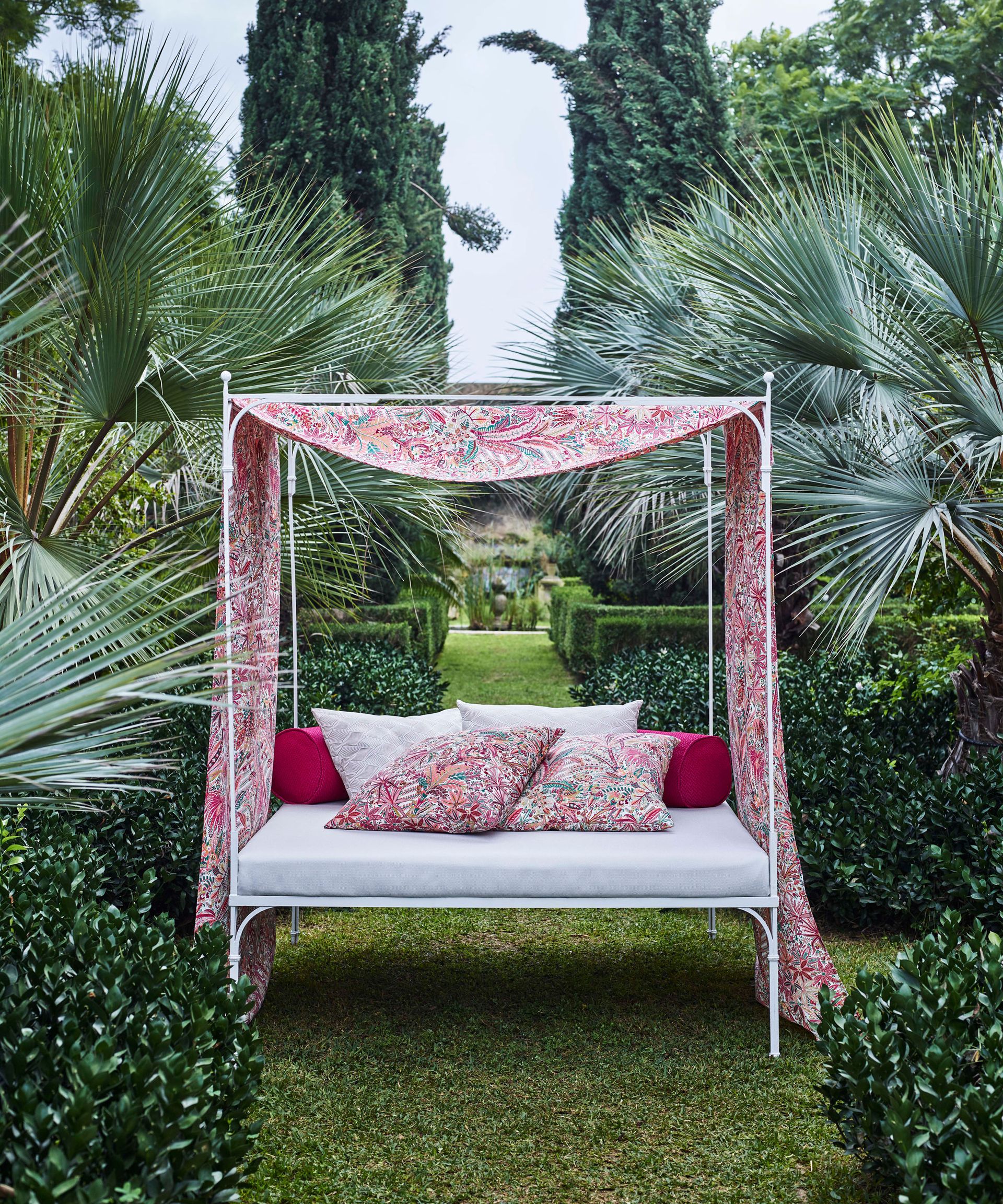 The best outdoor furniture for a yard sleep space is anything that affords you plenty of maneuverability and space to spread out if needed.
'If space and budget allow, opt for a double occupancy daybed,' Thayer Joyce, design consultant suggests. 'They are the ultimate way to get a great nap. They'll also give you that luxe hotel look, and feel like an actual bed, with room for two if you're so inclined.'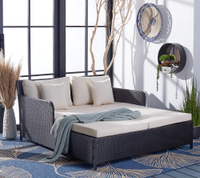 Cadeo Daybed | Was $569.99, Now $512.99 at QVC
This double outdoor daybed is perfect for getting a good rest out under the cover of nature and is loved by verified buyers.
4. Or, opt for a hammock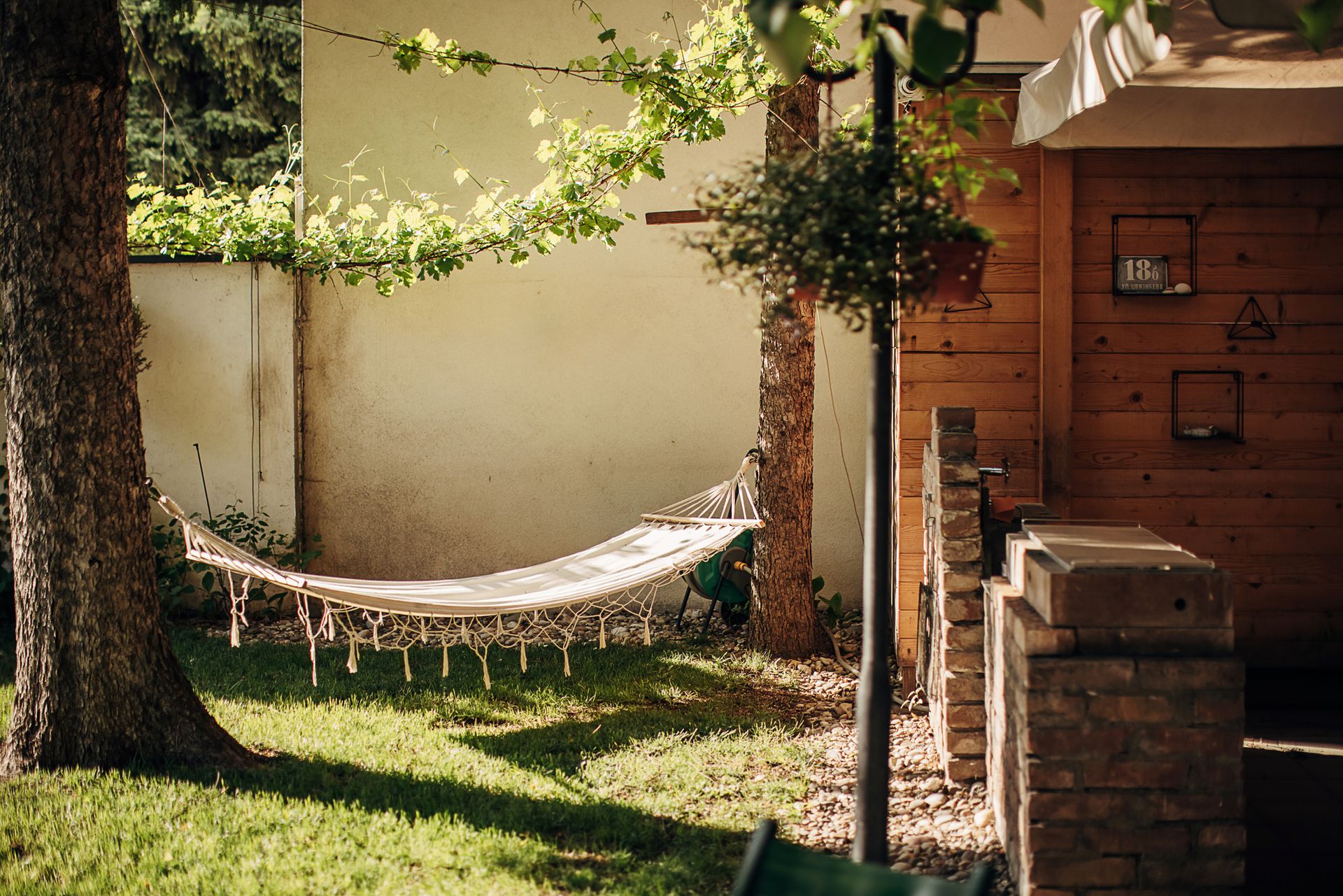 If your yard is not big enough for a large daybed, or you are looking for a more temporary spot you can take down and move, then a hammock is your next best bet, says Samantha Pratt, interior designer.
'We are big on hammocks or hammock swings, and they are a really simple way to help transform your garden,' she says. Something that moves when you sit in it is similar to being rocked or the feeling of floating; this creates the most relaxing nap spot.'
5. Consider your color palette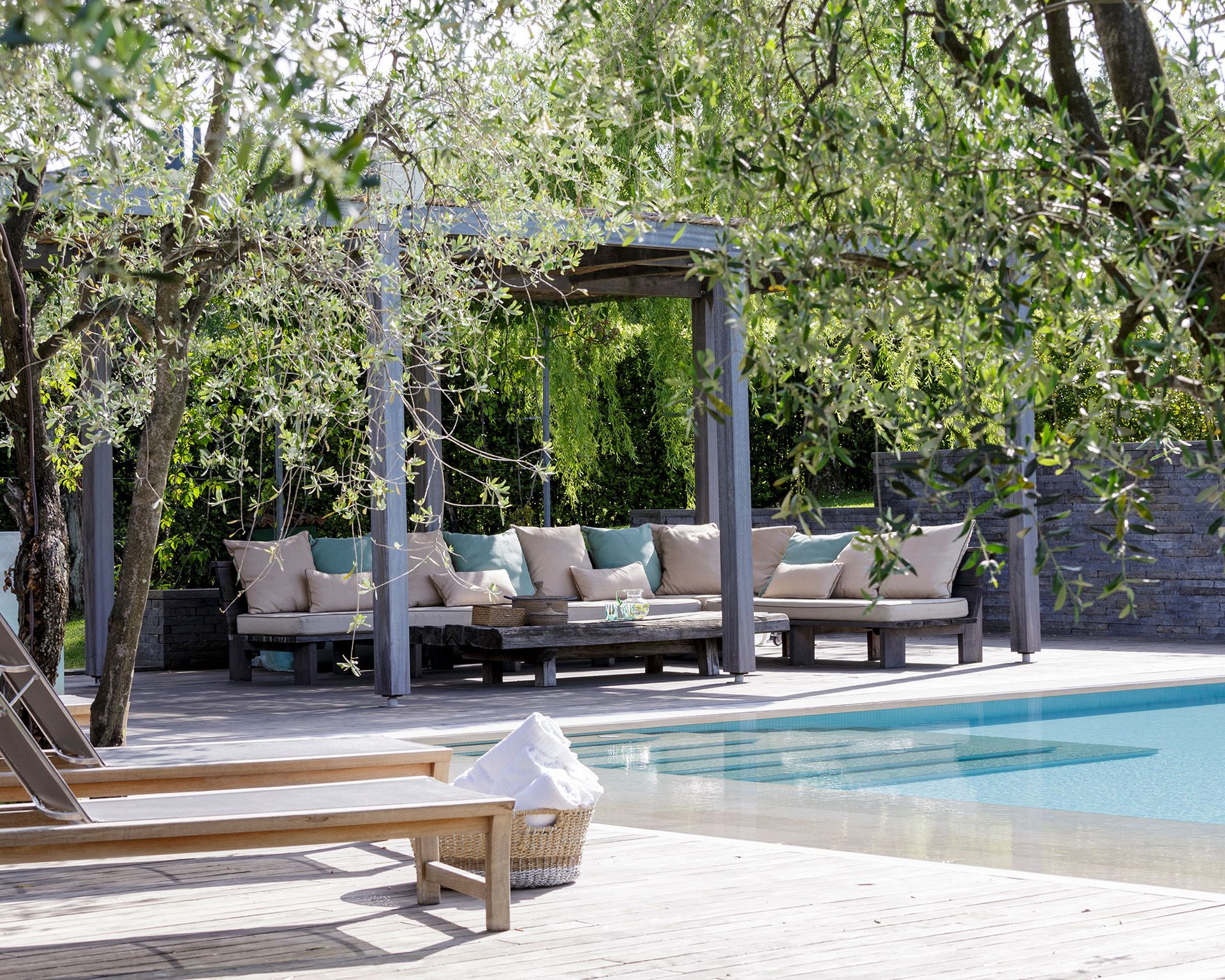 Just as you would pick the most relaxing colors for an indoor bedroom, choosing your color palette carefully when outside makes a huge difference too – especially if you are decorating a larger sleep space.
'Blue and green shades are typically the most preferred for their calming effects and may be suitable for an outdoor napping area,' says Julio Arco, designer. 'You can incorporate these tones through furniture, soft furnishings, and even plants around the area.'
6. Design with durability in mind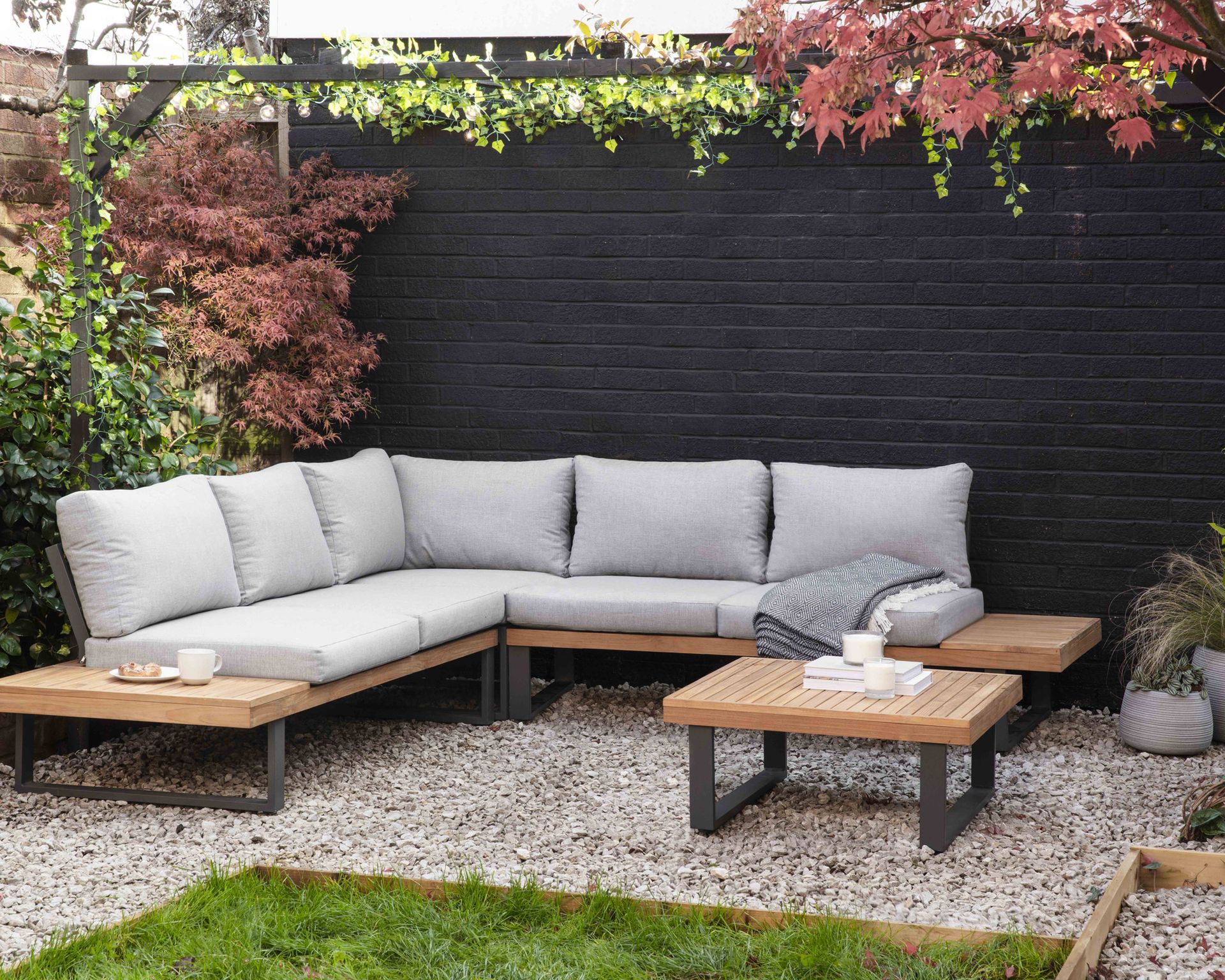 A common outdoor furniture mistake you need to avoid when creating a sleep spot is using fabrics and materials that are not designed for outdoor use. While outdoor fabrics may feel a little rougher, they are designed to stand up to the elements and are vital if you want to use this space for any longer than a month, Julio Arco, interior designer reminds us.
You can always bring soft furnishings outside for your nap, like soft blankets and pillows, and then take them back in with you when you are done if you want to soften the space a little more.
7. Keep it simple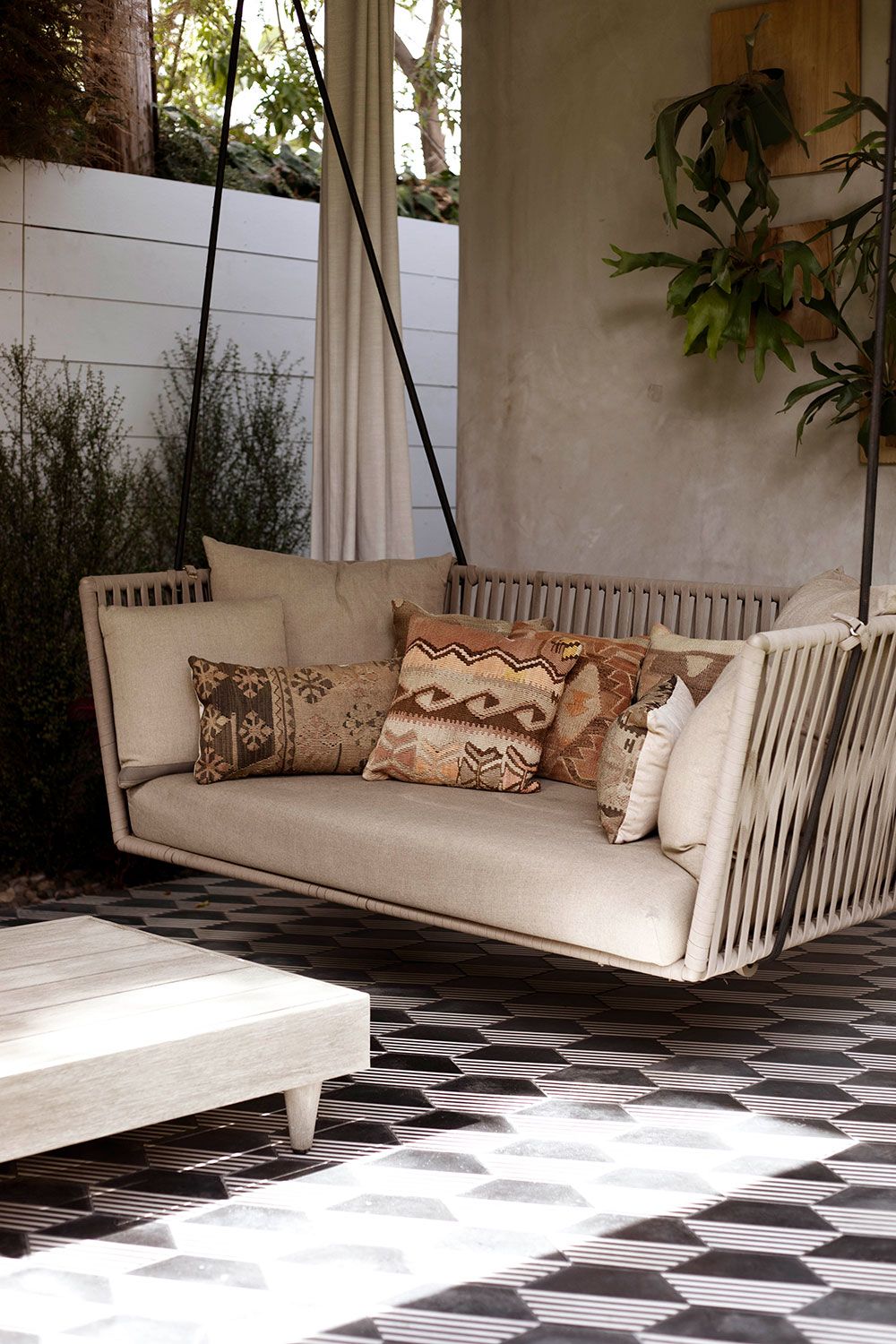 Overall, you want your outdoor sleep space to be on the simple side, to help prevent distractions that could disturb your sleep, says Thayer Joyce, design consultant.
'The beauty of an outdoor nap is you can really pare down the accessories needed to get a good rest in. You don't need sleep masks or sound machines, but I do like something comfy to cuddle up with.'
FAQs
Is it safe to sleep on grass?
Taking a nap in the grass may sound like an idyllic thing to do, but it is not always the best idea. When sleeping in the grass, there is a high chance of insects crawling over you and possibly into your ears causing irritation or even infection. As a result, it is best to invest in some comfy yard furniture instead.
Can you sleep outside in winter?
While a short nap outside with thick blankets can be okay in winter, it is not the best idea to sleep for long periods outside in winter without protection. If you want to enjoy the outdoors, make sure you are fully wrapped up in thick, warm clothing with a blanket, and are not laying on any damp or cold outdoor furniture to avoid getting sick.
---
So, as it turns out, the answer to how you make your bedroom better for sleep is to simply take it outside! Just be sure to never sleep in extreme temperatures: reconnecting with nature is one thing, but no one wants to catch a chill or suffer heat stroke.
Sign up to the Homes & Gardens newsletter
Decor Ideas. Project Inspiration. Expert Advice. Delivered to your inbox.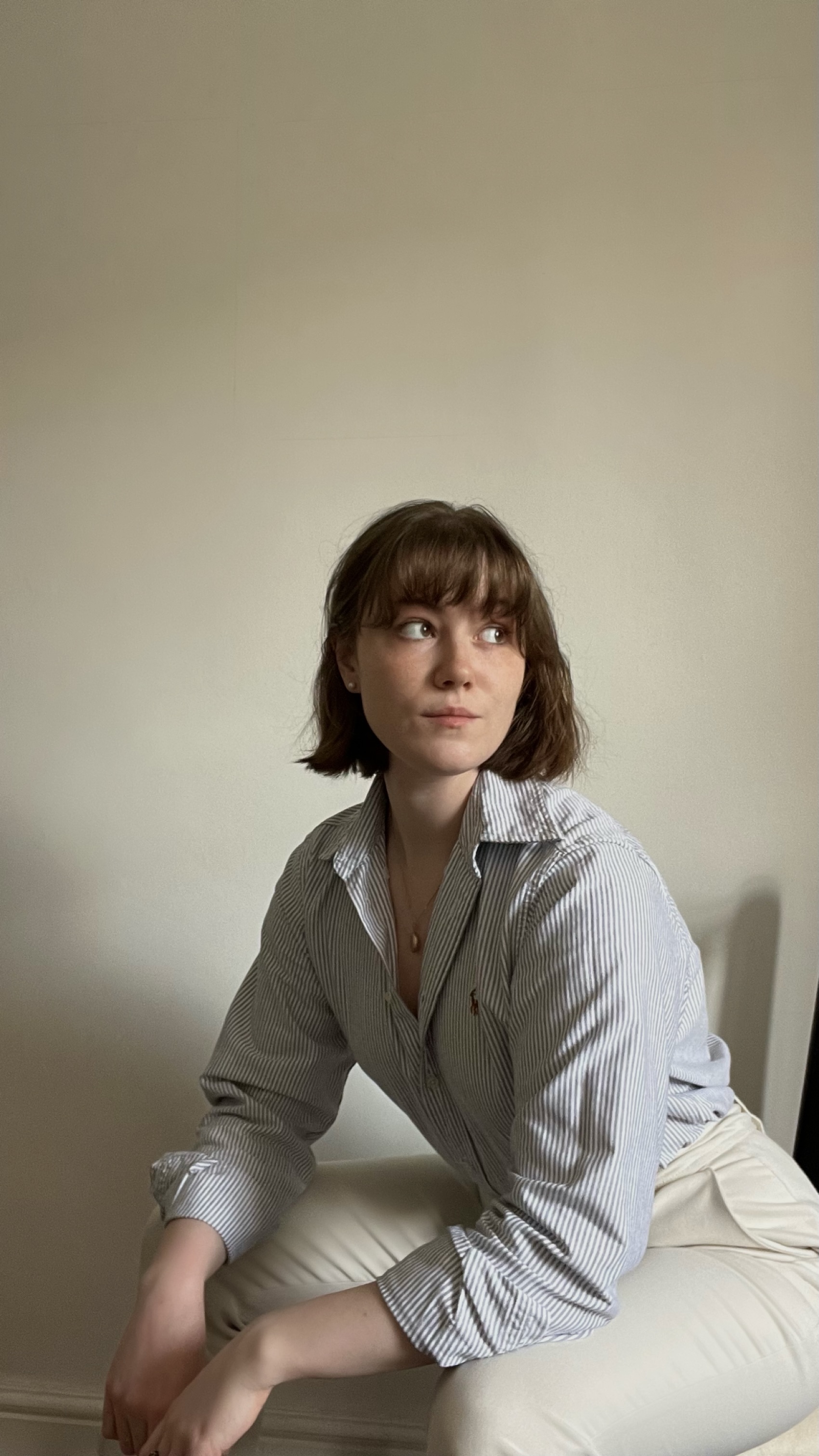 Chiana has been at Homes & Gardens for a year, having started her journey in interior journalism as part of the graduate program. She spends most of her time producing content for the Solved section of the website, helping readers get the most out of their homes through clever decluttering, cleaning, and tidying tips – many of which she tests and reviews herself in her home in Lancaster to ensure they will consistently deliver for her readers and dabbles in the latest design trends. She also has a first-class degree in Literature from Lancaster University.