Black Friday Barbour sales: The H&G edit of deals on the classic outerwear brand
Shop these Black Friday Barbour deals to make your outdoor activities both fashionable and functional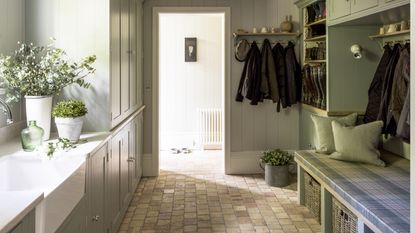 (Image credit: Future/Mel Yates)
No countryside home should be without a set of stylish, weather-beating outerwear hanging in the entryway – and these Black Friday Barbour sales make that a considerably more affordable premise.
Utterly timeless, classic jackets by British brand Barbour reign supreme. They are functional and weatherproof, while their long, rich heritage makes the brand all the more prestigious and even more fashionable when worn. In short: it is the best of both worlds.
The Barbour allure is heightened by an enviable three Royals Warrants. If it is good enough for the Queen of England, then it's certainly good enough for us.
Founded in 1894, Barbour remains a family-owned business, having made waxed jackets for more than a century. The brand as a whole straddles that fashion sweet spot between polished and practical, making them equally sought after by city dwellers (and those who live outside the countryside, too).
Though quality costs a pretty penny, and while classic Barbour coats are never synonymous with affordable, we've found a loophole of sorts. We've uncovered a handful of Barbour deals ranging from waxed styles to cotton classics – modern to traditional – plus some additional sales to consider too.
Here, there is everything you'll need to find which Barbour jacket best suits you and your lifestyle.
Black Friday Barbour sales and deals
The H&G edit for the best Barbour deals for men
Barbour History: The potted origin of the brand
Established in 1894 by John Barbour, the now-fifth-generation brand is family-owned and based in South Shields on the northern coast of England. Most notable for its signature styles on both men and women, in recent years, Barbour has expanded their traditional categories expanding into children and dog categories, too.
Still made by hand in a factor in the South Shields, Barbour's mission to create iconic waxed jackets that can handle the weather of the rugged coastline worldwide stays true to their word (and vision), offering customers the chance to repair or re-wax their investment.
Rooted in their iconic waxed jackets, Barbour also offers clothing and footwear that not only pair to perfection with the former but are ideal for any day out in the countryside – rain or shine.
From full-length overcoats to shorter riding jackets, there is also waterproof footwear for a complete head-to-toe ensemble. Luxury indeed, it's also received praises for the Royals.
Dating back to 1974 by the Duke of Edinburgh, then another from Her Majesty, The Queen, eight years later.
Fast-forward to more current times, Princess Diana was also a fan, with the Duchess of Cambridge, Kate Middleton spotted in her late-mother-in-laws signature style, too.
A family event indeed, it's recognized by celebrities, as well. Joining the Royals is fashion icon Alexa Chung, who is privy to more casual quilted styles and collaborated with Barbour for the now-sold-out Edith jacket.
Yes, Barbour attracts a broad range of customers, and that's partially due to Duncan Barbour (John's grandson). Barbour is a keen motorcyclist, who is 1936, founded Barbour International, which is now synonymous with quality motorcycle wear.
The sub-brand is the place to go for classic biker clothing and has been worn by every British International team until the late 70s. Barbour International's functional oiled cotton suits have also been on-hand by members of the military.
Brittany Romano wrote for Homes & Gardens as a U.S. Shopping Editor. A graduate of New England College, Brittany started her career as a freelance fashion market assistant at Marie Claire. She later joined AMI, where she designed a highly profitable commerce vertical. Noted for her award-winning content, she's covered everything from celebrity beauty hacks to the most lavish home decor.