7 beautiful bathroom art ideas – and what not to do when displaying art in bathrooms
Boutique hotel ensuite style? Yes please...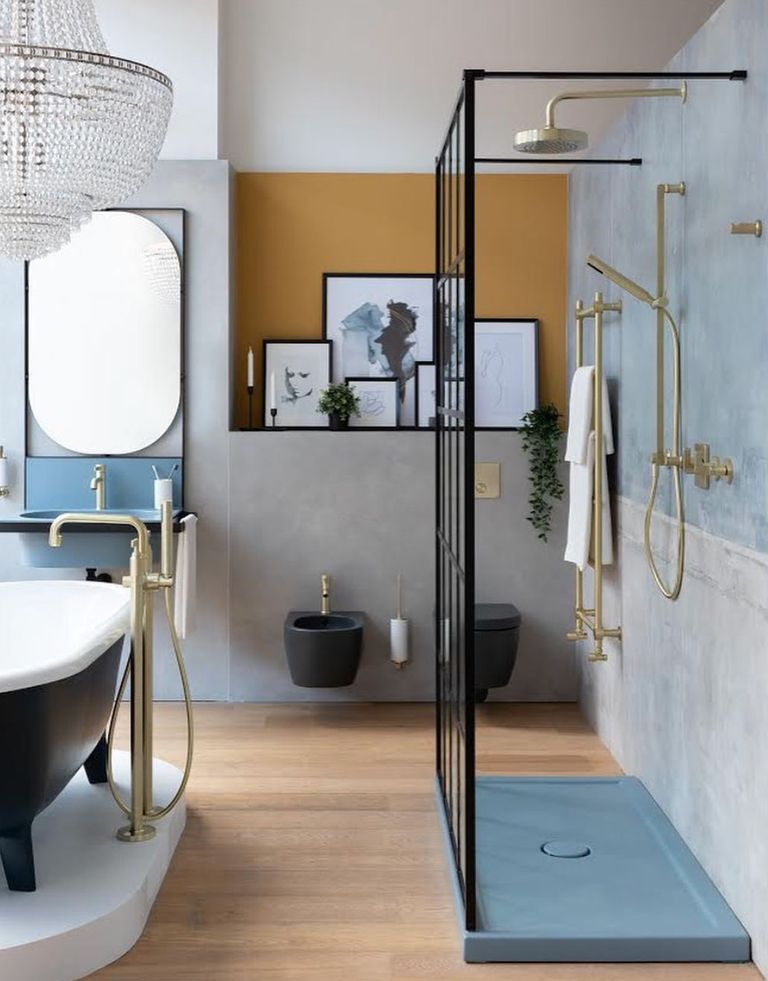 (Image credit: CP Hart)
Bathroom art is having something of a moment – as we all begin to see every room in our home as living spaces rather than purely functional, we are enjoying adding decorative elements to zones that were previously ignored.  
And while bathrooms are perhaps the last place you'd consider hanging artwork – the steam, the moisture, the potential splashes – we love the idea of making our bathrooms feel more like boutique hotel ensuites and being able to enjoy a favorite piece of art while relaxing in the tub.
These are just a few of our bathroom art ideas – and we've added a few tips at the bottom about what not to do when displaying art in the bathroom.
You can see all our bathroom ideas in one gorgeous picture gallery for more inspiration.
Bathroom art ideas 
The bathroom art ideas we display below are mostly paintings, pictures and wallpaper. However, sculpture can be very effective in a bathroom, too, especially if well-lit. 
1. Turn a shower cubicle into bathroom art with wallpaper
Looking for bathroom art ideas AND an alternative to mildew-prone grout lines? We have an extraordinary solution that will change the way you approach bathroom decor forever.
'Wall&decò's waterproof wallpaper can be installed directly inside the shower providing a seamless surface that's low maintenance, easy to clean and perfect for making a bold statement,' says Kirsten Wain, designer at West One Bathrooms.
'The wallpaper can also be applied over existing tiles, making it great for a quick update with minimal mess or disruption.'
Shown here is Wall&decò's Vivido waterproof wallpaper. 
2. Use art to add instant personality
'The bathroom is often seriously under-served when it comes to adding style and personality,' says Owen Pacey, founder of restoration company Renaissance London. 'A great way to start is with art. Hang framed prints and introduce sculptures to give the often-neglected space a unique feel. Start by choosing one piece you love that works well in the space, and go from there. Perhaps you could build up a gallery wall above a bath, or stick with one statement piece to really draw the eye.'
3. Choose bathroom art that blends with your color scheme
For a harmonious feel, choose or commission artwork that will blend well with your chosen color palette. Brooklyn-based interior designer, author and creative director, Athena Calderone has done just this and the rusty tones and free-hand nature of the painting are mimicked in the marble block by the window. 
Black frames stand out well on paler walls and give the artwork a dramatic edge, use black elsewhere to link it through the scheme. Look out for architectural pieces to add a further dimension. 
Bathroom designed by Athena Calderone/Image by Gieves Anderson.
4. Frame bathroom art with a bold wall color
It's tempting to paint bathroom walls a bold color but it should always be done with caution if natural daylight is poor since the tones cast around the room by the wall color can create unflattering reflections. However, painting a section of an accent wall to frame art is a wonderful way of showing off a collection, as in this bathroom designed by CP Hart.
See more bathroom color ideas – for a scheme that is bright and beautiful.
5. Choose illustrative bathroom art
Whatever style of artwork you love the most should be what you choose – take this stunning illustrative piece as an example. It shows that you don't need to pick a painting to hang, you could ask an artist to paint directly on your wall to fit the space. 
The larger the artwork, the more of a focal point it will have so bear that in mind – go big if you want to make a statement, or smaller if you want it to integrate more with your scheme. 
Cabinetry by Martin Moore; brassware and lights, Drummonds.
6. Design a scheme around existing artwork
This gorgeous, sunny children's bathroom by Salvesen Graham was designed – according to the client's brief – to be 'fun, practical, inexpensive'. As they explain, 'The yellow from the client's existing artwork became a fun accent running through the room and you can't help but feel cheerful in here. We love a painted floor and they work well in a bathroom for people who don't want a cold hard finish but find carpet a problem.'

Credits: @archdigest for the feature; @clairebingham_design for the words; @simonbrownphotography for the pictures; @aureliaskincare, client.
7. Create a gallery wall in a bathroom
For the ultimate in luxury – and complete with amazing artwork – be inspired by this fabulous bedroom (and what a bath!) at Nomad London designed by New York based interior design studio Roman & Williams. The aim was to create a space that's 'domestic, romantic and true' and to incorporate the artistic and cultural connection between London and New York. 
What is interesting is how they have played with the scale of the paintings and the placement – you don't need to hang all artwork, sometimes simply leaning a huge piece up against the wall is a statement in itself. 
Image: Simon Upton
What kind of art is good for a bathroom?
When choosing artwork for a bathroom – and deciding what will work best – the key isn't necessarily in its looks. All art is good for a bathroom – from prints to photographs to paintings to wallhangings and even sculpture. However, you need to assess whether the art you have chosen for your bathroom will withstand the moisture in the room. If the bathroom is poorly ventilated, bathroom art can warp and even become covered in mould and mildew. 
What not to do when hanging art in a bathroom
1. Don't hang anything very expensive – if you are at all worried about the humidity or fluctuating temperatures in a bathroom, stick to cheaper pieces of work that you can afford to lose long-term.
2. Don't hang art in a poorly ventilated room – an exhaust or extractor fan is a must in a room that becomes very steamy (so particularly one with a shower); failing that, ensure you open windows to air the room, and leave the bathroom door open after you've used the bathroom.
3. Don't hang art in a frame that doesn't like moisture – it's not just the art that won't enjoy the moisture. Wooden frames are likely to warp, so ensure the material you pick is at least water-tolerant. Similarly, acrylic will allow the artwork to breathe more than glass, and is less likely to crack or break.
4. Don't be limited – it's unlikely that your bathroom will host that many guests, especially if you have a guest bath, so choose bathroom art that you love, and not ones designed to please others.