Chinoiserie is back – and here's why today's designers and interiors experts love it
A fusion of Eastern and Western design, Chinoiserie has been bringing exoticism and luxury to interiors for centuries – here's why it continues to captivate designers today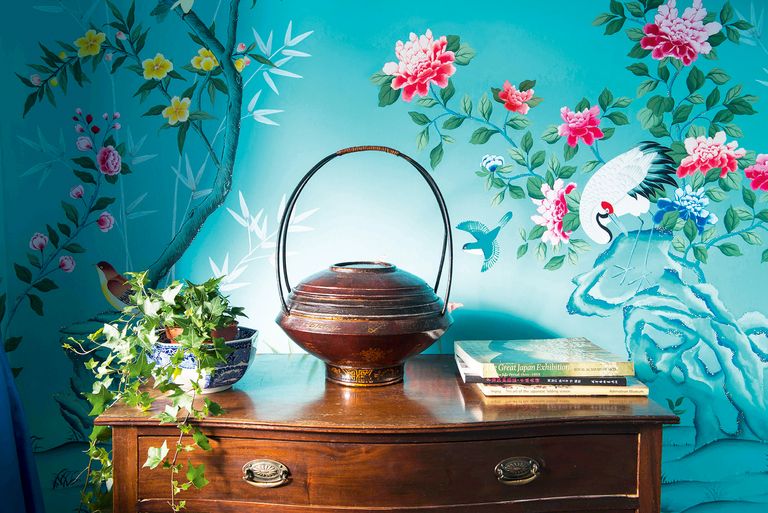 (Image credit: Diane Hill)
Chinoiserie is a European decorative style that imitates the art and design of China, Japan and other Asian countries. Dating back to the mid-18th century, and the rise in trade between Europe and East Asia, the style has been bringing an air of luxury and exoticism to interiors for centuries through everything from wallpaper and fabric to ceramics.
Particularly popular from the latter half of the 18th- to the mid-19th century, the style, distinguished by its fantastical oriental scenes and stylised flower and bird motifs, has witnessed a surge in popularity in recent years, with today's wallpaper and fabric houses offering a wealth of ornate decorative designs to bring wow-factor to your space.
See: Interior design trends – top looks for the year ahead
Taking inspiration from traditional hand-painted Chinoiserie panels, some specialist companies, such as Fromental and de Gournay, offer bespoke hand-painted designs, alongside emerging independent designers such as Diane Hill.
Alternatively companies such as Colefax & Fowler, Warner House and Little Greene offer a variety of printed designs inspired by archive documents.
But why does Chinoiserie continue to captivate our imagination? We asked interiors experts for the key to its enduring appeal and why the style is perfect for timeless decorating.
1. Chinoiserie wallpaper injects bold color and pattern into rooms
For Lizzie Deshayes, co-founder and design director at Fromental, the key to the enduring popularity of Chinoiserie lies in its ability to inject bold color and pattern to any space – which is most easily achieved with Chinoiserie wallpaper.
'Chinoiserie is a stylised "European x Far Eastern" hybrid of a panoramic garden landscape. It brings exoticism, color, pattern and movement to a room of any size of style of architecture. This is why it has never been out of style, transcending fashion,' she says.
2. Chinoiserie decor captures the enduring beauty of nature
With its roots in the Oriental landscape, Chinoiserie brings the timeless beauty and restorative powers of nature into interiors, as Hannah Cecil Gurney, director of de Gournay, explains.
'I truly believe the well-documented benefits of a garden are centric to the enduring appeal of Chinoiserie wallpaper – the traditional premise of which conjures a scene of flowers trees and birds that span the walls,' she says.
'The effect on the mind and the spirit are almost palpable, transposing interior to exterior and transporting inhabitants from the confines of four walls into nature – which in the case of de Gournay is painted entirely by hand. It's good for the soul.'
3. Chinoiserie fabric and wallpaper conjures the romance of distant lands
Similarly, for Lee Clarke, director of Warner House, the timeless charm of Chinoiserie centers around its romance and ability to conjure distant lands.
'Chinoiserie may be seeing a resurgence, but the style never went away and will always be popular. Chinoiserie can sit in both modern and classic interiors and can contrast or complement existing styles, making it surprisingly usable.'
'At Warner House, we love how Chinoiserie injects charm and romance into the space, providing interest through color and exotica from faraway places. Interior lovers will always demand style, personality and references to their travels, art and culture.'
See: Bedroom wallpaper ideas – add pattern, texture and character to your bedroom
4. Chinoiserie can create completely unique, luxurious designs
While there are lots of printed Chinoiserie wallpapers and fabrics available, there are still companies and artists that create bespoke wall murals using traditional methods inspired by historic Chinoiserie panels, allowing homeowners the chance to have completely bespoke designs that capture meaningful details.
'The client can have whatever they dream up on the walls and create something truly unique,' says Chinoiserie artist Diane Hill. 'I am captivated by the bold patterns and scenic storytelling of Chinoiserie.'
What is Chinoiserie?
Rooted in the origins of the word chinois – French for 'Chinese', Chinoiserie is a decorative style inspired by the art and design of China, Japan and Asian countries.
More specifically, as Antiques Roadshow expert Marc Alum explains, 'it extends its meaning into a generic trend that encapsulates the styles – under one umbrella – of Eastern Asia, including all cultures that come under the Chinese cultural sphere and stretching as far east as Japan. In essence, it is a catch-all word for Western objects made in the Oriental manner.'
The style originated in the mid-18th century, a time which witnessed a huge increase in trade between Europe and East Asia. Companies such The East India Company – the British company formed to trade with East and Southeast Asia, India and China – imported all manor of decorative objects, such as porcelain, textiles and lacquer, that spurred a fascination with oriental culture within Western society which soon infiltrated into architecture, art and design.
Captivated by the exotic pieces, craftsman began to imitate the style within their work, creating ceramics, lacquered furniture and wallpaper with fanciful, exotic scenes. While trade was strong at this time, movement of people was still very restricted, so artisans would often rely on their imagination, which led to the depiction of fantastical landscapes. Other common motifs included flower and bird design as well as pagodas.
See: Country wallpaper ideas for kitchens – cover your walls in playful prints
According to the V&A, 'most of the great houses of Europe had at least one room decorated with a Chinese paper, original or imitation. By the end of the 18th century they were to be found in most modest sized houses too.'
Interest in the style and continued into the 19th and but declined following the First Opium War of 1839–42 between Britain and China.
Lover of all things vintage, floral and country, Pippa has been working in interiors media for 10 years. A graduate of Art History, and Style Editor for Period Living magazine, she is a nostalgic soul who is passionate about historic architecture and traditional craftsmanship. When she's writing about homes and gardens you'll find her pottering on her Gloucestershire allotment, Pippa's Plot, where she grows flowers for styling her own home and interiors shoots.