The five zone kitchen: what it is and why it's ideal for modern family life
The five zone kitchen is stealing the kitchen triangle's crown when it comes to layout planning. Here's what you need to know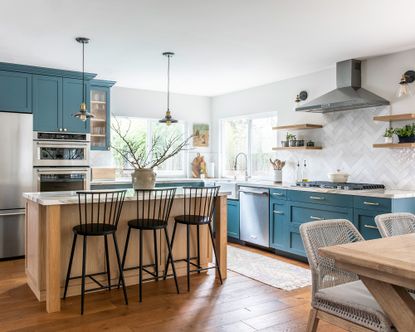 (Image credit: Vivian Johnson)
The five zone kitchen is the newest of kitchen layout ideas that's informing our designs and renovation.
While the kitchen triangle is still a great basic layout, the five zone kitchen layout caters for more modern needs, open-plan areas and connecting spaces.
The modern kitchen is not just about cooking now; it's also often an entertaining, dining and even work zone. So the five zone layout takes into account the shifting needs of the contemporary family and living situations.
New features include designing a kitchen island with charging stations, or drawers containing power sockets. Statement storage features, high-tech appliances and large double pantries allow for open-plan layouts to become multipurpose, allowing for numerous people to carry out individual tasks together in one space – without getting under each other's feet.
What's more, cooking is often no longer the responsibility of one single person in the modern household. And because many families now might have more than one cook operating at a time, the three points of the triangles are now likely to have shifted to 'working zones' within a kitchen – particularly in larger kitchens that have more generous space.
We've asked experts from Life Kitchens and DesignSpace London to break down the five zone kitchen idea below.
What are the five zones of the kitchen?
Graeme Smith, Head of Retail & Commercial Design at Life Kitchens, says the five zones of the kitchen are:
Consumables – usually split into fresh and dry areas such as your fridge and larder/pantry.
Preparation – the surfaces where you prepare meals and store relevant utensils.
Non-consumables – storage areas for your cutlery, crockery, glassware etc.
Cooking – oven and hob, and any worktop appliances such as a mixer.
Cleaning – sink area and dishwasher.
Richard Atkins, Director at DesignSpace London, agrees, adding: 'The classic five zones in a kitchen helps identify the needs and zone the kitchen to maximize productivity, minimize chaos and messiness and improve efficiency by considering functionality and zoning, ideally following the progression of preparing a meal, from food storage to cooking to clearing up.
'It generally consists of perishable food storage (fridge/freezer), dry food storage (larder cupboards), prepping (lots of work surface), cooking (oven and hob) and the wet zone for cleaning up (sink/dishwasher).'
How do you plan your kitchen with the five-zone method?
Planning a kitchen with the five zone method in mind is about placing things where they're most relevant and easy to access, says Graeme.
He explains: 'Larders or pantries are often best located beside your fridge, so that all of your consumables are together. Keeping these near to your preparation area can also save a lot of back and forth.
See: Pantry ideas – versatile storage that's equally suited to modern life
'The preparation zone is not just about considering how much work surface you need but what items you need at hand too, such as mixing bowls, knives, oils and spices.
'For non-consumables such as crockery, cutlery and glassware, it's acceptable and often beneficial to keep these slightly outside of the main cooking or working zone, but always near to where you're going to plate up.'
Indeed, you can make a statement feature of your storage and blend aesthetics with practicality with a chic kitchen dresser or cool open shelving.
Graeme adds: 'For your cooking zone, your two key functions will likely be your oven and hob. Whether they're together in one appliance or separated with your oven in an adjacent appliance bank, it's important to think about what key tools you'll need here too i.e., pans by your hob, baking trays by your oven. In addition to this, make sure there is enough surface space next to your oven and hob for serving up.
'Your cleaning zone is not just for cleaning, but also for access to water so it's often beneficial to keep this within easy reach of your prep zone.'
What are the benefits of the five zone kitchen?
'Good kitchen design should be beautiful yet functional and cater for all the client's requirements, says Richard. 'Every client has different needs and there can be multiple users in the same kitchen. The five-zone kitchen helps to optimise efficiency for a multifunctional space.'
Graeme adds: 'Planning your kitchen in key zones makes you think about how you're going to use the items in your kitchen in practical terms, and what level of associated storage you'll need. This will vary depending on your lifestyle; from the keen cook with lots of baking equipment, to the household that likes to entertain and has a vast crockery and glassware collection.
'Above all, it's about locating similar items together and placing them close to relevant functions in the kitchen for maximum efficiency when you need it most.'
Can you consider a six zone kitchen?
Absolutely, says Richard. If you're big on hosting, and your kitchen is large enough, entertainment could be the sixth 'zone'.
See: 'Entertainment kitchens' are the next big thing – here's how to design yours
He says: 'In open plan kitchens, it can be argued that there is now a sixth zone in the kitchen: the entertaining zone, where family and friends congregate, close to the cook, but safely out of harm's way.'
Sign up to the Homes & Gardens newsletter
Decor Ideas. Project Inspiration. Expert Advice. Delivered to your inbox.
Ruth Doherty is an experienced digital writer and editor specializing in interiors, travel and lifestyle. With 20 years of writing for national sites under her belt, she's worked for the likes of Livingetc.com, Standard, Ideal Home, Stylist and Marie Claire as well as Homes & Gardens.