Homes & Gardens Flower of the Month: Virginia Creeper foliage makes a stunning October installation
Pay homage to fall's palette with fiery foliage – this is how to celebrate the season in your home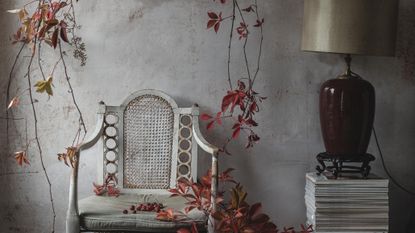 (Image credit: Photography by Lucy Hunter © Ryland Peters & Small)
Sign up to the Homes & Gardens newsletter
Decor Ideas. Project Inspiration. Expert Advice. Delivered to your inbox.
Thank you for signing up to Homes & Gardens. You will receive a verification email shortly.
There was a problem. Please refresh the page and try again.
October is synonymous with richly-toned fallen leaves, but they don't need to remain outside. Instead, the warm colors of fall foliage turning deep vermilion, saffron, and ochre are a florist's dream – and at the peak of our floral trend picks this month.
Plus, while you never need lots of flowers to make a statement arrangement, this is especially true in fall. Wind-fallen branches will last for a week or two in a large urn filled with water – and nothing will look quite so seasonal.
How to style Virginia Creeper foliage
Here, the experts share how to style this timely statement in your home and beyond.
1. Accentuate your wallpaper
In this arrangement above, award-winning landscape designer and floral artist Lucy Hunter uses Virginia Creeper. 'I spotted some cascading from the trees in all its autumn glory. Inspired, I visited a friend who I know has the creeper growing wildly in her garden and snipped a few long strands,' Lucy says in the discussion of her botanical wallpaper idea.
'I placed the stems in water tubes and attached them to a hook in the ceiling of my studio. Never has my wallpaper looked so good!'
The Flower Hunter by Lucy Hunter
And for more inspiration, Lucy's new book The Flower Hunter (Ryland Peters & Small) takes us on a journey through a year in her garden and studio in North Wales.
2. Pair alongside seasonal accessories
Virginia Creeper foliage knows how to make a seasonal statement individually. However, as George Miller, Home Designer at Neptune Fulham, suggests, there are further ways to dress your home for the season.
'Fall is renowned for its colors and textures, with the arrival of crunchy leaves, conkers, earthy yellow and brown hues,' he says. 'With the addition of a few accessories within your home, like candles and votives… you can create a warm glow and fashion a color palette resembling the shift in seasons.' We think these textiles and accessories would work seamlessly with the foliage of the moment.
3. Dress your trellis for the season
'Virginia Creeper foliage would look stunning crawling over a garden trellis,' explains designer Chris Campbell of The Charming Bench Company. 'It adds both fun and functionality to your space as well as a structural dimension to a landscape.'
Sharing his garden ideas, Chris adds further ways to enhance Virginia Creeper foliage in your exteriors. He suggests creating a fall porch or front door by pairing the leaves with wooden or metallic tones to create a 'bold talking design point.'
Check back here in November for the following Flower of the Month, or keep scrolling to read more about what we have enjoyed throughout the rest of the year.
Flower of the month September: Dramatic blooms shine in late summer arrangements
The transitional month of September is associable with the last of the summer sun – and the start of darker evenings – so it is fitting to choose an arrangement that combines the light and dark contrasts of the season.
Nothing captures this mood quite like the diverse pairing of coffee and pink dahlia 'Molly Raven' and the pompom heads of chocolate scabiosa 'Black Knight.' Florists at the peak of the industry pair these blooms with mystical Floaty Burgandy cosmos 'Velouette' that have an ethereal quality – and the lacy white flowers of Ammi visnaga 'Green Mist' that lend a structural element.
Among these floral gurus is Netherlands-based garden designer, grower, and florist Carien van Boxtel, who designed this year's cut-flower garden at the RHS Hampton Palace Garden Festival.
She also pairs the above flowers in a bouquet with airy ornamental grass Panicum capillare 'Sparking Fountain' that adds puffs of textural detail to fill out the display. 'This has many of my favorites from the cutting garden,' says Carien.
'I also used cascading Amaranthus caudated 'Coral Fountain,' she adds. Known as Love-Lies-Bleeding, its delicate pink tassels are the perfect finishing touch. These bold color pairings will act as a subtle reminder of the ever-changing seasons whilst creating a dramatic statement on your early fall tablescape (or around the last of your alfresco parties).
Flower of the month August: Blush Dahlia 'Cafe au Lait' creates a bountiful bouquet
When it comes to dahlias, there is one rule to remember – more is always more. Therefore, with this in mind, it is unsurprising that the queen of dahlias, Cafe au Lait, has such loyal subjects. With their long, strong stems and subtle pink facade, these pastel-hued blooms can stand as an individual statement – or as a beautiful asset in any large arrangement. Though however you decide to style these flowers, bigger is always better.
In August, the final full month of the sun-kissed season, it is vital to overindulge in the last of summer's glory– and this includes drenching your interiors in bountiful blooms that pay homage to the ambiance of this ever-changing month. Therefore, it is only fitting that the Cafe au Lait dahlia sits on the throne amongst the most beautiful August blooms.
'Working with dinner-plate varieties can be intimidating because of their size,' says Floret Flower Farm's Erin Benzakein, author of Discovering Dahlias. 'I find the best way to approach them is to embrace their over-the-top nature,' she adds. But where should we begin?
Here, the experts share their interior design tips – so you can celebrate their majesty before the month slips away.
1. Curate a decade of Cafe au Lait dahlias
'Café au lait dahlias are simply the most beautiful flowers. Their super large flower heads are so impressive and truly don't require anything else with them to make them look beyond beautiful,' explains Celebrity designer and Creative Director at Bloom, Larry Walshe. 'At home, I love to style a bunch of ten café au lait dahlias in a vase on their own,' he explains.
2. Combine Cafe au Lait with a coral palette
While these dahlias have the ability to stand alone, Larry confesses that they also work well when paired alongside similar coral tones – for the ultimate nod to late summer. 'They look wonderful paired with Vuvuzela roses, Old Lace Roses & Ballet Slipper Pink Dahlias for a coral infused tonal palette that sings from the hilltops with style and joy,' he shares.
3. Pair and preserve with other blooms
Similarly, while these dahlias stand beautifully alone, they are unfortunately noted for their notoriously short life span. Therefore, Larry suggests mixing with other flowers to preserve the look of your floral arrangements. 'Café au lait dahlias are not the longest lasting – [they are] utterly beautiful, but they have a short window of enjoyment – usually expect around 3 to 5 days,' Larry says.
'As such, it can be lovely to mix them with other flowers to extend the life of your designs at home.'
3. Experiment with different stem lengths
'Café au lait dahlias usually have stems of around 60 to 80cm, and with their big heads, they respond best to being styled in a vase which is medium to large in size,' Larry explains. He suggests styling them by cutting them all to different lengths and letting 'them express themselves in your vase.' 'Their flowers are so big; you want to be able to enjoy each one of them,' he adds.
5. Combine textures with diverse dahlias
For an alternate arrangement, allow your Cafe au Lait blooms to take center stage by following Erin's styling suggestion. Erin' filled a zinc bucket with hydrangeas to create a pillowy nest' before threading 'some stems of pokeweed to add texture.'
'Stems of Cafe au Lait were nestled in among the hydrangea, then 'Honka Fragile' dahlias threaded in using their star-shaped blooms to add softness. Wild sorrel has a hint of blush for the perfect finishing touch,' she adds.
July's Flower of the Month: Silk flowers combined with dried stems for a painterly look
We can trace some of the most glorious memories of the year to July. The month oozes a certain sun-drenched ambiance that bursts with moments of multi-colored hues. Many of these organic tones stem from flowers that are in full bloom throughout the month, meaning our lives are filled with blossoms in the most unexpected of places. It is, therefore, only inevitable that we would want to preserve this time and enjoy it at a later date. But what if it was possible to pause time?
H&G's July Flower of the Month, dried and silk flowers, promote us to freeze July's blooms in all their glory, meaning they are among the most beautiful flowers in July – and for many months ahead. But don't just take our word for it. Floral designer Frida Kim loves to combine silk and dried flowers to create a long-lasting display and is responsible for the curation below.
'Silk flowers almost look real and can be kept for up to six months. I love dried flowers, too, and I think the trend for them will continue as they're sustainable and can be used throughout the seasons,' Frida shares.
How should we bring dried and silk flowers into our homes?
This arrangement – taking its cue from blooms fracking our gardens now – has the quality of a still life. The composition, which features roses, ranunculus, dried grasses, and rosehips, highlights a mix of pink and plum shades, creating depth and warmth, and emphasizes the texture of each petal and leaf. 'Inspiration for this display comes from the room,' she says. 'It's important to connect an arrangement with the space,' Frida adds.
Which other flowers are suitable for drying?
While we will all inevitably have our favorite blooms that will remind us of this month, Celebrity designer and Creative Director at Bloom, Larry Walshe, shares the flowers that are most suitable for drying, so we can indulge in the Biophilic design trend, knowing we have the experts' approval.
Hydrangeas
'These gloriously large and abundant-looking blooms are at their very best during the summer months and will fill your home with a huge amount of color and texture. As fresh-cut stems, their large-headed blooms will sing in any interior. The best thing about hydrangea is that once you have finished enjoying them as a fresh flower, you can then very easily dry them naturally to continue your enjoyment,' Larry shares.
Which hydrangeas are best for drying? 'Deep blue, green, and autumn hydrangea varieties are best for this type of activity,' Larry explains. 'You can then arrange and display these dried flowers throughout the home, or alternatively, use them within your festive designs later in the year,' he adds.
Roses
Just as Frida arranged roses in her arrangement, Larry similarly encourages us to prolong the beauty of these quintessential blooms.
'These all-year flower favorites look heavenly as a fresh-cut flower and exude a sense of luxury in any interior. Once you have finished enjoying your fresh flowers, a lovely way to enjoy them further is to consider pressing your roses,' Larry shares. 'You could later display these around the home in photo frames or create something further, including invitations to your next party," he adds.
Bunny tail grass
Search demands for pampas grass have surged by 511% throughout the past year, so the in-house florist at Interflora Vicky Wilson prompts us to get behind the biggest plant trend trends of the season by incorporating these dried flowers into our homes.
Some of our favorite ways to incorporate them into your home are by using unique styles such as bunny tail grass,' Vicky shares. 'Dried flowers can be found in local florists and will see you through the whole year if taken care of. Keep them dry, out of direct sunlight, and dust-free to increase their longevity,' she adds.
June's Flower of the Month: Misty Mauve Delphiniums
Misty Mauve Delphinium flowers – June's H&G's flower of the month – encaptures this energy through their soft pale lavender hues and aging gray that exquisitely fit in almost all interiors throughout this whimsical period.
But what else makes Delphiniums the flower of the moment? According to celebrity London designer and founder of Bloom, Larry Walshe, Delphiniums are the ideal choice for the month of the Summer Solstice, as they are known to 'symbolize positivity' while promoting 'feelings of joy, fun, and warmth.'
How – and why – we should style Delphiniums in our home
Use Delphiniums as part of a rustic botanical combination
When injecting these ornate blossoms into your interiors, begin by pairing them with delicate mauve starry clematis flowers and sculptural fern leaves. This combination will create a faded botanical look that is oh so popular at present. The arrangement below was designed by gardener-florist Jess Lister of Aesme Studio, who grows flowers sustainably in Hampshire.
'A loose, naturalist grouping, it was created with flowers that bloom in the garden from late May. I mixed Delphinium Consolida 'Misty Lavender' with clematis, fern, geranium, and nandina foliage.' Jess extols the transformative power of plants: 'They help us connect with the natural world, slow down and enjoy a moment of beauty.'
Make a statement with a series of floral-filled vases...
'[Delphiniums] pair beautifully against other flowers if you want to cluster vases together to make a more textural scenography. Snapdragons, roses, and hydrangea are all wonderful companions,' Larry explains.
… Or style on their own
While Delphiniums fit effortlessly alongside other blooms, they're equally as impactful in a vase alone.
'Delph's are a fabulous, long-stemmed flower with lots of miniature blooms on every stem. The multi-flowered wands of glorious color add a huge impact to any interior and are best styled on their own. They are so commanding and luxurious that they don't need any extra help to look incredible,' Larry adds.
May's Flower of the Month: the meadow buttercup
Every month, different flowers bloom into popularity, but in May, we struck gold with meadow buttercups. While we love these nostalgic flowers for their jewel-like qualities amongst wild grass, they are equally beautiful inside the home.
With their rustic country-life charm and minimalist aesthetic, meadow buttercups can fit effortlessly into any home decor, and there is no better time to experiment than in the month of rebirth. Plus, this wildflower blurs the lines between indoor and outdoor living with its perfectly imperfect display.
Why was the meadow buttercup May's flower of the month?
According to Lynne Melvin at Serenata Flowers, this native English wildflower is perfect for May, as it is 'readily found in the countryside' from this month.
'For many, it evokes nostalgic memories of childhood, and its vibrant yellow color symbolizes confidence and optimism,' which is something we crave in abundance at present.
How to style meadow buttercups at home
Beyond the simple allure of these organic decorations, there are other reasons why you should interpret meadow buttercups around your home.
1. Turn your home and garden into a wildlife sanctuary
While Juliet emphasizes the aesthetic qualities of meadow buttercups, she also highlights their unwavering relationship with wildlife, whether they bloom inside or outside your home. Flowering throughout summer, meadow buttercups grow knee-high and are the ideal choice for a wildflower patch to attract bees and butterflies, or they are equally as attractive in a vase.
'Buttercups are very happy in a vase,' says Juliet. 'Cut them in flower with a few buds left to open. Vary the height of stems, adding airy foliage to finish the look'.
However, it is important to note that 'whilst beautiful to look at, they are poisonous to cats and dogs if eaten,' Lynne adds. Humans, too, for anyone with inquisitive toddlers.
2. Meadow buttercups can thrive in diverse conditions
Among their assets, meadow buttercups are refreshingly versatile and can grow in a vast range of conditions. Harry Bodell, Gardening Expert from PriceYourJob offers his tips for bringing meadow buttercups from your garden into your home, suggesting:
'You should consider bringing meadow buttercups into your home, as they tend to thrive in fairly dry soil once they have bloomed. While inside, they should be stored in a dry, cool area for around a week, then place them in a paper bag or storage container.
'The great thing about meadow buttercup flowers is that the tubers can actually be replanted once the killing frost is over,' he adds.
3. Use meadow buttercups as a natural remedy
According to Harry, the plant has 'various medical benefits', for example, you can 'crush up the leaves and flowers to create a poultice which should be applied to the chest for cold relief.'
Plus, the distinctive aroma means the leaves of the plant are bitter, so there is 'less chance of them being eaten during the blooming process.'
Sign up to the Homes & Gardens newsletter
Decor Ideas. Project Inspiration. Expert Advice. Delivered to your inbox.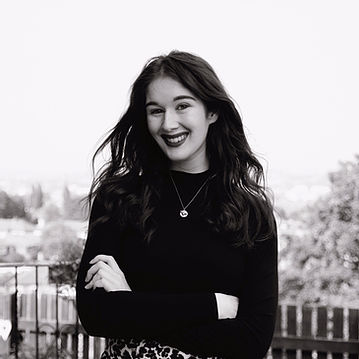 Megan is the News and Trends Editor at Homes & Gardens. She first joined Future Plc as a News Writer across their interiors titles, including Livingetc and Real Homes. As the News Editor, she often focuses on emerging microtrends, sleep and wellbeing stories, and celebrity-focused pieces. Before joining Future, Megan worked as a News Explainer at The Telegraph, following her MA in International Journalism at the University of Leeds. During her BA in English Literature and Creative Writing, she gained writing experience in the US while studying in New York. Megan also focused on travel writing during her time living in Paris, where she produced content for a French travel site. She currently lives in London with her antique typewriter and an expansive collection of houseplants.