This creative headboard trend is set to continue in 2022 – and we're on board
These coveted headboard designs celebrate curved silhouettes – no boxy shapes in sight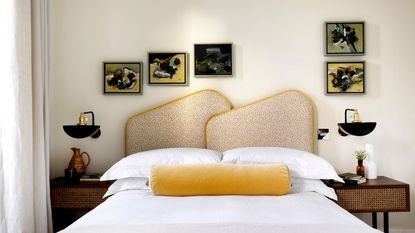 (Image credit: Pandora Taylor )
Sign up to the Homes & Gardens newsletter
Decor Ideas. Project Inspiration. Expert Advice. Delivered to your inbox.
Thank you for signing up to Homes & Gardens. You will receive a verification email shortly.
There was a problem. Please refresh the page and try again.
It's no wonder that 2022 is the year for headboard trends. We have all been more confined to homes than usual for so long that creativity in bedroom design has taken wing. And introducing a shapely headboard, one that's ample in size and brimming in style, is what it's all about in 2022.
Opting for a statement headboard certainly isn't a new interior design trend, you only have to look to some of our favorite interior designers to understand it's often a starting point when pulling together a bedroom scheme or considering bedroom ideas.
There is a world of dreamy headboard ideas out there but we predict that 2022 is all about shape – no perfectly straight edge in sight. Those arched designs will get grander, the wonderful waves that we spotted in 2021 will become more pronounced and abstract shapes are set to steal the show for the year.
We caught up with some of our favorite designers to find out their tips on how to introduce a heavenly headboard design to our bedroom.
1. No budget to decorate? Be brave with shape
If you can't face ordering paint samples and getting the dust sheets out then introducing a statement headboard is 'a great way to add pattern and color to a room without painting walls,' says Cart Earp, Co-Founder & Creative Director, Aller Dorset.
'It's ideal if you're renting a house' she adds. Aller Dorset is a family-run farm that has two luxury shepherd's huts and a beautiful homeware shop. 'We put this shape [headboard] in our luxury huts on the farm and had so many people asking where we got it from that we decided to start to sell them. The requests about the headboards really was the starting point to our homeware collection.'
'I think the wavy shape will be strong for 2022,' says Cat. The Willa headboard (shown), from $1099/£800, is a perfect example of how to introduce gentle curves into your scheme.
2. Selecting the right fabric is key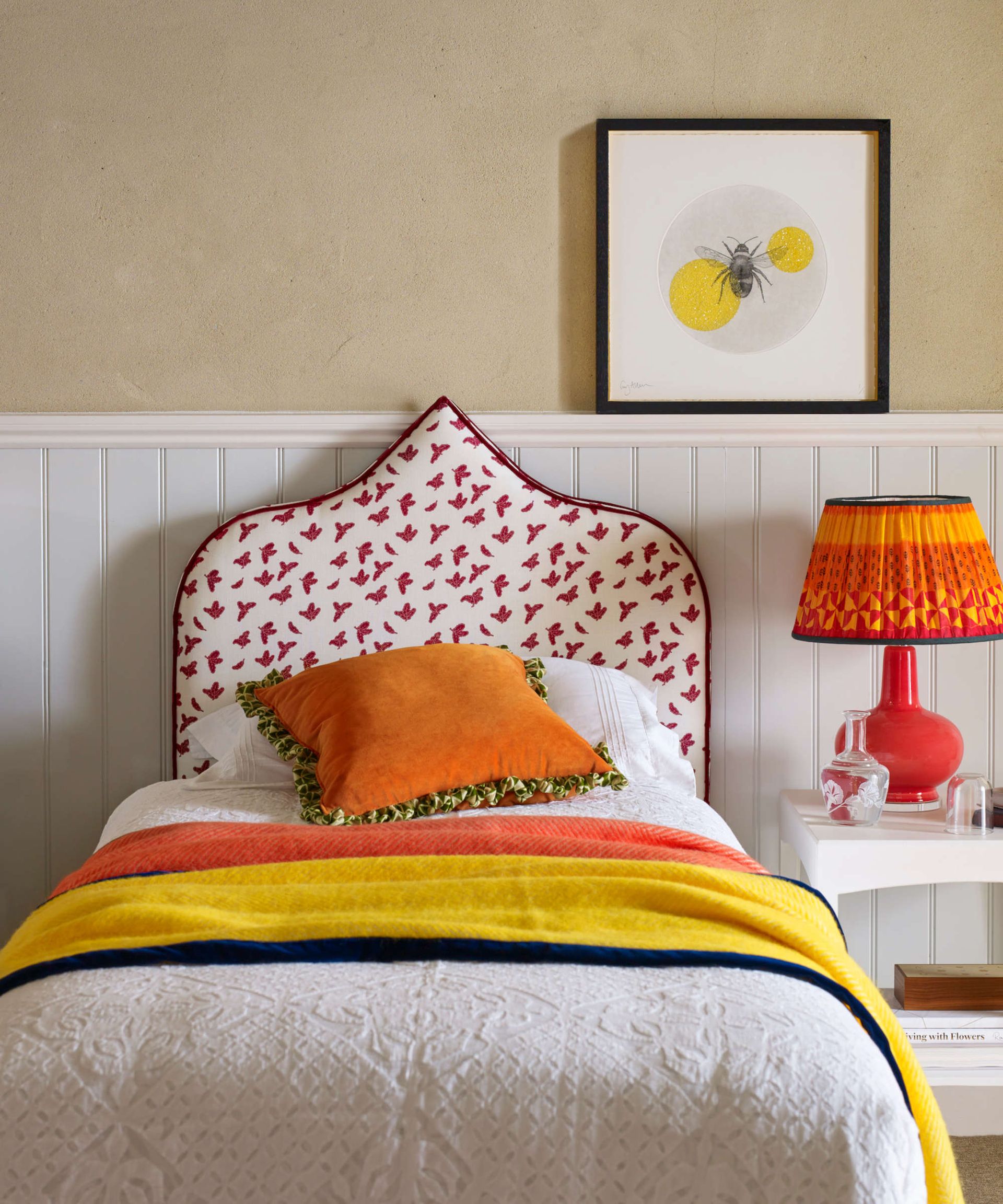 Emma Deterding, Founder & Creative Director of Kelling Designs and KDLoves knows a thing or two about color and how to get it right. Emma's interior projects often explore the use of bold color as do the exuberant offerings in her homeware shop.
We asked Emma for her tips on how to introduce bedroom color ideas, and more specifically on a headboard: 'If you want to bring in color but want a more muted take, then a rich and luxurious velvet in a bold shade will be the perfect splash of color,' says Emma. 'You can then layer this with crisp white bed linen and accessories in muted, but complementary tones to create the perfect haven.'
Emma certainly doesn't shy away from pattern either, adding 'if you are more daring, then choosing a patterned fabric will not only bring in color, but will create a real focal point in the bedroom. You can then bring the rest of the scheme to life by using complementary shades, highlighting the various tones in the fabric to create a scheme that's beautiful, balanced and effortless.'
'Organic shapes such as curved and rounded silhouettes and scalloped designs are definitely going to be big for 2022,' states Emma. The Nicholas single headboard (shown), in Raspberry Small Oak Leaves, $1030.32/£750, with its charming sweeping edges, is ideal for a children's bedroom update.
3. Make a statement but one that relates to you
Tara Craig founded Ensemblier to create outstanding pieces of upholstery designed to last a lifetime, handmade in England by artisans in small workshops. Today, her headboards are some of the most coveted in Britain.
For some of her sought-after designs, Tara has worked with creatives from the interiors world, 'we collaborated recently with interior designer Joanna Plant on the Constance headboard (shown), $9046.18/£6,585 for super king (ex fabric) to create romantic curves on a grander scale.' says Tara, Interior Decorator & Founder, Ensemblier.
When selecting a headboard, Ensemblier wants to encourage people to make a personal statement: 'This spring, we introduce Pret a Coucher, a further elevation of our bespoke work. The four headboard shapes are chosen to frame unique textiles like an artwork piece. The combination of rare textiles to our traditionally crafted headboards to be cherished is the perfect marriage,' explains Tara.
4. Think about layering your look
Shapely headboards certainly aren't a new thing, explains interior designer Pandora Taylor, 'In the past five years I have seen an increased exploration of shape and, in particular, the curve – in all aspects of interiors from furniture to joinery. I think interior designers have been clever to take the idea of traditional Arabesque headboards and rethink them in a contemporary way'. Pandora's Dune headboard (shown) from $1813.36/£1,320, is an example of how layering shapes and textures can help to give your space added depth.
'You can have endless fun with the shape of a headboard but I am also interested in playing with the idea that these are 'flat' surfaces. Headboards have a depth to them so in the process of designing headboards with different layers to create something more dynamic,' suggests Pandora.
5. Choose a shape to set the tone of the space
'Whether you opt for something dramatic and oversized or a more relaxed, low-slung look, a great headboard design really does set the tone of the bedroom.' says Tiffany Duggan, Founder, Studio Duggan & Trove by Studio Duggan.
When considering the shape you want, Tiffany suggests to think about shape first, 'look to architectural details such as arches for inspiration and guidance'. When it comes to selecting fabric and trims, she advises: 'the world is your oyster – a contrast trim can really elevate a bold shape,' as seen here on the Ruhlman headboard, from $1854.57/£1,350, Trove by Studio Duggan
'I don't like very thin, square headboards and would suggest adding some wadding to allow for a more shapely, soft look,' explains Tiffany.
6. Set patterns against plain backgrounds
'Try to let the headboard be the focal point of the room,' advises Laura Kelway-Bamber, Head Stylist, The Headboard Workshop.
Laura suggests to 'pair a plain fabric in front of a busy wallpaper and use a plain wall colour if opting for a patterned material for your headboard,' as seen here with the Mousa Half-Moon headboard (shown), from $726.72/£529, The Headboard Workshop.
It's important to consider the height of the headboard, she adds 'too low and your pillows will cover and distort how much of the headboard is seen, so, for the full effect, go as tall as you can without overpowering the space, taking inspiration from luxury hotels for a designer feel.'
As a company who specializes in headboards, we asked Laura what we can expect to see in 2022, she said 'there is a real trend towards femininity in the interiors market at the moment, with soft curves and rounded edges being paired with fabrics that feature animals, foliage and busy florals.'
Sign up to the Homes & Gardens newsletter
Decor Ideas. Project Inspiration. Expert Advice. Delivered to your inbox.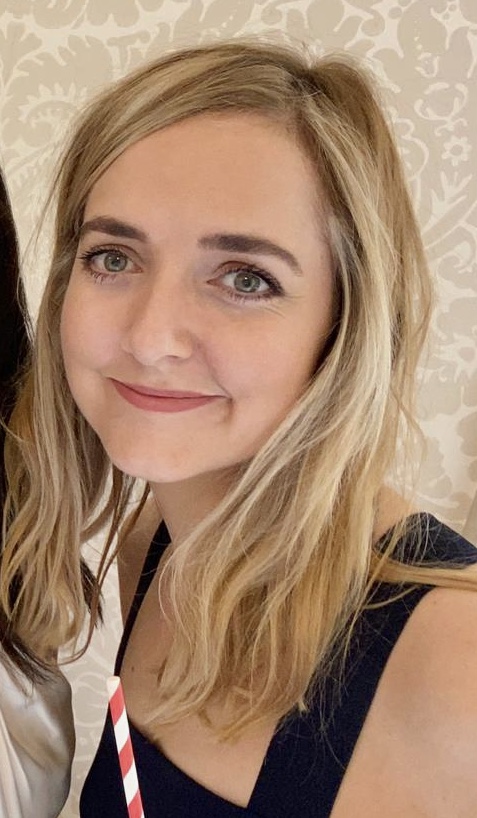 Jo Bailey has been Deputy Editor of Homes & Gardens since late 2021, overseeing all features for the print edition. Previously, she worked as the News & Shopping Editor across H&G and Livingetc - one of Future Plc's sister brands - this is where she learnt to discover the best news stories, latest trends and honed her understanding of Homes and Gardens' over 100-year-old brand.
Before joining Future Plc, she worked as an interior stylist for over ten years, specialising in commercial photo shoots for luxury clients such as; Design Centre Chelsea Harbour, The Romo Group, Christopher Farr Cloth and Heal's. She has worked closely with Homes & Gardens and Livingetc for over a decade, having styled and produced editorial shoots and events for both titles over the years.