85% of home buyers want an extra large pantry – real estate experts explain why your house sale depends on one
Oversized pantries are one of the most desired kitchen features right now; real estate and design experts give their top tips for incorporating one into your kitchen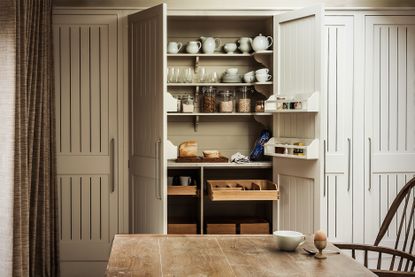 (Image credit: Plain English)
Sign up to the Homes & Gardens newsletter
Decor Ideas. Project Inspiration. Expert Advice. Delivered to your inbox.
Thank you for signing up to Homes & Gardens. You will receive a verification email shortly.
There was a problem. Please refresh the page and try again.
An extra large pantry is this season's kitchen must-have. A pantry of any size instantly elevates a kitchen design and frees it from clutter, but an oversized or even a walk-in pantry takes your kitchen organization to a whole new level.
As far as pantry ideas go, extra large pantries offer many opportunities to create a streamlined, designer look in the kitchen. We've asked experienced house flippers and design experts to give their top tips for adding an extra large pantry in a way that will help maintain a refined style.
Why are extra large pantries so popular with buyers?
The demand for extra large and walk-in pantries has soared during the pandemic, and no wonder – we're all doing more cooking and store more ingredients at home, and cramming kitchen cabinets with all the extras just isn't cutting it.
According to the National Association of Home Builders (NAHB), 85 per cent of home buyers now ask for a walk-in kitchen pantry – a very impressive number. Where a walk-in pantry cannot be accommodated, a double or oversized design is also in high demand.
Ellen Schwartz, a Licensed Associate Real Estate Broker with Compass, who works with buyers and sellers across Westchester County in New York and Fairfield County in Connecticut, has seen a spike in demand for pantries that are so big that they resemble walk-in dressers: 'The biggest must is a super large pantry as it is almost akin to a walk-in closet!' she says.
We've seen bedroom decor trends migrate into bathroom design before, with stylish painted cabinets and comfy armchairs giving large bathrooms a boudoir look. Now, something similar is happening to kitchens, which are no longer simply functional, but, like other spaces in the home, have become multi-functional.
And how to max your investment...
Marina Vaamonde, Real Estate Investor and Founder of HouseCashin says you should 'coordinate your cabinets, paint, and flooring for a designer look.' A contrasting color scheme where the pantry stands out is fine if that's your preference, but it will look less elegant.
If you are lucky to have the space to have a walk-in pantry, the matching principle applies even more, and you may even wish to have a doorless design to streamline the look even further. Joseph Marini, a professional event planner and house flipper, says that in his experience, extra large or walk-in pantries 'don't always need to be behind closed doors' – just 'keep it consistent with your kitchen by outfitting it with kitchen cabinets, a countertop and open shelves above lined with matching baskets for easy storage.'
An extra-large pantry looks amazing, but it is still a functional element of a kitchen and it makes sense to maximize on the extra surface space it offers. Rather than just having lots of shelves, think of your pantry as a source of extra countertop space. Sharleen Pyarali, owner of interior design business named Clickable Curations, explains that 'the goal of an extra large pantry is to serve storage for the kitchen and be able to accommodate servicing guests at the dining table. Extra counter space is a great feature to have in an extra large pantry as it can provide a resting place for dinner service before guests arrive or food and beverages that may need to be handy nearby.'
It's also a good idea to store any extra appliances in your large pantry, freeing up the countertop space throughout the rest of the kitchen. A smaller pantry will accommodate a coffee machine or microwave, but a walk-in pantry can serve 'as almost another smaller version of a kitchen' and can house an extra fridge, and all those pantry organization ideas that will allow your kitchen to feel more like a living space than a cluttered work space.
Finally, extra large pantries are not just for extra large kitchens – but you will need to be more careful about positioning a large pantry in a smaller kitchen, as they can overwhelm the space. Grace Woinicz, a professional chef and CEO at The Brilliant Kitchen, elaborates: 'Sometimes having a pantry can make your kitchen look crowded so it is better to make good use of corners and leaving your pantry open, this makes the accessibility of items very easy and also adds a stylistic look to your kitchen, especially an open kitchen vibe which has been a trend for some years now.'
Grace also recommends going for an open design in smaller kitchens. 'One other thing you can do is completely remove the door to give it a completely different look, it makes your kitchen and pantry look spacey. The no door styling in other words is known as an ''Open Pantry"'.
A pantry can even be fitted in otherwise awkward spaces, with under stairs pantry ideas a popular option for tighter spaces – but it's best to avoid a central position in the middle of the kitchen in a small space.
Sign up to the Homes & Gardens newsletter
Decor Ideas. Project Inspiration. Expert Advice. Delivered to your inbox.
Anna K. Cottrell is now a freelance writer, having previously been a Content Editor for Future's homes titles. She writes about interior design, property, and gardening. On H&G, she specialized in writing about property – buying, selling, renting – sustainability and eco issues.