I'm always reaching to cook with my Le Creuset square grill pan, and it's 40% off for Amazon Prime Day
Sear, braise, and roast away with this very limited-time editor-favorite Le Creuset Amazon Prime Day deal.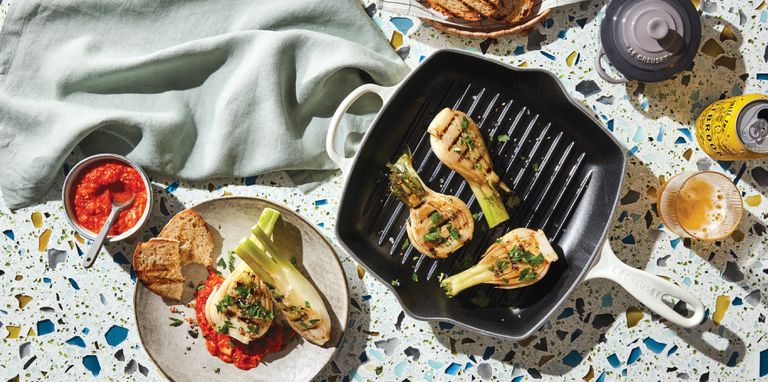 (Image credit: Le Creuset)
It's no secret that Le Creuset makes some of the best cast iron cookware available. In addition to pro-level performance, the lineup of colors has essentially made them collector items, or at least a piece of cookware you'll proudly leave on display.
Case in point: my Le Creuset square grill pan deal is always within an arms reach for grilling up quick filets of grilled chicken, elevating a sandwich into a panini, roasting some veggies, and of course, a one-pan cure-all for whipping up a nice, traditional breakfast.
So, why am I sharing my affinity for this multi-purpose pan with you now? Because it's 40% off for Amazon Prime Day, and I simply had to share.
I'm not alone in my opinion. It's also one of our team's favorite Le Creuset buys.
Of course, being cast-iron, it's a heavy-duty piece that will last you a long time and cooks food evenly all throughout. Use it on your stove top or your oven, it can handle temperatures up to 500 degrees, and it's induction compatible. The 10.25-inch cast iron square has a black enameled coating (different from the lighter coatings found in Dutch Ovens) that is specially formulated for searing and browning, and it doesn't require seasoning. It has high rims to prevent spills and spouts on each side for easy pouring. The raised ridges make for perfect grill lines and help draw fat away from your food.
Even better, it's also incredibly easy to clean. Doing dishes is probably my least favorite part of the cooking process, so I do have the option to put it in the dishwasher, but to protect its longevity, I will gently wipe it clean.
If you're looking for more great Prime Day buys, we've been tracking the best finds that will elevate your space, as well as the most sought-after kitchen finds from Amazon.

Jaclyn is an eCommerce editor at Future Home Interest, and scouts out the best of the best for buying guides to help you fill your home with housewares you will love. She joined the team in January 2021. She has previously worked with Apartment Therapy, The Kitchn, The Spruce, The Spruce Eats, and MyDomaine. When Jaclyn's not working, she loves browsing real estate listings, unwinding with a chilled glass of Rosé, and entertaining her Cavapoo puppy, Reese.