Living room features that add value to a home – from easy updates to complete remodels
The living room is more important than ever to home buyers spending more time at home; real estate experts share the living room updates that will increase your home's resale value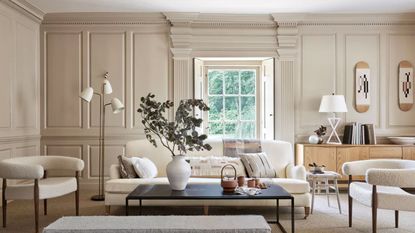 (Image credit: Future / Davide Lovatti)
If you want to know which living room features will add value to a home, your instincts are likely to be proved right: it's all about making the rooms feel bright, airy and easy to live in.
But it's not just about the basics: looking for living room ideas that will make your space feel bigger, too, is a must. Unsurprisingly, as we all are spending more time at home, making a living room or lounge more modern and appealing is one of the best ways to add value to a home in 2021.
We've asked real estate and house flipping professionals to name the top updates that really make a difference when selling.
1. Consider going open plan
This is the biggest potential living room update, but it also is the one that adds the most value in buyers' eyes, so is well worth thinking about. Brian Davis, a real estate investor and founder at SparkRental.com, said: 'An open floor plan between the living room and kitchen adds value to a home. It has a more modern feel, and makes the downstairs living space feel larger.'
Tomas Satas, Founder, a real estate investor and CEO at Windy City HomeBuyer, agrees: 'The first thing I would do, if possible, is open up the floor plan to allow in more natural light and offer a layout that appears more spacious.'
Open floor plans work especially well as part of minimalist living room ideas, although older homes with small rooms will also benefit.
Ashley Melton, a Realtor® in Charleston, South Carolina with over 17 years experience, acknowledges that opening up the floor plan is a big job, but also highly recommends it if at all possible.
She also advises to open up the living room outwards by extending: 'If you feel that you need to add space to your living area, you may want to remove a wall to create a larger, open room. Bring the outdoors in by adding a sunroom, deck, or patio off of the living room. I would suggest hiring a professional for these updates.'
2. Replace carpet flooring with wood
Quality flooring is a staple of all great living room ideas, and most buyers' preference is very firmly for wood flooring not carpet. Tomas puts it very clearly: 'I would update the flooring with hardwood to give the space a more modern look. Carpet is out these days.'
Daniel Sperling-Horowitz is a real estate investor and CEO of OfferMarket, also points out that a wood floor in the lounge area will allow you to style the space more effectively and memorably for a sale: 'replace carpet with hardwood or LVP flooring – this will allow you to utilize an area rug under your sofa and accompanying coffee table and/or side table(s). Just be careful to ensure your flooring choice matches or pairs nicely with adjacent rooms.'
3. Repaint to freshen up
This may seem like the easiest update, and there's an abundance of living room paint ideas to choose from, but you'll add the most value to your home by outsourcing this job to a professional.
Konner Bremer, Marketing Coordinator at Realty ONE Group, explains: 'Applying a fresh coat of paint can improve the appearance of your home significantly and help catch the eye of many potential buyers. When doing so, consider hiring a professional painter who has the right materials and will get the job done right the first time. It's important to pick the right professional as a sloppy paint job can leave a bad impression on buyers.'
As for the colors, neutral living room ideas still rule when it comes to selling. Our real estate professionals named grey living room ideas, beige, and blue living room ideas as the top colors for selling. Just be careful to steer away from white wall, which are seen as dated these days.
You can still introduce white, but Suzi Dailey, a Luxury Realtor with Realty ONE Group, recommends pairing 'lighter wall colors and clean whites for furniture.' 'People really want a clean look', she explains, but you don't want to go too clinical.
Open, airy, and light – that's the living room style that will add value to your home at resale.
Sign up to the Homes & Gardens newsletter
Decor Ideas. Project Inspiration. Expert Advice. Delivered to your inbox.
Anna K. Cottrell is now a freelance writer, having previously been a Content Editor for Future's homes titles. She writes about interior design, property, and gardening. On H&G, she specialized in writing about property – buying, selling, renting – sustainability and eco issues.