Our top 9 luxury bedding options to turn your bedroom into a restful paradise
Turn to our carefully curated list of luxury bedding options – just in time for National Bed Month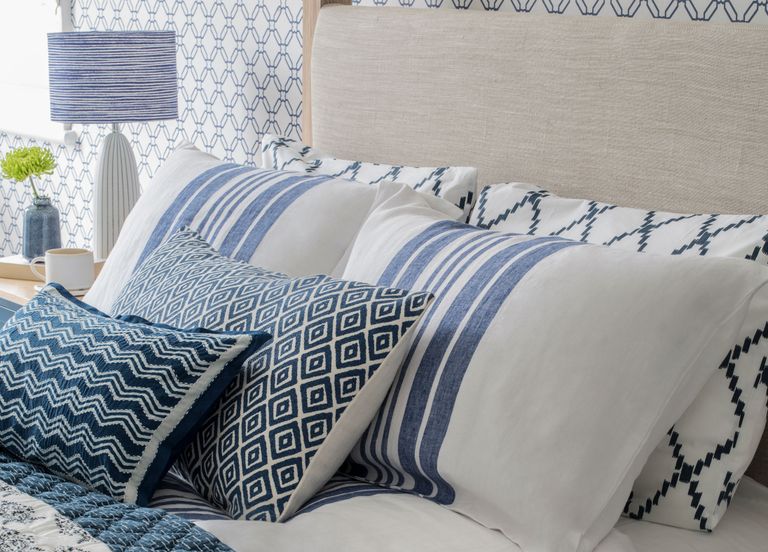 (Image credit: Future)
Achieving a good night's sleep has become increasingly challenging due to the current climate. Pre-pandemic, a fresh set of sheets or brand-new pillow completed the job, though now, our personal and professional lives are synonymous, continually blurring – leaving it near-impossible for some of us to unwind or relax.
So, what's the solution to this 'new normal'? Considering we're living where we work and working where we live, upgrading our current bedding is an absolute requirement, and the way we can do just that?
Two words: luxury bedding.
Luxury bedding is all about treating ourselves to the best-of-the-best of bedding, and right now, seeing as it's National Bed Month, there's never been a better time to invest in the best mattress or most comfortable sateen sheets. Which is why we're here with a carefully crafted list of the nine stylish upgrades you don't just want, but need.
1. Invest in a brand-new mattress for a clean slate
A worn-out mattress is the most common reason for your restlessness. Put an end to your sleepless nights, and treat yourself to a brand-new mattress. This little luxury is not only well-deserved but will bring your best night's sleep ahead of you.
2. Update to a set of sheets that remain as comfortable as your beloved cashmere sweater
The pandemic put an end to our early morning struggles on what to (or what not) to wear. Now, we highly recommend channeling that same energy into your bedsheets. With so many options on the market, it's imperative to be just as selective when looking for your new go-to set.
Heathered Cashmere Core Sheet Set l Was $279, Now $251.10, at Brooklinen
These proprietary cotton-cashmere blended sheets are constructed as a flannel with a diagonal twill weave and brushed finish. This elevated and luxury flannel offering is irresistibly soft and cozy without being too hot or heavy.
3. Opt for scalloped sateen sheets instead
Warm flannel-like sheets not your cup of tea? Implement these sateen sheets for a lighter finish that's as luxurious and enjoyable.
400-Thread-Count Organic Sateen Sheet Set l Was $126, Now starting at $108, at west elm
Constructed from silky-smooth organic cotton sateen, these 400-thread sheets are wrinkle-resistant and offer scalloped embroidery at the edges for an element of posh.
4. Reach for an all-season comforter
The argument between down comforters versus down alternative comforters is never-ending. Weather the storm by reaching for a year-round, all-season suggestion that's high on versatility and comfort.
All-Season Down Comforter starting at $349, at Brooklinen
However you sleep, this new-and-improved all-season comforter will match everyone's needs. Snuggle up to varying levels of warmth and construction, each tucked within our ultra-soft, 100% long-staple cotton shell.
5. Blend style and sophistication with this duvet cover
Selecting the right duvet comforter is just as important as the right set of sheets or pillows; it's crucial to find an option that speaks to both you and the room's aesthetic. Need some help? Incorporate a duvet comforter that mixes both sophistication and style.
6. Incorporate this signature sham that's also monogrammable
Make a house a home by integrating signature shams that add a personal touch — literally. A monogrammable moment is always appropriate and highly recommended when curating a collection of pillows for your bedroom.
Monique Lhuillier Daphne Boudoir Personalized Pillow Cover for $39.50, at Pottery Barn
This boudoir pillow cover blends subtle style with luxe materials, which is undoubtedly the secret to a well-styled bed. The embroidered shell is crisp and precise, and it can be customized for a thoughtful newlywed or anniversary gift.
7. Turn to this chic cashmere throw
The only thing more luxurious than cashmere sheets? Cashmere throws suitable for everything from beds to couch and all that's in-between.
8. Retire to this plush pillow
There is nothing more annoying than worn-out pillows that don't provide enough support and comfort when you're trying to sleep. Alleviate those woes by investing in a luxury pillow that's worth the investment.
Down Pillow for $125, at Casper
Stuffed with 100% ethically sourced down feathers for natural, luxurious comfort— making this pillow the perfect companion to retire to night-after-night.
9. Top things off with a mattress topper
Last but not least, round out your bedding overhaul with a mattress topper that will top things off in all the right ways.
Mattress Topper starting at $120, at Tuft & Needle
This foam mattress topper is excellent for those looking to make their bed softer and relieves pressure points on hips and shoulders. It is in a league of its own when compared to other memory foam versions. This 2-inch responsive foam keeps you at the surface to help you sleep cool and comfortable all night long.
Brittany Romano is Future's U.S. Shopping Editor, residing on the Upper East Side in New York City. Originally hailing from Connecticut and a graduate of New England College, Brittany started her career as a freelance fashion market assistant at Marie Claire. She later joined AMI, where she designed a highly profitable commerce vertical. Noted for her award-winning content, she's covered everything from celebrity beauty hacks to the most lavish home decor; Brittany has maintained her penchant for the finer things in life.
If a genie granted Brittany one wish, it would be for Kelly Wearstler to bring her vision to life and transform her living space, but until then? You'll find Brittany continuously evolving her chilled-out sophisticated style, shifting her attention to eclectic pieces (with a hint of retro), grounded by a rich understanding of history, focused on functionality, luxury, and quirkiness.
Find her on Instagram @ItsBrittanyRomano