9 ways to make a dark bathroom feel bigger – and brighter
Bathrooms can often be small, dark and uninspiring, follow our tips to make yours feel lighter and brighter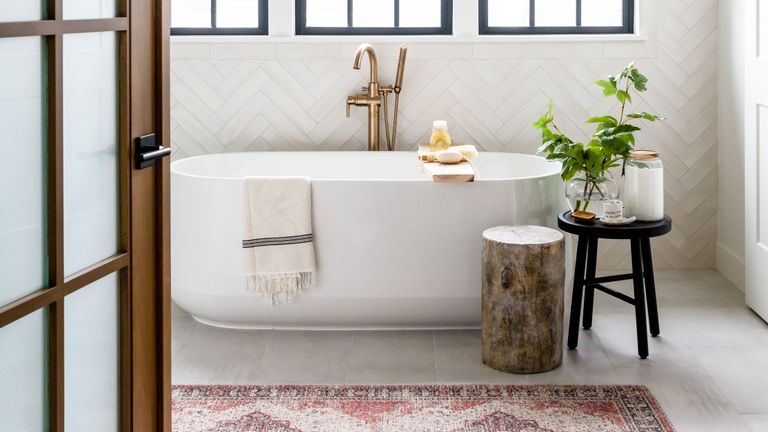 (Image credit: House of Jade / Lindsay Salazar)
Bathrooms can sometimes be one of the darkest (and smallest) rooms in the house, and heaven forbid, some don't have windows. If yours needs a design boost and some much needed light, then read below to find out how you can beautify your bathroom without knocking down walls. Your bathroom is about to become your favorite space. 
See: Bathroom ideas – stand-out decor ideas for washrooms, ensuites and more
1. Be selective with your material choices
The materials you choose for your scheme are essential to how light or dark the bathroom will feel. This stunning bathroom designed by Alison Henry Design Studio does have the added bonus of a huge skylight, but that aside, light tiles will instantly brighten up a space as James Lentaigne, Creative Director at Drummonds explains:
'Glamorous and reflective materials such as marble, glass, mirror and metallic finishes instantly scream luxury and create a wow factor in the bathroom. They also have the added advantage of brightening the space by bouncing light around the room.'
2. Create a sense of drama
This bathroom was designed by Illinois based design studio M. Lavender Interiors, and is a great example of how you can make your bathroom look bigger and brighter.
The dramatic forest green walls and ceiling anchor the scheme, whilst the white marble tiles and units create the airy feel. We love the use of the pretty green floral wallpaper within the panelling around the mirrors – an idea to steal for sure. Keep the lighting 'light' too, white lampshades will add brightness higher up, keep the fixtures and fittings pale too, anything dark will draw the eye instantly. 
See: Ideas for small bathrooms – decor and design solutions for tiny washrooms
3. Keep the dark color on the floor
You don't need to reach for the white paint to lighten up a scheme, a gentle grey will do nicely too, just keep the ceiling and sanitaryware white instead. For balance add a rich colored wood flooring and antique pieces to prevent the space from being sterile.
In this country home, Heni, Co-Founder of VSP Interiors kept the look simple and elegant.
'No trends – just classic detailing and antiques. The reclaimed wooden floor was crucial for adding warmth in the high-ceilinged space. We also created a raised platform to make the most of the vistas and to make installing the waste pipes much easier.'
4. Don't skip on bold color
A light and airy bathroom can be achieved with pastel paint shades and pretty fabrics. Keep the wall color bright and uplifting – this delightful sky blue is ideal and reflects the natural light from the window. Drapes should be kept on the wispy side, a cotton lawn or voile would work well so they don't block the window. Opt for furniture that's not chunky, thin legs are preferable in this case and no dark wood as it will look heavy visually. 
'And don't forget about lighting,' says renowned London interior designer Penny Morrison. 'Good lighting is essential in a bathroom, mirrors should have at least one if not two wall lights, above or on both sides as well as downlights.'
See: Bathroom color ideas – for a scheme that is bright and beautiful

5. Play with tile styles
To create an interesting scheme whilst keeping things light, you can mix and match tile designs successfully. Do consider teaming white metro tiles with marble, it may feel like it shouldn't work on paper, but it does in reality. Tie it all together with white paint – the failsafe option for brightening up as Will Thompson, Head of Product Marketing explains:
'A coat of paint can easily rejuvenate a bathroom by enhancing light within the space. At Valspar, we recommend using a lighter color for superior reflection that instantly brightens the room; darker more matte finishes absorb light, creating a shadier, moodier aesthetic within your bathroom. Whites, such as Valspar's The Perfect White and Artic Fox, bounce light off surfaces and are great for achieving maximum brightness, no matter the shape or size of the bathroom.'
6. You can still use a bold wallpaper
When we want to create a bright room we immediately think it has to be light colors in every form, all the way, but, that's not necessarily true – it's how you use them that matters. 
This bathroom designed by VSP Interiors has a beautiful bold red basin unit, rich colored wood floor and a bold, quite large print wallpaper. But it works for several reasons; the white painted tongue and groove panelling, the white marble countertop and the large mirror – these are all tricks of the interior design trade for you to copy.
7. Go for an au-natural look
If bright colors aren't for you, then step into a calming bathroom full of natural rustic textures and lovely textured white walls. Limed wooden floor boards underfoot and a painted tub from a reclamation yard will all help to lighten up a potential dark bathroom in a period property. Leave the window bare – if you have no onlookers of course, and add in tactile pieces like an armchair, earthenware pots and patterned towels all in light to mid natural tones. 
8. Install a mirrored wall
If you don't mind catching your reflection whilst you're walking around your bathroom – admittedly it's not for everyone, then installing a wall of mirrored tiles will double the size of your space and reflect the light back instantly. 
It's a wonderful way to lighten up your bathroom, opt for antique style mirrors for a distressed look rather than an obvious 'mirror' type mirror – it will add more charm to your bathroom. 
9. Choose texture over color 
You don't need to use paint if flat walls aren't your thing, consider textured tiles instead. The herringbone pattern is a trend right now and although mainly seen on floors, you can also use it successfully on walls. These gorgeous Mother of Pearl style wall tiles add a lovely tactile element to this bathroom and they contrast texturally with the plain white floor tiles. Add in a vintage style rug for a touch of color and look for rustic pieces like a wooden stool for a bit of warmth.