Martha Stewart's festive pumpkin ideas are perfect for fall decorating – here's how to make your own
Martha Stewart's festive pumpkin decorating ideas are perfect for those who prefer to celebrate fall rather than the spooky season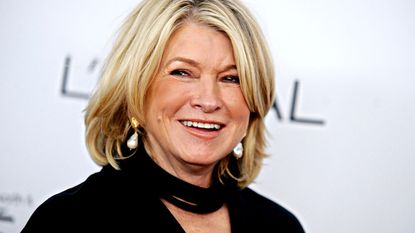 (Image credit: Alamy)
Martha Stewart has long been a source of inspiration for our holiday get-togethers. Breaking away from the kitchen, however, the multi-talented businesswoman has set her sights on creating the perfect fall decor for the season.
One of many Halloween-focused posts as of late, Martha shared her stunning fall craft ideas with her followers on Instagram, with a decorative pink pumpkin making the perfect fall decor idea, or a more subtle, magical Halloween decorating idea for those less into the scary side of the holiday, much like Blake Lively's Halloween decor.
This is not the only pumpkin Martha has had her hands on, however, with an array of festive pumpkin carving ideas also adorning the personalities Instagram grid this season. Here is how you can make your own at home.
'You don't need magic beans to cultivate this ethereal pumpkin' Martha wrote as she showcased her inspirational no-carve pumpkin ideas.
The simple decor piece can be replicated easily at home too! Although Martha specifically chose a delicate pink pumpkin for her design, the shade can be duplicated by learning how to paint a pumpkin and choosing a similarly magical shade. Consider making the design your own by choosing a different pastel, or even make the decor piece spooky by painting your pumpkin deep black, purple, or green.
Instead of carving your pumpkin with difficult, intricate designs, the star made use of fabric appliques and glue to apply sophisticated 'encircling tendrils' as Martha refers to them around the surface of the pumpkin.
Although these look carved, these simple pumpkin pieces are great alternatives for younger children to get involved in decorating for fall. Using metal cookie cutters such as these on Amazon (opens in new tab) instead of sharp knives, these hole-punched pumpkins look great throughout the fall season.
'Pick a few softer-skinned, colorful [pumpkins],' Martha suggests in her post, 'we used Porcelain Doll, white Casper, and green Crown Prince, as well as standard orange. i
'Next, punch matching shapes out of two different shade ones with cookie or hole cutters. Then, swap! Fit contrasting colored cutouts into the holes - or leave them out to let candlelight shine through.'
To make this process easier, make sure you know how to carve a pumpkin to completely hollow out the inside of your pumpkin, whittling down the interior flesh with a large spoon or ice-cream scoop to make the flesh thin enough for the cutter to break through.
Whimsical design seems to be in for Martha's festive fall decor this year, with her third pumpkin idea offering yet another alternative to fully cutting your pumpkin up.
Far more impressive than a wonkily cut face, these template-led wildlife designs are the perfect additions to your fall porch ideas and are easier to create (albeit a little more time consuming).
Start by carving a hole in the base of your pumpkin and hollowing out the insides until the flesh is nice and thin, this will allow for candle light to shine through more easily. Using a template printed from the internet or these thanksgiving themed templates on Amazon (opens in new tab), tape the template over the smoothest side of your pumpkin and use a sharp tool such as a linoleum cutter to scrap away the surface of the pumpkin.
Aim to scrape away just enough of the skin to see the light shine through the flesh beneath. Using a battery powered LED Candle is a great way to check your work as your go and to light your finished pumpkin.
We are certainly more inspired to use pumpkins for our fall decor this year, that is for sure!
Chiana is a junior writer for Homes & Gardens having joined Future plc as a new graduate in 2022 after achieving a 1st class degree in Literature at university. She first became interested in design as a child after spending her summers helping her parents redecorate her childhood home. As a long-time reader of Future's homes titles, Chiana is constantly finding new inspiration at work as she focuses on emerging trends, how-to's, and news pieces.