Experts reveal the meaning of the crystal on Meghan Markle's desk – and how to use one in your home
When the Duchess of Sussex announced the 40x40 initiative, we couldn't help but notice she was using crystals for home decor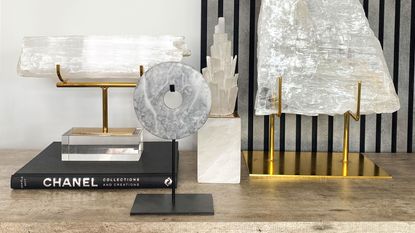 (Image credit: Reflections and Glory Ltd )
It won't have escaped your notice that Meghan Markle recently announced her 40x40 initiative, which aims to help women mobilizing back into the workforce. Naturally, all the way through the humorous clip featuring the Duchess and actress Melissa McCarthy, we were pouring over the interiors, from her fiddle leaf fig and her stone fireplace to that enormous crystal sitting on the corner of her desk.
Once the realm of hippies and students, crystals for home decor are having a luxury makeover thanks to celebrity fans such as Gwyneth Paltrow, Jenna Dewan, and now Meghan Markle.
Here, we speak to some experts about the significance of the crystal Meghan Markle has in her workspace, and how one could benefit your interior scheme.
The specific crystal on the Duchess of Sussex's desk is white quartz, which is said to aid concentration. It's all beginning to make sense – the crystal is simply one of the many home office ideas that encourages productivity for her.
'Meghan Markle's milky quartz elevates the energy around it,' comments Ashley Cantley (opens in new tab), feng shui and home design expert and author. 'Not only that, but it also amplifies existing energy.'
Ashley says that if you want more of something, then you should place a quartz crystal near it. 'Placing that crystal in her office amplifies her energy, channels more creativity, and enhances business deals,' says Ashley. Perhaps white quartz crystals could help us with our Friday afternoon brain fog...
As well as amplifying existing energy, white quartz is also used for purifying negative energy. In the video on the Archewell Instagram (opens in new tab) you can see it positioned at the front of her desk, it can be viewed as a spiritual shield to protect Meghan from bad vibes from beyond her work space, which is an area of calm and concentration.
Ashley says the best places to enhance energy in a home with quartz crystals are near windows, so that good energy doesn't leave the home; in bathrooms, to keep energy from going down the drains; in laundry rooms – particularly if there are no windows; and near fireplaces.
New York-based interior designer Diana Weinstein (opens in new tab)often incorporates crystals into her designs. She says clear quartz placed on a desk is intended to help you stay focused.
'But it doesn't have to just live in your office space because the crystal is an amplifier and enhances other stones,' Diana says. 'The only recommendation about this stone is that I wouldn't have it out in my bedroom when I'm having trouble sleeping because it is "chatty".'
Whether you're a crystal convert or a little skeptical, crystals for home decor are certainly aesthetically pleasing in their own right. Meghan's birthday video is likely to lend crystals a renewed status of an interior design trend you need to know about.
We think Meghan's milky quartz ties in perfectly with the neutral room ideas, from the white roses to the cream Hermès throw, and even Meghan's all-neutral outfit.
Millie Hurst is Section Editor at Homes & Gardens, overseeing the Solved section, which provides readers with practical advice for their homes. She has been in the world of digital journalism for six years, having previously worked as Senior SEO Editor at News UK both in London and New York. She joined the Future team two years ago, working across a range of homes brands. Millie formerly worked as Senior Content Editor at Ideal Home, taking care of evergreen articles that help and inspire people to make the most of their homes and outdoor spaces. Millie has a degree in French and Italian and lives in North London.