Trend alert: Orange sofas are popping up everywhere in 2022
From rust and terracotta to tangerine and marigold, orange is the must-have hue for your sofa this season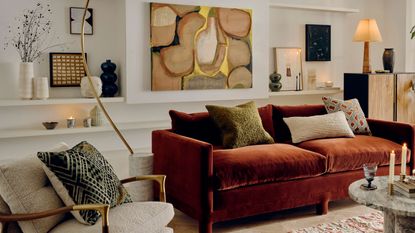 (Image credit: Soho Home )
If asked to choose a color that evokes optimism, we're pretty sure that orange would be near - if not at - the top of your list. From rust and terracotta to tangerine and marigold, the entire spectrum of this jolly hue evokes a cheerfulness that we all need right now.
When looking at previous interior design trends, it's fair to say that orange isn't exactly having its debut moment in the spotlight. You only have to look 1970s interior schemes to see this sunny shade adorning countless retro spaces. That said, the popularity of decorating with orange is set to rise again in 2022.
When thinking about your living room ideas, choosing a sofa will likely be one of the largest investments so it's worth considering what you want out of your sofas - will it be the star of the show or a piece that blends in. In recent years, we've noticed an influx of sofas offered in varying shades of orange, a great way to introduce the color to your space, without feeling too, erm, Tangoed.
We've pulled together our favorite living room sofa ideas from the designers who are offering this happy hue to your living rooms.
1. Think about complementary color combinations
'We are finding that the majority of people have become much more experimental in their design choices,' says Sabina Miller, Head Buyer at Heal's. The homeware company recently launched the Devon 2-Seater sofa, $3,433.01/£2,499, offered to its customers in a zingy orange hue.
When thinking about how to work orange into your scheme, Sabina recommends referring to the color wheel, 'blue is a go-to pairing, and deep inky tones will offer a sense of drama. Alternatively, mixing other shades of mustard yellow, soft brown and warm neutrals throughout the room will add depth while complementing a bright orange shade, allowing the sofa to pop as the focal point' she explains.
As we look ahead to the longer, warmer summer days, Sabina predicts that we can 'expect to see sunny oranges paired with a neutral palette of soft greys and blush nudes, and accentuated by gentle coral shades, coming together to bring a renewed sense of optimism into the home.'
2. Choose orange for an uplifting look
'Earthy warm tones in general picked up pace in 2021 – we're seeing it in fashion on the catwalk and closer to home in the details such as tiles, home accessories and fabrics.' states Jodie Hopkins, Sales & Marketing Director, Julian Chichester.
'These colors are warming, reassuring and grounding. We can see why, given the last couple of years, we are looking to wrap ourselves in cozy yet uplifting environments,' she adds.
'With the Parrot Sofa, $6,697.06/£4,875, in particular, we wanted to create calm among the intricate mix of materials and textures. By using this beautiful Leivere Mohair on such a statement piece it balanced the overall design of the space.'
As someone with her finger on the style-pulse, we asked Jodie what colors she is seeing coming through for later in the year, she tells us to expect 'rich spice colors, rusty oranges, reds and terracotta earthy tones.'
3. Go bold with color and curvaceous designs
Daniel Aram, Managing Director at Aram, informs us that the Marenco sofa, from $8,098.29/£5,895, by Mario Marenco for Arflex, is a recent addition to the Aram, yet was actually designed in 1970.
He says 'the velvet upholstery, available in dark orange and other interesting colors, highlights the curved form which makes a standout piece in any home.' Adding, 'deep shades of orange have been used in our color range for years with vivid red a constant favorite in the classic Lota sofa by Eileen Gray.'
When thinking about how to introduce bold color into a scheme, he advises 'when used on strong silhouettes orange looks fresh in modern living rooms as well as complementing more traditional living room settings.'
4. Pair bright colors against neutral tones
'A burnt orange sofa is a bold statement piece that will instantly add warmth to a neutral living room,' says Candy Murray, Interior Style Manager, Soho Home.
Candy suggest that murky shades of orange 'perfectly complements natural timbers and stone finishes.' Here, Soho Home has styled its Ashford 3-Seater sofa, $4526.52/£3,295 (shown), in a neutral setting against a busy accent wall of art and interesting trinkets, which helps the sofa sing without entirely stealing the show.
5. Embrace curves for the ultimate modern look
Sedilia describes its Roll Top sofa, $14204.63/£10,340 (ex fabric), as 'combining tactile curves with strong fluid lines, embodying the recognizably reductive Sedilia aesthetic.'
This modern sofa design has been created for both comfort and style – the ultimate piece for cocooning living room corner. The terracotta orange fabric that it's been upholstered in helps to make this design stand out from the crowd, whilst still feeling incredibly luxe.
6. Inject some energy into your interiors
'Orange inspires many things,' says Fanny & Yannick Gicquel, Designers & Founders, Popus Editions.
They describe the color orange and its symbolism as 'synonymous with good communication and energy. Stimulating for the senses and the intellect. This sparkling and dynamic feeling, tinted with joy and optimism, is brought into the house.'
'Orange can easily be combined with its complementary color which is blue, purple (or cyan). It also goes perfectly with other warm colors, such as red and yellow. Of course, since black and white go with everything, you can match them with no problem.'
The firms Lena sofa, $3040.14/£2,215.45, has a wonderfully retro feel to it. When asked what we can expect from Popus in 2022, Fanny & Yannick told us that they 'will focus on more oranges to develop the 70's inspiration mixed to cozy atmospheres.'
Sign up to the Homes & Gardens newsletter
Decor Ideas. Project Inspiration. Expert Advice. Delivered to your inbox.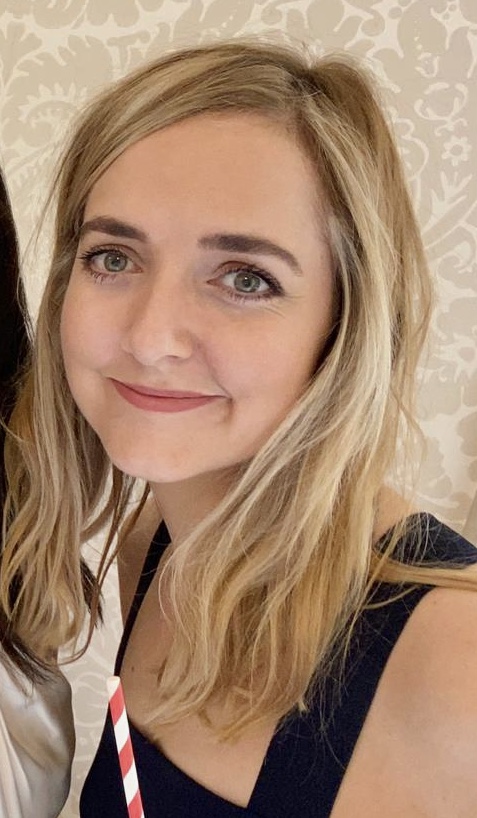 Jo Bailey has been Deputy Editor of Homes & Gardens since late 2021, overseeing all features for the print edition. Previously, she worked as the News & Shopping Editor across H&G and Livingetc - one of Future Plc's sister brands - this is where she learnt to discover the best news stories, latest trends and honed her understanding of Homes and Gardens' over 100-year-old brand.
Before joining Future Plc, she worked as an interior stylist for over ten years, specialising in commercial photo shoots for luxury clients such as; Design Centre Chelsea Harbour, The Romo Group, Christopher Farr Cloth and Heal's. She has worked closely with Homes & Gardens and Livingetc for over a decade, having styled and produced editorial shoots and events for both titles over the years.