We're head over heels for The Home Edit's shoe wall – and you will be, too
Inspiration for stashing every pair from the organizing gurus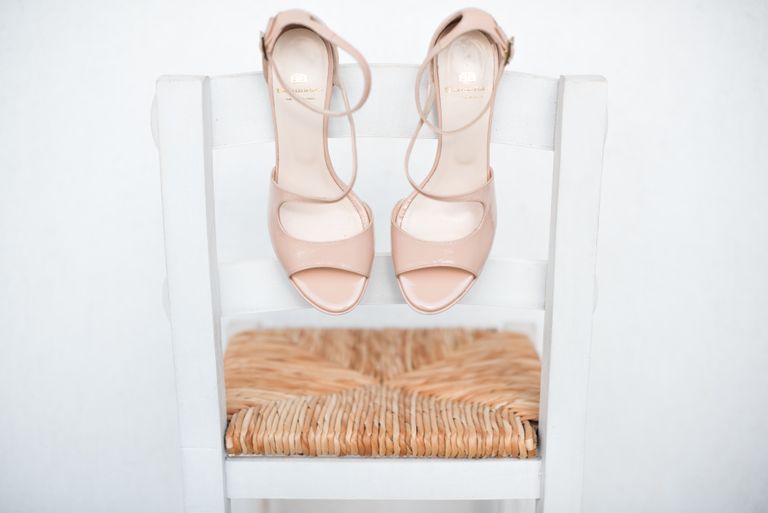 (Image credit: Constantinos Panagopoulos on Unsplash)
Clea Shearer and Joanna Teplin are organizing supremos, and their Netflix show, Get Organized with The Home Edit, best-selling books and products have inspired and assisted in many an interior transformation.
Among their projects, the clutter-clearing and sorting gurus have tackled the closets of the famous as well as non-celebs, with goals including the need to organize shoe collections of impressive size, and when we saw their latest shoe storage feat (sorry), we fell head over heels (so very sorry) for it.
Here, we bring you this fabulous wall of shoes along with other strategies for organizing heels and flats from the super-sorted experts.
For more small bedroom storage ideas that look super stylish, don't miss our inspiring guide.
1. Build in shoe storage
This fabulous shoe wall is a custom-built design, and calling on a joiner can result in storage that makes use of every inch of closet space. It's especially helpful when there are awkward features to work around such as sloping ceilings.
However, it's equally possible to re-create the design with clear acrylic shelf dividers, the organizing experts say. Using dividers like this on closet shelves will maintain the same unobstructed view of each pair for fast location.
Sorting by color makes pairs speedy to find, too, and Home Edit aficionados know Clea and Joanna use the colors of the rainbow to both organize and make a visually pleasing display.
To maximize the number of pairs that will fit into a shoe wall, bulkier styles of flats can be stored facing in opposite directions.
2. Stack for success
For a collection of shoes in danger of overflowing the closet space available, Clea and Joanna use boxes – here in fashion designer and TV personality Lauren Conrad's home.
Clear labelled boxes on the closet shelves of the self-professed collector demonstrate how piling pairs up can win extra space. It also keeps the shoes protected from scuffs and dust, the experts note.
3. Enjoy the show
Many of us will echo Clea and Joanna's admission, 'At this point...we're pretty sure we forgot how to walk in heels.' The need or occasion to put them on has been pretty limited of late save for those occasions when we've decided to throw a cocktail party for our household or on Zoom and dress up anyway.
Favorite pairs of shoes can still delight us, though, with the duo's strategy. Acrylic risers put going-out shoes on display, and using the one-forward, one-back technique boosts the number of pairs that will fit without squashing much loved footwear.
4. Store accessories alongside
The Home Edit organizing geniuses like to stash shoes with their partner handbags in the closet, too. This way, it's easy to put together what you need for the occasion from one storage station.
Dividers are the answer to keep bags upright, Clea and Joanna say, and once again they opt for clear versions so it's easy to see into the space and locate the accessory required quickly.
5. Size for efficiency
Clea's own closet is a box-only shoe storage space. Different sized boxes for the different types of footwear allow storage from floor to ceiling she says (and we're guessing the stool makes access to the highest shelves possible).
The key to getting so many pairs into one space? 'Stacking a combination of shoe boxes, high heel boxes, and men's shoe boxes (great for short boots),' Clea says.
The Home Edit organizing basics for shoes and more
Whether it's for your heels and flats, or in the other spaces of your home, these Home Edit rules will keep things neat and good looking:
1. ROYGBIV – that's red, orange, yellow, green, blue, indigo, violet – is a color scheme our brains innately recognize, say the experts. It works for shoes, but it can be used in the pantry, for kids' stationery and craft supplies – and it even looks great as a theme for the Christmas tree!
2. Label, label, label. Why? It will identify the contents that belong in a container for you, your kids, your partner and your houseguests, The Home Edit say. Labels are straightforward directions for where items go.
3. Sorting before storing is essential. Real estate in the home is valuable, so clear clutter before organizing. But just like Marie Kondo lets you keep what sparks joy, Clea and Joanna say, 'You get a full pass for things that make you happy.'
Sarah is a freelance journalist and editor writing for websites, national newspapers, and magazines. She's spent most of her journalistic career specialising in homes – long enough to see fridges become smart,
decorating fashions embrace both minimalism and maximalism, and interiors that blur the indoor/outdoor link become a must-have. She loves testing the latest home appliances, revealing the trends in
furnishings and fittings for every room, and investigating the benefits, costs and practicalities of home improvement. It's no big surprise that she likes to put what she writes about into practice, and is a serial house revamper. For Realhomes.com, Sarah reviews coffee machines and vacuum cleaners, taking them through their paces at home to give us an honest, real life review and comparison of every model.