The best paint colors for selling a house – interior designers advise
If you're looking for the best paint colors for selling a house quickly, you're in the right place. We have interior design advice for using them, too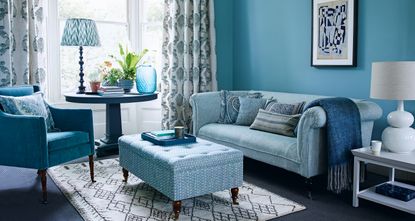 (Image credit: Future/Simon Bevan)
If you are looking for the best paint colors for selling a house quickly, you might be surprised to discover that they don't include white. While many realtors and house flippers will tell you that house buyers want a blank canvas, and that white is failsafe, it's also true that white just doesn't always work.
What buyers want from a home is a feeling of spaciousness and joyfulness – they want to imagine they'll be happy living there. When used in small spaces or north-facing homes, white can have the opposite effect, making rooms look even smaller and clinical, say house-selling experts.
So, we asked interior designers and a color psychologist what color delivers happiness and spaciousness – and... it's blue – in its many tones, hues and shades.
What is the best color for resale?
Blue is, according to the experts, the best color for resale.
Blue isn't often thought of as a neutral color, but it is the color of sky and the oceans, and, much more than white, has the ability to open up a space, creating an optical illusion of a larger size.
Annie Sloan, color and paint expert, explains that 'blue recedes, eliminating horizons and creating the impression of infinite space. It's also a calming, meditative color which encourages us to breathe in and out, creating a psychological and spiritual sense of space as well as the physical illusion.'
Blue is also the right color for anywhere that can look chilly in weak winter light. David Mottershead, MD of Little Greene, says that 'as a hue, blue is especially desirable in the northern hemisphere, where the light enhances the blue pigment.' However, 'the blue spectrum is vast', and you do need to get the shade right.
See: Decorating with blue – a fresh update on this cool, contemporary color
Choosing the right shade for selling
if you're repainting your house with a desire to sell, then you'll want to pick a shade that generates warmth and optimism – not all shades of blue can do that. Environmental psychologist Lee Chambers explains that 'this color can be soothing and make you feel secure. However, much like grey, certain shades can evoke an element of coldness and sadness.'
Dark and cool shades like navy blue may be trendy, but they are not the best choice if you want to impress prospective buyers. David Mottershead advises to pick 'lively and invigorating hues' of blue or 'neutral blues, not too green or violet' – 'they are all simply irresistible.'
In other words, don't shy away from bright shades if they enhance the room, but do stay away from anything dark and cold-looking, as this look isn't for everyone. And you can never, ever go wrong with soft pastels – they create a light and airy look that will appeal to most buyers.
Sign up to the Homes & Gardens newsletter
Decor Ideas. Project Inspiration. Expert Advice. Delivered to your inbox.
Anna K. Cottrell is now a freelance writer, having previously been a Content Editor for Future's homes titles. She writes about interior design, property, and gardening. On H&G, she specialized in writing about property – buying, selling, renting – sustainability and eco issues.