The top 3 vacation home hotspots in Texas, according to real estate experts
Thinking of buying a vacation home in the Lone Star State? These are the hottest locations right now, and they might not be where you think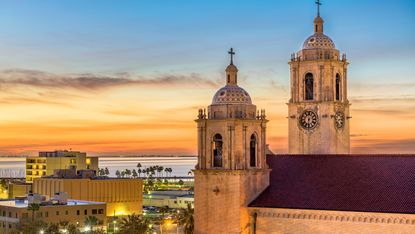 (Image credit: Sean Pavone / Alamy Stock Photo)
Sign up to the Homes & Gardens newsletter
Decor Ideas. Project Inspiration. Expert Advice. Delivered to your inbox.
Thank you for signing up to Homes & Gardens. You will receive a verification email shortly.
There was a problem. Please refresh the page and try again.
If you're looking at where to buy a vacation home in Texas, you will want to benefit from realtors' expertise – the second home landscape in the Lone Star state is changing.
We've spoken to several experienced real estate experts, and all of them are pointing to a trend in the Texas second home market – after Covid, the areas that are on the rise are all away from large metro areas and towards the state's natural riches – lakes, rural communities, and, of course, the ocean if you head south.
Whether you're considering a vacation home for yourself or with rental income in mind, these are the areas you should be considering right now.
See: How to buy a house – a first-time buyer's guide
1. Corpus Christi
Texans are heading for the Gulf, and no wonder: the state has some stunning beach towns alongside the shoreline.
Corpus Christi is the top pick of them all, according to Kris Lippi, a licensed real estate broker, official member of the Forbes Real Estate Council, and the business owner of the popular real estate website ISoldMyHouse.com.
He said: 'I consider Corpus Christi as the best place to buy a vacation home in TX. Due to its coastal setting, this city is a perfect location for a second home. It has all the characteristics one would want for a vacation spot: beach, birds, natural sceneries. Corpus Christi is also a windy city, making it a great place for windsurfing and sailing. Your own place here would mean that you'll have easy access to these recreational activities that will make your vacation even more wonderful.'
If your hope is to make rental income from your vacation home, Kris confirms that 'a vacation home in Corpus Christi can also be a great rental investment. 'Airbnb is legal and popular here, so you have the choice to rent out your home and earn rental income on the side when you're not out there for a vacation.'
The typical home value in Corpus Christi is a very reasonable $183,072 – refreshing for anyone who's looked at Austin prices lately.
2. Rural towns in East Texas
What is true of the pandemic-era housing market in general is true of the Texas vacation home market. Rogers Healy, Owner and CEO of Rogers Healy and Associates Real Estate, based in Dallas, Texas, explains that 'the second home and vacation home market has changed drastically over the last year. As people look for more space, they are also looking for more land. This is causing the Dallas-Fort Worth metroplex to expand in a vast way.'
Dallas is a Texan powerhouse for jobs, but where it comes to vacation homes, people now want 'to look even further out than they normally would', and many of them are heading east, to explore the charming rural communities away from the Dallas-Fort Worth metro.
'As far as popular areas, we are seeing significant interest in East Texas. Rural towns such as Wills Point, an hour outside of Dallas, are seeing an increase in demand.'
Home prices in Willis Point average at $199,000. However, rental incomes from Airbnb in the areas are impressive – easily over $300 a night for a lodge close to the picturesque Lake Tawakoni. Which brings us to the third major trend in Texas vacation homes.
See: Best ways to cut house moving costs – as revealed by consumer experts
3. The inland lake areas
A vacation home near one of the Texan inland lakes will provide you with a steady rental income thanks to the long, hot Texan summers that many people like to spend by the water.
Bill Baldwin, President of Boulevard Realty, says: 'Lake homes are becoming an increasingly popular second home choice for many Texans. From Lake Travis to Lake Livingston to Lake Lewisville, there's no shortage of wonderful lakes in our state, meaning no matter what big city you live in, you're likely not more than an hour and a half away from a beautiful lake. It can get pretty hot during the Texas summer so being able to step outside and jump in a lake can be quite refreshing!'
See: Lake Tahoe is the best place to own a second home in the US – here's why
Bill says he himself has just bought a second home 'along a lake in my original hometown of Huntsville, Texas. Lake houses provide the perfect retreat from the big city into nature.'
We've checked Airbnb prices around Lake Livingston as an example, and a lake house cabin will comfortably command over $300 a night. Be careful, though – the lakes are so beautiful that you may end up spending all summer there yourself.
Sign up to the Homes & Gardens newsletter
Decor Ideas. Project Inspiration. Expert Advice. Delivered to your inbox.
Anna K. Cottrell is now a freelance writer, having previously been a Content Editor for Future's homes titles. She writes about interior design, property, and gardening. On H&G, she specialized in writing about property – buying, selling, renting – sustainability and eco issues.