Dualit Hand Mixer review: a trusty mixer with genuinely useful features
The Dualit Hand Mixer is sold as a 'true multi-tasker'. We put it to the test to establish how powerful it is.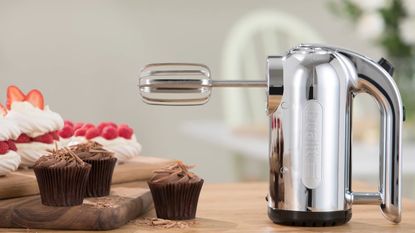 (Image credit: Dualit)
Marketed as 'small but perfectly formed', the Dualit Hand Mixer is a practical, sturdy appliance. It's available in two colorways, Chrome and Canvas White, and has a powerful 400-watt motor. Replaceable parts are available from Dualit if needed, giving this mixer a sustainable edge too.
Reasons to buy
+

High-quality, clever design

+

Performed strongly during testing

+

Replaceable parts

+
Reasons to avoid
-

Quite heavy to hold after a while

-

Not as aesthetically pleasing as other options
You can trust Homes & Gardens. Our expert reviewers spend hours testing and comparing the latest products, helping you choose the best for you. Find out more about how we test.
The Dualit Hand Mixer is built for matters of sheer performance, with a powerful 400-watt motor, and a no-nonsense design. A compact and glossy option, it follows in a line of similar appliances from this brand which are renowned for quality and unbeatable performance.
Rather than the pastel picks from KitchenAid and other brands that are packed with features and speeds, this mixer strikes out on its own with just four speeds and minimal embellishment. In order to see if its pragmatic design matches up with an excellent performance, we put it to the test by creating a number of bakes. With the results in this review, we've established if the Dualit mixer is worthy of a place in our essential guide to the best hand mixers.
Dualit hand mixer specifications
Colors: chrome, cream
Type: electric hand mixer
Weight: 3lbs
Speed settings: 4
Material: plastic
Dimensions: 8 x 4 x 12 inches
Motor: 300 watts
Attachments: 2 dough hooks, 2 beaters, 1 whisk
Unboxing and first impressions
Dualit is a brand famed for its commitment to durability and quality, with appliances that are built to last. One standout benefit that is worth mentioning from the offset is that Dualit products have replaceable parts, meaning their offering of the best toasters as well as hand mixers, are likely to last you for years, perhaps even a decade. That's a solid reason to invest in Dualit if you're mindful of quality and sustainability.
Upon unboxing this Dualit mixer, I was impressed with the luxury look of the chrome mixer. It has an impressive exterior, even if it is not in fact stainless steel, but rather made of plastic. This might be disappointing to some (from reviews online you can see this might be the case), but the finish is still expensive-looking.
Continuing the theme of first-rate design, the next element of this mixer I was impressed with was the unique cord tidy design. Rather than a long cord that is likely to get tangled, this mixer has a cog to wind the excess length up, and then it sits neatly within the body of the mixer. I haven't seen this in any of the other mixers I've tested, and it's a genius move to make it easier to store and handle.
The included attachments fit nicely to the colorway and design of the mixer too, though there is only one whisk fitted with this mixer, whilst other models like the Smeg 50s Retro Hand Mixer have two.
Making whipped cream
I was intrigued to see how this mixer performed in the whipped cream test considering that there is only one included whisk. Attaching the whisk was very convenient, and the controls are seamless to use. The 400-watt motor can be controlled with the dial on the handle of the mixer, and there are 4 speeds to slide through. This is considerably less than other options, like the KitchenAid Nine-Speed Hand Mixer, but does make control very simple, and is fitting with the pragmatism of Dualit appliances. The fact that there is less of a range also likely ties into the fact the parts of this machine are replaceable, so the design is likely to be stripped back.
Making whipped cream with this mixer was straightforward and ultimately very successful. In one minute and ten seconds, the cream was whipped to a good standard, even with just one whisk to work with.
Making cake batter
Switching over the attachments on the Dualit mixer was painless, with an obvious ejector button above the speed settings to allow you to do so. I put the mixer to test in creaming and then combining as part of a cake recipe, and found that it was a very smooth experience, with very quick results. Any toughness or obstruction was immediately remedied by this mixer, and the light, fluffy batter at the end was easy to reach.
The only drawback of using this mixer to make cake batter was the fact that it was a little more strenuous on my arms than I wanted, as this mixer is on the heavier side at three pounds. Whilst the design is very slick, there also isn't much of a space to comfortably rest your hands, with no molded grooves on the exterior, so it is a little more difficult to handle, and perhaps wouldn't be the easiest choice if you suffer from dexterity issues.
Making cookie dough
Of all of the tests that I took the Dualit hand mixer through, the area I would say it most excelled would be making a batch of cookie dough. I creamed the butter and sugar first of all using the included standard beaters, and found that it was unbelievably easy to get the mixture to the standard that I wanted.
The second step was using the dough hooks to combine chocolate chips. This is a good way to establish how the mixer can mimic working a dough together as you would with your hands, and I thought it gave a great result.
Cleaning
All of the Dualit attachments are dishwasher safe, making clean-up very straightforward. Coiling up the plug with this mixer is also very easy thanks to the windup feature mentioned earlier, and you can wipe clean the exterior of this mixer to keep it looking polished.
How it compares
This model has an emphasis on quality that rivals the giants of the hand mixer and best stand mixer game, namely KitchenAid. The standout KitchenAid model available right now is the KitchenAid Cordless Hand Mixer, which has all of the convenience of cordlessness and all of the fun of a stunning range of colors.
It's important to note that this Dualit option has neither of those features, which indicates that it's taking up a different space in the market entirely. Instead of choice and variation in features and speed, it gets the job of mixing done efficiently and without frills. That means it stands more in comparison with the Braun MultiMix 5 hand mixer, which is a great performer but lacks aesthetic fun. However, the Dualit outdoes the Braun option on matters of quality and finish, which should give you a good idea of where it sits in the market.
Should you buy the Dualit hand mixer?
The RRP of the Dualit hand mixer ($89.99) places it in the mid-range of available options. If you are already a fan of Dualit appliances, I'm sure you don't need to be convinced of the quality and assurance you get for that price, but if you're a first-time buyer, then it has to be said that it's likely an investment that will pay off for you. Not only do you get the opportunity to switch out parts for new ones if you need to, but you also get a year-long guarantee if you buy directly from the brand.
The overall look, feel and performance of this Dualit mixer is high-quality, with a focus on pragmatism and straightforwardness. If you're less concerned with being able to pick a pastel color and more concerned with longevity and power, then this Dualit hand mixer will be the standout option for you.
About this reviewer, and the reviewer
Molly is the Ecommerce Writer across Homes shopping content, spending time reviewing products to see if they can earn a place in buying guides. She has turned her hand to testing stand mixers, hand mixers and more in order to pick out the features that matter the most to readers.
This hand mixer was tested alongside a range of other hand mixers at a Future testing facility in Reading, as you'll see from the photos. Unfortunately, this mixer was not available to be kept for long term testing.
Sign up to the Homes & Gardens newsletter
Decor Ideas. Project Inspiration. Expert Advice. Delivered to your inbox.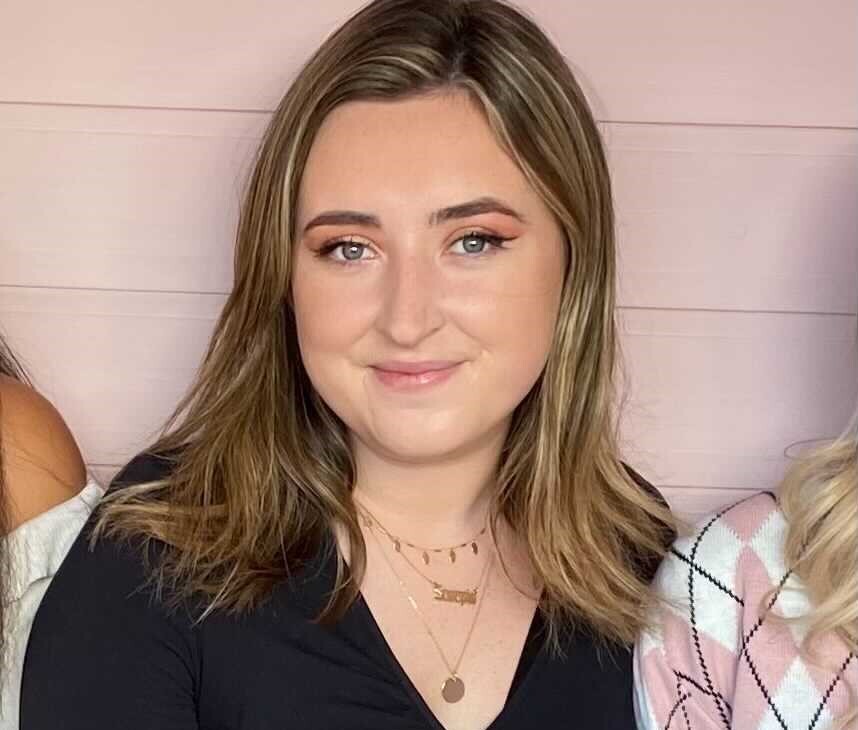 Molly is the Ecommerce Writer for Homes & Gardens and spends her time searching the internet for the next best thing for your home, with a focus on shopping edits and buying guides. Before joining Homes & Gardens, Molly graduated from the University of Exeter with a degree in English Literature, with previous internships undertaken at The Economist in her summer breaks.