Dyson V11 Outsize review – an impressive vacuum cleaner which will keep your home looking fabulous
We've reviewed the Dyson V11 Outsize. See how it performed in the home of our Appliances Editor...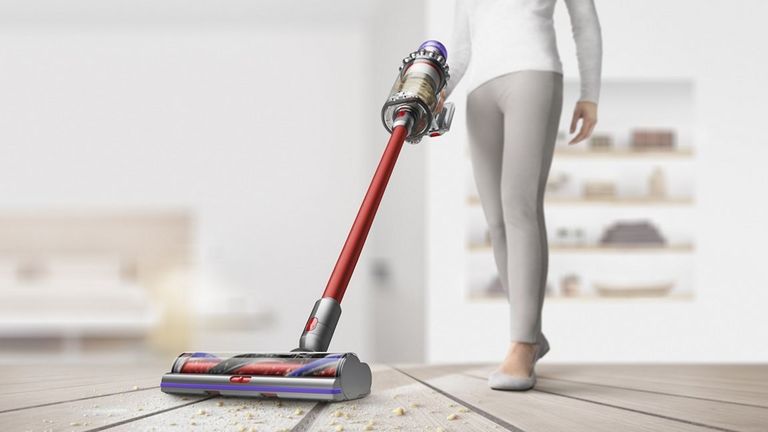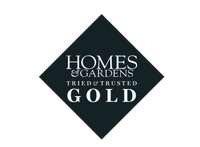 (Image credit: Dyson)
Homes & Gardens Verdict
Impressive suction, quick to charge and super versatile across all levels – the Dyson V11 Outsize has got everything you need to make a clean sweep throughout the home
Reasons to buy
+

Incredible suction

+

Quick to charge

+

Easy to handle

+

Versatile
Reasons to avoid
-

Top-heavy

-

No good on small rugs
Vacuuming the home needn't be a chore with the Dyson V11 Outsize. It's the latest technology to join the ranks of cord-free vacuum cleaners – available to our US and UK readers – which promises to clean up big messes in big homes. We were intrigued to find out more so called it in for testing in a dusty, relatively hairy and busy home.
I've been challenging it with everyday messes for the past few weeks which has totally blown my mind on how well it has performed, even on our (very) tired carpets. Living in a Victorian terraced home which are known for having narrow hallways and staircases, and not straight edges, manoeuvrability has been impressive as has transitioning from wooden floorboards to carpet.
Keep scrolling to find out more about this top-of-the-range stick vacuum cleaner to see if it is for you then, why not check out our best cordless vacuum cleaners guide for a comparison with other vacs on the market?
Specifications
Type: cordless stick
Run time: up to 60 minutes
Charge time: 4.5 hours
Bin capacity: 1.7 litres
Weight: 3.5kg
Dimensions: H261 x W1,286 x L320mm
Who will the Dyson V11 Outsize suit?
Everyone and anyone who likes to use a cordless vacuum cleaner and has big messes to keep on top of. It will easily reach high and low to vacuum crumbs, dust and dirt since it converts from an upright stick to a handheld with the click of a button. Just be mindful that it is a little top heavy (which took me by surprise) but it's something which you get used to.
Setting up
What's in the box?
- Dyson V11 Outsize
- High Torque XL cleaner head
- Soft roller cleaner head (UK only)
- Mini motorised tool
- Combination tool
- Crevice tool
- Quick-release mini soft dusting brush
- Quick-release extension hose (UK only)
- Quick-release wide nozzle tool (UK only)
- Quick-release up-top adaptor (UK only)
- Wand storage clip
- Charger
- Docking station
- Additional charger (US only)
Arriving within a matter of days after ordering, the V11 Outsize was quick to get through the front door since being in a narrow, upright cardboard box. Removing the protective, outer delivery box I was left with the product which, again, was in a box with all accessories neatly arranged. There was ZERO PLASTIC plastic packaging used here with tissue paper being resident instead which was is a big tick from the start for me already.
Before I could start putting the vac to the test it needed a charge. This one does arrive with 20 per cent of it's (up to) 60 minute juice already which is clearly marked on a label attached to the bin. I made the most out of this to see if there really was 20 per cent / 15 minutes of charge, and there was so happy days. I didn't get very far, though, so on it was with a full charge before equipping it with some accessories and setting some challenges. I'll talk more on this later but something to bare in mind – especially if you live in a period home – is that the plug is bulky so didn't fit securely into the electrical sockets situated just above the skirting board.
Once fully charged, I was ready to start vacuuming our hard flooring, carpets and rugs more thoroughly throughout the home.
What is the Dyson V11 Outsize like to use?
I like it, a lot. I've tested several vacuum cleaners in my time, some unintentionally when not in the job which have provided a handy comparison to the V11 Outsize. Before reviewing this one we used not one but TWO vacuum cleaners in the home – one being a Hoover cylinder pet model and the other the Dyson V10 Animal. The latter launched a couple of years ago in 2018 and oh my, is there is a BIG difference between the models.
Rugs
Using the V11 Outsize on our various rugs throughout the home was a doddle. I clipped the High Torque XL cleaner head into the wand and then into the bin and we were good to go. The cleaner head is noticeably larger than the other V11s which covered more surface area on the larger wool rug, lifting up everything that lay in its wake. I could even see the rug lift up slightly as the cleaner head worked its magic. I gave it a go on all three cleaning modes – Eco, Auto and Boost – which made a noticeable difference to the sound output, and the suction, although this didn't affect debris removal from our rugs. These modes also affect the battery life, with Boost using up the most juice. I managed to capture a little video (below) which records the difference in sound as you click through the cleaning modes – hit the sound icon to hear it.
Using on our smaller 60cm diameter rug at the bottom of the stairs was a different story, however. Even on Eco mode the suction was just too powerful (something which I never thought I'd say about a vac) but it meant that the rug either moved around with the floorhead or it prevented the brushbar from spinning, and therefore cease to have any suction at all.
Carpets
Now this is exciting because we've got rather tired looking carpets which are on the list to be replaced BUT the V11 Outsize worked wonders on it. I tended to keep the mode on Auto because due to taking up floorboards underneath the carpet (long story) the carpet is pretty uneven. On this mode the floorhead very cleverly sensed and adapted to the varying levels across the floor. I also found that my long hair didn't get too tangled in the brushbar as we swept over where I tend to brush my hair, although this could be a coincidence since it's not in any of the tech spec for this model so it's just a mere observation from me.
I found that I could also easily reach under the bed and chest of drawers which are on legs, too, albeit I couldn't reach all the way under because of the layout of our furniture and room.
After vacuuming the carpet I was left really impressed. The pile is short and was well and truly trodden down but after a vacuum with the V11 Outsize it looked lifted, which is rather pleasing on the eye.
Hard flooring
I breathed a big sigh of relief when I opened the box to see a soft roller head. If you wanted one of these to use on earlier models – such as the V10 – then you had to buy it separately so it's super helpful that this one already comes with it. Although the floorhead intelligently senses to different floor types I wanted to give the soft rollerhead a whirl on our wooden flooring which is sanded pine floorboards – anyone with these in their home would appreciate it when I say that they easily mark (dent) so I was being extra cautious.
To attach the soft roller head I simply unclipped the high torque XL cleaner head and replaced it with the one I wanted to use. All the functions worked in the same way as I had experienced previously. What I do tend to find with this head, however, is that it doesn't give a noticeably satisfying clean as the head with a brush bar. The soft roll also seems to attract fluffy bits to it, and gets in a slight tangle with anything but the crumbs and small dust particles. This is probably a sign that I need to vacuum our house more but it would be good for me to not notice this as this really is a great vacuum cleaner. Oh and another thing to note is that the soft roller head is also not as large as the High Torque XL cleaner head.
Accessories
There's a lot of these; 11 to be precise. And to be honest, I wouldn't use even half of them BUT I can totally see why someone would because we all have different homes, and different cleaning requirements.
For me, the High Torque XL cleaner head, soft roller head, combination tool and mini motorized tool were more than enough for a quick and satisfying clean around the home. The combination tool, for example, was brilliant at cleaning the dust from the tops of the picture rail and tackling the high-up cob webs. What we did notice, however, is that with the larger dust bin on the vac – used as a handheld – is top heavy which is noticeable when compared to our V10. It wasn't uncomfortable to use, just something to bear in mind if you want something which is lightweight to use at any level of the house.
To try something new I gave the quick-release extension hose a whirl. This only attaches to the other attachments and not the wand or floorhead. It's designed to provide a longer reach when using the V11 Outsize as a handheld but you're required to use two hands to vacuum; one to hold the bin and trigger, and the other to hold down the attachment at the other end of the hose. Personally, I would find this more useful if it could be used on the wand so the floorhead could reach further under furniture.
Storing, cleaning and maintenance
Storing the Dyson V11 Outsize as one with a floorhead, wand and bin attached is pretty easy if you secure it onto a wall mounted docking station. If you don't particularly want it attached onto the wall then a freestanding docking station can be bought for £100 direct from Dyson UK or $149.99 at Dyson US. However, there are nine accessories (plus the two cleaner heads) to also somehow store which is where a utility cupboard, shelf or bag will come in handy to keep them altogether.
When the vac is docked it is charging. It'll take up to 4.5 hours to fully charge, although it can be used any time with any amount of juice because the suction does not fade. You can check exactly how much power it has as it charges by pressing the button on the LCD screen. Unless you have a dock set-up, however, you'll need to plug the charger into an electrical socket with the bin perched on the floor or a worktop. As I mentioned earlier on in the review, the charger plug is big and won't charge the vac unless properly secured into the plug – something which I found a couple of times because I thought it was sufficiently pushed in far enough to the socket, until the following day when I saw that it hadn't recouped any energy at all. This was an issue for me because our electrical sockets are close to the top of the skirting boards, allowing no room for error.
Aside form emptying the bin as soon as the dirt reaches MAX level, cleaning of the V11 Outsize may also be required with a damp cloth if you've vacuumed up anything particularly messy. It's important to regularly clean the filters and check for blockages, too, which you'll be alerted to on the LCD screen. The brushbar and tools would all benefit from a rinse under the tap as well to keep them performed at their best – please DO NOT put in the dishwasher as this won't do anyone any favours!
Sustainability
As I've mentioned earlier, there was zero plastic packaging when the V11 Outsize arrived which is great. It can all be recycled which will go a long way in helping to live greener lives.
The brand have also moved their user manual to online to reduce their environmental impact. They've included a QR code which can easily be scanned with your smart phone to access everything you need to use register and maintain your new vac. It took just a matter of seconds for me to do this. Alternatively, you can just visit dyson.com/YourV11Outsize.
How does the Dyson V11 Outsize compare to others in the range?
There's four Dyson V11s which I've come across, all offering slightly different tech spec. To help determine what the differences are between each of the models I've created a table (below). You'll see that what really sets the V11 Outsize apart from the others is that is has a 25 per cent wider cleaner head and an incredible 150 per cent bigger dustbin.
How does it rate online?
There's some rave reviews out there for this vac. It's been awarded 4.5 stars out of 5 at Currys PC World and over at Dyson UK, 94 per cent of reviewers would recommend it to a friend.
Across the pond, Target customers have given the bagless stick vacuum 4.6 stars out of 5 and those who have bought at Best Buy have given it 4.8 stars. At Dyson US, 91 per cent would recommend the V11 Outsize to a friend.
Availability
The Dyson V11 Outsize is available in the UK and US for £649.99 / $799.99 with selected retailers and direct from Dyson.
In the UK, the Dyson V11 Outsize comes with two cleaner heads and seven tools, as well as a wall-mountable dock and charger. In the US, however, the V11 Outsize only has one cleaning head and is missing a few accessories, but it does have two swappable batteries and comes with two chargers. You'll also find that the V11 Outsize Origin exists in the US, too, which is slightly cheaper at $729.99 (when the other version is not on offer), but has one less battery, one less charger and is in the exclusive gold colourway.
Homes & Gardens verdict: should you buy the Dyson V11 Outsize?
I would say so, YES! I (almost) looked forward to vacuuming with it because the results were so impressive. It was super easy to set up and it was really handy to have the fuller-size bin and larger cleaner head. Plus it looks REALLY smart.
The only downside I found was that I couldn't use it on our 60cm diameter rug, which ground it to a halt. The suction was just too powerful, even on Eco mode, so in a way it's a victim of it's own success here. Larger rugs and carpets, though, cleaned up very nicely indeed.
About this review – and our reviewer
Jennifer Oksien is our Appliances Editor across the homes titles at Future. This means that she spends her days working with appliance (and mattress) brands to ensure that you get the best products for your home. She lives in a Victorian terrace which is undergoing an unintentional renovation so whilst stripping back walls, ceiling and floors (etc!) she visualises how the space can be best used with a suite of gadgets, gizmos and home comforts to make home life that little bit more streamlined.
As with all our reviews the Dyson V11 Outsize has been tested first-hand in our home, using it just as you would so you know exactly what you are buying. The products are given to us free of charge and we test them for as long as possible before sending them back to the brand, unless we are able to keep it as we are with this cordless vacuum. This means that we can continue to use the product which gives us the opportunity to return to our reviews for updating, so you can keep up-to-date with how it's fared over a period of time.
Jennifer is our resident Appliance Editor, who also looks after the content you see about appliances (big and small) along with mattresses which she very much enjoys reviewing. When she is not bringing the best in-class products to your attention, Jennifer can be found going for walks in the Somerset countryside with her husband or enjoying some tea and cake with a magazine.