Essentia Classic REM5 Organic Mattress review
The Essentia Classic REM5 Organic Mattress is made of organic materials that create the most supportive and contouring mattress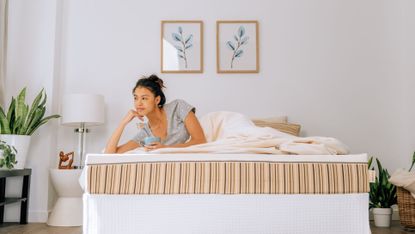 (Image credit: Essentia)
Back and stomach sleepers looking for a firm, organic mattress – rejoice! The Essentia Classic REM5 Organic Mattress is made with organic latex and can biodegrade in three years. The height options may be a bit short at a maximum of 10in, but this contouring mattress supports your lower back and mid-section so well, you'll wake up without those aches and pains.
Reasons to buy
+

Superb motion isolation

+

120-night sleep trial

+

Free shipping in US and Canada

+

Great for back and stomach sleepers

+

Removable cover that's machine washable

+

100% certified organic and vegan mattress

+

Designed to help you sleep five degrees cooler over eight hours
Reasons to avoid
-

Very expensive

-

Noticeable smell lingers

-

Only 8- and 10-inch height options
Why you can trust Homes & Gardens Our expert reviewers spend hours testing and comparing products and services so you can choose the best for you. Find out more about how we test.
Since I started testing mattresses, I've been fascinated with those that are made with organic materials. Whether it was through the testing process or in my research of the mattresses, I discovered just how important and beneficial an organic mattress can be to your overall health and sleep experience. That's exactly why I wanted to test the Essentia Classic REM5 Organic Mattress.
Essentia Classic REM5 At A Glance
Firmness: Firm, 7.5 out of 10, also available in medium and soft-fior
Type: Organic latex
Construction materials: Organic cotton cover, Kevlar liner, Patented Beyond Latex Natural Memory Foam, Natural Hevea Latex Support Foam
Sizes: Twin, Twin XL, Full, Queen, King, Cal King
Thickness: 8 and 10 inches
MSRP: $3,382-$8,404
Backed by a host of sustainable and organic certifications, the Essentia Classic REM5 Organic Mattress is one of the best organic mattresses on the market, for those looking to live life greener.
As part of their Performance Organic Mattress collection, the company has taken so much care to create the Essentia Classic REM5 Organic Mattress, from using only organic and vegan materials to extensive quality testing. It's available in eight-inch and 10-inch depths, three firmness options, and you have the option to add EMF protection. The REM5 gets its name from its use of five out of the seven Key Elements of Regenerative Sleep (opens in new tab) that Essentia advises: active cooling, allergy-friendly, posture support, optimized oxygen, certified organic, and bonus, radiation-free, if you choose the EMF protection.
That's the kind of care I want going into my mattress because it conveys that Essentia cares about me and my sleep, which overall affects happiness, relieves stress, relieves anxiety, and improves focus, along with optimizing physical recovery.
I tested the mattress under its original name, the Classic 8, but the specs and experience are nearly identical, save for extra cooling technology and the option to have EMF protection.
Read on to learn about my sleep experience with the Essentia Classic REM5 Organic Mattress and in what areas the mattress excels.
About this review and our reviewer
About this review and our reviewer
Alex Temblador
Alex Temblador is one of Homes & Garden's mattress experts – which is a good role for someone who needs over 8.5-hours of sleep each night. The Dallas-based freelance writer has covered home, design, architecture, and art in publications like Real Homes, Dwell, Architectural Digest, Artsy, Neighborhoods.com, Culture Trip, among many others.
The Essentia Classic REM5 was generously supplied to us by Essentia and has been tested first-hand in Alex's home for over a month. For more insight into our editorial process, our review guidelines get into more detail about how we test.
Who will the Essentia Classic REM5 Organic Mattress suit?
Back and stomach sleepers: This mattress does a great job of supporting the mid-section, which is an important feature for back and stomach sleepers.
Sustainable, organic, and environmentally friendly buyers: Buyers who invest in the Essentia Class 8 Organic Mattress will be buying a mattress that was constructed in a GOTS-certified factory and made with GOLS-certified organic latex and a GOTS organic cover. All organic components were sourced from sustainable 100% certified organic farms.
Couples who want to sleep soundly: You'll barely feel your partner move at night thanks to excellent motion transfer.
Essentia Classic REM5 Organic Mattress: Construction
The Essential Classic 8 Organic Mattress' four layers begin with a GOTS-certified organic cotton cover that can be removed and washed. Beneath the organic cotton cover is another liner made of Kevlar which holds all the memory foam elements together.
Within the Kevlar liner is a two-inch layer of Beyond Latex Natural foam, a slow response GOLS-certified organic latex made with 100% natural latex rubber. It's followed by a six-inch support foam layer made of Havea milk, a sap that is sourced from rubber trees in Indonesia and shipped to Essentia's factories to be turned into Dunlop latex.
The Essentia Classic 8 Organic Mattress was tested by the John Hopkins School of Medicine which found that the mattress is allergy-friendly and does not allow for dust mites.
As part of Essentia's Performance Mattress Collection, the Essentia Classic 8 Organic Mattress is the brand's original organic mattress. Made with a proprietary latex blend that results in an organic memory foam, this mattress provides physical benefits like "pressure redistribution for unobstructed blood circulation, posture support, spinal support, [and] sleeping on average three degrees cooler over an eight hour time period." This is also why Essentia is known to have the "World's Only Natural Organic Memory Foam Mattress."
The Classic REM5 model also introduces Activated Quartz Foam, which incorporates activated quartz into the patented organic latex foam formulas to enhance the cooling effects from three to five degrees.
You also have the option to choose foams with EMF protection that blocks the effects of EMF radiation from 3G, 4G, and 5G cellular waves. This radiation can affect your body and blood cells, and oxygen levels. Note, we did not test the mattress with this optional configuration, which adds about $1,000 to the cost of the mattress.
Setting up the Essentia Classic REM5 Organic Mattress
A queen-sized, 8-inch-tall Essentia Classic 8 Organic Mattress arrived in a long, skinny box on my front porch. I had no issue moving it into my house on my own, though removing it from the box was a bit difficult. The box was well sealed with glue and large staples that weren't easy to pry open. Eventually, I was able to open one end of the box and pull the mattress out.
After setting it on my bed, I removed the plastic wrapping and let the mattress unfurl. It took less than an hour for the mattress to reach its full height. The eight-inch height was something that immediately stood out to me as this is the first eight-inch-tall mattress I've ever tested. Essentia also offers this mattress in a 10-inch height, which seems like a better option as it'll offer more height to get in and out of the bed and could assist in preventing your bedding from touching the ground.
The brown and tan striped exterior of the mattress is a bit retro and a good indicator as to how to place the mattress on your bed. The brown side goes on the bottom and the white at the top. The organic cover is very soft and slightly cool to the touch. I noticed the cover's zipper right away and appreciate that I can remove the cover and wash it if need be.
Unfortunately, I noticed a smell emanating from the mattress as soon as I opened it. The Essentia Classic 8 Organic Mattress is an organic mattress made of natural materials so there shouldn't have been an off-gassing smell. However, from my research, it seems that organic mattresses (even those with the large amount of sustainable and organic certifications that Essentia has) can have low VOC emissions, which is typically what causes the off-gassing smell that people notice when opening a new mattress. Even on the Essentia website, the brand noted, "This nontoxic mattress creates a clean air environment, reducing VOC exposure." By saying "reducing VOC exposure," Essentia may be conceding that there are slightly low traces of VOCs.
So, was I smelling the off-gassing of VOCs? I'm not sure. On their website, Essentia says there may be a slight smell to their mattresses, and that it's likely to be a latex odor. I wouldn't necessarily describe the smell as that of latex, but rather a sweet, cloying almond scent. The only other time I've smelled this scent on a mattress was when I tested the Ghostbed Luxe which is not made with latex. I should also note that I've tested a latex mattress as well – the Plushbeds Botanical Bliss Organic Latex Mattress – and it did not have any scent.
I received the mattress right after I started testing a different mattress, so I was able to track the smell for a month. (The mattress sat on my guest bed for two weeks before I was able to test for another two weeks.) The smell was quite strong the first three days, and then became a medium-strength scent for about a week and a half. By the time I started to test the mattress, the smell was still there, but only noticeable when I tried to sleep on my stomach. Sometimes I could ignore it and other times it bothered me so much I had to turn onto my back. After four weeks, the smell is now almost imperceptible. I think a mattress protector might dampen the smell for those who have a nose such as mine.
What is the Essentia Class REM5 Organic Mattress like to sleep on?
Comfort and Firmness
When it came to lying on the mattress, it was clear that the Essentia Classic REM5 Organic Mattress in firm is a firm mattress that's best designed for back and stomach sleepers. I'd describe it as a 7.5 on a 10-point firmness scale, making it one of the firmest mattresses I've ever tested. It took my body about a week to get used to the mattress, particularly as it related to falling asleep.
The mattress' foam lightly contoured around my body and seemed to push against my mid-section, preventing it from dipping into the mattress. When your back or stomach dips into a mattress it can cause lower back pain, so I was glad I did not have to worry about that with this mattress. Although I could sleep on my stomach considerably well, when I slept on my back I found that I moved and awoke less throughout the night. Sleeping on my side wasn't as comfortable because it felt like my hips were unable to sink into the mattress enough to align my spine.
The mattress is also available in medium and soft firmness offerings for back and side sleepers, respectively
Pressure Relief
In terms of pressure points, the mattress did a great job of relieving stress and aches in my shoulders, neck, and upper back. While it took a while for my lower back, stomach, and hips to get used to this mattress, I never had any pain in those areas when sleeping on the mattress.