KitchenAid K400 Blender review: sturdy but stylish
The KitchenAid K400 Blender might just be the perfect blender for those who want a stylish blender that's got plenty of power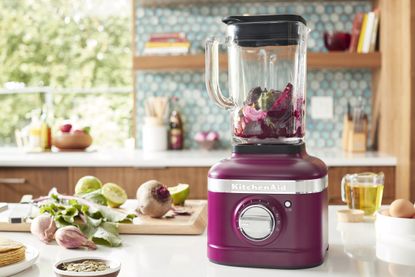 (Image credit: KitchenAid)
We put the KitchenAid K400 Blender to the test for a number of weeks to see if it's capable of blending soups, smoothies, and crushed ice.
Reasons to buy
+

Looks the part

+

Heat-safe glass pitcher

+

Fully adjustable dial

+

Comes with a range of pre-sets

+

Very powerful

+

Handles seeds very well
Reasons to avoid
-

A little tricky to clean

-

The lid requires some muscle to remove

-

Sensitive control dial
You can trust Homes & Gardens. Our expert reviewers spend hours testing and comparing the latest products, helping you choose the best for you. Find out more about how we test.
In this KitchenAid K400 Blender I put the classic KitchenAid blender through its paces to see how it performs across a range of standardized tests. This blender is one of the most popular models you can buy, but is it one of the best blenders on the market? While it's not perfect, it's also not far off. The KitchenAid K400 Blender has a sturdy design that, it's immediately apparent, will last the test of time. It also looks great, and will sit pretty next to the best stand mixer on the market - the Artisan.
I always look forward to finding out about the KitchenAid color of the year, and this year was no exception. In my opinion, the 2022 shade 'Beetroot' might be one of the best yet, with a deep yet vibrant semi-matte finish that makes a statement without being garish.
Then, of course, is the KitchenAid K400 Blender - a long-time staple in the KitchenAid lineup that's a favorite blender among those who care about style as well as performance. I was keen to take the K400 for a spin, and the fact that I got to try the Beetroot shade was the cherry on top. Here's how it performed.
KitchenAid K400 Blender: specs
Colors: black, white, red, beetroot, many more...
Type: family-sized blender
Weight: 12 pounds
Size: 56 oz
Programs: Ice Crush, Icy Drinks, Smoothie, Cleaning
Speed settings: 5
Material: Metal base, glass pitcher, stainless steel blades
Dimensions: 9.02 x 7.59 x 15.8 inches
Motor: 1200 watts
Getting started with the KitchenAid K400 blender
The KitchenAid K400 comes in a large box that's securely packed in with styrofoam packaging. It's a shame to see non-recyclable packaging for any appliance but given the weightiness of this product and the glass pitcher, I do think it needs very secure packaging.
The pitcher is made of glass, which means it is quite heavy. The entire unit weighs 12 pounds, but the base is also very hefty and it would be a struggle to lift it up and down from any shelving.
Users who would struggle to lift their blender jug to pour or move the blender around should take a look at the KitchenAid K150 blender, which I have also reviewed. The 150 is less powerful but a lot lighter, with a plastic pitcher. The best thing is, it looks very similar.
To assemble you simply need to place the pitcher onto the base, and there is no need to twist it into place, which is a feature I really like.
The plastic lid pushes into place and there is a flap that is designed to stick out over the handle to add some leverage when lifting the lid away from the pitcher. However, the lid took quite a bit of muscle to remove from the blending jug, so it might not be the best for people who would struggle to pull it out of place
Making smoothies in the KitchenAid K400 blender
The sign of any good blender is its ability to make a good smoothie, so that was the first thing I tested in the KitchenAid K400. I even filmed this in the video above.
My first impressions were that this is a very powerful blender, and I only needed to turn the dial to the level three setting to get a very good consistency to my smoothie.
To turn the blender on you need to press a button that sits on the top right side of the blender base. I found it easiest to twist the blender base to the setting I wanted before pressing this button, and you can also press the button again to turn the blender off.
When turning the dial I found that it was easy to twist it too far, so that it went past the maximum speed setting and towards pre-set smoothie modes. This automatically shut the blender off without any pressure to avoid this, which was a little annoying.
I tried a second smoothie with frozen banana, spinach, oats, coconut water, and frozen berries. This is a strong challenge to any blender, as it involves frozen fruit skin, seeds, leafy greens, and oats which can tend to go quite grainy if not well blended.
The blender worked very well on the pre-set smoothie mode. It finished after just under a minute, which was seemingly long enough to incorporate all of the ingredients.
The machine had no trouble with frozen ingredients, but I did notice a few tougher parts of oat that had no been fully blended down.
While the pre-set is nice if you want to blend hands-free, I don't think I'd use it all that often as different smoothies will blend in different times and using the manual dial will give more control over the finished result.
Making soup in the KitchenAid K400
One of the big perks of glass blender pitchers is that they can typically handle higher temperatures. I was keen to see how the KitchenAid K400 would handle a hot soup, so I roasted off some butternut squash, sweet potato and carrots and added them to the blender jug with stock and coconut milk, and a dollop of thai red curry paste.
While butternut squash and sweet potato goes quite soft after it's been roasted, I left the skins on to see how well they would be incorporated into the finished soup. I also roasted some ginger with my vegetables, which meant that the blended had to contend with quite a hard and fibrous ingredient that was cut roughly into large wedges.
As expected, the blender had no trouble getting started with this recipe. There was a lot of liquid in the pitcher, so it was able to create a smooth vortex shape at the top of the jug (visible through a removable insert in the lid) and every ingredient was mixed in thoroughly.
I blended on a medium manual setting for a minute or so before tasting the soup and deciding to add a little more stock and some seasoning. I then blended at a higher speed for about 30 seconds before taking a look at my finished soup.
The soup definitely filled up the entire blender pitcher and ended up serving four generous bowls of soup, or six smaller portions. If you plan on making larger servings I would recommend using one of the best immersion blenders to go straight into your cooking pot as opposed to running them through a blender in multiple batches.
The finished soup was mostly very smooth, with a few small pieces of fiber from the ginger and a slight inconsistency from where the skin had been blended.
It was not as smooth as the soup I made in the Vitamix A3500 Ascent Series Smart Blender, which has a dedicated soup setting, but it was still one of the best soups I have made in a multi-serve blender.
Crushing ice in the KitchenAid K400
Crushing ice is one of the presets that appears on the control panel of the KitchenAid K400, so I gave it a try. I added six ice cubes and turned the dial to the ice crush setting before pressing the 'on' button. This button is quite small and therefore a little fiddly to press.
My ice immediately began blending, quite noisily, and I waited for the preset to finish automatically. However, it did not stop until I pressed the button. This could be good for those who want that added degree of control, but unlike your average Ninja blender the setting will not turn itself off, which means it is a lot less hands-free.
The ice was very fine, more of a powder that coated the inside of the blender pitcher, and the texture was totally even.
I scooped this into a glass ready to top with some hot coffee. This setting is also an effective way to make snow cones from home. It proved to me that the KitchenAid K400 really is a very powerful blender, perfectly capable of pulverizing six ice cubes in under 30 seconds.
Cleaning
The lid and the blending jug of the KitchenAid K400 can go in the dishwasher, but cleaning by hand is also very easy. Simply add some warm water and dish soap to the pitcher and then pulse for a few seconds.
I did find that the glass developed watermarks when I left it to dry as opposed to drying by hand, whereas the dishwasher left me with a more sparkling clean look.
How does it compare?
I have had the pleasure of testing dozens of blenders, including some of the best portable blenders and best immersion blenders. The KitchenAid K400 is definitely one of the best I've tested. With an RRP of $269/£249, it is not a cheap product but the quality certainly matches up with the price. The glass pitcher is designed to last, and you can also add a personal-size blending cup and even a citrus juicer to its range of attachments when you shop direct at the KitchenAid site.
The main difference between the KitchenAid K400 and the KitchenAid K150 is in the design materials. The K400 is very sturdy, with a metal base and glass pitcher. The K150 has a plastic base and pitcher, and has a lot less power. It still looks the part, and is $130 less expensive, but it would struggle to blend hot ingredients. When testing it I did find that I had to max out on power in order to achieve the consistency I wanted, whereas I never found the K400 lacking.
The KitchenAid K400 is comparable in size to the Zwilling Enfinigy 64-oz. Countertop Power Blender, which has an RRP of $299. Both have a 64-oz blending pitcher although the KitchenAid has a glass design, and the Zwilling is tritan. I had less hiccups with the Zwilling Enfinigy, which has a light-up dial panel and ten power setting as opposed to the five you get with the KitchenAid. However, if you prefer the style and color options of the K400, it is still a very good choice.
Should you buy the KitchenAid K400?
Many of the top blenders on the market will cost in excess of $300, but the KitchenAid K400 hits a rare balance between genuine quality and a price that feels appropriate for the design and specs.
The base and pitcher are both quite heavy, which is an indicator of the US-led design quality, but could cause issues for users with difficulties in moving heavy parts or in lifting things up and down from shelves.
With 1200 watts it is far from lacking in power, and while there are a few areas that could use some finessing (namely the unusual dial, which slips out of place easily, and the rather small on/off switch) it is an outstanding blender in all the areas I tested for.
About this review, and the reviewer
Millie Fender is our Editor for all things small appliances at Homes & Gardens. She spends a lot of time testing everything from toasters to air fryers in her own apartment and recommending the very best ones to readers.
All our reviews are tested from home, and this KitchenAid K400 review is no exception. Millie put it to the test for a number of weeks to make morning smoothies and soup for lunch. Although Millie was not able to keep the blender for long-term testing, we will keep this review updated with our thoughts on how it compares to other models on the market.
Millie Fender is Head of Reviews on the Homes and Gardens Ecommerce team. She specializes in cooking appliances, such as the best kettles, and also reviews outdoor grills and pizza ovens. Millie loves to bake, so she will take any excuse to review stand mixers and other baking essentials. When she's not putting products through their paces in our dedicated testing kitchen, Millie's reviews are conducted at home, meaning she uses these products in her own day-to-day life.