Black Friday kitchen deals – the best buys for your kitchen
Our roundup of the best Black Friday kitchen deals can not only enhance your kitchen space, but make great gifts too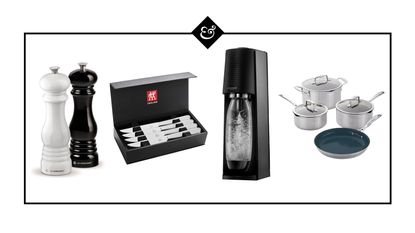 (Image credit: Le Creuset, Soda Stream, Zwilling)
Whether you're searching for some new kitchen gadgets, cookware or dinnerware, you've come to the right place, as we present the very best in Black Friday kitchen deals.
Alongside our round-up of the Black Friday small appliance deals and Black Friday home deals, here we explore the top offers available for kitchen products from some of Homes & Gardens' favorite brands and retailers.
From beautiful glassware from Anthropologie, to discounts on Le Creuset and SodaStream, our collection of deals can not only help kit-out your kitchen, but many make the perfect gifts to give to friends and family this festive season.
Black Friday kitchen deals
You can shop Black Friday kitchen deals by retailer or via our top H&G picks.
Best Black Friday kitchen sales by retailer
Best Black Friday kitchen deals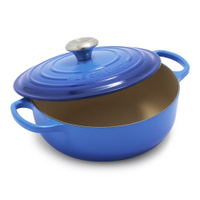 (opens in new tab)
Le Creuset Sauteuse, 3.5 Qt.| was $299.95 now $179.96 at Sur La Table (opens in new tab)
No Black Friday round-up is complete without an iconic Le Creuset deal (opens in new tab) gracing our list. It is the perfect gift for bakers (opens in new tab). Year after year, Le Creuset cast iron piece is a highly sought-after item on many lists, from novice cooks to pro chefs.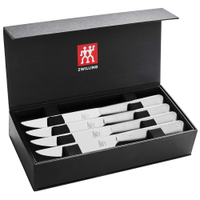 (opens in new tab)
Zwilling J.A. Henckels 8-Piece Porterhouse Steak Was $180.00 now $49.96 at Sur La Table (opens in new tab)
Slicing through meat and poultry will be as effortless as cutting through butter with these high-carbon stainless steel steak knives with serrated blades. The set includes 8 knives and a storage box.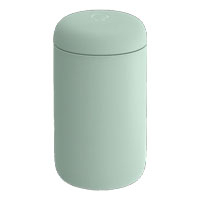 (opens in new tab)
Fellow Carter Everywhere Mug was $35.00 now $26.25 at Fellow (opens in new tab)
From one of our favorite brands that make some of the best electric kettles (opens in new tab), and beautiful coffee makers, this sleek Fellow Carter Everywhere Mug allows for you to transport both hot and cold drinks in style. For an additional $10, you can even personalize the cup! Fellow also have a range of other holiday deals (opens in new tab) on other mugs, kettles and brew kits.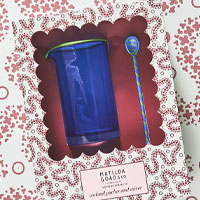 (opens in new tab)
Anthropologie x Matilda Goad & Co. Pitcher Set was $54.00 now $29.95 at Anthropologie (opens in new tab)
Whether you want to treat yourself or are looking for gifts for friends and family this holiday season, this elegant, handcrafted pitcher set from Anthropologie x Matilda Goad & Co. is great for those who love to entertain or simply can't resist the beauty of colored glass.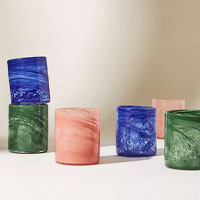 (opens in new tab)
Anthropologie Ilaria DOF Glasses, Set of 4 was $64.00 now $39.95 at Anthropologie (opens in new tab)
A charming addition to the dinner table and to be put on display on a shelf or in a glass cabinet, the set of 4 mouth-blown Ilaria DOF Glasses, available at Anthropologie, have been named after the leather club chair of cocktails, the double old-fashioned (DOF), and are perfect for serving spirits and short cocktails – or simply for colorful, everyday drinking glasses.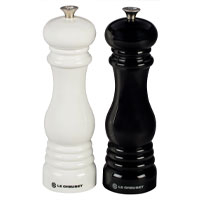 (opens in new tab)
Le Creuset Salt & Pepper Mill Set was $92.00 now $75.00 at Le Creuset (opens in new tab)
Everyone needs a stylish Salt & Pepper Mill Set they can set down on their table, and this classic design from Le Creuset, in a simple yet timeless black and white color palette, can integrate into kitchens and dining rooms of all styles.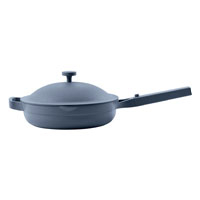 (opens in new tab)
Our Place Always Pan Set was $145.00 now $95.00 at Nordstrom (opens in new tab)
We not only love the look of this contemporary, colorful pan, but we love how versatile the design is, providing a nonstick fry and sauté pan, steamer, skillet, saucier, spatula and spoon rest all in one! Ideal if you want to save space in your kitchen, or simply just love the modern design, the pan is available in five different colorways, as well as in the iconic Azul finish (opens in new tab), designed in collaboration with Selena Gomez - also discounted!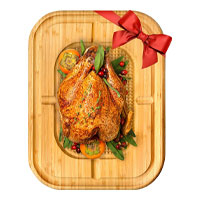 (opens in new tab)
Bambüsi Turkey Carving Cutting Board - Bamboo was $59.99 now $44.99 at Amazon (opens in new tab)
Not only perfect for pairing with your best turkey roasting pan (opens in new tab) for use over Thanksgiving and during the festive season, this bamboo carving board can be used throughout the year to serve up all manner of cooked meats. Expertly designed to keep the meat in place as well as store and channel all of the juices, the heavy duty design can be a long-lasting addition to your kitchen space.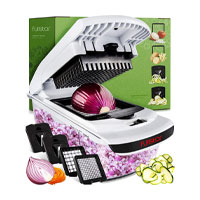 (opens in new tab)
Fullstar Vegetable Chopper was $39.99 now $23.88 at Amazon (opens in new tab)
Rapidly speeding up your prep time when cooking, the Fullstar Vegetable Chopper features four different blade designs so you can chop, slice, julienne and spiralize to your heart's content! The large storage container also lets you easily store your chopped veggies until you're ready to start cooking.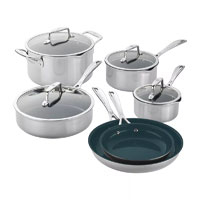 (opens in new tab)
ZWILLING Clad CFX Stainless Steel Ceramic Nonstick Cookware Set 10-pc was $512.00 now $349.95 at Target (opens in new tab)
With 53% off, this is a pretty impressive saving from ZWILLING at Target! Featuring everything you need to have the ultimate cookware set, the collection includes four pans, each with lids, and two saucepans. The 7-pc set (opens in new tab) is also available at a discounted price, with 32% off.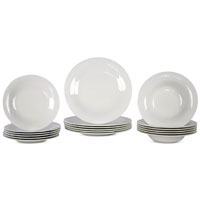 (opens in new tab)
VILLEROY & BOCH Dinnerware, New Cottage 18-Piece Set Service for 6 was $320.00 now $159.99 at Macy's (opens in new tab)
Enjoy 50% off this dinnerware set from VILLEROY & BOCH. Timeless and elegant, this white porcelain New Cottage dinnerware set includes 6 10.5" dinner plates, 6 8.25" salad plates & 6 9" rim soup bowls, part of the wider New Cottage collection (opens in new tab).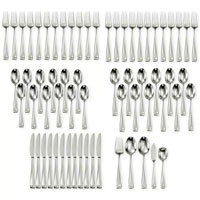 (opens in new tab)
Oneida Moda 65-Pc Set, Service for 12 was $300.00 now $149.99 at Macy's (opens in new tab)
You can never have too much cutlery, right? Whether you're moving into a new home and want a extensive, fresh set, or are looking for an upgrade, a huge discount is available on the Oneida Moda 65-Pc Set.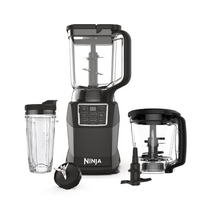 (opens in new tab)
Ninja Kitchen System with Auto IQ Boost and 7-Speed Blender| Was $199.99 now $99.99 at Target (opens in new tab)
Blenders that see frequent use deserve an upgrade every once in a while. The Ninja Kitchen System is half off and offers It's our top pick if you're looking for a multi-purpose blender (opens in new tab), with high-performance blending for frozen treats and a 5-cup Precision Processor bowl for double function as a food processor, and a Nutri Ninja Cup with Spout Lid to take blends on the go.
What is Black Friday?
Often hailed as the biggest shopping day of the year, Black Friday falls on the last Friday of November, which this year means Black Friday will fall on Friday 25th November 2022.
The term Black Friday originated in the US to denote the first day following Thanksgiving when retailers would cut prices to draw holidaymakers to shop their store's sales. Driven by global brands, the price-slashing event soon became a worldwide phenomenon, and now Black Friday, closely followed by Cyber Monday, has become one of the globe's biggest consumer extravaganzas.
What is Cyber Monday?
Cyber Monday falls directly after Black Friday and is the conclusion of the shopping event, with many online-only deals. This year, Cyber Monday falls on Monday, Nov. 28th.