How to use KitchenAid stand mixer attachments
Maximize your machine's uses with KitchenAid mixer attachments that slice, grind, puree, and so much more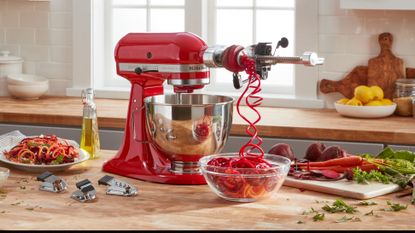 (Image credit: KitchenAid)
While you'll consistently find us shouting out praise for the iconic KitchenAid stand mixer, its versatility goes far beyond kneading dough, mixing batter, and making whipped cream. KitchenAid has a rich assortment of stand mixer attachments that can help you accomplish a whole range of functions you might not have known about – from grinding meat to making ice cream to rolling pasta.
Here, we tell you how these attachments can be used to maximize KitchenAid stand mixers, each of which comes with a flat-edge beater, whisk, and dough hook, with upgraded and replacement parts readily available.
However, you also can boost your KitchenAid by using the attachment hub at the head of each stand mixer. This works with a range of extra accessories that you can buy separately. The good news? Our reviews team has tested them all, so we can speak with authority.
KitchenAid attachments come in several categories: Fresh Prep, Grinders, Pasta and Grain, and Dessert. Most attachments compatible across all KitchenAid stand mixers, whether a tilt-head or a bowl-lift design and our review team loved their functionality, effectiveness, quality and durability.
How to use KitchenAid stand mixer attachments
KitchenAid differentiates itself from many of the best stand mixers in offering a vast range of extra attachments. And while other brands like Cuisinart and Wolf also offer mixer attachments, their offerings are not as robust.
Fresh Prep
Don't be shocked that your KitchenAid could replace the some of the best food processors and juicers. If it can automate your mixing, you bet it can also take on slicing and dicing.
Food Processor Attachment
Whip up fresh homemade salsa with the food processor attachment that includes slicing, shredding and julienne discs and has a wide chute to make prepping fruits, veggies, and cheese a breeze. The unique ExactSlice™ System allows you to easily adjust slice thickness.
Zoodles, anyone? Fresh and on demand, you can achieve peeling, coring and spiralizing with the spiralizer attachment, Fine spiralizing blade, medium spiralizing blade, slicing blade (small core), slicing blade (large core), peeling blade and a fruit and vegetable skewer all stored in a carrying case. The parts are made of premium metal and dishwasher safe for extra convenience.
Fresh Prep Slicer/Shredder Attachment
Similar to the food processor if you're looking to slice and shred things up, but substantially more affordable, the Fresh Prep Slicer has a 2-in-1 Feed Tube and three blades of varying sizes to shred cheese, potatoes, veggies, and more.
The high revolution rate of the stand mixer, makes it a powerful tool for extracting the most juice from citrus. Juice flows directly into your cup, while a strainer stops any seeds.
Grinding
KitchenAid offers two core food grinders, a sturdy metal design, and a plastic one that has its own accessories that sell separately including a larger food tray, fruit and vegetable strainer, and a sausage stuffing kit.
Metal Food Grinder Attachment
A food grinder lets you control exactly what is in your ground meat and can make for some pretty unique combinations, including the ability to make your own sausages. The metal design has a large tray to accommodate larger portions and you can pre-chill food for easier grinding.
The plastic food grinder is lower in price, but it does have its own suite of accessories that be purchased separately if you want the whole shebang.
Boxed spaghetti? Never again once you try your own fresh homemade dough. The Gourmet Pasta Press includes discs to make your own spaghetti, bucatini, fusilli, rigatoni, small macaroni and large macaroni. Dreamy.
Pasta Roller and Cutter Set
Or opt for the pasta roller to make long sheets of dough in your preferred for ravioli, lasagna, dumplings, and more. From there, use the pasta cutter to run rolled sheets of pasta through the fettuccine cutter or spaghetti cutter.
Grind wheat, oats, corn, rice, and other low-moisture, low-oil grains to create your own freshly-milled grains or flour.
Sifter + Scale Attachment
Elevate your baking with automatic and hands-free sifting. All in one step, it directs flour into the mixing bowl with an easy-to-use digital scale for precise measurements.
Bread Bowl with Baking Lid
Compatible with 4.5 and 5 qt. tilt-head mixers, take your bread recipe from stand mixer to oven. With this all-in-one design you can mix, knead, proof and bake all in the same vessel for maximum convenience and perfectly round loaves. The use of the ceramic mixing bowl retains and delivers even heat while the lidthat traps steam when baking as if in a a traditional steam oven.
Pasta & Grains
Expand your horizons with what you can do with dough, from mills to sifters, and pasta makers. From scratch is the way to go.
Desserts
Everyone's favorite topic: sweet treats, featuring home made ice cream and shaved ice.
Ice Cream Maker Attachment
How creative can you get with your ice cream flavors when you can make your own recipes? In just 30 minutes, you can have 2 qts. of creamy, delicious ice cream. The dasher attaches to the main mixing portion of the mixer to rotate inside the special ice cream maker bowl to spread, scrape and mix for even freezing. Sampling straight from the bowl is encouraged.