Nutribullet vs BlendJet blenders – which is best?
We put Nutribullet vs BlendJet to see which brand comes out on top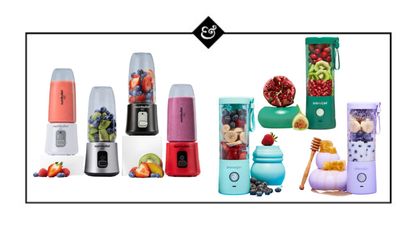 (Image credit: Nutribullet/Blendjet)
Sign up to the Homes & Gardens newsletter
Decor Ideas. Project Inspiration. Expert Advice. Delivered to your inbox.
Thank you for signing up to Homes & Gardens. You will receive a verification email shortly.
There was a problem. Please refresh the page and try again.
Nutribullet vs BlendJet is a fantastic question as we start the year. It's a great idea to buy a personal blender and make healthy drinks for your New Year's resolutions.
Personal blenders make it easy to create smoothies and shakes on the go. They're small enough to slip into your bag for the commute, but powerful enough to whizz fruits and vegetables into delicious, nutritious beverages. For years, Nutribullet has been the go-to brand for blenders for their high quality and compact bullet design. However, they're far from the only manufacturer, and BlendJet put up stiff competition with their range of budget-friendly, colorful machines.
With key insights from our expert Head of Reviews, Millie Fender, I'll break down the pros and cons of each brand to help you find the best portable blender.
NutriBullet GO Portable Blender
Colors: silver, red, black, white
Weight: 1.5lb
Capacity: 13oz
Speed settings: 1
Dimensions: 7.52 x 7.01 x 4.06 inches
Motor: 700 watts
For
Lightweight
Safety-first design
Can fit into most bags
Long-lasting battery
Intuitive controls
Not very loud
Against
Lacking in power
Can't handle large drinks
Bottle cannot go in the dishwasher
Not the smoothest blend
BlendJet 2 portable blender
Colors: countless
Weight: 1.34lb
Capacity: 16 fl. oz
Speed settings: 1
Dimensions: 9" L x 3" W
Motor: 5V
For
A great range of colors
The price is reasonable
Easy to clean
Very portable
Can handle fresh fruit as well as protein powder
Against
The charging port could use a cover
It won't blend tougher ingredients
Portable blender sales
You can trust Homes & Gardens. Our expert reviewers spend hours testing and comparing the latest products, helping you choose the best for you. Find out more about how we test.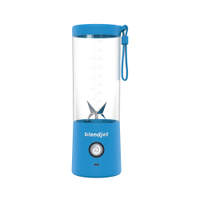 BlendJet 2 Portable Blender | was $99.95, now $44.96 at BlendJet
Expert tester Millie found that this is one of the best portable blenders on the market. It comes in a huge range of colors but matches apperance with performance, creating delicious smoothies, shakes, and even a pesto. It's now more than half off at BlendJet.
Which blender is best for smoothies?
WINNER: BlendJet 2
The BlendJet 2 took blueberries, strawberries, and a honeydew melon to task, blending them into a delicious fruit smoothie. The same test on the Nutribullet GO was less successful, because it left some of the blueberries intact. If you like to get your money's worth, it's also worth noting that the BlendJet 2 offers a greater capacity than the Nutribullet GO.
Which blender is best for protein shakes?
WINNER: BlendJet 2
Not only is this blender is designed for handling protein powder, but BlendJet offer protein powders on their website, as well as a recipe book for making tasty shakes. Millie tested out the Very Berry shake, and found that the BlendJet made a 'delicious' drink that tasted like a fruit crumble. She found it much better than the Nutribullet. However, if you're vegan, you might want to opt for the Nutribullet, as they offer plant-based protein powder.
Which blender is best for crushing ice?
WINNER: Nutribullet - but as a brand
Unfortunately, portable blenders aren't powerful enough to crush ice - it's the trade-off for making them cheap, compact and portable. If you're dreaming of frozen margaritas on the go, you'll have to keep wishing. When Millie tried to crush ice in the Nutribullet GO, it just knocked the ice cubes around and left them nearly intact. The BlendJet 2 can't handle them either.
However, this is where Nutribullet's huge range of blenders comes into its own. BlendJet don't have any products as powerful as - for example - the Nutribullet Blender Combo, which can crush ice into a fine white snow that's amazing for frozen desserts like sorbets. If crushing ice is a priority, Nutribullet is the way to go.
Which blender is cheapest?
WINNER: Nutribullet GO
The BlendJet 2 is usually $99.95 and the Nutribullet GO is $34.99, so the Nutribullet easily wins. However, at the time of writing the BlendJet 2 is currently on markdown at $49.95, and with an extra 10% off, the price comes down to $44.96, so it's a fairer fight than it first appears. Stock is also limited on the Nutribullet, so you might have to shop around to get the best deal.
Which blender is quietest?
WINNER: Nutribullet GO
Nutribullet is the clear winner here. The BlendJet 2 isn't particularly loud, but the Nutribullet GO is noticeably quiet. Millie discovered that it was about as loud as an electric toothbrush, so you could use it in the office for a quick protein shake without annoying your co-workers. She also found that you 'won't wake anyone up with this blender', which means you can whizz up a shake in the early morning before the gym without disturbing the rest of your family.
Which blender is easier to clean?
WINNER: Blendjet 2
Though neither are dishwasher-safe, both blenders are easy to clean. Just add a little water and some dish soap and pulse, and your blender will be clean in seconds. The function is very similar on both blenders, but Millie found that you could also achieve the same result in the BlendJet 2 by just shaking it back and forth, which is useful if your blender runs out of charge and you can't clean it.
Which blender should you buy?
The BlendJet 2 takes the crown. It offers a wider range of colors, a better performance, and a larger capacity. Most importantly, it blends better than the Nutribullet GO, creating near-flawless smoothies, shakes, and even sauces.
Millie Fender is Head of Reviews on the Homes and Gardens eCommerce team. She specializes in cooking appliances, such as the best kettles, and also reviews outdoor grills and pizza ovens. When she's not putting products through their paces in our dedicated testing kitchen, Millie's reviews are conducted at home, meaning she uses these products in her own day-to-day life - including carrying around these blenders in her work bag to see if they leak.
Sign up to the Homes & Gardens newsletter
Decor Ideas. Project Inspiration. Expert Advice. Delivered to your inbox.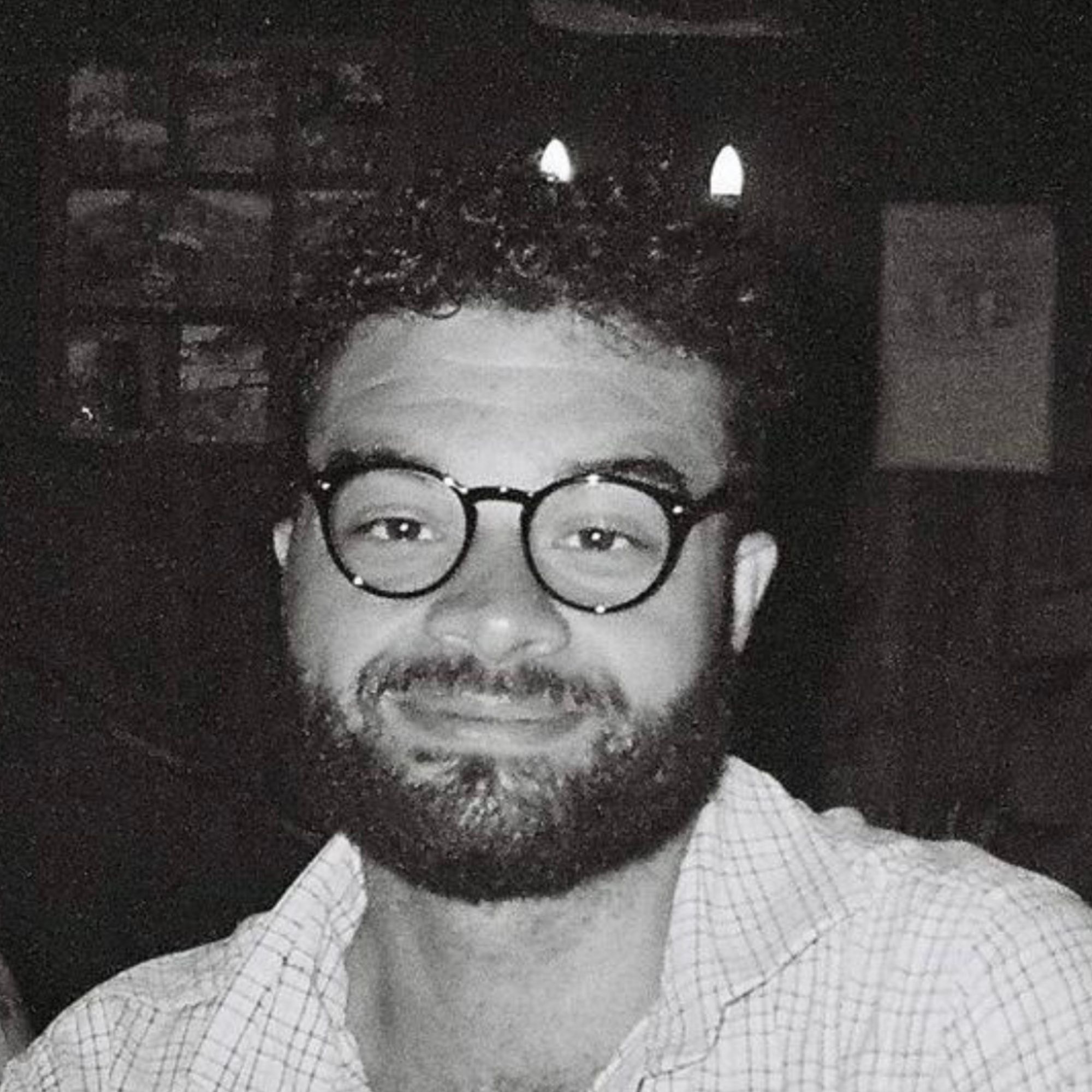 As Head of eCommerce, Alex makes sure our readers find the right information to help them make the best purchase. After graduating from Cambridge University, Alex got his start in reviewing at the iconic Good Housekeeping Institute, testing a wide range of household products and appliances. He then moved to BBC Gardeners' World Magazine, assessing gardening tools, machinery, and wildlife products. Helping people find true quality and genuine value is a real passion.