Nutribullet vs Magic Bullet - what's the difference?
Nutribullet vs Magic Bullet - the two brands are instantly recognisable, but what sets them apart?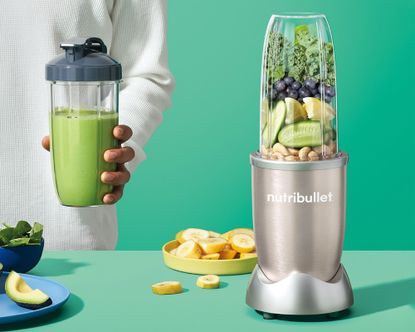 (Image credit: NutriBullet)
Nutribullet vs Magic Bullet is important distinction to make if you're shopping for a blender. Holiday deals have already started, soon to be followed by after-Christmas sales as we head into the New Year. It's a great time to grab a discount, but it can be confusing when you're shopping. When it comes down to Nutribullet vs Magic Bullet, is there really a difference?
I'll outline exactly what sets the two apart - it's a good lesson in being wary of branding and how products are presented to you. Thanks to expert tests by our Head of Reviews, Millie Fender, I'll cover which Nutribullet products are the best bet for making delicious smoothies and shakes.
We get into even more detail in our minute breakdown of which Nutribullet you should buy, so you can find exactly the right blender to suit your needs.
Nutribullet vs Magic Bullet - what's the difference?
The short answer is that Magic Bullet is the original blender, replaced by Nutribullet, which then became a brand in its own right.
It gets a little bit confusing, but it's all an exercise in branding. Nutribullet and Magic Bullet are two separate brands owned by a parent company, Homeland Housewares.
Magic Bullet blenders are the original brand. They launched in 2003 with the original Magic Bullet personal blender, one of the first blenders where you can blend a smoothie straight into the glass. They're still on sale to this day.
This original Magic Bullet was succeeded by the Magic Bullet Nutribullet in 2012. The two appliances are largely the same, but the new Nutribullet had a larger capacity of 24oz and double the power.
This improvement was followed by the Nutribullet PRO, the Nutribullet RX, and the Veggie Bullet. These all had a 'Magic Bullet' logo - Nutribullet was just a name - but in 2017 Nutribullet became a brand in its own right with the Nutribullet Balance, which dropped the 'Magic Bullet' logo.
From this point on, Homeland Housewares have used 'Nutribullet' for all their blenders except the Magic Bullet Mini in 2020. There's also a Magic Bullet air fryer.
So there you have it: Magic Bullet is the original, Nutribullet usurped it, and then they split into two brands under the same umbrella company.
Which is better - Nutribullet vs Magic Bullet?
Full transparency here: we haven't tested the Magic Bullet. It's a rare gap in our expertise, but in our defense, the original Magic Bullet was released nearly two decades ago. We only focus on the latest and greatest. But while we haven't got hands on with the Magic Bullet, we have thoroughly tested its very latest successor, the Nutribullet Pro 900 series. We can directly compare the specifications of the Nutribullet vs Magic Bullet and get a sense for which is better.
(opens in new tab)
Colors: silver and black
Type: bullet blender
Weight: 4.14 lbs
Speed settings: one
Material: plastic pitcher, stainless steel blades
Capacity: 12-16oz
Dimensions: 4.01" x 4.48" x 11.61"
Motor: 250W
For
Great price
Recipe book included
Against
Small size
Weak motor
Only two colorways
NutriBullet Pro 900 Series Blender
Colors: over ten, from black to pink
Type: bullet blender
Weight: 9.63 pounds
Speed settings: one
Material: plastic pitcher, stainless steel blades
Capacity: 32oz
Dimensions: 12.01 x 7.72 x 15.94 inches
Motor: 900 watts
For
Made very smooth drinks
Can power through tough ingredients easily
The controls are straightforward
It won't take up too much space
Attachments for taking your drink on the go
Reasonably priced
Against
Limited size
Blades can't go in the dishwasher
You can see above that this isn't really a fair fight. We're pitching a 20-year old appliance against one that came out a couple of years ago - it's like comparing a flip phone to an smartphone. In almost every metric, the Pro 900 series is better. It has a larger capacity, more power, and comes in more colors. The Magic Bullet is lighter, sure, but there's no huge difference between 4lbs and 9lbs. However you slice it, the Nutribullet is better; it's no surprise our Head of Reviews, Millie Fender, gave it a perfect five star rating.
That said, the Magic Bullet is much cheaper, so if you're tight on budget it could be a good option. That also means it could make a good choice if you want a blender for a smoothie every now and again but aren't obsessed with chasing the perfect shake. The 900 series might be overkill, where the Magic Bullet would certainly do for a few berry smoothies in summer.
There's more detail in Millie's full Nutribullet Pro 900 Series review.
However, there is, of course, a huge difference in size and price point for the two. To be as fair as we can, lets bring in the most similar Nutribullet to the original Magic Bullet, the Nutribullet GO:
NutriBullet GO Portable Blender review
Colors: silver, red, black, white
Type: portable blender
Weight: 1.5lb
Speed settings: 1
Material: plastic
Capacity: 13oz
Dimensions: 7.52 x 7.01 x 4.06 inches
Motor: 700 watts
For
Lightweight
Safety-first design
Can fit into most bags
Long-lasting battery
Intuitive controls
Not very loud
Against
Lacking in power
Can't handle large drinks
Bottle cannot go in the dishwasher
Not the smoothest blend
Once again, in Nutribullet vs Magic Bullet the Nutribullet comes out on top. It has the same capacity, but comes in more colors and is lighter. It has both a more powerful and quieter motor than the Magic Bullet, and it's portable so you can take it on the go. Millie loved this blender when she put it to the test. Most importantly, it's cheaper than the original Magic Bullet, so you get a better performance and price for less.
Millie hones in to the detail in her full Nutribullet GO review.
Final thoughts - my verdict
So there you have it - Magic Bullet and Nutribullet are different products, but fall under the same parent company. One is much older technology than the other, so while they have similar appearances and set ups, Nutribullet outdoes Magic Bullet on power and capacity. If I'm making that choice, I go with Nutribullet every time.
Millie Fender is Head of Reviews on the Homes and Gardens Ecommerce team. She specializes in cooking appliances, such as the best blenders, and also reviews outdoor grills and pizza ovens. Millie loves to bake, so she will take any excuse to review stand mixers and other baking essentials. Many of Millie's reviews are conducted at home, meaning she uses these products in her own day-to-day life. This includes taking the Nutribullet GO with her on the the commute to test if it spills. If you've not seen rush hour on the way into our London office, then trust me - this is as good of a leak-proof test as you can get.
As Head of eCommerce, Alex makes sure our readers find the right information to help them make the best purchase. After graduating from Cambridge University, Alex got his start in reviewing at the iconic Good Housekeeping Institute, testing a wide range of household products and appliances. He then moved to BBC Gardeners' World Magazine, assessing gardening tools, machinery, and wildlife products. Helping people find true quality and genuine value is a real passion.