How to choose the right-sized bed for your bedroom
When designing a bedroom, it may be that going smaller improves the flow of the space: here are four key considerations for the perfect fit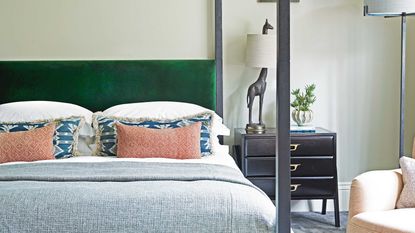 (Image credit: Future PLC)
Whether you're upgrading your bedroom or decorating a new home – both very exciting projects – there are two key considerations when it comes to choosing the right bed size. Number one: comfort, number two: the size of the room.
It's so important for us to be able to sleep comfortably on a mattress that suits our sleep style, and we don't want to end up with a bed that's too big for the space and makes it hard to access closets and other furniture.
It's also good to note that almost half of Americans sleep on a queen-size bed, which is slightly smaller than a full double (but more detail on that in our mattress size chart).
Choosing the right-sized bed for your space
So, what sized bed do you need? Below, we have broken it down into four steps so you can go ahead and order safe in the knowledge that it's just the right size.
We have also shared design tips on beds for small rooms and shared key advice on the various bedframe types.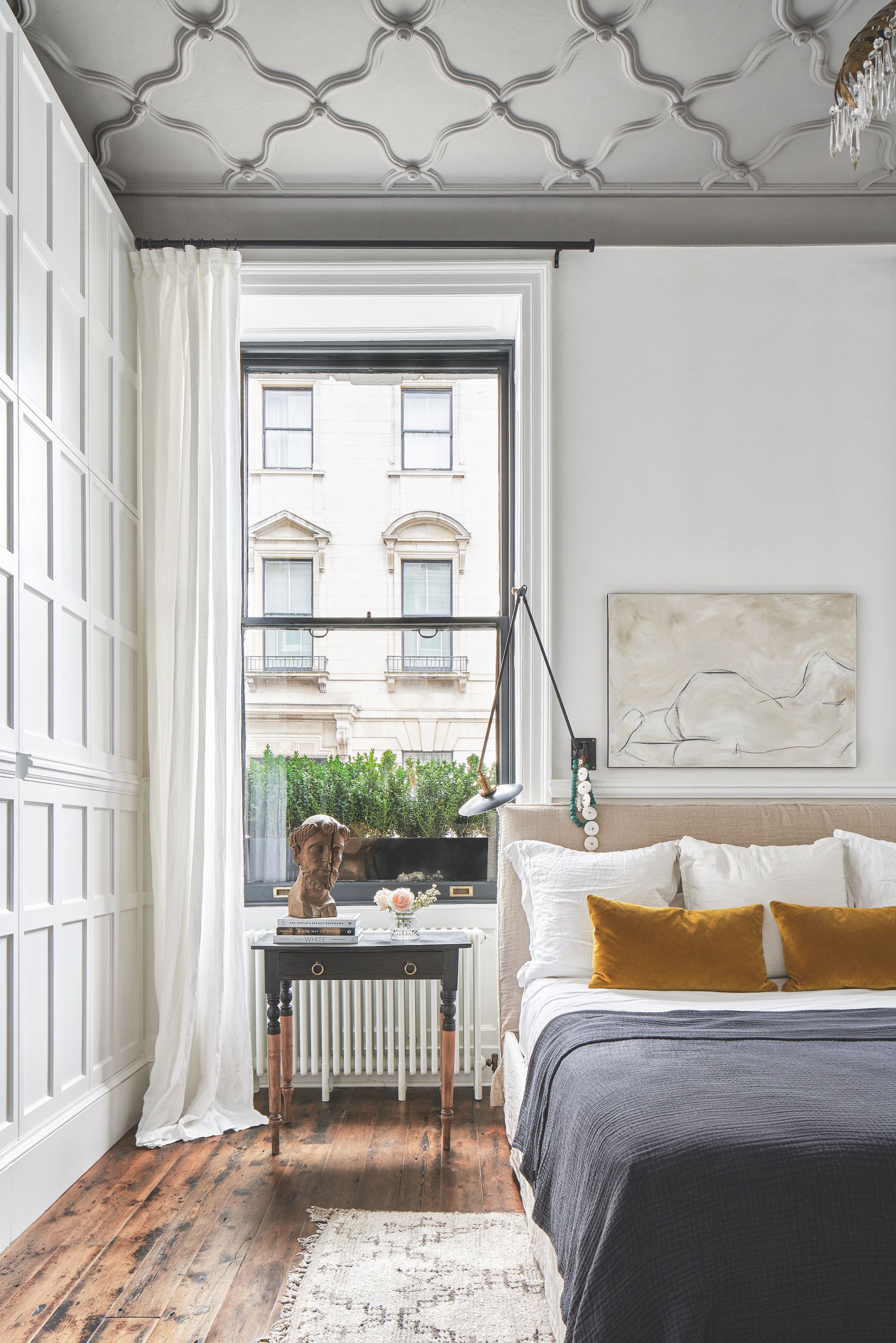 1. Think about clearance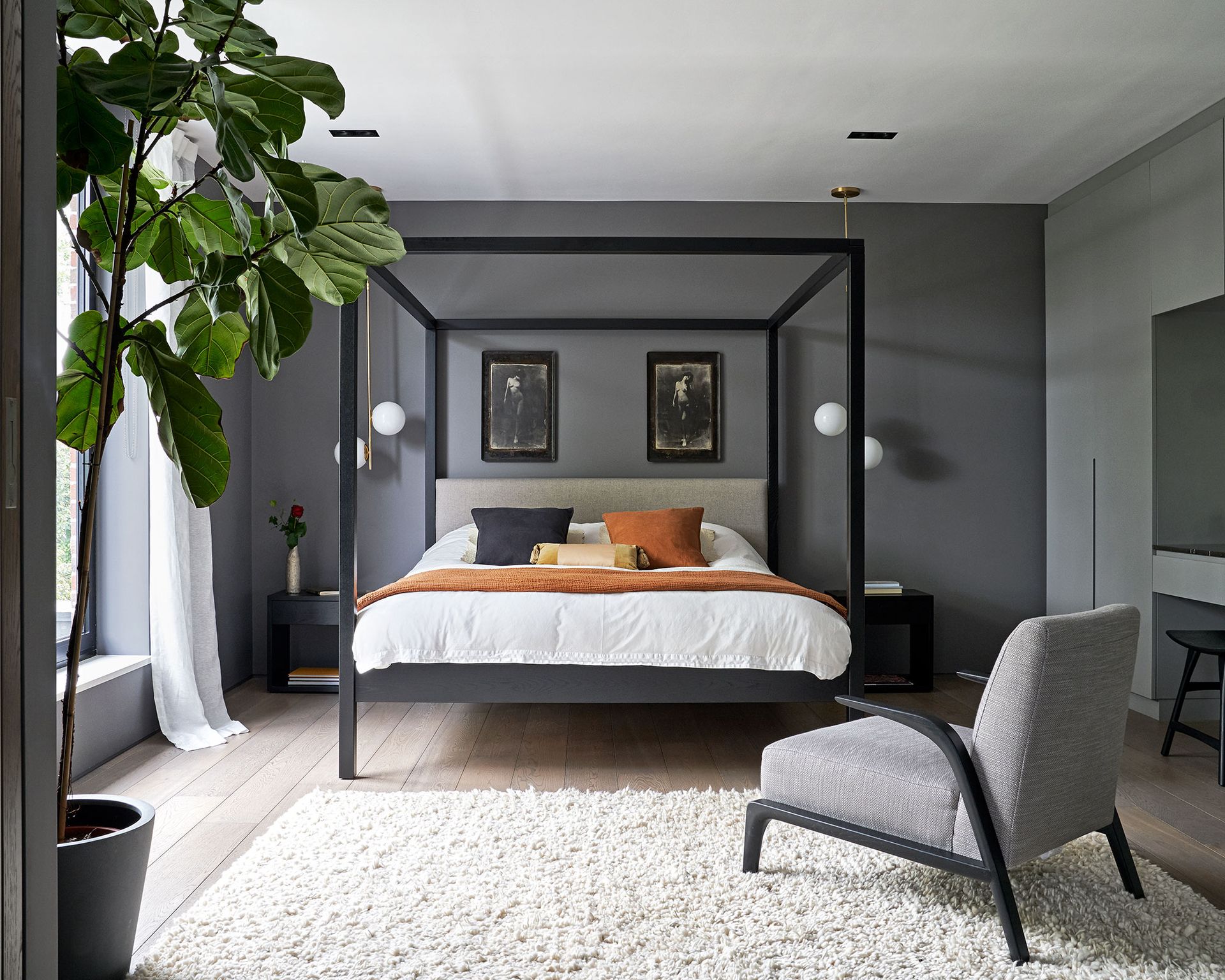 The first thing to think about is the amount of space around the bed. Interior designer Mariya Snisar from Renowell recommends keeping two feet of walking space around the bed to avoid knocking the walls.
I recently downsized my bed from a king to a full double to improve the flow of my bedroom in my new apartment. This has made it so much easier to access the closet and makes it feel more spacious, as before it was feeling cramped. I opted for a four-poster bed with a black, contemporary design so even though it's smaller it still makes a statement. This canopy bed frame, at Wayfair, is very similar, although this bobbin-style canopy bed, also at Wayfair is lovely for a more traditional and country aesthetic.
Paying attention to the space around the bed will also ensure that any bedside tables and drawers can open without any hitches. From experience, if you're looking at double bed ideas for small rooms, a king-size bed just might not work, even though it's tempting to go big. If you're set on a larger bed but concerned about access to a closet, you could look into swapping to sliding closet drawers instead. If there's a will, there's a way.
Mariya Snisar is the the head of interior design at Renowell (https://renowell.ca/), with over 12 years of experience in the industry. Her family has been in construction for generations, and she has participated in tens of interior design projects in Canada. She is passionate about creating beautiful spaces and giving each project a personal touch.
2. Keep comfort your top priority
Comfort is of utmost importance when we are choosing a bed, so it's worth thinking about your sleep style and what mattress would best suit you. If you like to starfish out on the bed or have kids and pets that visit, a larger mattress and bed will accommodate your needs, while side sleepers are often happy enough on a smaller mattress. It also depends on your height and weight.
3. Think about the proportions of your space
The bed you choose should feel in keeping with the proportions of your space. For instance, a larger bed will always create a more luxurious feel, but you also need to be realistic about the space you're working with. It might be sensible to opt for something smaller if it will work better with the proportions of your space, creating visual balance.
Go for something too small and your bed might feel out of place or a little 'lost' in the room, while a bed frame that's too large could overwhelm your space and make the room less practical, disrupting the flow and creating a cluttered and oppressive feeling.
If you have high ceilings, you could consider a canopy bed or a taller design. A higher bed gives you more underbed storage space, as will a bed with built-in drawers or a design that lifts up. For some, this is essential space for storing spare bedding and seasonal clothing, but if you prefer a light, airy and minimalist aesthetic, a divan bed can feel too heavy.
4. Measure carefully
It's best to use painter's tape or masking to help you see just how much space the bed frame will take up. Then you can purchase your new bed confident that it's not going to get in the way of any existing furniture or light fittings. 'Measure the bed's height, width, and length including any footboard or headboard. Also, factor in any additional space necessary for bedding like a comforter or duvet inserts,' advises Mariya.
'You can also create a mock-up by utilizing cardboard cutouts to outline the dimensions of your bed on the floor. Doing this goes miles to help you visualize how it'll fit in the space,' Mariya adds.
FAQs
Can a king-sized bed fit in a small room?
Mariya Snisar says, 'A king-size bed can fit in a small room, but it largely depends on the dimensions of the room and how much space you're willing to allocate to the bed.'
For symmetry and visual balance, it's better to have a smaller bed that can be located centrally with equal space on either side, than a king-sized bed tucked to one side.
Does a lower bed make a room feel bigger?
'Low beds can make your room look and feel bigger because of their lower profile, creating a sense of openness. They allow for a more airy and less dominant presence in the room,' says Mariya. 'On the flip side, high beds can make your room feel more intimate and cozier. They provide potential storage opportunities below and can serve as a statement piece in the design of your bedroom.'
---
For a guest bedroom that's used less frequently, perhaps you can get away with a smaller bed so that there is more space for a desk or other handy storage. On the flip side, there are two signs your bed is too big for the space, as interior designer Artem Kropovinsky explains.
'First, if the bed obstructs the pathways, hinders the function of other essential furniture, or cramps movement, it's likely too big. Second, if the bed overwhelms the space visually, making the room feel crowded or claustrophobic, it's also probably time to downsize.'
Sign up to the Homes & Gardens newsletter
Decor Ideas. Project Inspiration. Expert Advice. Delivered to your inbox.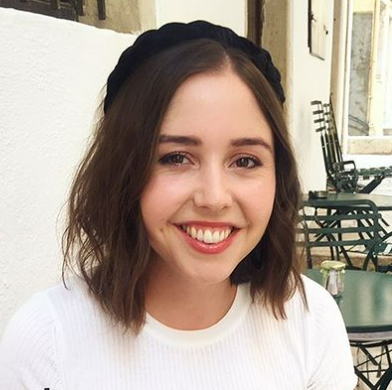 Millie Hurst is the Solved Section Editor at Homes & Gardens. She has six years of experience in digital journalism, having previously worked as Senior SEO Editor at News UK in London and New York. She then gained experience writing for women's magazines before joining Future PLC in January 2021. Millie has written for an array of homes brands including Livingetc and Real Homes and was formerly Senior Content Editor at Ideal Home before taking on the position of Section Editor with Homes & Gardens. She has written and edited countless features on home organization, decluttering and interior design and always hopes to inspire readers with new ways to enjoy their homes. She lives in Sheffield, South Yorkshire and loves to weave nature-inspired decor and nods to time spent in Italy into her own home.