How to clean high gloss cabinets to make them shine – and 4 ways to prevent smears and marks
High gloss cabinets are notorious for grease smudges and smears – here's how to make them shine and keep them gleaming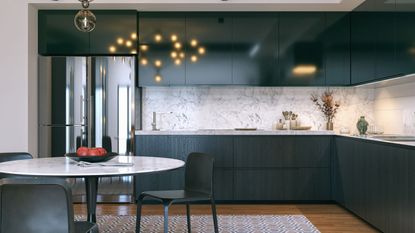 (Image credit: Getty Images)
Sign up to the Homes & Gardens newsletter
Decor Ideas. Project Inspiration. Expert Advice. Delivered to your inbox.
Thank you for signing up to Homes & Gardens. You will receive a verification email shortly.
There was a problem. Please refresh the page and try again.
High gloss kitchen cabinets can be a dream if you want a modern kitchen, or have a small space you want to look bigger – but this comes at the cost of smears and marks that seem impossible to avoid.
Fortunately for us, professional cleaners have had years of experimenting with cleaning kitchen cabinets to make them shine and banish grease spots for good.
Here, they have shared their wisdom, with some smart tricks to prevent grease marks from marring your cabinet fronts between cleans.
How to clean high gloss cabinets
When you have high gloss cabinets, cleaning a kitchen may take a little longer as they require some extra care and attention – and more regular scrubbing. The payoff is arguably worth it, however, especially when they shine.
Here is how to do it right.
1. Always use a gentle cleaning solutions
When cleaning kitchen grease, it can be tempting to break out the harsh chemicals, but this is incredibly damaging to the shiny patina of high gloss cabinets, warns Angela Rubin, cleaning expert at Hellamaid. Instead, she recommends mixing a mild solution of warm water and a few drops of gentle dish soap and gently washing down the cabinets with a cloth.
If that is not quite enough to remove some spills or splashes, then cleaning with vinegar is your next best bet, adds Muffetta Krueger, cleaning expert and founder of Muffetta's Domestic Assistants – just be sure not to use it too often:
'For tougher grease or grime, you can mix equal parts of water and white vinegar. Dampen a microfiber cloth with this solution, but be cautious, as vinegar can be acidic and might affect the gloss over time. Finish by rinsing with water and buffing dry,' she says.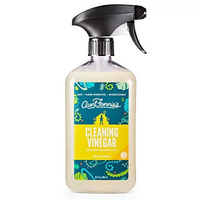 6% Distilled White Cleaning Vinegar | $21.57 at Walmart
This specially formulated white vinegar with cleaning strength at 6% acidity lifts grime and breaks down grease with ease and without chemicals.
Muffetta Krueger is a driving force in the domestic service business, with over 15 years of operational management experience in the industry.
2. Rely on microfiber or a lint-free cloth
The cloth you use makes all the difference in making high gloss cabinets shine. Using an abrasive cloth or sponge can scratch the surface, dulling the shine over time. Instead, you should fall back on a cleaning staple – the microfiber cloth, such as these from Walmart, or even better, a lint-free cloth, available at Amazon, to avoid dust, says James King, operations manager at DeluxeMaid.
'Using a microfiber mop can be your secret weapon for larger cabinet surfaces. It's effective, efficient, and prevents fingerprints. Lint-free cloths, on the other hand, prevent those annoying fiber residues from clinging to your high gloss cabinets, leaving them flawless.'
3. Work with the grain to avoid streaks
If your gloss cabinets have a pattern or grain to them, then working in the direction of this can help to prevent obvious streaking, says Angela Rubin of Hellamaid. If not, then working in the same direction, such as from side to side, or buffing in small, even circles can help to prevent cross hatches where you miss spots.
4. Dry quickly after washing
A common kitchen cabinet cleaning mistake is allowing them to dry on their own after cleaning. Although you may get away with this on matt surfaces or wooden cabinets, high gloss cabinets need to be dried thoroughly after cleaning to make them shine, says James King.
'This helps prevent unsightly water spots, ensuring your cabinets sparkle like stars,' he explains.
How to prevent marks and streaks on high gloss cabinets
A great way to cut kitchen cleaning times in half is to keep your high gloss cabinets in good condition between cleans, this means avoiding touching the doors and minimizing grease build-up:
1. Dust regularly
Getting rid of dust in your home may be something you only think about in your living room or bedroom, but regularly dusting your kitchen cabinets can prevent high gloss surfaces from looking dull, advises Muffetta Krueger, cleaning expert.
'Dust high gloss cabinets regularly with a microfiber cloth or a feather duster to prevent the buildup of particles that can lead to streaks,' she recommends.
2. Use cabinet pulls
To keep high gloss cabinets looking their best between cleaning means avoiding touching them as much as possible.
Elizabeth Grace, designer and founder of Dream Home Making suggests implementing a no-touch policy after cleaning – 'The oils from your hands can tarnish the brilliance of high gloss surfaces,' she explains. 'Installing cabinet handles is a much better way to open and close them, even in modern kitchens.'
3. Clean up spills quickly
Just as dusting can help to prevent marking, quickly wiping down any spills or marks you notice as soon as possible is another great way to keep high gloss cabinets shining without deep cleans, designer Elizabeth Grace continues.
'Prevent water marks by swiftly wiping away any spills or splashes – this goes for grease and water,' she adds. 'Avoid allowing water to sit on the surface, as it can leave marks as it evaporates.'
4. Consider an additional protective coating
If you are still struggling with marks, then it may be time to consider a protective coating to prevent your cabinets from chipping with time. While there are plenty on the market, Parveen Garth, cleaning expert and manager at Ola Clean urges us to check with the manufacturer for recommended cleaning methods and products to preserve the finish.
'Always perform a spot test in an inconspicuous area before using any new cleaning solution to ensure it doesn't harm the finish,' they warn. 'Consistent, gentle cleaning and preventive measures will help keep your high gloss cabinets looking pristine and streak-free.'
James King, of DeluxeMaid, adds that we should also avoid using waxes to try and polish the cabinets: 'While wax might seem like a quick fix for shine, it can actually lead to a build-up that dims the gloss over time. Keep it simple and opt for cabinet-friendly cleaning methods instead.'
FAQs
Are high gloss kitchen cabinets hard to keep clean?
High gloss kitchen cabinets are simple to clean thanks to their shiny surface, but they can be tricky to keep clean as simply touching them can lead to a smear on the reflective surface. This is especially difficult if you have children or pets in the house, and should be considered before updating your cabinets in your renovations.
Why have my white gloss kitchen cabinets gone yellow?
There are several reasons why white high gloss cabinets may have gone yellow, but the most common is a build-up of grease and food particles. This can be tricky to remove if it has been left to sit and has stained the cabinets, but can easily be prevented by using a range hood to draw grease and food particles away, and by cleaning your cabinets thoroughly and regularly.
---
When picking out your kitchen cabinets, it is important to consider how much time you are willing to dedicate to keep them looking their best. High gloss certainly looks great in a modern or minimalist space, but their upkeep is continuous. If you are looking for a more laid-back approach to kitchen maintenance, these easy-to-clean but simple-to-mark cabinet fronts may not be for you.
Sign up to the Homes & Gardens newsletter
Decor Ideas. Project Inspiration. Expert Advice. Delivered to your inbox.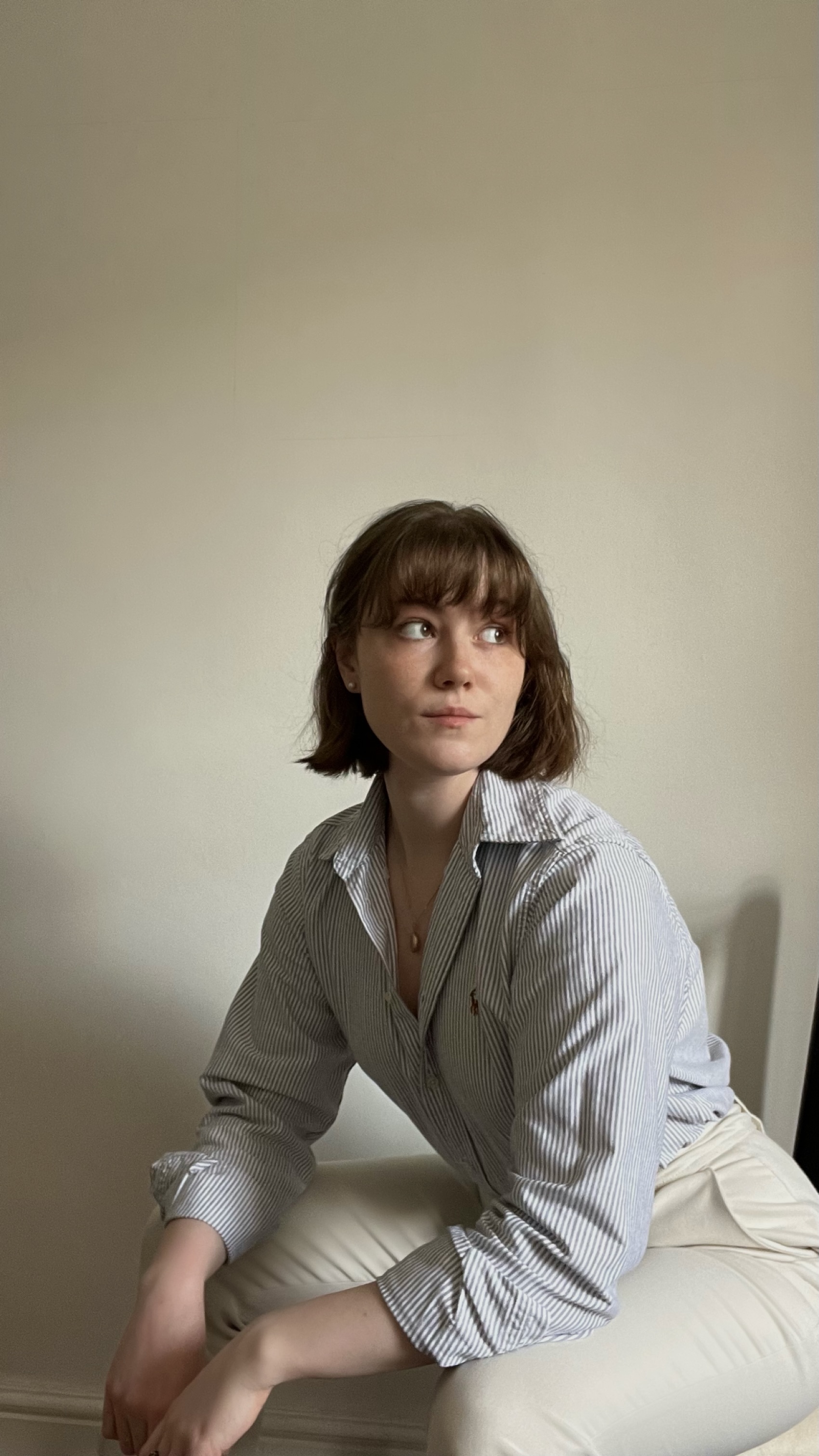 Chiana has been at Homes & Gardens for a year, having started her journey in interior journalism as part of the graduate program. She spends most of her time producing content for the Solved section of the website, helping readers get the most out of their homes through clever decluttering, cleaning, and tidying tips – many of which she tests and reviews herself in her home in Lancaster to ensure they will consistently deliver for her readers and dabbles in the latest design trends. She also has a first-class degree in Literature from Lancaster University.