This is how you should stage a walk-in pantry (because buyers will notice)
As easy as it is to overlook this space when styling a home, there are some thoughtful ways to stage a walk-in pantry for success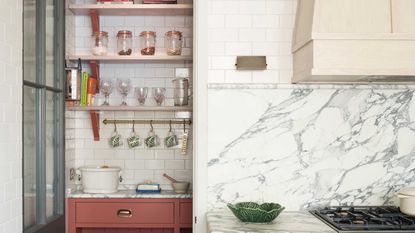 (Image credit: Future)
When it comes to maxing out the real estate on your home, you might not typically think of your pantry as an area to focus on.
However, there is lots to be said about this humble space, and staging a walk-in pantry especially could add just the right dose of appeal to prospective buyers. The walk-in is where you can store important kitchen items and groceries, which in theory, should increase kitchen organization and streamline cooking.
It has every reason to be on a buyer's list for a hot property and is deserving of your design time.
How do you stage a walk-in pantry?
First, you want to consider the core function of your space in its natural state. Just as pantries are not all made equal, every home's will function differently. Size and layout of not just your pantry, but also your kitchen will define how exactly you use your walk-in and might indicate where it needs room for improvement.
'With any walk-in pantry, large to small, consider the function and desired use,' notes Mindy O'Connor, principal and founder of Melinda Kelson O'Connor Architecture & Interiors. 'A walk-in pantry can be quite simple and efficient with shelves for extra food and appliance storage, or fairly elaborate with secondary appliances, counter space, and cabinetry.'
It all depends on what you are working with. Understanding the basics will help you determine how yours should function and how you can make the most impact when staging your pantry, just like so:
Mindy O'Connor is a registered architect in Pennsylvania and LEED accredited. She received her Master of Architecture Degree from Harvard University and her Bachelor of Arts from the University of Pennsylvania before going on to open her own practice. Melinda Kelson O'Connor Architecture & Interiors focuses on residential and small commercial projects, creating modern and thoughtful spaces that nod to sustainability,
1. Show how it functions, seamlessly
Whether you have small pantry to stage, or ample space to work with you want to make sure prospective buyers will know how to get the best use out of the space, so show them exactly how it is done by using wall space and combining more than one storage method.
Installing bespoke shelving will add efficiency to lots of different areas of a home, but it can make the most of a walk-in pantry in particular.
'In a purely functional walk-in for extra food or cooking tools/small appliance storage, combine deep and shallow shelving with easy access from the door,' recommends O'Connor.
To meet the room's natural layout and to keep everything at a comfortable working distance, a combination can work wonders visually and in practice. This is especially true if your pantry is not somewhere to linger and prepare food or have an espresso break.
'Utilitarian open shelves make a lot of sense and make it easy to grab and organize items in this scenario. Consider narrow spice storage in smaller nooks or narrow shelves sized specifically for glassware and vases vs. lower deep ones for appliances or bulk food and supplies. You can also add shallow open shelves or pull-out drawers for food. Make sure the shelves won't allow items to fall through any slats and also have some vertical separators to help organize by type.'
2. Explore beautiful ways to micro organize, everything
While shelving works well in this space where you want quick and easy access, it is key to keep open shelving organized so that your pantry has appeal. If spices, condiments, or any other item that you like to keep stock of, often lose their way from one shelf to the other, you might need to micro-organize for better efficiency and a calmer finish altogether.
This could mean spice racks or matching jars, as principal and co-founder of WORKSTEAD Stefanie Brechbuehler tells us: 'So the key ways to style this space is jars, jars, and more jars!'
Brechbuehler recommends investing in an array of glass jars and anything that works hard to organize items and look good at the same time.
'I am someone who feels happy and calm when I open a pantry or a drawer that is tidy and organized. It literally makes my day better. It's almost meditative, I enjoy it so much.' Brechbuehler likes products from Blisshaus in particular for their customizable pantry kits: 'They also have spice jars with customized labels on top so you can put them in drawers. I converted the drawers next to my cooking area into spice drawers and it is super convenient. I also had my father-in-law create small wooden dividers so everything stays in place.'
Find your favorite products to use, be it a Lazy Susan (a Homes & Gardens favorite), turn table, or mason jars. Usually what works to organize kitchen corner cabinets can be pulled into the pantry too, so inspire yourself with your own surroundings.
Allowing for some similitude between containers will give a more cohesive and inviting finish.
Stefanie Brechbuehler is the Principal and co-founder of WORKSTEAD. Stefanie studied at Rhode Island School of Design, then after working in design at Gensler, she and Robert Highsmith founded Workstead in 2009. Now, Stefanie leads special projects, events, and co-ordinates design efforts within the building- and lighting-design studio. Previous to this, Stefanie also oversaw interiors at Michael Graves Architecture & Design.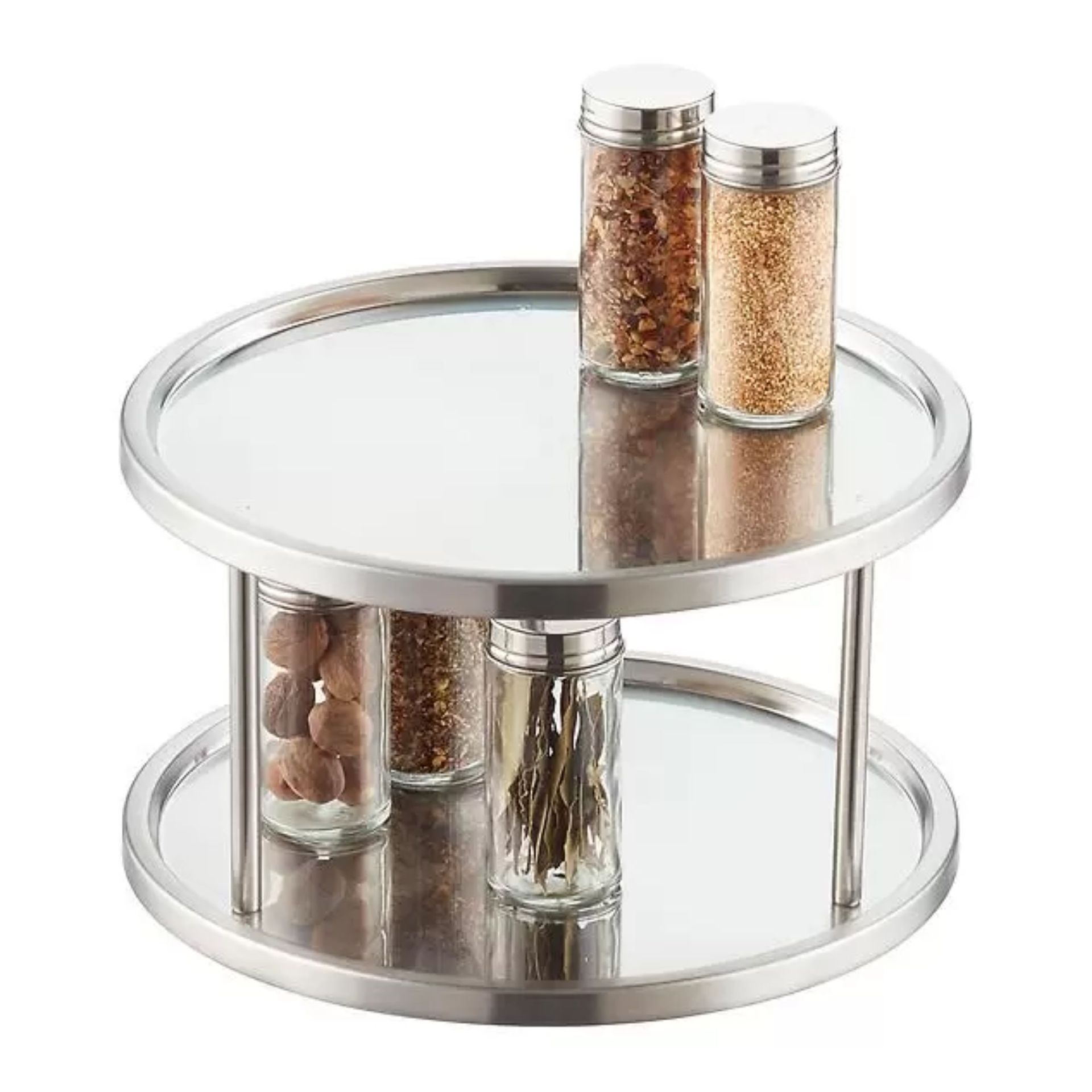 2-Tier Stainless Steel Lazy Susan
$29.99
This Lazy Susan is workhorse that's perfect for high-traffic storage. It's rustproof stainless steel, so it's good for more humid rooms like pantries.
3. Cluster sensibly and consider the opening scene
Depending on your pantry's design and the door detail, you may or may not be able to see certain items from the outside. Plan around your design and if you can see the top shelves, adorn them with better-looking appliances, or go all out with good-looking china like you might do in a kitchen display.
Grouping similar items together will make for a more curated finish as O'Connor reminds us: 'Upper cabinetry with glass for glassware and serveware can be pretty if viewed from another space. Cluster working appliances/cabinets like a dishwasher, trash, and beverage fridge, and icemaker together adjacent to the sink, if included, all under a countertop surface.'
The layout needs to make sense, so use your walls and notice what will be on show and what will not. 'Plan for a separate wall for more food or appliance storage,' adds O'Connor.
4. Make it sparkle and smell delightful
While it is not bad practice to let your pantry act as the overflow of your kitchen storage, one that is too busy and disorderly will not just lack appeal to members of your household, but prospective buyers might find it less than desirable.
Keep clutter at bay and stay very mindful of dust, crumbs, and anything that does not bring shine to your pantry like perished food – it has no place.
You want visitors to feel invited, so keep everything spick and span and well-lit, and ensure your pantry smells better than pumpkin pie with fresh indoor herbs or other natural, fragrant additions. We would recommend putting your best steam cleaner to work in preparation also.
5. Give yours flair
Though unique in its core function, giving a walk-in pantry the same decorative treatment as fellow kitchens, hallways, and the like, will help yours stand out. Consider an accent feature like lighting or give walls an interesting coat of paint that will charmingly peek through open shelving. Should you have a particularly large space with room for art, this would also make a lovely addition, as would a kitchen rug – all provided your space remains usable.
'Larger pantry spaces are often a great opportunity for a fun and different paint color, cabinetry color, tile or wallpaper,' says O'Connor. 'It's an opportunity to be both practical and bold.'
You want buyers to feel impressed and a little blown away by how beautiful your walk-in pantry is, so if you have the opportunity to enhance the flooring with the same that runs through the kitchen, or to add something less permanent if your vision is, in fact, to move homes, make some edits and see where they take you.
FAQs
Why is it important to stage a walk-in pantry properly?
A beautifully styled walk-in pantry can do more than you might think, for prospective buyers and for your household at the moment. Brechbuehler highlights how a space that is well put together will naturally improve functionality and have a positive impact on general well-being:
'For me having a beautiful and organized walk-in pantry, or any pantry or cabinet in general has a lot to do with mental health and feeling good. So to me, it's about increasing well-being and creating a sense of calm,' says Brechbuehler who notes that giving everything a dedicated space to live will keep items easy to find, making a walk-in both practical and beautiful.
'If you are the cook in the family, and are juggling work and/or kids then it also helps being able to quickly see what you are running low on. So functionally it helps with grocery shopping, list making, and so on. It really affects many aspects of one's life.'
Where do people go wrong with pantries?
Letting clutter accumulate is the ultimate pantry sin, walk-in or not. Purge items regularly, depending on how big your stock is, and do not let your space host an overflow of redundant kitchenware, perished food items, or simply anything that does not belong.
How should you plan a walk-in pantry?
It is all in how you use it. 'For a more robust butler's pantry or scullery, talk through how much prep or cleaning work might occur, whether a bar space is desired, and how much pure storage versus working space is needed,' recommends O'Conner. Once you've lived in your space for a month or so, it will be easier to determine where you can make modifications. Carry out what feels good and your efforts will be reflected at staging.
---
Though styling your walk-in pantry may not have initially been a priority when staging your house, it is often the finer and more meticulous details that will win buyers over, so put your best design foot forward.
Sign up to the Homes & Gardens newsletter
Decor Ideas. Project Inspiration. Expert Advice. Delivered to your inbox.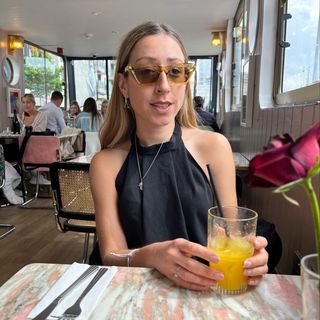 Camille is the former deputy editor of Real Homes where she covered a broad range of topics, including house tours, small space design, and gardens. She studied English language and Italian at the University of Manchester and during a year abroad studying linguistics and history of art in Bologna, Italy she started documenting her adventures and observations in a blog. Camille is always creating and spends her downtime painting, taking photos, traveling, and writing short stories.