Organizing children's clothes – 10 ways to keep things neat and tidy
Their room might not stay tidy, but their closet can with these easy ways to organize children's clothes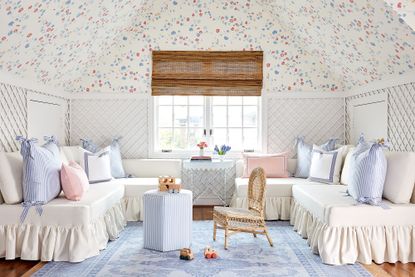 (Image credit: Katie Nixon Photography)
Sign up to the Homes & Gardens newsletter
Decor Ideas. Project Inspiration. Expert Advice. Delivered to your inbox.
Thank you for signing up to Homes & Gardens. You will receive a verification email shortly.
There was a problem. Please refresh the page and try again.
Getting your kids dressed and out the door on time is hard enough, without the hassle of rummaging through a disorderly closet. Organizing children's clothes so they're neat, tidy and easy to access will make your life a whole lot easier, and should give them the confidence to get themselves dressed, too.
While kids' room ideas are a great opportunity to be creative, it's important to factor in practicalities if you want it to remain a happy, clutter-free space. As well as plenty of room for all their clothes and toys, this involves a sensible organization system that you – and your children – can stick to.
Whether you're organizing children's clothes or baby clothes, a girl's bedroom or a boy's bedroom, these expert-approved tips can be utilized across any age – you might even steal a few when organizing your own clothes, too!
Organizing children's clothes
If you've organized a playroom before, you'll know full well that hours spent perfecting and tidying anything that children, particularly young ones, can get their hands on is a bit of a waste of time.They just don't have the time or the incentive to keep on top of a complicated organizational system. If you want to avoid the frustration, we'd suggest you bypass perfection in favor of a simple system that works for both you and your children.
1. Gather everything in one place
Start by gathering up every item of children's clothing from around the house (including coats, wellies and anything in the laundry basket) and laying it all out in one place. Emptying out your current clothing storage will help you see the space you've got to work with, too.
2. Declutter and sort
Next, declutter clothes that no longer fit or that are in poor condition (be sure to donate where possible and recycle anything that's beyond repair). This will help you create space for the clothes they actually wear.
Separate what's left into categories such as tops, bottoms, dresses, pajamas, etc. Within each category, further organize them by size or age range. This makes it easier to locate specific items and ensures that the clothes can be easily accessed as your child grows', says Cristy Stewart-Harfmann, founder of Happy Family Blog.
3. Store out-of-season clothes elsewhere
Unless you want to spend time rifling through halloween costumes, Christmas jumpers and bulky winter coats year round, it makes sense to free up prime storage space for your child's current clothing collection.
'To maximize space and ensure easy access to appropriate clothing, consider rotating your child's clothes seasonally. Store out-of-season clothes in a separate location, such as under-bed storage containers or in a dedicated closet space', says Cristy Stewart-Harfmann.
4. Set aside storage for hand-me-downs
You'll be amazed at how quickly your child grows, sometimes overnight, it can feel like. Rather than having too-small clothing clogging up your closet rails, pre-empt the inevitable and set aside a storage bin somewhere handy.
'As soon as your child outgrows a garment, pull it out of the rotation and place it in a bin, marked with its size. Once this bin is full you can either store the clothing for a younger child (yours or someone else's) or sell/donate items you're ready to pass on', says professional organizer Amanda Wiss, founder of Urban Clarity.
5. Group like-with-like
Whether you're hanging clothes or folding them, always store items in sensible categories. Shirts go with shirts, pants with pants, and so on. Don't bother with color coding. it may look nice on Instagram, but it's an extra element of organization that really isn't necessary and will only cause confusion. When it comes to children, the simpler the better!
6. Optimize closet space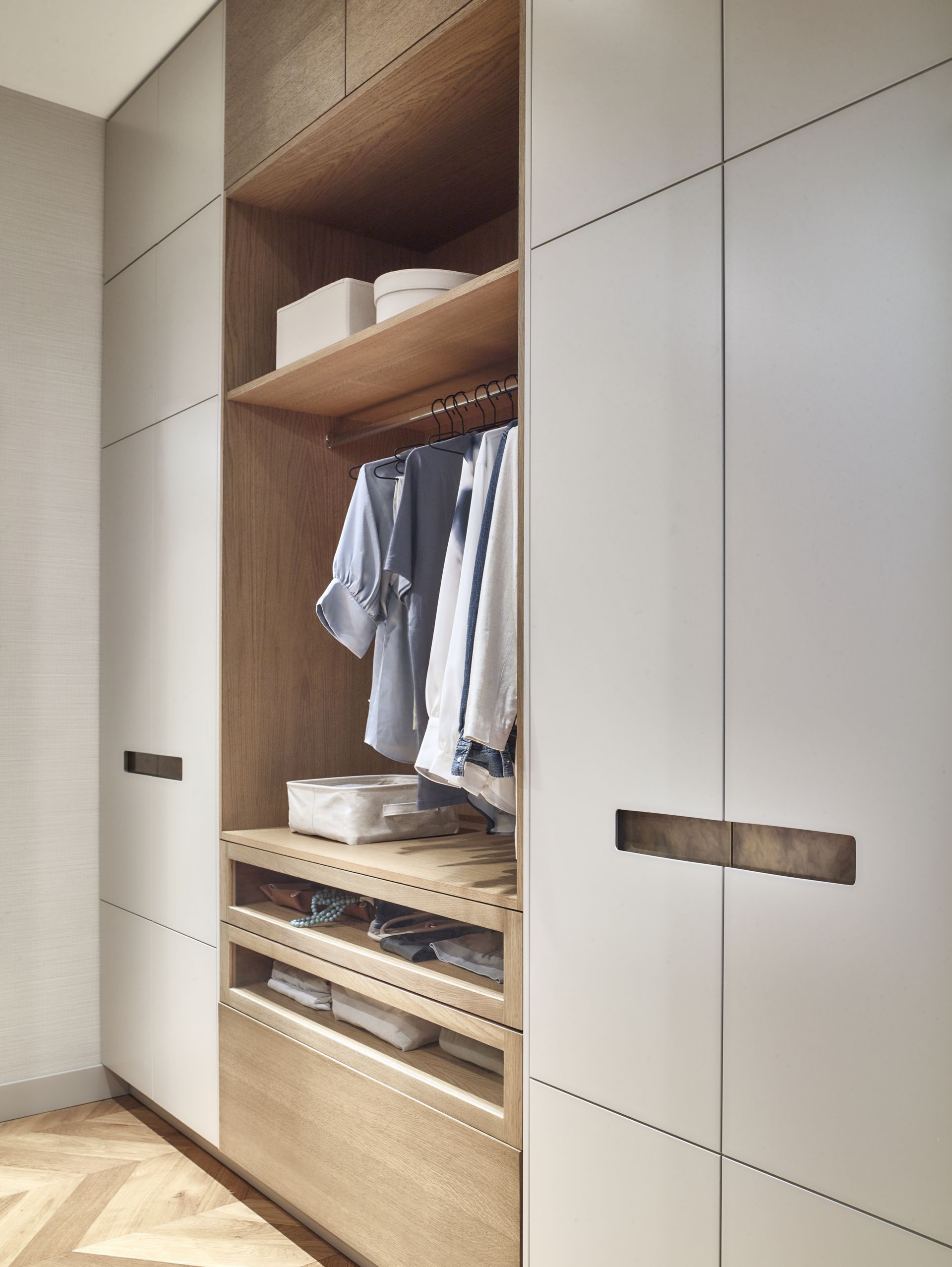 If you're storing children's clothes in a closet, you'll want to make best use of vertical space. Because of their petite proportions, items will fall short, so you could install an extra rod if you wanted to make use of the space. Alternatively, use stackable boxes or containers to store items underneath.
'Thin, plastic kid's hangers (as opposed to full-sized ones) like these from Target are great for saving space, and also makes it easier for children to pull clothes off themselves. If you don't have a dresser, over-the-door organizers with sturdy pockets, like this colorful one at Wayfair, are a great alternative, offering up storage for shoes, tights, leggings, socks, even hair accessories and school ties', says Macie Kreutzer, the organization expert behind For the Love of Simple blog.
Over time, you'll want your children to start dressing themselves, so factor low rails and accessible storage baskets into your closet storage ideas to make this as easy as possible for them. If you have siblings sharing the space, designate them a side each with a hanging divider to avoid squabbles.
7. Work out what to fold – and how to fold it
Drawers, boxes and baskets are ideal for storing items that don't need to be wrinkle-free, such as pajamas, socks and swimwear, for example. If you're organizing a dresser, it's worth investing in bedroom organizers and drawer dividers to keep things neat, tidy and well-ordered. Any storage you're using should be clear and lid-free, to make it easy for children to find what they need – and put it back again.
Whether on a shelf or in a drawer, if you're stacking clothes in piles, chances are they're not going to remain neat for long – it's amazing how often your child's 'favorite' t-shirt is the one right at the bottom…! To get around this, experts recommend using the 'file and fold' method, which involves placing them vertically, a bit like you would paper in a filing cabinet.
'As well as keeping items neat, this allows you to see everything at a glance. You only have a finite amount of time for your child to fit into items – it's always so disappointing when you find an outfit that they have outgrown without wearing it even once!' says Amanda Wiss.
8. Use labels
Whether you're organizing toys or clothes, Encouraging children to put things away themselves is a great way of fostering independence, but depending on their age, they might need reminders about what goes where. If your child is of reading age, label storage clearly and concisely, and try to keep categories fairly broad; 'sweaters', 'pants', 'school uniform' and so on. Adding a picture is helpful, and means younger siblings can get involved, too.
'On top of labels, I like to use colorful storage boxes. Not only do they add an attractive pop of color, they make it even easier for children to sort their own clothes. Teach them to place their shoes in the red box, hats in the blue box, and so on', says Lucy Searle, Global Editor in chief, Homes & Gardens.
9. Designate a laundry basket
A floor strewn with dirty clothes leaves no room for play, and just looks downright messy. A well-placed laundry basket (without a lid) makes it easy to throw things into if you – or your children – are feeling lazy. Store it inside a closet, or tucked into a corner of the room to free up floor space.
10. Adapt your techniques over time
'Remember, maintaining the organization of children's clothes is an ongoing process', says Cristy Stewart-Harfmann. Regularly reassess their clothing needs, declutter as necessary, and adjust the organization system as your child grows. By implementing these tips, you'll create a neat and accessible system that benefits both parents and little ones'.
FAQs
How do you organize children's clothes?
Whether you're organizing and storing in closets or drawers, the key to organizing children's clothes is to keep items easily accessible. That way you, and your child, can find what you need quickly and easily.
Sort items in categories, grouping like-with-like; tops, bottoms, underwear, swimwear, accessories, and so on. When it comes to storing them, use dividers and containers to keep items contained, and employ extra storage to maximize on space where possible, such as additional closet rods and over-the door organizers.
Prioritize prime storage space for your child's current clothing collection only. Anything that's too big, or out of season should be set aside until it's ready to wear. Keep a bin or basket handy to discard too-small clothing there and then, along with a hamper to keep the floor free from dirty laundry.
---
Finding time to tidy and organize children's clothing can be challenging at the best of times, particularly when they grow out of things so quickly. It can feel like a chore, but taking the time to instill a sensible organization system will make your life easier in the long run – their room might be a mess, but at least their clothes will remain neat and tidy!
Sign up to the Homes & Gardens newsletter
Decor Ideas. Project Inspiration. Expert Advice. Delivered to your inbox.
For 10 years, Tara King worked as a Content Editor in the magazine industry, before leaving to become freelance, covering interior design, wellbeing, craft and homemaking. As well as writing for Ideal Home, Style at Home, Country Homes & Interiors, Tara's keen eye for styling combined with a passion for creating a happy – and functional – family home has led to a series of organization and cleaning features for H&G.