Should a closet be the same color as the walls? Experts give their verdicts
Find out whether interiors professionals think coordinating or contrasting closets and walls is the best move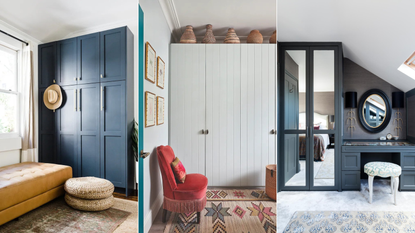 (Image credit: Studio Peake/Alexander James Semihandmade / @olivestreetdesign_sb / photograph @kellysweda / Future PLC)
Clothes, shoes, and accessories need sufficient storage space to ensure a room for sleeping stays uncluttered and relaxing. But, since they therefore need to be a major element of most bedrooms, you might be wondering if your closet should be the same color as the walls.
Bedroom storage ideas need to be both aesthetically pleasing as well as allowing efficiency when it comes to organizing clothes – which means having enough closet space for your possessions. The choice therefore becomes whether, for a relatively large piece of furniture, a closet color that matches the walls or one that contrasts is better.
We asked the experts to weigh up whether the same color for walls and closets is preferable, or if contrast is the way to go for maximum bedroom chic, and this is what they told us.
Should closets match walls?
The verdict from the experts on whether closets should be the same color as walls? The bottom line is that there are good arguments for choosing to have closets in the same hue as the walls. However, closets and walls can contrast, and that option brings its own benefits.
Let this advice from design professionals contribute to your bedroom ideas.
Benefits of closets being the same color as the walls
While the professionals don't say that closets must be the same color as walls, they do identify a host of benefits when they do match.
Using the same color can be hugely beneficial for small bedrooms. 'Pairing off with neutral shades of soft gray or warm beige is a good idea to create an illusion that the small space is spacious while ensuring that everything flows uniformly together,' says interior designer Artem Kropovinsky.
But it's not only small bedrooms that can benefit; using the same shade is a great way to give the room a calm ambiance. 'Matching your closet color to the wall color can create a harmonious and cohesive look in your bedroom,' says interior designer Allison Montgomery. 'This can make your space appear more organized and visually appealing.'
Closets and walls in the same color can also be a beautiful choice for a minimalist bedroom. 'Matching the two can be part of creating the serene, clutter-free environment that typifies minimalism,' says head of interiors at Homes & Gardens Hebe Hatton. 'It isn't a strict rule for a minimalist design,' she adds. 'But as part of a restrained color palette, it can be very successful.'
Matching the closets to the walls can equally put the focus on other parts of the room to great effect. 'When the closet doesn't stand out as a separate piece of furniture, it allows other elements in the room, such as bedroom artwork or decorative accents, to take center stage,' says Ilia Mundut, founder and CEO of HeftyBerry.
Dark room with little daylight? 'So long as you match closet and walls in a pale shade that offers maximum light reflection as part of your bedroom paint ideas, it will look brighter all round,' says H&G's head of interiors, Hebe Hatton. 'Use the tricks interior designers use to brighten a dark bedroom, too, and it will feel lighter and airier.'
Bear in mind that taking the same-color route doesn't mean the effect is flat. 'Textures matter,' says Artem. 'The depth is created when it comes to matte closets against the wall with gloss even in the same shade.'
Based in New York, Artem Kropovinsky boasts extensive global design
experience spanning a decade. With a commitment to sustainability and
authenticity, Artem, alongside his dedicated team, undertakes projects
both in the US and internationally, earning recognition through
prestigious design awards. Artem is the founder of Arsight, an esteemed global design firm known for its expertise in residential and commercial interior design.
Benefits of a contrasting closet and walls
We've seen that the experts recognize many advantages in using the same color for closets and walls, but matching definitely isn't a must. Moreover, there are distinct advantages to creating contrast.
While Artem Kropovinsky sees the benefits of one color for both, he comes down on the side of selecting different hues. 'The best option for a room would be to use closets in contrasting colors that delineate separate sections of the space, especially if it is much bigger. Consider using navy versus pale yellow for strength but balance,' he says.
Contrast can also bring energy to the room design. 'If you prefer a more dynamic and eye-catching space, contrasting colors can help achieve that,' says Ilia Mundut.
Equally, you might want to make the closet a focal point in which case continuing the wall color won't achieve the effect you want. 'The closet could be an elegant vintage design, or be made from a beautiful wood,' suggests H&G's Hebe Hatton. 'Or it might feature an accent shade that's picked up in pillows for the bed or other decor, for example. Either way, if it contrasts with the walls that will help draw the eye.'
Two different colors can also make the room design individual. 'Contrasting your closet color with the wall color can add visual interest and personality to your bedroom,' says Allison Montgomery. 'This can make your space stand out and reflect your unique style.'
Be mindful of the level of contrast you create when closets and walls don't match. 'Choosing colors that are opposite each other on the color wheel can create a striking contrast,' says Ilia. 'For example, pairing a blue closet with yellow walls can create a visually appealing contrast.' You can read more about using color in some of our favorite interior design books, such as The Interior Design Handbook, at Amazon.
Also striking is a black and white bedroom. 'A high-contrast combination, such as a black closet against white walls, creates a bold and dramatic effect,' says Ilia. 'On the other hand, a low-contrast combination, such as a light gray closet against light blue walls, creates a more subtle and understated contrast.'
FAQs
What paint is best for closets?
The paint that's best for closets depends on what they're made from. Always select paint that's designed for the particular surface – be that wood or a specific manmade material – to ensure proper adhesion and professional-level results. Painting wood furniture or another material requires careful preparation of the surface beforehand. You might also need to prime the surface before painting. Check the instructions on your chosen paint.
---
No rule says closets and walls have to be the same color. But whether you choose to match or not, always test colors first. 'Keep in mind that natural daylight affects how we see colors and therefore you should take this factor into account when choosing shades for the room's walls,' says Artem Kropovinsky.
Sign up to the Homes & Gardens newsletter
Decor Ideas. Project Inspiration. Expert Advice. Delivered to your inbox.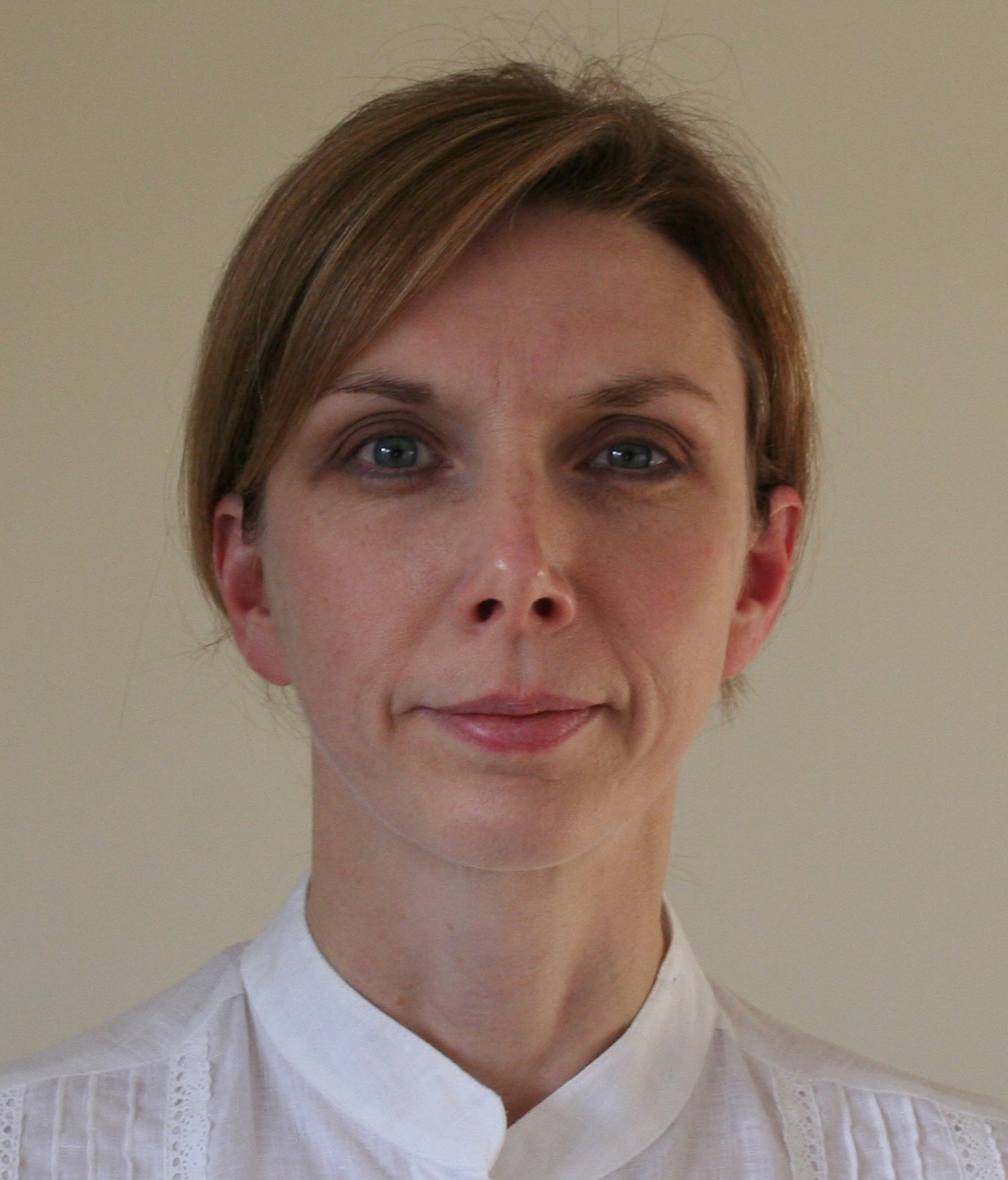 Sarah is a freelance journalist and editor. Previously executive editor of Ideal Home, she's specialized in interiors, property and gardens for over 20 years, and covers interior design, house design, gardens, and cleaning and organizing a home for H&G. She's written for websites, including Houzz, Channel 4's flagship website, 4Homes, and Future's T3; national newspapers, including The Guardian; and magazines including Future's Country Homes & Interiors, Homebuilding & Renovating, Period Living, and Style at Home, as well as House Beautiful, Good Homes, Grand Designs, Homes & Antiques, LandLove and The English Home among others. It's no big surprise that she likes to put what she writes about into practice, and is a serial house renovator.