7 things every guest room needs to stay organized – according to the experts
Whether creating storage space for guests or adding in organizers for your household, these seven things are essential for an organized guest room, experts say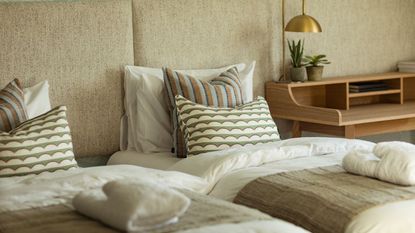 (Image credit: Minthouse)
Sign up to the Homes & Gardens newsletter
Decor Ideas. Project Inspiration. Expert Advice. Delivered to your inbox.
Thank you for signing up to Homes & Gardens. You will receive a verification email shortly.
There was a problem. Please refresh the page and try again.
Guest rooms can be awkward spaces to organize given that they need to cater to guests at a moment's notice, but also work hard as household storage when the room is not in use.
But how do you find a good middle ground? Professionals say it is about incorporating everyday storage into your guest bedroom ideas and striking a careful balance between using it yourself for practicality and preparing for guests.
Professional home organizers have declared that these are the seven things every guest room needs if you want to keep it neat and organized – here's why.
Things every guest room needs to stay organized
Even when organizing a small bedroom, these pieces are essential to fit in, professionals say, and using them correctly can even help you style an inviting guest room too.
1. Multifunctional furniture to keep household storage hidden
A key consideration to remember when decorating a guest bedroom is that it needs to double up as general household storage if you want to avoid clutter in the rest of your home, particularly if you don't have guests often.
To do this without damaging the aesthetics of the room you should fall back on multifunctional furniture, suggests Melanie Summers, owner and lead organizer of I Speak Organized: 'A multi-functional piece of furniture is a great option for guest rooms that fulfills a dual role, including items like a storage ottoman or bench. Not only does this enhance the room's aesthetic appeal, but it also seamlessly incorporates elements of functionality and organization.
'I really like using storage ottomans or benches at the foot of the bed. This piece of furniture can act as a welcome spot for guests to sit and remove their shoes, adding an element of comfort to their stay. But its utility extends beyond that. Inside, it offers discrete and sizable storage space for extra linens, blankets, and pillows. This keeps these essential items within easy reach for guests, yet tucked out of sight, maintaining the room's clean and organized appearance.'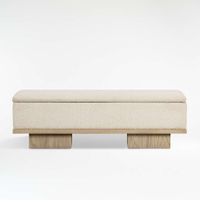 Brighton Upholstered Bench | $999 at Crate & Barrel
This multipurpose ottoman with storage is custom-made to order, offering a perfectly stylish and personal option for storing shoes in tighter spaces.
Melanie is a Professional Organizer, Decluttering Expert, and ADHD Organizing Specialist. She likes to 'speak organized' to give clients the tools to conquer their clutter, live with more purpose, and learn about the business of tidying.
2. A dresser with an empty drawer or two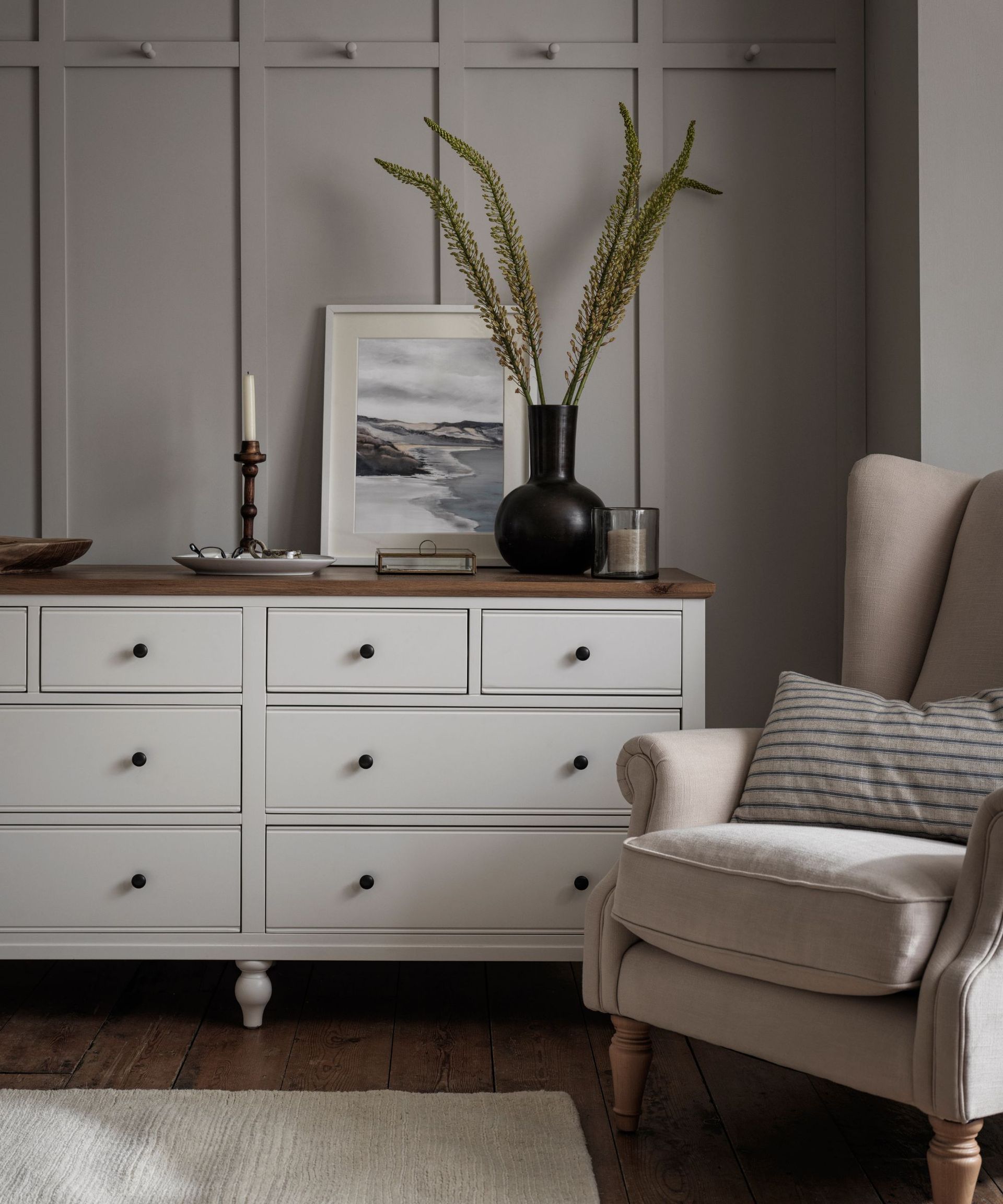 Although it is certainly possible to organize clothes without a dresser, it can be incredibly impractical. Madison Popper, interior designer and founder of Chill Casa suggests providing guests with an empty dresser where possible, otherwise, an empty drawer or two if you need the rest of the unit for storage.
'One of the best and most important pieces every guest room should have is a dresser. It gives the guests space to unpack and provides the top of the piece as a drop-down area for items like accessories, and toiletries. It is easy for everything to pile up and that will remedy it,' he says.
Let guests know which drawers are available for them to use, and organize the dresser accordingly, adding in some stylish wooden drawer dividers, available at Amazon, to help divvy up the space for guests.
3. Empty space in a closet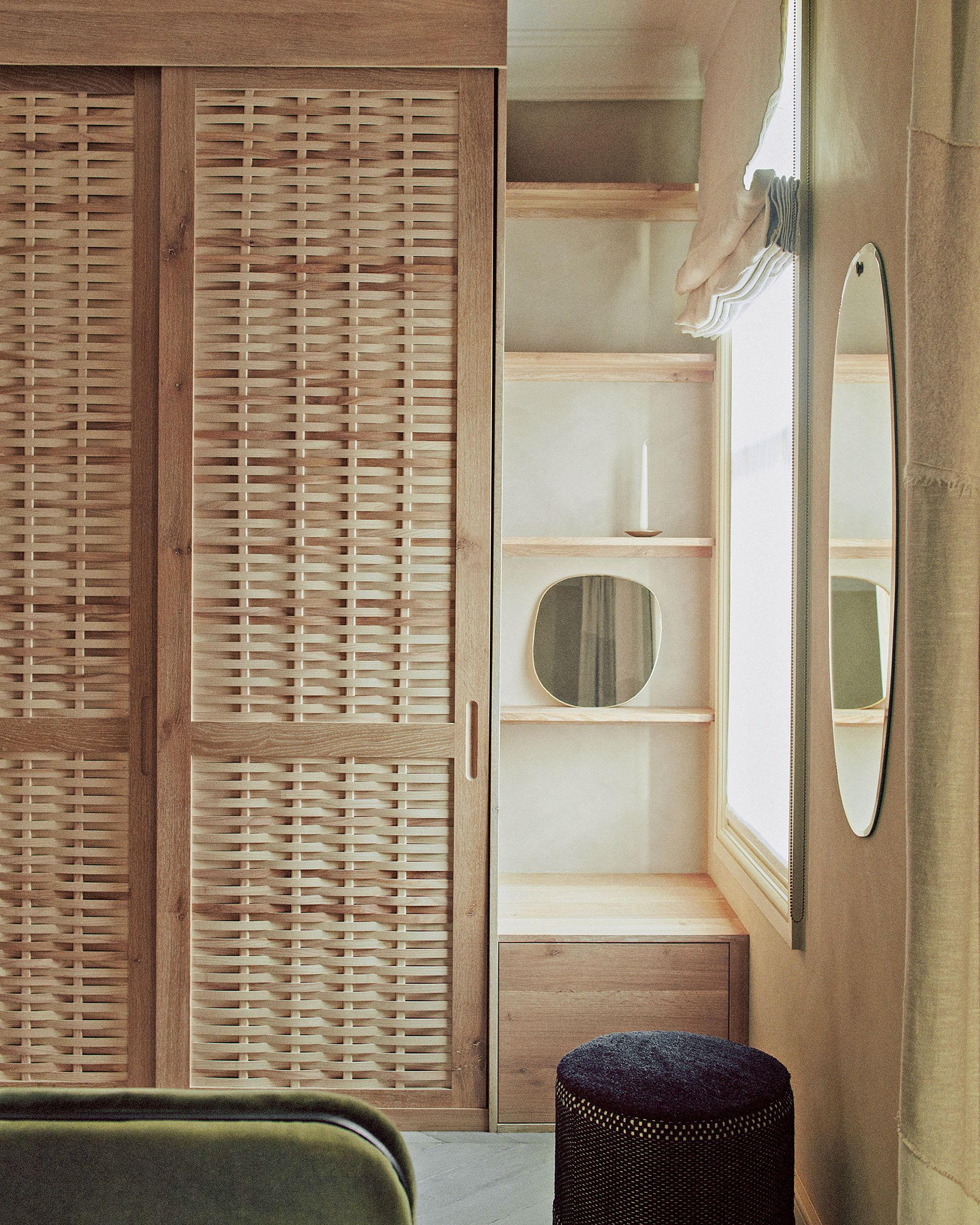 A closet in a spare bedroom can be a great spot for some additional household storage, and professional organizer Noelle Bruccoleri, owner of Little Bit o' Help uses hers to stow unused luggage and out-of-season coats away. That being said, however, she always ensures to leave some empty hanging space for guests to utilize – along with some empty hangers to help guests organize a closet to their liking.
'As a professional organizer and a frequent hostess, I always make sure my guest room does double, sometimes triple duty,' she says.
If you can't fit a closet into the space, or need the whole closet for household storage, then Maria Daher, professional organizer and owner of Methodize It by Marie recommends using a free-standing garment rack/closet organizer.
'This piece comes in an array of options, allowing the host to select one that would best fit the room size. To get the most out of this piece, I prefer those with shelving on the side and bottom, making it the perfect place for guests to lay out shoes or folded clothes.'
4. A luggage rack or stand to keep bags out of the way
A luggage rack is not a typical home organizing idea, but it can help both when guests are unpacking their bags and to help keep the bag off of beds (keeping the linens clean) and off of the floor so it doesn't get in the way, says Jill Vigilone, CPO certified professional organizer and founder of Embrace your Space. 'We use folding options, like this wooden case rack from Amazon, so that when not in use they can be neatly folded up and stored in the guest room closet,' she adds. 'A boot tray can be added underneath to protect floors and store shoes too.'
5. A laundry basket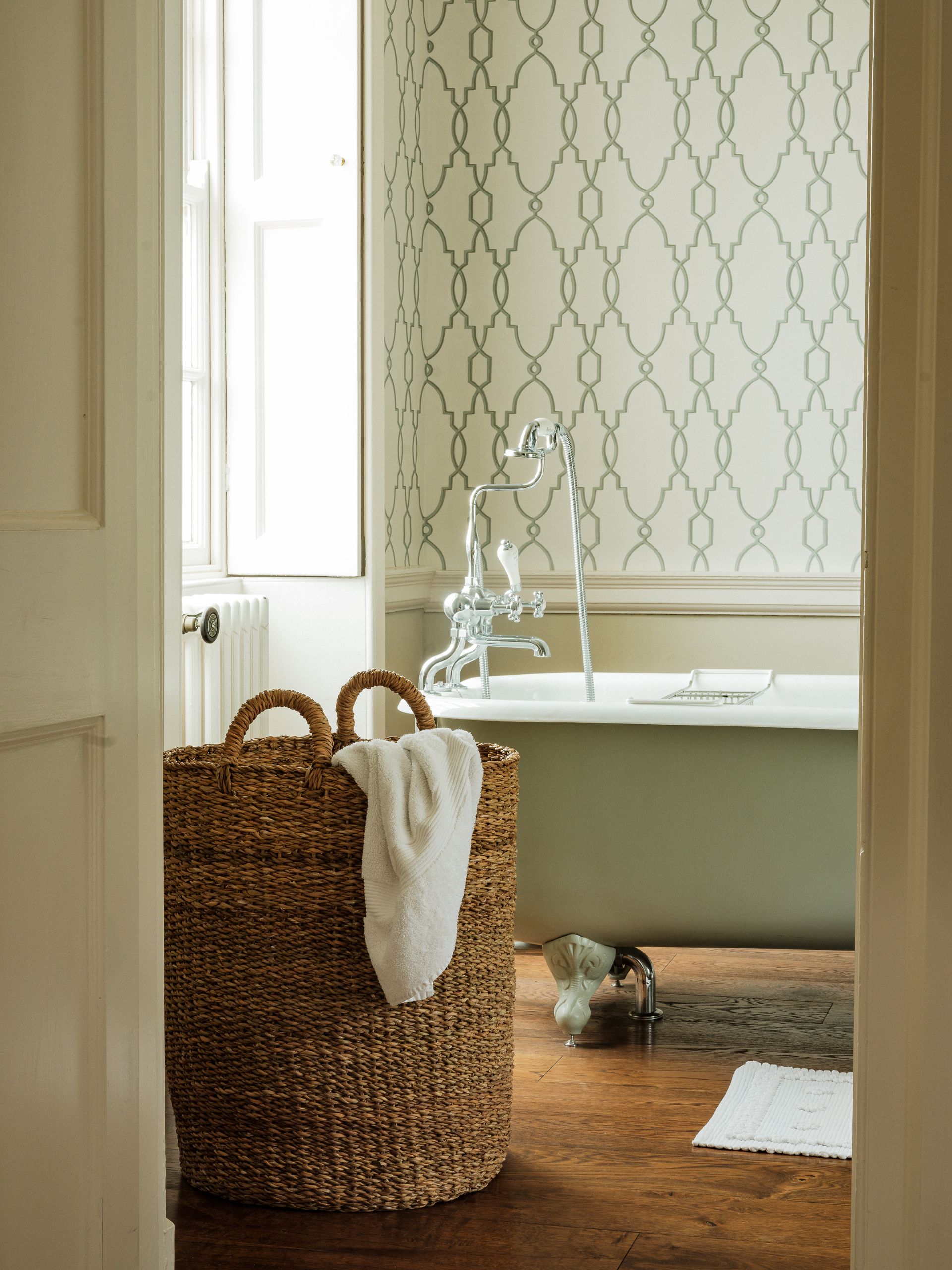 If you have guests that stay for longer than a couple of nights, then adding in a laundry basket is a great way to make guests feel at home, says Millie Hurst, solved section editor at Homes & Gardens. 'A laundry basket helps to corral any used towels and bed linens as guests are done with them, keeping the room neat and tidy, and easier for you to clean too.
'When doing laundry for overnight guests, make sure they know you are happy to help out, where the basket is if you hide your laundry baskets for aesthetics, and ask them about their laundry product preferences to make sure they don't have any allergies,' Millie suggests.
Millie Hurst is Section Editor at Homes & Gardens, overseeing the Solved section, which provides readers with practical advice for their homes. Millie has written about and tried out countless cleaning and DIY hacks in the six years since she became a journalist, and has worked in both London and New York.
6. Wall or door mounted hooks
Hooks on walls or doors can be helpful for storing a variety of things that may otherwise be difficult for guests to store in closets or drawers, such as their smaller bags, hats, and outdoor coats (especially if you do not have space in your entryway closet) says Camilla Frederico, professional organizer and founder of The Personal Helpers.
You can even hang a guest bathrobe there ready for them when they arrive to make them feel welcome, and make it easier to move around your home in pajamas.
7. A bedside charging station and cable tidy
Although many experts say you shouldn't keep your phone beside your bed if you want to sleep better, guests will need somewhere to charge phones, tablets, e-readers, and possibly laptops in their room while they stay with you. For this reason, it can be a good idea to keep some empty sockets near the bed or on a desk alongside a cable tidy to help organize cables.
If you are generous, you may also want to provide some common charging cable types too, such as USB-C, USB-2, and lightning cables in case your guests forget their own, suggests Madison Popper, designer.
FAQs
What basic items are needed for a guest bedroom?
Besides good storage, some basic items you need to include in a guest bedroom are clean bed linens, blankets, and towels – with an extra pillow too in case the guest wants to alter their sleeping arrangements. If you have a guest en suite, including toothpaste, soap, and a moisturizer can also help to tailor the experience and make them feel welcome, as if they are staying in a luxury hotel.
How can I make my guest room useful?
To make your guest room useful, it helps to have good storage both for your general use when the room is not being used, and empty storage ready for guests to hang up their clothing, or fold away garments so they are not living out of their suitcase. It also helps to add in some basic toiletries to help if your guest forgets anything, and use minimal decor around the room so that it is not overbearing, and the guests have surface space to put their own belongings down.
---
It is worth noting that if you find yourself struggling to accommodate guests in your guest room alongside all of your stuff, it may be time to declutter, concludes Bonnie Borromeo Tomlinson, professional organizer and author of Stop Buying Bins, available at Amazon.
'If it's too much to organize when guests come, collect it and store it elsewhere while your guests are with you. But that's not fixing the problem. If you have so many things that they have exhausted your storage options, you must downsize,' she says. 'In fact, if you are using guest room space as an overfill, even if it's neatly organized and stored, you still have too much. Packed away in another room, you probably don't even remember it's there much less use it.
Once your guests are gone, start getting rid of stuff.'
Sign up to the Homes & Gardens newsletter
Decor Ideas. Project Inspiration. Expert Advice. Delivered to your inbox.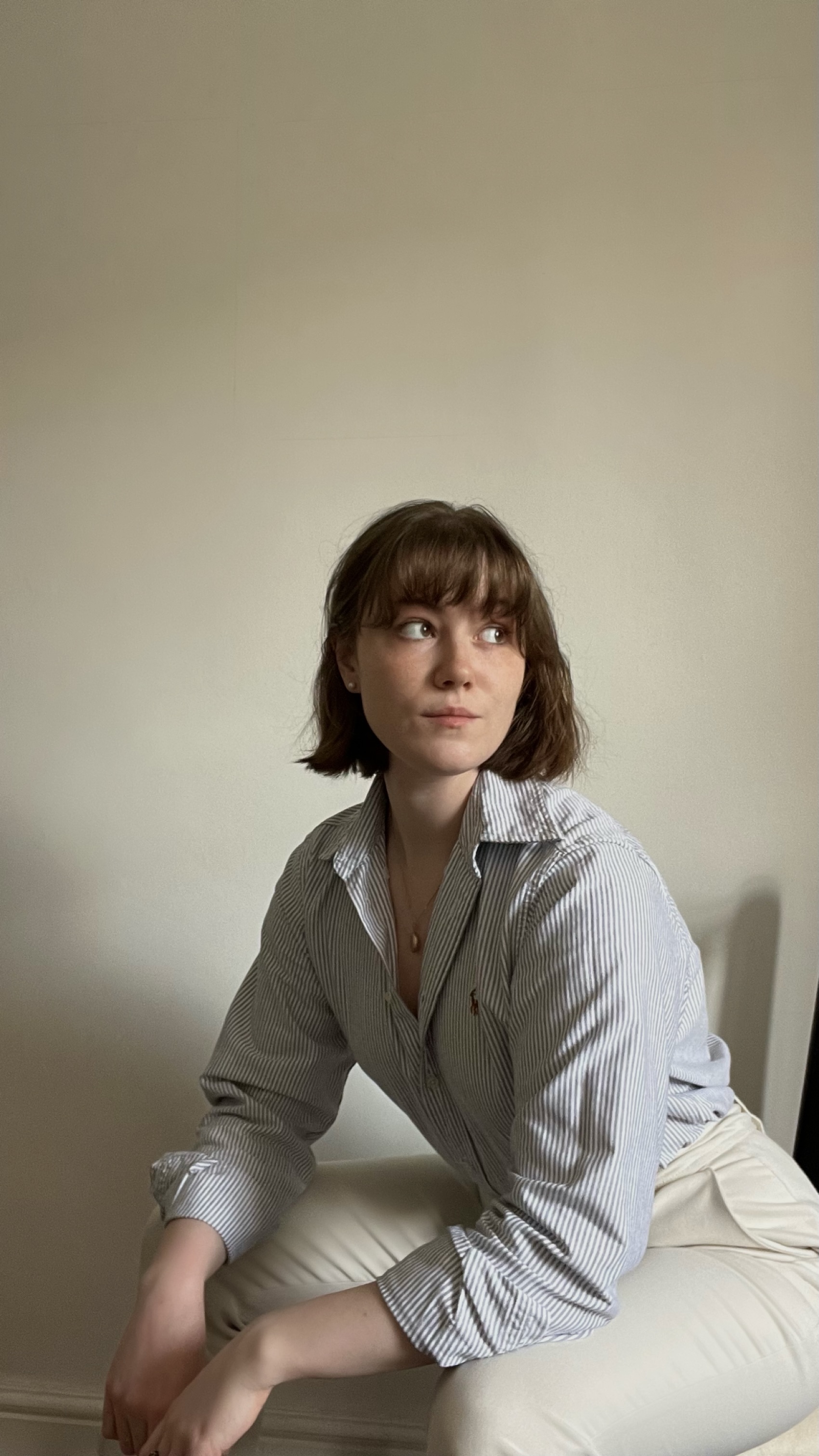 Chiana has been at Homes & Gardens for a year, having started her journey in interior journalism as part of the graduate program. She spends most of her time producing content for the Solved section of the website, helping readers get the most out of their homes through clever decluttering, cleaning, and tidying tips – many of which she tests and reviews herself in her home in Lancaster to ensure they will consistently deliver for her readers and dabbles in the latest design trends. She also has a first-class degree in Literature from Lancaster University.