Bathroom floor tile ideas — looks, layouts and colors for a sophisticated space
Explore texture, design and palettes courtesy of our bathroom floor tile ideas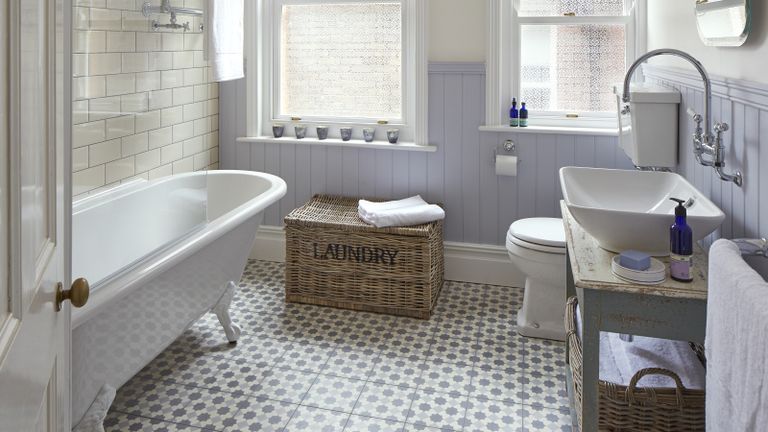 (Image credit: Future and David Parmiter)
There is a plethora of choices when it comes to bathroom floor tile ideas.
Of course floor tiles need to be both durable and easy to clean, particularly in busy family bathrooms, but that shouldn't preclude them from being stylish, too.
Materials are many and varied, ranging from funky vinyl to luxury materials such as solid marble. Be aware, though, that although they are bound to add an air of elegance, many natural stone floors will need an element of maintenance to keep them looking at their best.
'Check when choosing your bathroom flooring, especially if it is natural stone or hardwood, that it is suitable for humid areas, as water damage is more likely to occur with natural materials,' advises Yousef Mansuri, Head of Design at C.P. Hart.
If you're hankering after the look but want something that's more hard-wearing, then faux-stone composites and porcelains are a good option. It's important to pick tiles that have an anti-slip rating of R11 or above (the scale is from R9 to R13) for extra grip, particularly if you're planning a multi-generational space.
'When choosing from bathroom tile ideas for your floor, make sure that they are non-slip but not too textured,' advises Yousef. 'You want to make sure they have grip, but if they are too textured, lime scale can easily build up, making cleaning a nightmare.'
BATHROOM FLOOR TILE IDEAS
1. LEAD THE WAY WITH MOSAICS
Mosaics have evolved of late with a variety of shapes, materials and finishes replacing the standard glass squares we know and used to love. Mix and match sheets of mini matte black and white hexagon-shaped tiles to create a bold pattern for a stylish take on Art Deco-influenced geometric design.
Shop now: Geometric Hexagons in Super White and Black, £128.98, Fired Earth
2. SOFTEN CERAMICS WITH PINK
All shades of pink, from bubblegum to blush, are gracing interiors right now. However, it's the subtler, softer shades in matte finishes that are seeing particular uptake in bathrooms as they are the perfect partners to gray bathroom tiles, cool white ceramics and shiny brassware.
'Tiles in interesting shapes with pattern and colour such as fish scale, diamond or Popham tiles, are a popular choice with homeowners at the moment. We like to pair with special brassware finishes for maximum impact,' says Hayley Robson, Creative Director, at Day True.
Floor tiles that gently lead the way to a large walk-in shower will help to ground all the elements that go to make up a modern space.
Enquire online: Bathrooms from Day True start at £8,000
3. BALANCE PATTERN WITH PLAIN
Want to add individuality to your bathroom without going overboard? Counter the simplicity and elegance of flat white metro wall tiles with a boldly patterned and vibrantly coloured porcelain floor.
Shop now: Moroccan inspired Nova tiles in Peacock, £68.97 per sq m, CaPietra
4. MIMIC MARBLE WITH PORCELAIN
Beautiful Italian marble is a staple in luxury hotels and homes but it's a difficult material to look after and needs regular treating, so not a great choice for busy family bathrooms. Going marblesque, however, might be the answer.
Delicately veined porcelain alternatives will help to achieve a glamorous wall-to-floor wet-room look and is a great bathroom tile idea for showers, as you can achieve a marble look without the cost or hassle of complicated maintenance.
Shop now: Mont Blanc marble effect tiles in two sizes, 300 x 600mm and 600 x 600mm, from £16.46 per sq m, Tile Giant
5. SOOTHE IN A STONE SANCTUARY
The natural tones and textures of stone will help to produce a relaxed and distinctly grown-up atmosphere in a master bathroom, particularly when combined with a statement freestanding tub.
Variations in colour and finish help to recreate the look and feel of limestone in these porcelain Fossil tiles from Lapicida. Available in four tile sizes, from £82.80 per sq m.
6. EMBRACE COUNTRY STYLING WITH WOOD EFFECT TILES
Described as an idealisation of pastoral life, Cottagecore is the latest trend to hit interiors and bathroom tile trends haven't escaped this back-to-nature aesthetic. While walls are a better base for tiles featuring flower and plant-life, floors are best-served by wood-effect tiles to create a country home feel.
Enquire online: Oakwood Brown wood-effect tiles, £39.95 per sq m, Original Style
7. SCALE UP FOR SERENITY
A bathroom is a place of sanctuary and while the love for patterned tiles is growing, most of us are still opting for natural tones with relaxing properties.
'The most popular colour palette tends to be light and natural,' agrees Yousef Mansuri, Head of Design at CP Hart. Create a soothing space with similarly toned large-format tiles, laid in a simple formation.
Enquire online: Scarpa tiles, from £44 per sq m, CP Hart
8. PLAY WITH LAYOUT
While we may not have seen the last of the ubiquitous Metro tile, trends are now moving from brick layouts to more adventurous patterns to create interest on floors as well as walls.
'Alternate tile laying patterns can go a long way to add a quirky twist,' agrees Ripples designer Helen Jones. Laid in a herringbone formation, these simple matte white oblong tiles take on a much more sophisticated appearance and give focus to the freestanding bath and similarly arranged walls.
Shop now: Flatiron white porcelain tile, £35.28 per sq m, Porcelain Superstore
9. ADD STAR QUALITY
The glamorous gold fixtures and fittings and decadent dark walls in this bathroom belonging to Instagram favourite @gold_is_a_neutral are grounded with the addition of naturally pigmented Spanish style cement tiles.
Featuring a bold black and white star motif, they are the perfect addition for those that want a bolder, more maximalistic look.
Shop now: Pradena handmade tile in black, from £6 per tile, Bert & May
10. EMBRACE TERRAZZO TILES
Authentic terrazzo flooring, seen the length and breadth of Italy, is a uber-stylish composite made from fragments of marble and glass and is, according to Pinterest, one of the fastest growing interior trends.
For bathroom floors, choose the more wet-room and purse friendly porcelain option and pair with Metro wall tiles in a co-ordinating color.
Shop now: Arlo light porcelain tiles, from £49.50 per sq m, Porcelain Superstore
11. PERFECT PARQUET
We've hit peak parquet in home designs, with originals of these floors much coveted. For bathrooms, and in particular wet-rooms, wood isn't a hardwearing option and that's where a durable, luxury vinyl such as Amtico can provide the look of a grand country home bathroom without the hassle.
Enquire online: Form Coal Grained Oak in Parquet Laying Pattern. Prices start from £55 per sq m, Amtico
WHAT ARE THE MOST POPULAR TILES FOR BATHROOMS?
When it comes to the most popular tiles for bathrooms, it seems there's real demand at both ends of the spectrum.
While there are numerous designs, shapes and styles for wall tiles, floor tiles have, on the whole remained fairly plain until recently, with many opting for a stone or stone-effect on the floor to counter a bold wall tile. 'Porcelain is currently our most popular material as it can be used on floor and walls and has, it seems, endless options,' reveals Yousef Mansuri, Head of Design at CP Hart.
However, a resurgence in Victorian and Morrocan-style patterned and colourful geometric floor tiles from companies such as CaPietra, Bert & May and Fired Earth has seen bathroom floors compete with walls for attention. Shape has become important, too, with many designs allowing for multiple configurations, helping to create highly individual spaces.
SHOULD BATHROOM FLOOR AND WALL TILES MATCH?
As for whether your bathroom floor and wall tiles should match, there's absolutely no design law that says they must be exactly the same. In fact, some wall tiles are not suitable for floors and vice versa so it's always best to check before you plan. However, to create a cohesive look, it's important that they should work well together in terms of your bathroom colour scheme and colour palette.
WHAT TYPE OF TILES ARE MOST SUITABLE FOR BATHROOMS?
It's also important to think about which type of tiles are most suitable for bathrooms.
Family bathrooms that have a lot of traffic will be best served by porcelain or ceramic tiles, which are both hard-wearing and slip-proof. While natural stones can look amazing - bookmatched marble or rough textured limestone are a great choice for walk-in shower ideas for instance - they will need regular maintenance to keep them in tip-top condition.
Attractive and durable alternatives include composite materials such as Silestone or Caesarstone or vinyls from companies such as Amtico that can provide the look of a natural material or an encaustic tile without the work those might entail to keep clean.
One of the biggest hazards in a bathroom is the risk of slipping. "As soon as you splash water about, surfaces can get slippery,' agrees Mike Zarghami, designer at Bathwaters. 'Choose floor tiles with a honed or anti-slip surface or opt for the alternative of vinyl or rubber flooring that can also bring some welcome colour to a family bathroom.'