Bathroom flooring ideas — for a durable and stylish foundation underfoot
These bathroom flooring ideas will help you add style and durability to your bathroom. From tiles and stone to vinyl and wood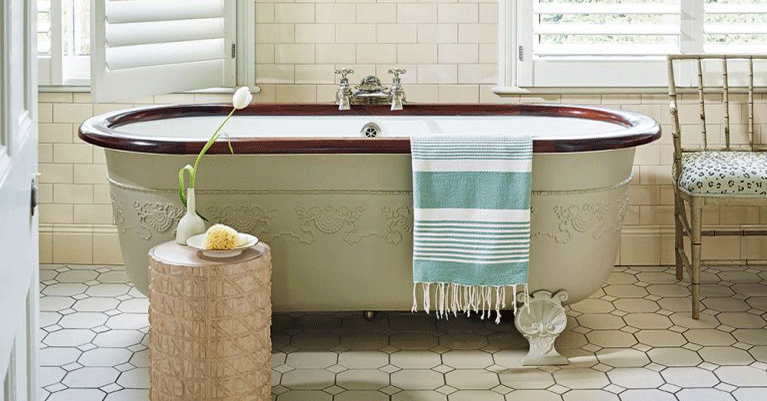 Clever bathroom flooring ideas and careful design can go a long way. After all, the bathroom is one of the most important rooms in any house.
Although its principal purpose is functional, a bathroom should also be a calm, relaxing and decoratively enticing space. 
High quality bathroom furniture adds a luxurious effect, but it is the flooring that really underpins the feel of the space and allows experimentation with color, texture and pattern. 
We've compiled a selection of flooring options to incorporate into your own bathroom ideas below.
Bathroom flooring ideas
The finish on the floor is not only a key area in the finished decorating scheme but also needs to feel wonderful underfoot. Be careful of highly polished surfaces, particularly if you are looking at bathroom floor tile ideas and it is a bathroom that will be used by small children, as the floor will become slippery when wet.
Technical advances in porcelain and ceramic production have revolutionised the variety of tiles on offer.
Faux stone and wood porcelain tiles are now so advanced it's hard to tell them from the real thing. They are water, stain and scratch resistant, don't require sealing and come complete with realistic color and graining variations, too.
We are also seeing lots of interest in patchwork patterns, the latest contemporary takes on traditional encaustic designs, and in vintage industrial looks created by metro, hexagonal and concrete-look tiles.
But for some, there's nothing quite like the natural beauty of real stone with its dramatic veining and sense of timeless luxury, even though it will require sealing and maintenance.
Its natural warmth and beauty makes wood a tempting choice but pick with care. Not all timber flooring is recommended for bathrooms. 
Engineered wood boards tend to be most suited, thanks to their stability, while some species may withstand moisture better because of their natural oil content. Make sure your flooring is properly sealed with a moisture-repellent finish, and take care with water splashes and damp towels.
'Laminate features a high density fibreboard core and, while this is moisture-resistant on most laminate floors, it is not waterproof, so take care to ensure that water is not left on its surface for long periods of time or damage may occur,' says Philiep Caryn, international communications manager, Quick-Step.
Don't forget vinyl and lino. 'Designs have come on so well and there's an opportunity to be really creative,' says Simon Standley, director of SDS Carpets. 
Checkerboard and parquet patterns, mix and match colors, and natural stone-and wood-effect finishes provide opportunity to create interesting looks. 
'Luxury vinyl tiles (LVTs) are quick to lay, feel warmer under foot than ceramic, are much more forgiving if you drop something on them and are relatively quick to lay – and easy and affordable to change if you want to update the look,' continues Standley.