The bathroom is one of the most important rooms in any house, and careful design here can go a long way. Although its principal purpose is functional, a bathroom should also be a calm, relaxing and decoratively enticing space. High quality bathroom furniture adds a luxurious effect, but it is the flooring that really underpin the feel of the space and allow experimentation with colour, texture and pattern. We've compiled a selection of our favourite bathroom flooring ideas for your inspiration.
See our decorating section for more inspirational ideas and advice
The finish on the floor is not only a key area in the finished decorating scheme but also needs to feel wonderful underfoot. Be careful of highly polished surfaces particularly if it is a bathroom that will be used by small children as on the floor will become slippery when wet.
Technical advances in porcelain and ceramic production have revolutionised the variety of tiles on offer. Faux stone and wood porcelain tiles are now so advanced it's hard to tell them from the real thing, and they are water, stain and scratch resistant, don't require sealing and come complete with realistic colour and graining variation.
We are also seeing lots of interest in patchwork patterns – the latest contemporary takes on traditional encaustic designs – and in vintage industrial looks created by metro, hexagonal and concrete-look tiles. But for some, there's nothing quite like the natural beauty of real stone with its dramatic veining and sense of timeless luxury, even though it will require sealing and maintenance.
See bathroom storage ideas – clever ideas to make the most of your space
Its natural warmth and beauty makes wood a tempting choice but pick with care: not all timber flooring is recommended for bathrooms. Engineered wood boards tend to be most suited, thanks to their stability, while some species may withstand moisture better because of their natural oil content. Make sure your flooring is properly sealed with a moisture repellent finish, and take care with water splashes and damp towels.
'Laminate features a high density fibreboard core and, while this is moisture-resistant on most laminate floors, it is not waterproof, so take care to ensure that water is not left on its surface for long periods of time or damage may occur,' says Philiep Caryn, international communications manager, Quick-Step.
Don't forget vinyl and lino. 'Designs have come on so well and there's an opportunity to be really creative,' says Simon Standley, director of SDS Carpets. Checkerboard and parquet patterns, mix and match colours, natural stone-and wood-effect finishes provide opportunity to create interesting looks. 'Luxury vinyl tiles (LVTs) are quick to lay, feel warmer under foot than ceramic, are much more forgiving if you drop something on them and are relatively quick to lay – and easy and affordable to change if you want to update the look,' continues Standley.
Tiles are a popular choice for bathroom floors. Available in a huge variety of materials, finishes and price points, there's something for everyone – stone, ceramic, porcelain and glass are all popular. They are easy to clean and offer endless design possibilities.
Porcelain and ceramic tiles are Intrinsically hardwearing, but may crack if a heavy weight is dropped directly onto a tile. These tiles don't need sealing or polishing – they come as they are and need no further enhancement, apart from regular cleaning, as all tiles do. Avoid pure white grout as it will look grubby very quickly – most installers suggest a mid to dark-grey grout.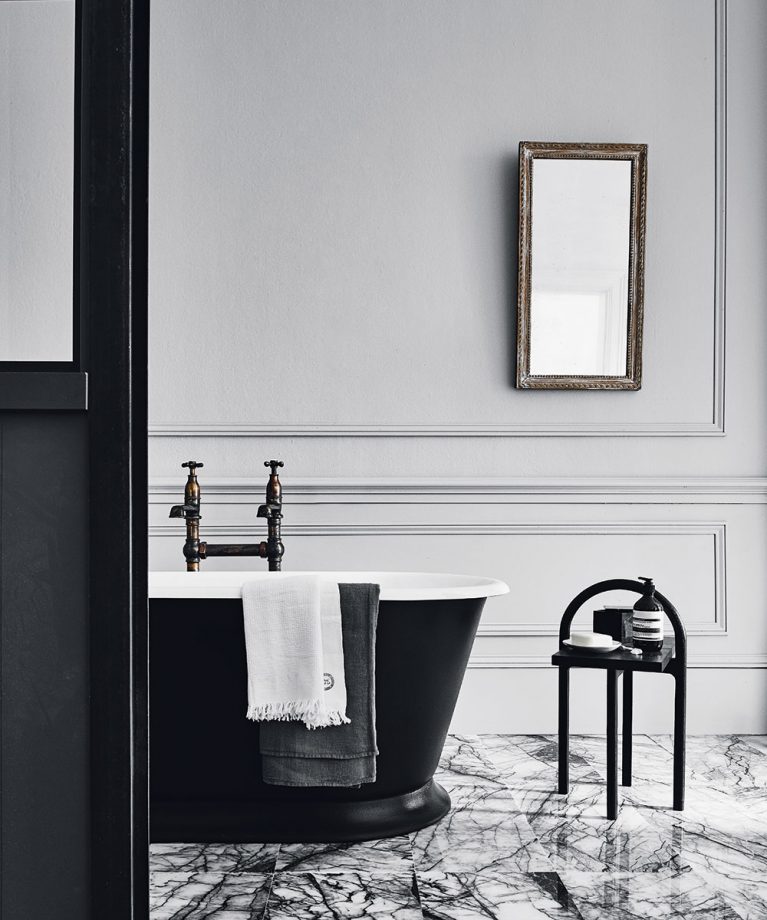 Classic and timeless, Arabescato marble with its striking veining embodies Italian elegance at its very best.
Stone is inherently hardwearing and will last a lifetime provided it is properly installed and sealed. Slate may splinter or chip along the naturally riven lines, but this is part of the overall look and appeal. Limestone needs to be sealed to prevent everyday dirt causing it to become dull and discoloured. The darker grey stones such as granite, basalt and slate are more dirt proof.
'Bathroom tiles are relatively easy and inexpensive to update so they're the perfect way to introduce a welcome splash of colour or an eye-catching finish, preventing a scheme from looking stark. A decorative floor combined with white wall tiles or a plain painted wall is a fantastic solution if you like the idea of using pattern but you also want to enjoy the soothing sensation of a neutral, restful space,' explains Caroline Gow, Fired Earth.
A good quality wood floor can last for decades plus wear and tear adds to its charm, while engineered wood is more durable than solid wood because it comprises several layers of wood joined together under pressure. Engineered wood is also less prone to changes caused by a room's temperature or humidity. A wood floor encapsulates the rich, heritage feel of a period property that has been loved and looked after.
If expensive glass mosaics or hand-crafted tiles are a must-have but your budget is tight, then think about using your chosen tiles as a feature and tile elsewhere with standard format tiles. Decorative borders will add a cost-effective hit of pattern or colour or think about tiling one area, such as the inside of the shower cubicle.
Mosaics come in a whole host of shapes, sizes and finishes. Available in sheets, they're available as plain colours, mixed shades and some also come with pre-laid patterns.
Vinyl has come a long way over the last decade. Once considered a poor relation to stone, wood or tiles, today's versions offer incredibly realistic effects of all these other materials and a host of other striking design options, too. The top end of the smooth flooring market is luxury vinyl, and some of the main players include Amtico and Karndean.
Luxury vinyl is often used in retail spaces and restaurants, and it's common for domestic versions to come with a guarantee of between ten and 20 years, so you can be sure your new floor will last as long as the rest of your room before you need to consider a refit.
An interesting or unusual floor can give your bathroom personality without overpowering the space. There are many options available to choose from that are appropriate – waterproof, durable, and attractive. When teamed with a white bathroom suite, a statement floor can add style points for a relatively small outlay
Natural, renewable, recyclable and biodegradable, wooden floors suit both traditional and modern interiors, with a host of species and styles to choose from, including hardwoods like oak, ash, beech, walnut and cherry, and softwoods such as pine and yew.
With so much choice available, it can be daunting to find the right option. Engineered wooden flooring is made using multi layers of ply, topped off with a hardwood wear layer. The result is a stable, rigid board, which is able to withstand fluctuations in heat and humidity, making it a great choice for conservatories, kitchens, bathrooms and rooms with underfloor heating.
Terracotta is intrinsically hardwearing but will show pleasing signs of wear and tear over the years. Handmade terracotta tiles with their less-perfect appearance are more forgiving to knocks and chips than smoother factory-made tiles.
Terracotta tiles are a perfect choice for a country or rustic-style bathroom and, because of their natural colours, can be very forgiving as far as upkeep and cleaning is concerned.