Living room wallpaper ideas – 12 ways to decorate your walls
Add impact to your living room using these top tips for how to style your space with wallpaper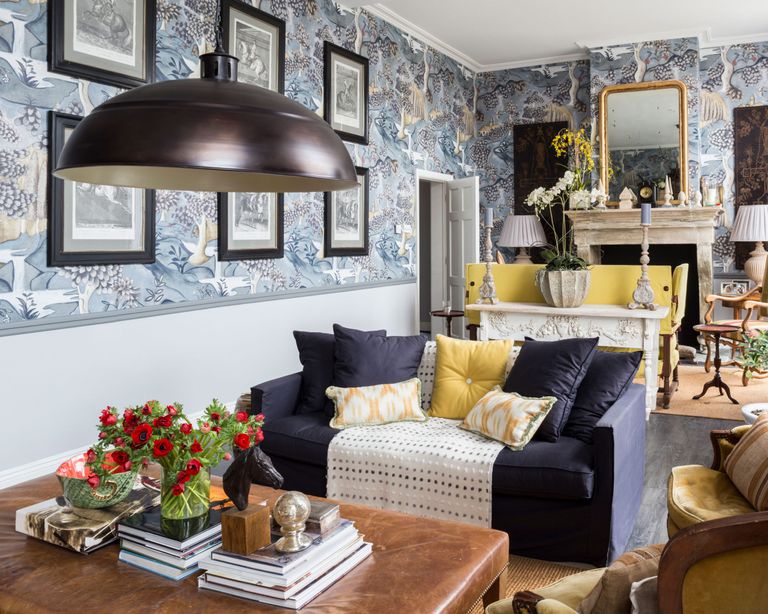 (Image credit: Mark Bolton)
While paint is a solid choice, our living room wallpaper ideas open up a wealth of exciting new decorating possibilities. The walls in any room make a huge impact on the overall style and feel of the space. Nowhere is this more clear than the living room, where we spend so much of our time. 
Whether you're designing your living room from scratch or simply want to freshen up the look, wallpaper is a wonderful option to explore. 'Wallpaper is so easy to use, with paste the wall technology it makes transforming your room unbelievably quick with no mess,' says Paula Taylor, Colour and Trends Specialist at Graham & Brown. 'Creating an instant fix of feel good wallpaper really brings a room to life by breathing personality onto the walls.'
Explore these living room wallpaper ideas to get your design pulse going...
See more: Living room ideas – inspiration, however you want to decorate
Living room wallpaper ideas – the H&G edit
Wallpaper is wonderful in a living room – you can use it on all four walls for a sumptuous look, limit it to one wall to create a feature wall, or to architectural elements, such as alcoves, to create focal points in what are often busy spaces.
See more: Wallpaper ideas – fabulous ideas for every room in your home
1. Work wallpaper into panels
If you have paneling in your living room, either because you're living in a period property or as a design feature added by the architect, you've got some easy ways to decorate the walls.
Rather than painting all over, make a statement of these panels by filling them with a bold patterned wallpaper, like this Seville Flamengo Fan design by Cole & Son. Choose a complimentary color to paint the mouldings, door and even ceiling if you want more drama.
2. Go supersized for contemporary impact
Wallpaper comes in just about every size imaginable, and especially if you have a fairly minimalist room, think big.
Use a mural to fill a wall with a single, large scale image, making a focal point of the wall itself. If you find a mural you adore but want a more traditional all-over wallpapering in your living room, note than a lot of mural designs are also available as wallpaper, creating an extra large repeat.
3. Co-ordinate living room wallpaper with paint
When you fall in love with a particular wallpaper print, paste it in a large alcove or feature wall. Choose a color from the print and paint surrounding walls in this shade, which will at once draw the eye to the wallpaper while making it fit seamlessly in the living room.
Paula Taylor, Colour and Trends Specialist at Graham & Brown, worked on the creation of the brand's Wallpaper of the Year 2021 – Timepiece Amethyst – which is pictured here. 
'There are so many shades in the pattern, with many accents, that will either co-ordinate or pop with your existing furniture,' says Paula. 'I love the way it is styled here with a tonal feature of the mauve sofa creating a calming layer then the accessories really highlighting the teal accents in the wallpaper. They are all enhanced with the subtle addition of warm metallics in the furniture.'
4. Make an entrance
If you want to avoid pattern in such an everyday room, remember that living room wallpaper doesn't even have to be in the living room itself.
Make sure of double doors to create a frame into a hallway. Use this transitional space to go all-out with color and pattern which will fill the living room with the doors open, and simply close them when you're looking for a different pace.
See more: Hallway wallpaper ideas – create an elegant entrance
5. Zone your space with living room wallpaper
In small living rooms, use wallpaper to create zones in the space.
Select a section of wall – maybe your favourite spot to read or enjoy an evening cocktail – and cover in a fun and punchy wallpaper. Keeping the other walls neutral will make this space stand out and feel like it's own area completely. Take note from this image and co-ordinate colors with furniture and window treatments for a consistent palette.
6. Turn living room wallpaper into artwork
Whoever said wallpaper must be pasted to the wall?
If you're renting or simply don't wish to commit to a wallpaper, cut a small section away and simply hang on the wall instead of traditional artwork. Although chances are you will fall in love with the design and end up wallpapering the whole living room anyway...
7. Keep a balance
When decorating a busy living room with a large repeat patterned wallpaper, there are a few things you should take into account to make it all work together.
Firstly, color match the wallpaper to your furniture and soft furnishings and the pattern will seem more at home in the room. Next, only apply the living room wallpaper above the dado rail, and paint the wall below in a neutral shade. Painting the rail itself in a mid color between the wallpaper and paint shades will help with the transition.
8. Create an illusion of height
To create the illusion of extra height in space, living room wallpaper can be a huge help.
Choose a small repeat wallpaper, as it will creates a trick of the eye, so you believe the many repeats mean the space it's pasted on is bigger than it is. Then stop at the picture rail, painting this, the space above and the ceiling in white and you won't feel hemmed in by wallpaper and the ceiling will appear much higher than it actually is.
9. Highlight a living room alcove
It can sometimes be difficult to know exactly what to do with an alcove.
Apply living room wallpaper solely to this area and the alcove will become its own decorative moment. It's a great way to highlight spaces you don't normally notice, and to draw the eye to the architectural details or historical quirks of your home.
10. Decorate internal partitions
As broken-plan layouts become more popular, many of us will have internal partitions that we're not sure what to do with.
Use wallpaper to decorate this and it will stop from becoming an annoyance in your living room. Also worth taking into consideration is that more of us are working from home than ever, this is also a great way to subtly divide up living rooms with home office or study spaces while remaining design-led.
11. Add interest to shelving with wallpaper
Perhaps you're not a fan of living room wallpaper, or maybe you just love one particular shade of paint and want that to take center stage. Either way, you can still decorate with wallpaper at the same time.
Open shelving or bookcases are a perfect spot to line with wallpaper, adding interest to otherwise empty spaces. Select a paper in the same tone of the paint dominating the room so as not to stand out too much.
12. Create the appearance of texture
To many people's surprise, wallpaper can actually add texture to a space. Textured wallpaper is an option, but a subtle trompe l'oeil adds the illusion of texture, adding more depth to your room.
How do I wallpaper a living room?
When adding wallpaper to a living room, you might feel as though you should start in a corner, as it appears easier to keep straight, however always start in the middle of the room. Use a spirit level or plumb line to mark the wall vertically before you paste the paper to ensure it falls straight.
Once the first piece is pasted the most important thing is to pattern match – simply hold the wallpaper against the already hung section and mark both the top and the bottom with where to cut.
Is wallpaper on trend for 2021?
Wallpaper is absolutely on trend for 2021. New techniques and finishes are being devised everyday, so regardless of your style there will be a look for you.
Interior designer's appetites for pattern is as big as ever, which wallpaper of course lends itself perfectly to.
Which wallpaper is best for a living room?
Whatever your living room palette is, there will be a wallpaper to match. Some of the biggest trends include murals, large-scale repeats and abstract patterns. If you're concerned about overloading such a commonly used space, look at some of the tips above for how to find the best ways to style wallpaper in your living room.