Best climbing plants – 10 best climbers for your back yard
Fit more color into the garden by sending plants sky high. These are the 10 best climbing plants to cover walls, fences, and archways with beautiful foliage and flowers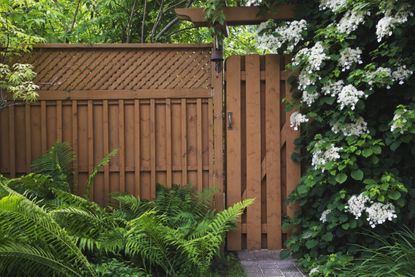 (Image credit: Getty Images)
For us, the list of the best climbing plants isn't subjective: in our opinion, these are the garden climbers to grow in your back yard. We have chosen a whole range of climbing plants to suit every spot – from shaded areas to small spaces – and every situation – for creating privacy, shade and color.
As with every great garden design, vertical features, such as pergolas, arches and trellis, will add structural interest and depth – and they're perfect for climbers to scramble over, which is why you might want to add at least three of these to your backyard ideas. The secret is to find the right place to plant them and keep them neatly pruned.
Best climbing plants
Climbing plants do require attention a couple of times a year – but they will reward you with stature, color, interest and scent. These are the best.
1. Best climbing plant for shade
Hydrangea anomala subsp. petiolaris AGM is one of the best flowering climbers to brighten a light-starved wall – wonderful if you are looking for garden shade ideas.
This deciduous hydrangea has attractive oval green leaves paired with large (sometimes 8in/20cm wide) lacy white flowerheads in summer.
'Climbing hydrangea is a staple in any classic garden,' says Pennsylvania-based landscape designer Nathan Tuno (opens in new tab), who works at Roots Landscape Inc. 'It can be controlled easily too. The old adage goes that: the first year it sleeps, the second year it creeps, and the third year it leaps – knowing that gives gardeners the ability to maintain and control it.'
If you know how to grow hydrangeas, you will know that they can be slow to establish, eventually becoming vigorous. This one will form a woody framework that clings via aerial roots. Native to the Himalayas, it enjoys a cool, sheltered site – a north or east-facing wall is ideal. Pruning hydrangeas will help them keep a neat shape.
Height: 40ft (12m).
USDA 4-7 (UK H5).
2. Best climbing plant for trellis
Humulus lupulus 'Aureus' AGM (the golden hop) has superb lime-yellow leaves that light up the garden. In summer, it produces primrose-green cone flowers. Then, in fall, the leaves glow butterscotch, and the plant is hung with hops. For us, it's one of the best fast-growing flowering vines.
'A fast-growing perennial climber, this hop never fails to raise a smile,' says London-based garden designer Claire Mee (opens in new tab). 'It's popular with butterflies and moths, being a caterpillar-food plant. It ​has bright acid-green leaves and looks great alongside a climbing rose or clematis. Its hops can be used for fresh and dried flower arrangements – and even for brewing your own beer – what's not to love?'
Ideal for clothing trellis, fencing, or a pergola. For the best color, grow this deciduous climber in sheltered sun, in moist, well-drained soil. Cut down to the ground in November or March.
Height: 20ft (6m).
USDA 4-8 (UK H6).
3. Best climbing plant for a sunny spot
Vitis coignetiae AGM – in fall, the broad leaves of the crimson glory vine blush fabulous shades of ruby and scarlet. It is related to the grape vine, but is healthier and doesn't produce edible grapes.
'This vine has wonderful autumn color and can cover walls and trellis easily when planted in the right space,' says landscape designer Nathan Tuno of Roots Landscape Inc. 'It can always take a good hacking and still springs back, relentlessly providing interesting foliage and berries for wildlife.'
Being enthusiastic, it is excellent sent over an unsightly outbuilding or along a dull fence. Plant in full sun for the richest color; in neutral to alkaline soil; and prune in midwinter to control its vigor.
Height: 50ft (15m).
USDA 5-9 (UK H5).
4. Best climbing plant for flowers
Rosa The Generous Gardener AGM is a repeat-flowering English climbing rose, bred by David Austin (opens in new tab), and dedicated to people who open their gardens for charity.
The buxom shell-pink flowers resemble water lilies and exude a delicious rosy scent laced with musk and myrrh. Learn how to plant roses and you can grow this healthy, reliable gem in rich, moist, well-drained soil in sun or semi-shade.
Prune roses to keep them shapely and in check.
Height: 15ft (4.5m).
USDA 5-10 (UK H6).
5. Best climbing plant for scent
Lonicera x heckrottii 'Gold Flame' AGM is a candy-colored honeysuckle to scent the air with beautiful perfume on summer evenings. The pink, peach, and amber flowers attract butterflies, hummingbirds, and moths, and the scarlet berries feed birds in the fall.
'This lovely plant is a great weaver amidst other deciduous climbers,' says California-based garden designer Laura Morton (opens in new tab). 'I plant it with ornamental grape vines or climbing roses, so it has something to grasp onto and to create a spellbinding combination. Then I prune it hard, so it doesn't overwhelm or block out too much sun. I also like using it on a brightly painted tuteur (three-dimensional trellis).'
The US Forest Service (opens in new tab) says that L. x heckrottii is not invasive in the States, but warns that some other forms (such as L. japonica) can be, so check what is invasive in your area before purchasing honeysuckle.
Grow this semi-evergreen climber in humus-rich, well-drained, moist soil in sun or semi-shade.
Height: 16ft (5m).
USDA 5-9 (UK H5).
6. Best climbing plant for walls
Clematis viticella 'Purpurea Plena Elegans' AGM is a favorite in cottage gardens; in fact, this is the oldest garden clematis, cultivated in France over 200 years ago.
The ruffled dusky-magenta blooms resemble silk flowers from a vintage shop, giving it old-world charm when it blooms in late summer and early fall.
'I use clematis such as 'Purpurea Plena Elegans' a lot as a complement to stone walls,' says landscape designer Richard Schipul. 'Whether it's a seating wall or a retaining wall, we plant it so that it hangs over and rambles down the wall. Our clients love the way it softens the wall and adds a punch of color.'
It's easy to get to grips with how to grow clematis. Grow in well-drained, fertile soil in sun or semi-shade, as container gardening ideas, and always with the roots shaded by other plants. You can prune clematis of this kind lightly to keep it in shape. This is a beautiful cultivar but there are many choices for best clematis to grow.
Height: 10ft (3m).
USDA 4-9 (UK H6).
7. Best climbing plant for pergolas
Akebia quinata flowers from late March to May; the chocolate vine produces maroon flowers that smell of spiced vanilla – wonderful as one those more unusual pergola ideas.
'I really like Akebia,' says Irene Kalina-Jones, landscape designer at Outside Space NYC (opens in new tab) in New York City. 'I like the funky flowers and leaves. I like them to go up brownstone railings. They are easy going and not aggressive here.'
Be aware that Akebia quinata is invasive in parts of the midwest US, where it should be pruned well or avoided.
It has attractive semi-evergreen bright-green leaves; and in warm regions, will produce wonderfully weird purple fruit, if there is another chocolate vine in the vicinity.
Grow in well-drained, moist soil in sun.
Height: 30ft (9m).
USDA 5-8 (UK H6).
8. Best climbing plant for pollinators
Rosa 'Parkdirektor Riggers' – clusters of blood-red blooms with golden stamens adorn this repeat-flowering climbing rose in summer and fall.
It is grown for its crimson color and semi-double flowers (which provide food for bees) rather than its scent, which is faint.
Suitable for south, west, east, or north facing walls or facades. Grow in rich, moist, well-drained soil.
Height: 13ft (4m). USDA 5-10 (UK H6).
9. Best climbing plant for the front of a house
Wisteria floribunda 'Kuchi-beni' AGM – elegant, long racemes of fragrant white flowers flushed pink-mauve adorn this old Japanese wisteria in May and June.
Ideal for a sturdy pergola in sun, in moist, well-drained soil, and requires pruning twice a year.
Do not grow in states (such as South Carolina) where W. floribunda is invasive, unless you are prepared to prune it – instead, grow a less vigorous American wisteria (such as 'Amethyst Falls').
Height: 30ft (9m).
USDA 4-9 (UK H6).
10. Best climbing plant for color
Passiflora caerulea AGM – the blue passion flower has incredible exotic flowers with purple filaments over white petals, from July to September. It also produces orange egg-shaped fruit and has dark-green leaves that are deciduous or evergreen, depending on the climate. For us, this can be classed amongst the best evergreen climbers you can grow.
'Passion flower vines bring instant drama to the garden,' says Oregon-based landscape architect and garden designer Bethany Rydmark (opens in new tab). 'The Passiflora genus boasts more than 500 species from around the world, and discovering your favorite show-stopping flower can be a personal quest for the adventurous gardener. While some passion flowers are native to the tropics and South America, the Native American tribes made use of the beautiful blooms and fruits of Passiflora incarnata, known as Maypop, whose common name perhaps comes from the sound of prolific fruits underfoot.'
Being a twining climber, it needs something to cling to, such as trellis.
Grow in moist, well-drained soil in sun.
Height: 30ft (9m).
USDA 7 to 9 (UK H4).
What is the easiest climbing plant to grow
The easiest climbing plants to grow – and the one that is the most rewarding – are climbing roses. Opt for a healthy, repeat-flowering variety that is richly scented, such as Étoile de Hollande, which has buxom crimson blooms and a strong, delicious perfume. Elegant and timeless, it is perfect for growing up the front of the house or over a pergola, making it a wonderful choice if you are looking for garden privacy ideas, and wonderful blooms.
What is the fastest growing climbing plant
Clematis montana is a really fast-growing climbing plant, sending out shoots from spring. This makes it perfect for long stretches of trellis and pergolas and arches; however, it will twine around and choke other plants if it's kept unchecked. Trimmed neatly, though, it is a wonderful evergreen that has showy, scented blooms in early spring.
Lucy Searle has written about interiors, property and gardens since 1990, working her way around the interiors departments of women's magazines before switching to interiors-only titles in the mid-nineties. She was Associate Editor on Ideal Home, and Launch Editor of 4Homes magazine, before moving into digital in 2007, launching Channel 4's flagship website, Channel4.com/4homes. In 2018, Lucy took on the role of Global Editor in Chief for Realhomes.com, taking the site from a small magazine add-on to a global success. She was asked to repeat that success at Homes & Gardens, where she has also taken on the editorship of the magazine.