Cold brew vs iced coffee: what's the difference and which is best?
The cold brew vs iced coffee debate continues, so I spoke to baristas, coffee experts, and roasteries for tips, tricks, and expert insights on the processes.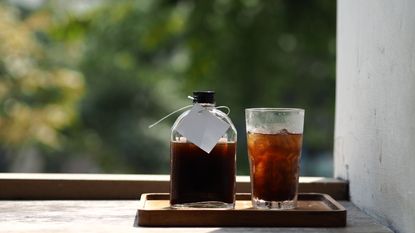 (Image credit: GettyImages)
Sign up to the Homes & Gardens newsletter
Decor Ideas. Project Inspiration. Expert Advice. Delivered to your inbox.
Thank you for signing up to Homes & Gardens. You will receive a verification email shortly.
There was a problem. Please refresh the page and try again.
The cold brew vs iced coffee debate is ironically a hot topic amongst coffee drinkers. Baristas, coffee connoisseurs, and roasters alike have their preferences and defend them fiercely. However, if you're new to the scene, you might not know the difference.
Both are great coffees, but they taste completely different. Cold brew takes at least 12 hours to make and it's never heated. In cold brew coffee, the divisive acidity of iced coffee is almost imperceptible. It's smooth and chocolatey. Iced coffee is more acidic and bitter. It tastes like hot coffee, but cool.
If you prefer sweeter drinks or have a sensitive stomach, it's worth learning how to make cold brew coffee. If you're strapped for time or always over-brewing, it's easy to make iced coffee from hot coffee.
As a barista, I've made countless cups of both coffees. I asked other professionals, roasteries, and coffee connoisseurs for their top tips on making iced coffee and cold brew.
What's the difference?
Iced coffee is coffee that's been cooled with ice. Cold brew coffee, on the other hand, is coffee brewed at a cold temperature. It's a simple difference, but easy to confuse because the names are so similar.
Iced coffee vs cold brew taste test
When it comes to which is best, it depends on how you like your coffee. Cold brew and iced coffee have different flavor profiles. Cold brew's sweeter, smoother notes works well for those who usually don't drink coffee. Iced coffee's acidity appeals to the dedicated hot and cold daily drinkers.
Iced coffee is great if you want more body and balance in your cold cup. If your coffee has been cooled using water ice cubes rather than coffee ice cubes, it can be a bit too weak.
If the acidity of normal coffee upsets your stomach, cold brew could be the answer. Dietician and nutritionist, Lisa Richards says that 'since cold brew is made with cold water, it tends to have a slightly lower acidity level, which may be beneficial for those with sensitive stomachs'. If you struggle drinking normal coffee, it's worth giving cold brew a shot.
Nutritionist
Nutritionist
Lisa Richards
Lisa is a nutritionist and author of the Candida Diet. She's been researching and writing on Candida and diet for over 20 years.
When it comes to flavors, Jai Lott, VP of Product at Blank Street, says that 'cold brew often gets lost next to iced coffee and doesn't get the recognition it deserves for being a stronger, smoother, more well-rounded alternative to iced coffee'. He's tested a number of recipes, looking for ways to complement the natural chocolate and vanilla tones in cold brew. His favorite recipes are brown sugar cold brew, chai cold brew, and grapefruit cold brew.
VP of Product
Jai is a coffee industry veteran who is the VP of Product at Blank Street. He's passionate about cold brew and has dedicated days to finding the best flavor combinations.
How to make iced coffee
Both brews start with freshly ground coffee. Kayla Stavridis, from Barista HQ, says that using a fresh, quality grind 'is paramount in both methods. For iced coffee, stick to your regular grind, as you would for hot coffee. When it comes to cold brew, go for a coarser grind'. This texture will be easier to clean up and will give you a sweeter tasting cup. The best way to customise your grind is by using a top quality grinder.
Barista HQ
Barista HQ
Kayla Stavridis
Kayla Stavridis is the Head of Marketing at Barista HQ. She's always up to date on coffee trends , especially cold brew and iced coffees too.
Making iced coffee is simple. You brew fresh coffee as you would normally and then chill it in the refrigerator. Alternatively, you could brew hot coffee over ice. When you pour hot coffee over the frozen coffee cubes, they melt, but won't dilute your brew. Alternatively, specialist coffee makers adjust the intensity of the espresso to counterbalance ice cube dilution.
Breville Barista Pro Espresso Machine
An expert espresso machine for professional, barista-quality coffee making, this machine is hard to fault. The adjustable settings mean that you can pull the perfect espresso shot over ice without it turning bitter.
An easy option for coffee lovers, Nespresso have launched special pods for iced coffee, so you can enjoy a cold brew without any bitter or acidic flavors. Simply put a pod in, press a button, and you're ready to go.
How to make cold brew
I spoke with Hash Parvez, the Field Coffee Trainer at Blank Street for his cold brew top tips. He recommends Ethiopian and Kenyan beans like these from Union for the perfect cold brew shot. He steeps coffee grounds in cold water for over 12 hours. You can leave your grounds in water for up to 24 hours if you want a more concentrate result. Once you've brewed your coffee and filtered out the grounds you'll have very strong cold brew, which you need to dilute. Hash describes this as 'packed with an incredible texture and flavor, without the bitterness of a traditional espresso shot'. That's why it's a brilliant alternative if you don't like hot coffee.
Specialist cold brew machines like this at Amazon might have different instructions. If you don't have one, make sure that you use coarse grinds in a French press. Add them to filtered, cool water in a 1:8 ratio of coffee to water. I like to use a French press for my cold brews as it can go straight into the fridge.
Espro's French press is an investment. It's more expensive than average, but the stainless steel, double walled, double filter mechanisms means that you'll brew a smooth and aromatic coffee, perfect for icing.
This elegant French press is ideal for steeping your coffee in, hot or cold. It's easy to clean and makes really smooth coffee. It's also a reasonable price too, so you can make cold brew for less money.
Field Coffee Trainer
Field Coffee Trainer
Hash Parvez
Hash is the Field Coffee Trainer for Blank Street coffee. This means that he is the expert for all experts, issuing coffee knowledge at the top of the coffee chain. He spends his time testing out different recipes and training baristas.
Professional Tips
I also asked roastery experts how to enhance the flavors in cold brew and iced coffee. Tom Sobey, founder of the speciality coffee roastery Origin Coffee, gave me some brilliant tips for exceptional brews. He recommends that you 'dial in your machine, weigh your coffee, and use freshly ground beans any time you make coffee', which almost goes without saying. To experiment more with your coffee, he recommends making cold brew cocktails. I've tried a cold brew mojito and a cold brew margarita and I can recommend both of them.
Tom also adds sparkling water to his cold brew for a refreshing drink. He recommends a 1:1 ratio. You can swap sparkling water for tonic water or ginger beer and a slice of grapefruit or orange. These both have tangy and bitter notes as well as some sweetness. Balanced by the sweet cold brew flavors, you'll have a well-rounded cup.
Founder of Origin Coffee
Founder of Origin Coffee
Tom Sobey
Tom founded Origin Coffee, a leading speciality coffee roastery based in the UK. He knows all the details of coffee, especially the flavors, notes, and how best to enjoy them. All their coffee is traceable and sustainable too.
FAQs
Is cold brew the same as iced coffee?
Although both products require coffee grounds and filtered water, their taste profiles are very different. Cold brew is extracted in cool conditions over 12 hours, whereas iced coffee is hot coffee that has been cooled down. As a result, iced coffee is more bitter and acidic than the iced counterpart.
Can you heat cold brew?
Yes. When you make cold brew, the resulting liquid is a concentrate. You can add this to hot water for a warmer, sweeter version of your hot coffee.
Can you heat iced coffee?
Yes. If you skip the iced part of the coffee, it's already hot. You can re-heat it, but it might start to taste a little stale.
Is iced coffee stronger than cold brew?
When you make cold brew at home, you'll produce a concentrate. This is stronger than iced coffee and needs to be diluted. Once both are ready to drink, one is not stronger than the other. The main difference is in their flavor profiles.
Is cold brew better for my stomach?
It can be. Cold brew extracts coffee oils in a more gentle process, meaning that there are less acidic and bitter notes to the drink. If you suffer from acid reflux, dieticians suggest that cold brew might not have the same, unsettling effect on your stomach as iced coffee.
---
Our Verdict
Choosing between iced coffee and cold brew can be a tricky decision to make. They're brilliant in different ways. I'm newer to cold brew, so tend to reach for it more often. I've found that adding this vanilla paste from Amazon to my cold brew works much better than sugars because they don't dissolve as well in a cold liquid. It's worth experimenting. After trying some cold brew mojitos a couple weeks ago, adding ginger beer to cold brew is going to be my next trial.
Sign up to the Homes & Gardens newsletter
Decor Ideas. Project Inspiration. Expert Advice. Delivered to your inbox.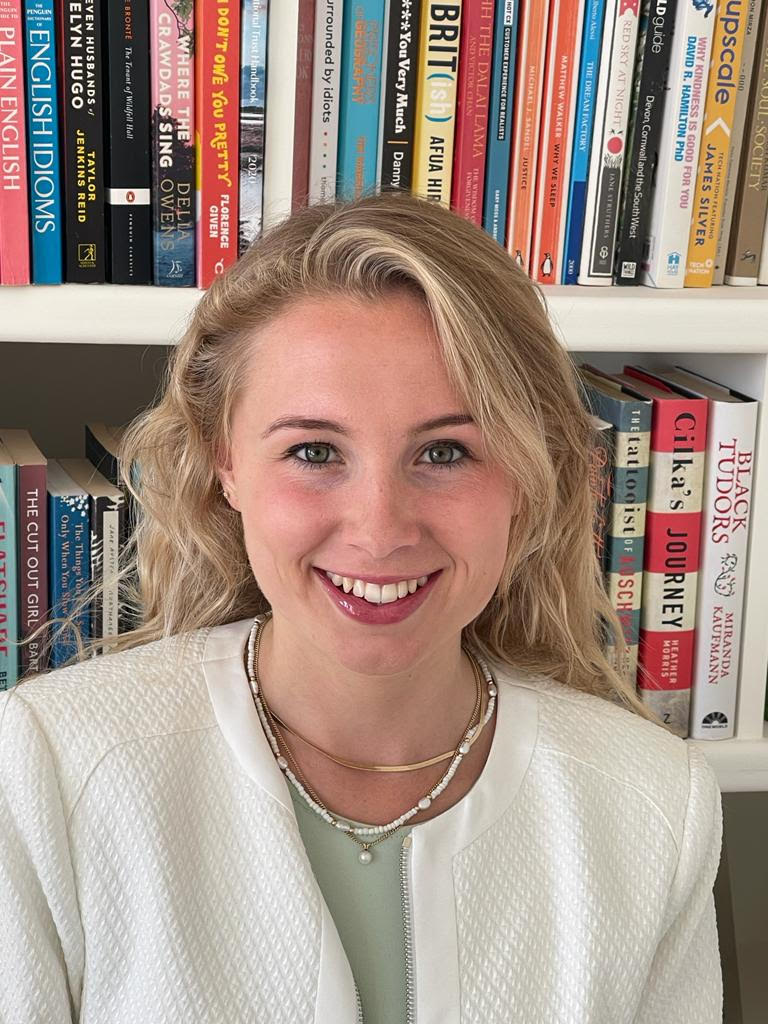 Laura is our eCommerce editor. Before Homes & Gardens she studied English at Oxford University. Alongside her studies, she qualified as a barista and trained as a master perfumer. This makes her our certified expert for all things coffee, candles, and fragrance. She has passed our five-step tests to become a certified Customer Advisor, making her our resident expert. Laura has worked for luxury retail brands, reinforcing the importance of quality and style over quantity and fads. She looks for products which have been designed with thoughtful finishes.