'How I celebrate Christmas' – six of our favorite designers reveal their cherished Christmas traditions
We all celebrate Christmas differently – this is how everyone from Paula Sutton to Paloma Faith spend their holiday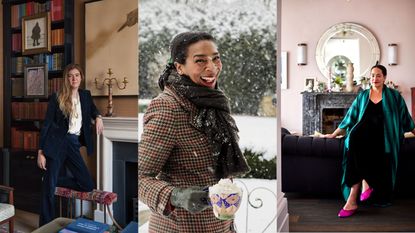 (Image credit: Press material)
The festive season is twinkling on the horizon and so here at Homes & Gardens we turn our thoughts to Christmas decor ideas and all the ways to bring a little extra joy into your home. It feels more important than ever this year, after the disappointment and challenges we've faced during the pandemic.
To get into the holiday spirit and start to feel those festive tingles, we asked some of our favorite designers and creatives to share their Christmas traditions and the special ways that they deck their oh-so stylish halls…
Interior designers Veere Greeney, Sophie Ashby and Flora Soames are joined by singer-songwriter turned homewares designer Paloma Faith, shoe designer Olivia Morris and the delightful influencer behind Hill House Vintage, Paula Sutton.
Veere Greeney, interior designer and author
'When I was growing up in New Zealand, where my parents had emigrated to, the celebrations were always small and I carry on that tradition. Before Christmas, I throw a drinks party for 30 to 40 people, but on the day it's just six or eight friends.
'I've spent the past four Christmases at my house in Tangier – before that, I was at my Suffolk country house. I like decorations to be slightly kitsch. When I first started celebrating in Tangier I bought an incredibly expensive, 6ft tall artificial tree, which is fireproof so I can have real candles on it.
'To the decorations that I've collected over decades I've added funny little wooden camels found in an Egyptian tourist shop, replicas of Hindu gods like Shiva bought in India and a stone Buddha from China.
'As for Christmas fireplace decor, I hang stockings for each friend staying, and there's always an orange at the bottom – an ode to my father, who insisted that we had oranges in our stockings as children.'
Decorating top tip: 'I buy huge armfuls of narcissi and paperwhites at Tangier markets and fill the house with them. The scent is almost drunk-making.'
My new Christmas tradition: 'I always buy M&S sausage rolls – they're delicious with Champagne on Christmas morning.'
Paula Sutton, interiors and fashion influencer
'Christmas starts the first Saturday in December when we go to pick out our Christmas tree from the Great Melton Estate in Norfolk, near to where we live, which is a tradition started about 30 years ago when I first started dating my husband and this is where his parents would go for their tree.
'Decorating the Christmas tree is a communal exercise in the sense that everyone sits around and helps pass ornaments to me, including things my son and twin daughters made when they were younger, as we have some mulled wine. I also tie bows to the branches – last year they were red, maybe this year I'll do green. They're pretty, traditional but also easy.
'With the mantelscape, I have fun recreating the idea of a Miss Havisham's Christmas: ivy creeping out of the bookshelf, across the mantel and up the wall, it's very Victorian in abundance, with natural Christmas foliage from my woodland walks tucked in and a vintage Fulhamware vase filled with faux apples, figs, grapes and gold sprayed walnuts.
'I love the familiar smell of cinnamon, clove and nutmeg at Christmas, which comes from my Grenadian heritage – I burn The White Company's Winter candle, and oven bake slices of oranges to put into bowls of potpourri around the house and to hang within the tree.
'I dress the table with vintage plates and French dyed linens, and I have fun with vintage napkin rings tied with bits of holly or rosemary from the garden to smell fragrant. I do little handwritten name tags to make it feel a little bit special – it gives me an excuse to doodle and do little funny cartoons.
'We play boardgames, drink too much, laugh and reminisce. I don't feel the need to be innovative with a different theme every year because I think it's all about memories and having a sense of continuity. After losing my mother last year, I've realized that I want each Christmas from now on to be more precious, more poignant and more memorable.'
Personal presents: 'I customize small hampers as gifts for family and friends – there's always a book on something they're interested in (for my father, it would be something on gardening, for my husband something on classic cars), and this is where I delve into Instagram to find small makers, like niche perfume brands or interesting accessories. It's meant to be like a box of tricks that they couldn't find themselves.'
Delicious treats: 'Our Christmas breakfast has been gravadlax and quails' eggs with celery salt, Champagne and orange juice for as long as I can remember, and every year I order a traditional Christmas pudding from Fortnum & Mason.'
Dazzling decs: 'I tie a little bow to the top of crystal droplets salvaged from an old chandelier – they catch the light and make everything sparkle. I like to imbue Christmas with an air of vintage and nostalgia – it is a theme that goes through everything I do.'
Paula's new book Hill House Living: The Art of Creating a Joyful Life (Ebury Press) is out now.
Sophie Ashby, interior designer and founder of Studio Ashby, co-founder of Sister by Studio Ashby
'This year my husband Charlie (Casely-Hayford) and I are looking forward to hosting Christmas with as much of our family here at home in London – including my parents, over from Portugal where they live, Charlie's mum, his sister Alice (with her husband and new baby) and my sister Rose (Head Chef at Skye's Gyngell's restaurant Spring) with her new husband Ollie. We love everyone to stay over, even if it's on sofa beds and mattresses.
'Apart from buying the biggest Christmas tree we can find, dressed with hundreds of felt and knitted creatures I sourced from Etsy – complete with a little mixed race felt fairy for the top of the tree in honor of our daughter Gaia being born last May, and a wreath on the door, I don't really go for the decorations for the rest of the house because it feels a bit too cluttered, Christmas is less about the decorations or the gifts and more about the food.
'I always look forward to Rose doing all the cooking because she does it so quickly and efficiently, with so little stress and worry; and we'll order loads of Spring-to-go treats like extra sauces, breads, cakes, chocolate covered dried orange pieces and a ham to supplement the festive break. The festive break becomes a chill out time – I love the idea of doing cultural things like going to the ballet, but the reality is we're all so exhausted from the year that we love to flop and not to be too much pressure on the situation.'
Decorating the Christmas table: 'It's all about color, with Murano tumblers, vintage Art Deco flutes, festive flowers and foliage, ceramic unicorn candlesticks by Andrea Shemilt Kashanipour from The Shop Floor Project, some beautiful By Eleanora napkins embroidered with everyone's name on them, a gift from sister Alice last year, and crackers, wrapping and cards from The Conran Shop.'
Feel-good gifts: 'I plan to gift the colorful kitchen mitts we've created in partnership with Fine Cell Work for Sister by Studio Ashby this Christmas. Made from 100% leftover fabrics, they are not only useful but help support this charitable social enterprise to help prisoners build fulfilling and crime-free lives.'
Cocktail chic: 'My favorite festive cocktail is Rose's own take on Spring restaurant's Lemon Verbena and Pepper Fizz which combines gin, lemon verbena liqueur, lime juice, sugar, soda water topped with a touch of egg white and topped with black pepper.'
Olivia Morris, shoe designer
'Christmas is about making it magical for our kids, Percy and Daphne, and as relaxing as possible for me. It's never a huge gathering. In mid-December, we choose our tree at Harborough Nurseries and decorate it together with ornaments collected on our travels as well as new ones I buy for the kids every year to open when we get the tree.
'Just before Christmas Eve, we forage for flowers, holly, berries and grasses at a nearby country park to decorate the table, hallway and a wild wreath that I add to every year (I first made it on a course at Great Dixter 10 years ago).
'I don't go mad spending – I cut last year's Christmas cards into gift tags and wrap presents with marbled paper I make myself (I did a great workshop with Unit 33 Studio) or brown craft paper that the kids decorate. I set the table in green and white, with embroidered Irish linen from my granny and vintage Wedgwood cabbage plates.
'We make a special trip to AG Hendy's Christmas House and I always buy a little piece of silver cutlery to add to our collection. I light lots of candles and burn incense from Astier de Villatte and Ayu – I love its clary sage. Bringing out things that once belonged to the people we love makes it feel like they're still with us.
'My mum cooks the same Christmas Eve supper we've had since I was a little girl – Guinness ham with mash and parsley sauce – and we go to mass at the church in Hastings Old Town. On Christmas morning, after opening stockings and if the weather is nice, we attempt the Christmas Day seafront swim. It's fun to have a chat and stroll with neighbors before lunch – a ready-rolled turkey joint with delicious stuffing from Pipers Farm – and lots of playing music and dancing around the kitchen.'
My new Christmas tradition: 'Last year I went to a pound shop and bought tinsel in every color, then made an extra-long rainbow garland to string up the staircase.'
Paloma Faith, singer-songwriter
'I'm looking forward to being with my family, and this will be the first Christmas for my new baby.
In terms of holiday traditions, I try to theme the tree to go with my wrapping, but it's usually executed within the realms of chaos. Every year I go on an internet scavenge for the best pop-up Christmas cards. I often have an idea in my head and when I can't find it out there, I make it myself.
'We go foraging for twigs and cones for the kids to make their own decorations. Last year I had kitsch Covid-related decs and a real flower wreath from Gypsy Rose Flowers.
'I'm quite clashy when it comes to the table – a leopard print tablecloth, a mix of vintage pieces and plates with bonkers pictures on them from Toiletpaper, colorful glasses and Meri Meri decorations.
'On the day, it's a bit of a free-for-all. Dishes are influenced by the Mediterranean and my partner's Algerian heritage – I start with tapas, like bits of tortilla on sticks, spicy olives, chorizo and pan con tomate, before the traditional roast and Jamie Oliver's potatoes – the helm of my Christmas meal! We also visit local food banks; my five-year-old chooses three of her presents to rewrap and donate.'
My new Christmas tradition: 'My daughter and I write a letter to Santa, to leave out with his snacks. Getting a letter back is almost the most exciting part of the day.'
Flora Soames, interior and fabric designer
'Christmas for me is an amalgamation of comforting rituals I've loved all my life and recreating them for my 18-month-old daughter Lily.
'Decorating the house is about bringing the outside in – filling vases with dogwood and putting holly on top of pictures. I hang garlands around the house, dotted with fir cones and fairy lights – so joyous!
'The table, which this year I might dress in a tablecloth in my Pavilion striped linen voile (and if I had the energy, wouldn't it be wonderful to tent the ceiling?), is strewn with gold reindeers, colorful vintage plates, candles and small pots of flowers – I don't like anything to match too much.
'In terms of the meals, our Christmas tradition is to have glazed ham with hearty baked potatoes on Christmas Eve and a classic turkey lunch (I like Nigella's brined approach).
'We go for long walks with the dogs and watch the Queen's Speech before collapsing in a heap. More than anything this year, the holidays will be about celebrating with family. I hope my sister makes it over from Hong Kong, so our kids can make new festive memories together.'
My (not so) new Christmas tradition: 'I listen to Carols from King's while wrapping and play Kiri Te Kanawa's Nuns' Chorus, which my father used to blare at full volume.'
Sign up to the Homes & Gardens newsletter
Decor Ideas. Project Inspiration. Expert Advice. Delivered to your inbox.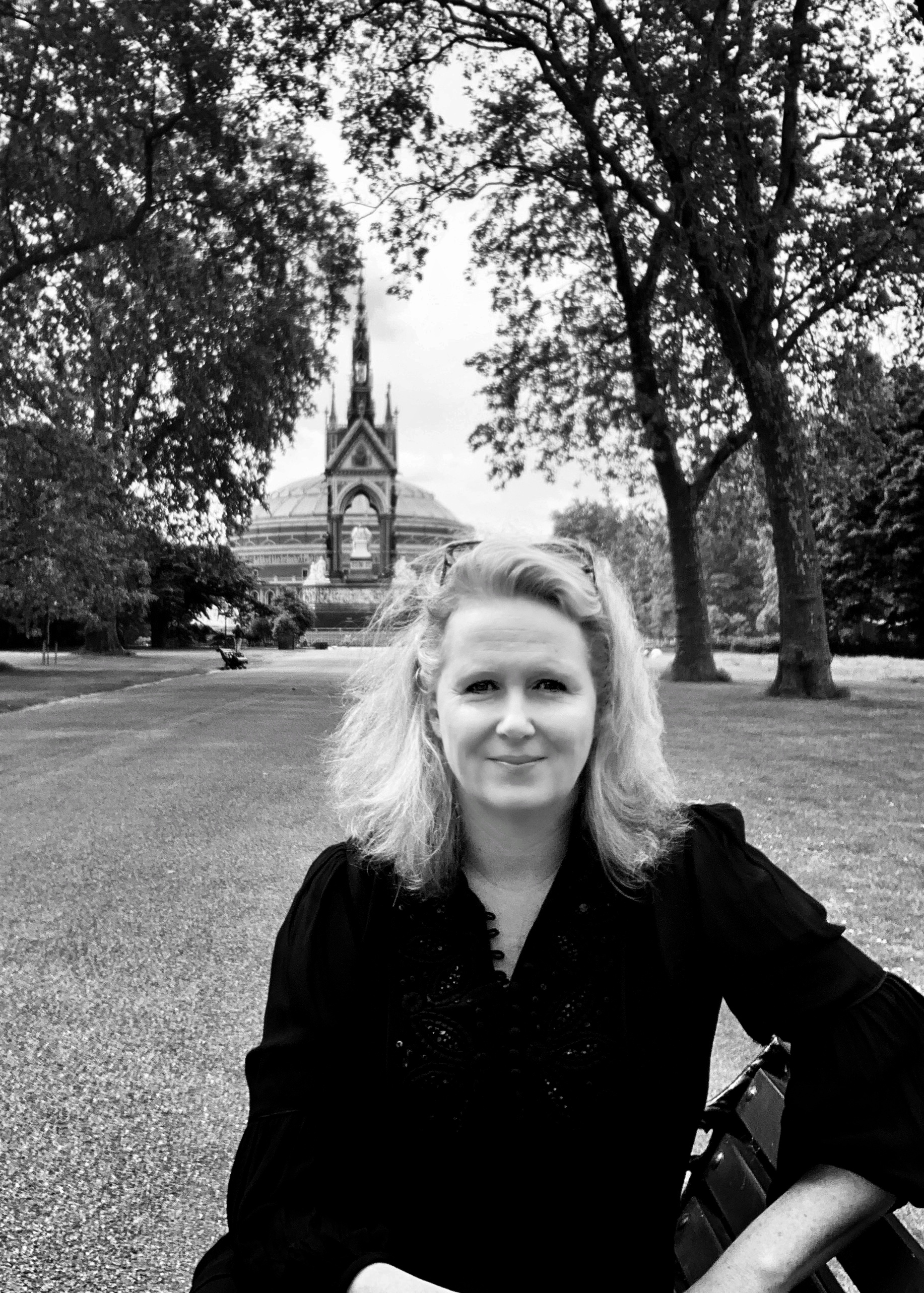 For more than two decades, lifestyle journalist, international contributing editor and author Fiona McCarthy has been covering interiors, gardens, fashion, beauty, food and travel for leading newspapers, design titles and independent publications around the world, especially the UK, Australia and US*. Whether it's writing about a designer or owner's thought process behind creating a unique interior, the ethos for a new table or chair, or the incredible craftsmanship of an artist or maker, Fiona's particular passion is getting to the emotional heart of a story, understanding what makes a new idea or space relevant, and important, for now. Australian-born but London-based for almost thirty years, Fiona's constant curiosity, love for learning and lifelong interest in architecture, history, art, music, dance, theatre, food (both dining out and cooking) and all areas of design helps to bring her stories to life by connecting the past and present with inspiring thoughts for the future.