I tried the TikTok-viral dalgona coffee trend: a barista's thoughts
I tried the viral whipped coffee trend, so that I could tell you everything you need to know about dalgona coffee, from whipping to sipping.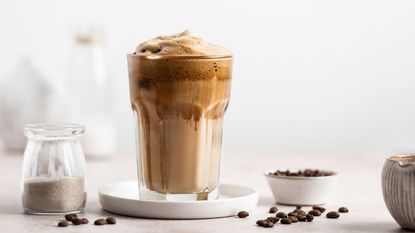 (Image credit: GettyImages)
Sign up to the Homes & Gardens newsletter
Decor Ideas. Project Inspiration. Expert Advice. Delivered to your inbox.
Thank you for signing up to Homes & Gardens. You will receive a verification email shortly.
There was a problem. Please refresh the page and try again.
Bulletproof coffee, oleato coffee, grapefruit cold brew; I thought I'd tried all the coffee trends, but TikTok reminded me of dalgona coffee. Across the world, people are using store cupboard basics to make whipped coffee.
Known for its cloud-like texture, this fluffy, foamy coffee can be served over ice or warm. All you have to do is whip instant coffee with sugar (or a sugar alternative), and hot water. Once you add in some milk, this brew has some beautiful aesthetic appeal. But with nearly as much sugar as a can of coke, does this viral coffee trend stand up scrutiny?
I spoke with other baristas, chefs, and coffee experts so that I could learn how to make the best dalgona coffee possible. I've also added my own twist and tried one with fresh coffee from my espresso machine too. However you make it, the method is simple, sweet, and tastes surprisingly good.
Almost everyone already has the basic ingredients for whipped coffee. Whether you're a qualified barista or not, you can level-up your daily cup.
Where did Dalgona coffee come from?
Commonly known as whipped coffee, dalgona coffee originally comes from Macau. Whipped coffee has been around for years, but it saw a resurgence during the pandemic when people started experimenting with fancy coffees from the comfort of their own homes. When the trend hit South Korea, it was given the name dalgona, because it looks like the Korean candy, even though it's not in the recipe. You'll see it under a number of names, such as 'frappe coffee' in Greece and 'beaten coffee' in India. Whatever you call it, the basics are all the same.
How do I make Dalgona coffee?
There are lots of recipes online, but the method of making dalgona coffee is simple. You take two tablespoons of instant coffee, two tablespoons of boiling filtered water, and two tablespoons of sugar. Place all of them in a a bowl at the same time and use a hand whisk to whisk the mixture until it's thick and forms soft peaks.
As a barista, I was keen to try this recipe. I'm well-stocked with most coffee gadgets and beans, but the one thing that I avoid is instant coffee. I think I'm in the minority though, since lots of people use instant coffee. I went to the store and bought instant coffee, but I also wanted to try the same results with a fresh espresso.
I followed the 1:1:1 ratio when using instant coffee and was amazed at how quickly I made dalgona coffee. Two tablespoons of instant coffee, two tablespoons of sugar, and two tablespoons of water was the perfect amount for my 9 fl.oz cup. Most people said to whisk it for ten minutes, but mine only took one. My Smeg hand mixer, which you can buy from QVC, is really strong, so don't expect the same speed.
Shaif Ahmed, coffee expert from Berry To Brew, recommends that you 'start whisking on a low speed and gradually increase to high via medium, this will lead to a great and long-lasting fluffiness with a tight, aerated texture'. If you start with a high speed, there's a high chance you'll spray coffee everywhere and create large bubbles. On my first attempt at dalgona, this is exactly what I did. My white top was decorated with coffee splatters, but it tasted great in the end. You can also use a hand whisk, like these from Walmart. It might be more like a mini-workout, taking up to fifteen minutes to achieve a velvety texture, but needs must when it comes to coffee.
Coffee Expert
Shaif is Editor-in-chief at Berry to Brew, a website which specialises in all things coffee. He is an avid coffee drinker and has a published recipe on Dalgona coffee already. He's already done the troubleshooting so that you can make a perfect brew.
When I used a fresh espresso from my espresso machine, I had to adjust the recipe. Rather than using two teaspoons of instant coffee and two teaspoons of water, I used four teaspoons of espresso. My dalgona was identical to the instant coffee recipe, but I far preferred the taste of my fresh espresso. It had a lot more depth and richness, rather than my bitter, instant dalgona. I think it's not the default option in recipes, because dalgona is popular for being accessible for anyone, and not everyone has an espresso machine.
However, I found another fresh-coffee supporter in Kayla Stavridis, Head of Marketing at Barista HQ. She recommends using a 'rich espresso shot to give your dalgona a more traditional, bold taste. One of the most reliable machines I've used is the Breville Barista Express, which you can buy from QVC, due to its precision and consistency'. In absence of an espresso machine, Kayla recommends 'rich and robust instant coffee, such as Nescafe Gold or Starbucks Via Instant'.
Both the instant and fresh coffees that I made tasted very sweet, but because they aren't diluted much, they're also very strong. If you don't normally drink espressos, I'd recommend playing with the recipe to achieve a palatable brew. Baristas recommend serving dalgonas over ice with a splash of milk, which dilutes your coffee and gives a beautiful contrast between the pale milk and dark froth. I treated my dalgona like a dessert: with a spoon and some crumbled biscuits.
Head of Marketing at Barista HQ
Head of Marketing at Barista HQ
Kayla Stavridis
Kayla Stavridis is the Head of Marketing at Barista HQ. She's been in the coffee industry for most of her career, where she developed a deep and intricate knowledge of various coffee blends and brewing methods, including dalgona coffee.
Recipe Substitutions
The Dalgona froth tastes really strong and, when it's instant coffee, it's not very pleasant. I wanted to soften the bitterness of my instant coffee, so I substituted the water for almond milk. When I whipped up my coffee, it was lighter, but still a glossy and thick foam. I made sure to use a barista almond milk, so that it would hold its structure. I was surprised, because almond milk can be temperamental in cooking, but I think the recipe is so simple, it's hard to go wrong.
I was interested to see how my cold brew concentrate (which I made using a Toddy Cold Brew System) worked in a Dalgona coffee. If you make cold brew, this is the coffee type I'd recommend for Dalgona. The whipped coffee is a really intense flavor, so when you minimise the acidity from instant or hot coffee with some cold brew, you can get a much more mellow, sweet drink. You also won't need as much sugar, making it a healthier option too.
Given that this is a drink that's packed with sugar, I wanted to try it with some sugar alternatives too. Trista Best, Registered Dietician, encourages you to enjoy this as an occasional treat, or with sugar substitutions. She cautions that it is a 'trendy drink, but it's important to note that it is a high-sugar beverage. Individuals with dietary resitricyons or concerns about sugar intake should consume it in moderation'.
I used stevia granules in place of sugar and found that they didn't dissolve as well, so I had some liquid at the bottom of my glass when I poured the Dalgona out to serve. If you have a blender, whizz up the stevia granules, so that they are a fine powder and you will achieve much better results. My Smeg hand mixer doubles up as a blender, so I used that. It's good to know that you can make a low-sugar option, you'll just need to work a bit harder.
Other recipes substitute the sugar for a liquid sweetener, such as honey, but be careful with liquid ratios and cut back on your water to avoid having to wait for a long time before your coffee is frothy.
Registered Dietician
Registered Dietician
Trista Best
Trista is a Registered Dietitian, Environmental Health Specialist, Adjunct Nutrition Professor, and Consultant with Balance One Supplements. She has worked in Public Health for 10 years. She also loves coffee, so is a balanced and informed voice amongst the TikTok trend.
Tips and tricks
If you're struggling with a burnt taste, there are a few issues that you could be facing. You might've burnt your coffee. Whether this is your water temperature or brewing method, make sure that you're not scalding your coffee; your water should be between 195 and 205 degrees Fahrenheit. You also might have chosen a coffee bean which naturally tastes bitter too, so opt for sweeter Arabica beans like these. Lastly, you could be burning the sugar. It's unlikely, because if you're burning the sugar, you'll also be burning the beans.
If your coffee isn't frothy and thick after 10 minutes, I would recommend adding a little baking soda. This I'll help your coffee froth and hold structure, but don't add too much or it'll taste soapy. If you're still struggling, Kayla Stavridis, expert from Barista HQ, recommends choosing a Latte Macchiato in the coffee shop. She says 'it's creamy, frothy, and has a similar visual appeal'. Other alternatives that she suggests are whipped matcha or whipped chocolate, where you substitute the instant coffee for matcha or hot chocolate powder.
Adding a pinch of instant hot chocolate will enhance the chocolate notes in your coffee. This is the trick that Zhen Zou, food blogger for Greedy Girl Gourmet, used when working at a biscuit factory in Thailand. 'If done correctly, you won't taste the coffee at all and will just get an intense cocoa flavor', so you can convert your coffee adverse friends to this brew too.
If you've enjoyed making whipped coffee, lots of recipe bloggers also make whipped matcha and whipped hot chocolate, all of which follow the same recipe, but with matcha or cocoa powder.
Food Blogger
Zhen Zou is a food blogger who specialises in Asian recipes. She's from Singapore, which was one of the first countries to popularize the Dalgona coffee, so she's seen it grow in popularity. Zhen makes Dalgona on a regular basis, so has all the tips and tricks you need.
Appliance Essentials
To make the perfect Dalgona coffee, it's helpful to have the perfect tools too. These are our top recommendations for making the most velvety, flavorful cup. All three products have been tried and tested by our experts, so we can personally vouch that they're the best on the market.
Easiest to use
As recommended by Kayla Stavridis, coffee expert, the Express elevated everything to do with espresso. It's technical and adjustable, without overcomplicating things. In fact, it's one of the best espresso machines in our guide.
KitchenAid Cordless Hand Mixer
There are some brilliant hand mixers on the market, but this is the best one that we've tested. It looks great, but it's also easy to use, cordless, and extremely powerful. You can't really go wrong with it, so happy frothing.
KitchenAid Electric Kettle
An electric kettle is the most precise appliance for brewing hot water for coffee or tea. This is the kettle that I have, because it has really good temperature controls. The fact that it looks stylish helps too.
FAQs
What makes dalgona coffee?
A mixture is instant coffee with sugar and water. Once you whisk them together using a hand whisk for 5-10 minutes, your coffee will be a thick foam, ready to serve over ice and milk.
What makes dalgona fluffy?
The sugar helps to make dalgona's signature cloud-like foam. You need to be patient and wait for it to form stiff peaks. It takes a while, but it's worth it.
Do you have to use instant coffee for dalgona?
You can use fresh coffee too. In fact, I preferred the taste of a fresh espresso in my dalgona. However, you'll need to adjust the recipe so that it doesn't have the wrong ratios. It'll be harder to froth if you don't use enough sugar.
Is dalgona coffee the same as whipped coffee?
Yes, they're both frothy light coffees which you can drink hot or cold. dalgona is just a name that has become popularized on TikTok, but lots of countries call it different names.
Is dalgona coffee worth the hype?
It's taken YouTube and TikTok by a storm, so has a lot of 'hype' to live up to. I enjoyed it as a treat. The velvety texture feels very indulgent, but dieticians cautioned not to replace your daily Americano with a dalgona, since it's a high-sugar drink.
Can I whisk dalgona coffee by hand?
Yes, although it will take you fifteen minutes rather than one. I spoke to bloggers who have made dalgona with a fork, so there's no excuse not to try it.
My verdict
This was a really quick coffee to make and I like that you'll probably have all the ingredients already in your store cupboard. It's more like a pudding than a drink and I wouldn't normally add 30g of sugar to my coffee, so I don't think I'll be replacing my morning brew with it, but it's fun to make. If you're having a special brunch or planning some fika time with friends, this is an easy way to elevate the occasion.
Sign up to the Homes & Gardens newsletter
Decor Ideas. Project Inspiration. Expert Advice. Delivered to your inbox.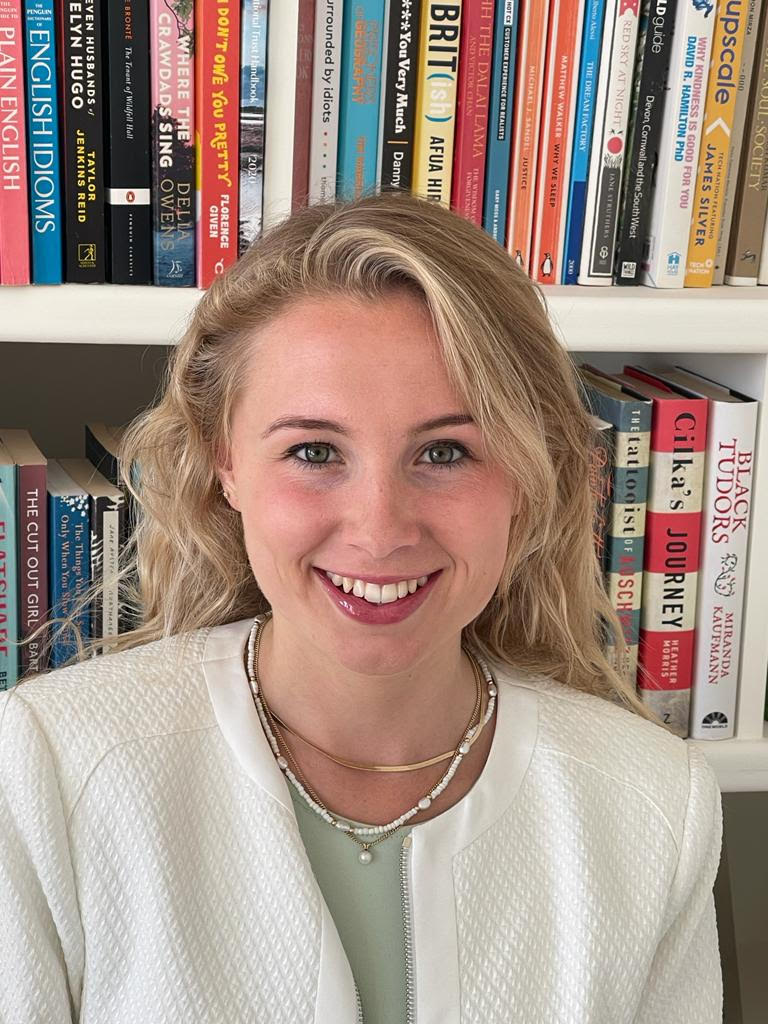 Laura is our eCommerce editor. Before Homes & Gardens she studied English at Oxford University. Alongside her studies, she qualified as a barista and trained as a master perfumer. This makes her our certified expert for all things coffee, candles, and fragrance. She has passed our five-step tests to become a certified Customer Advisor, making her our resident expert. Laura has worked for luxury retail brands, reinforcing the importance of quality and style over quantity and fads. She looks for products which have been designed with thoughtful finishes.