How can I make my powder room look expensive?
From statement wallpaper to a carefully considered color scheme, these are the most important design features to consider when creating a luxurious powder room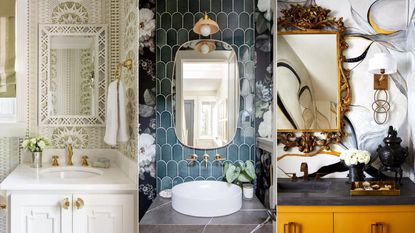 (Image credit: Liz Caan/Eric Roth / Knight Varga Interiors / Gray Walker Interiors)
Sign up to the Homes & Gardens newsletter
Decor Ideas. Project Inspiration. Expert Advice. Delivered to your inbox.
Thank you for signing up to Homes & Gardens. You will receive a verification email shortly.
There was a problem. Please refresh the page and try again.
A powder room may be small in size, but that does not mean it cannot make a mighty impact with its design.
Typically containing a toilet and a sink, and located on the ground floor of the home, a powder room is the perfect place to go all out with a stand-out, creative design that you may not have been brave enough to try in some of the other larger rooms in your home.
With some help from a collection of interior designers, we're here to show you how you can transform a simple powder room into a luxurious, impactful and utterly unique space – who says bathrooms should ever be boring?
How to create an expensive-looking powder room
From stunning sanitaryware to creating a layer of luxury through thoughtful finishing touches, ensure to make the most out of your small bathroom with our inspiring design ideas and expert advice.
1. Use an elegant mix of materials
Enriching a powder room with an elegant mix of materials will create a design that appears more visually appealing, stimulating and of course, wonderfully inviting.
'Layered details are the key to making your powder room look expensive,' says interior designer, Kelly Stone. 'Start with interesting flooring, and then layer on different textures patterns, materials and lighting. Add dimension to the base of the room by incorporating traditional wainscoting or board and batten. Above you can splash your personality atop with unique wallpaper – and don't be afraid to be bold! A powder room is your opportunity to step outside of your comfort level and stand out from the rest of your home by making it memorable.'
Brooke Spreckman, founder and principal designer at Design Hutch also suggests, 'finishing the wall with as many materials that feel beautiful to the touch, have texture, and provide a nice color story for what they may experience in a lesser amount through the home, are a good way to look at designing a powder bathroom. I always tell my clients that you will want to feel fully 'designed' in certain areas, so covering all of the walls will make the entire room feel completely finished.'
Interior designer Kelly Stone designs homes and businesses in the Las Vegas area and occasionally around the country. Recently named one of Las Vegas' Top 15 Interior Designers by Vegas Entrepreneur Magazine, and a new star of HGTV's Flip the Strip, Kelly's designs have also been featured by West Elm, Lulu & Georgia, and more.
Principal and Owner of Design Hutch Interior Design, Brooke Spreckman has been practicing Interior Design since 2013 in Los Angeles, San Francisco, New York and beyond; and has a diverse background in residential and commercial design.
2. Create a beautiful color scheme
A small space such as a powder room provides the perfect opportunity to be creative with bathroom color ideas.
When many of us approach a small room design, we are usually drawn to lighter and brighter room color ideas. Of course, if simple neutrals are more your thing, that is completely fine, but do not be afraid to lean into the dark side and embrace more dramatic, cocooning shades – especially for modern powder room ideas, as these more impactful, richer color palettes can work wonders in making a powder room look and feel more elegant, expensive and individual.
We explore classic mistakes made with powder room color schemes in our dedicated piece on powder room design mistakes to avoid.
As interior designer Artem Kropovinsky explains, 'colors have the power to transform a room from bland to grand. Darker hues, such as navy or charcoal, when contrasted with shiny brass or gold fixtures, can bring in an unexpected dash of luxury. For those favoring a more classic touch, sticking to more neutral room ideas with a mix of whites, creams, and beiges can also create a timeless elegance.'
Interior Stone Kelly Stone also advises, 'when sticking with lighter or neutral room palettes, it's even more important to incorporate additional layers, textures and patterns into the powder room. With moodier color schemes, sticking with rich shades and bold patterns is going to set a lovely luxe tone.'
Founder of NYC-based interior design firm, Arsight, Artem Kropovinsky has a decade of extensive global design experience, connecting a cohesive, collaborative team of passionate professionals, who work on interior projects in the U.S. and worldwide.
3. Incorporate plenty of layered lighting
Small bathroom lighting ideas should always focus on a smart blend of the stylish and the practical.
Sophisticated wall lights and pretty pendants can provide functional lighting as well as enhance a bathroom design with beautiful decoration – in a small space such as a powder room, multi-functional design is always key.
In this bathroom, designed by Megan Evans Interiors, a pair of eye-catching wall lights perfectly frame the large mirror, and elevate the powder room design with a sense of subtle grandeur and ornamental design.
4. Prioritize your plumbing fixtures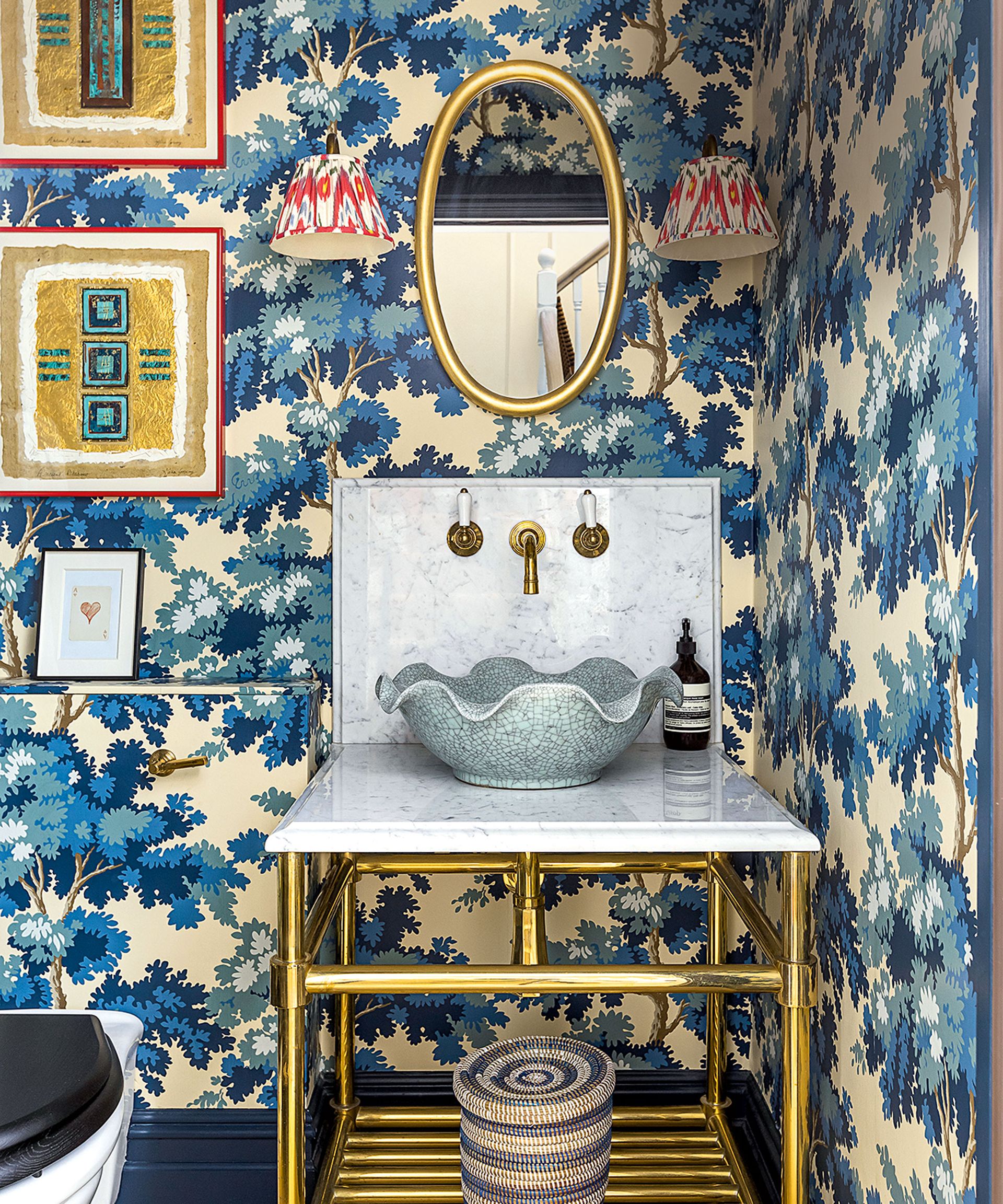 'When designing a luxurious powder room, make your plumbing fixtures into a feature. Unlike a standard bathroom, a powder bathroom really has one place to shine in regards to plumbing,' says interior designer, Victoria Holly.
'A gorgeous wall-mount faucet, for example, can act like a work of art. We also love incorporating a floating all-marble vanity with a custom marble sink fabricated out of the sample material. You can really see the attention to detail and sophistication.'
Your toilet and sink are going to take up the most space in your powder room, and, let's face it, are the central focus of the space, so in order to make the room look expensive, it's worth choosing beautiful (as well as practical) plumbing fixtures and powder room vanity ideas that can act as elegant design features within the space.
Victoria Holly Interiors is led by experienced designer Victoria Holly, who boasts an impressive reputation in the field of interior design. With over a decade of experience, Victoria Holly is known for her artistic skill, meticulous attention to detail, and exceptional talent for curation.
5. Dress the space in wonderful wallpaper
'Wallcoverings that pack a punch – whether in texture or bold pattern – are perfect for a small dose space like a powder room. We love doing chinoiserie or block printed papers in these rooms because they won't seem as busy in such a small space' advises interior designer, Ariel Okin.
There is no better place to embrace bathroom wallpaper ideas than in a petite powder room. As these spaces are often so small, a powder room can be a great place to start experimenting with wallpaper ideas if you've never used wallpaper in the home before.
Statement wallpaper will always work wonders in transforming a simple room into a more elegant space bursting with character, color and eye-catching visual interest.
Ariel Okin is the founder of her eponymous firm, Ariel Okin Interiors, a New York based, full-service interior design firm founded in 2006 specializing in luxury residential, commercial, and hospitality projects across the country.
6. Incorporate a magnificent mirror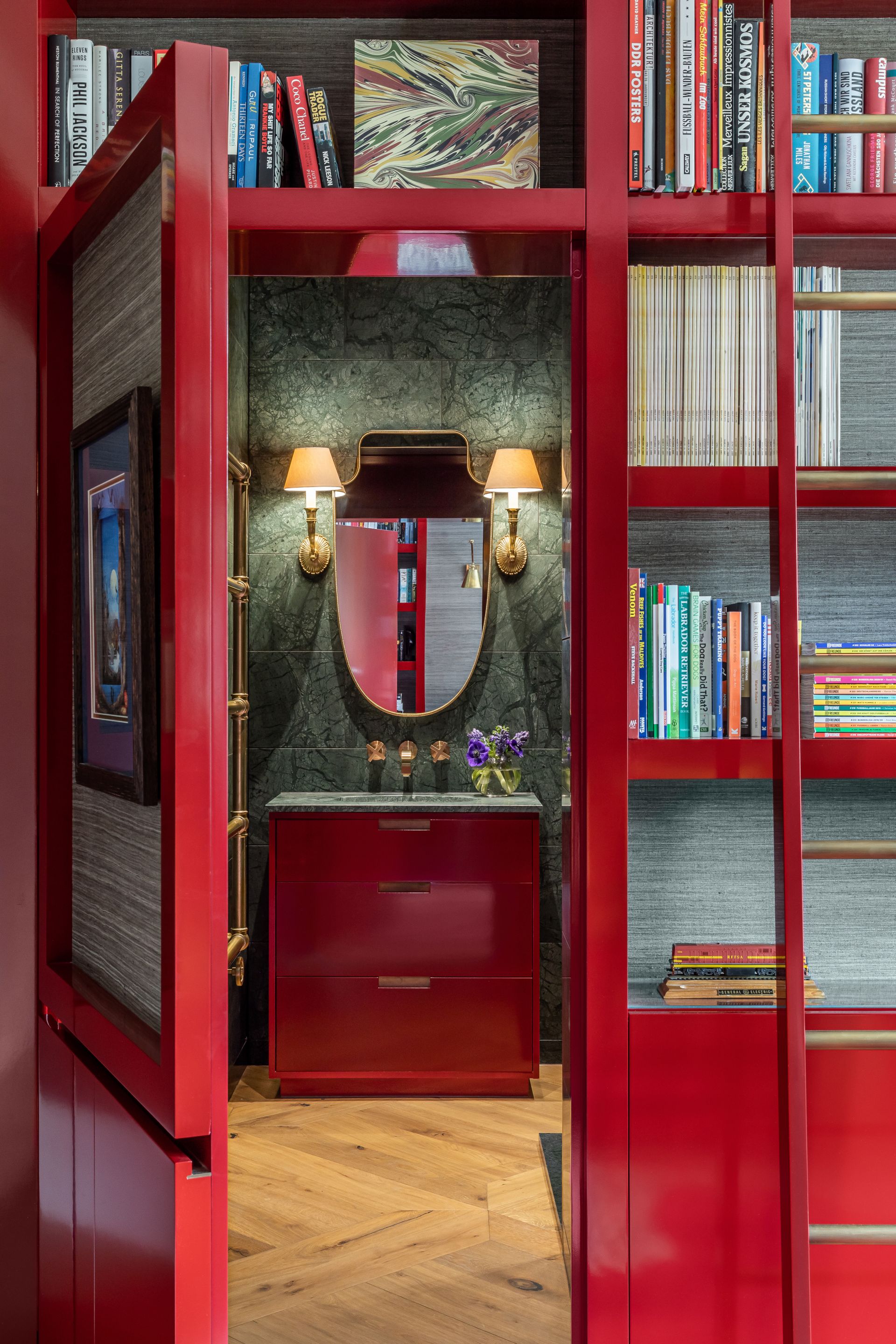 What's a bathroom without a mirror? After your sink and your toilet, your bathroom mirror ideas are going to have the next biggest impact in the small room.
Decorating with mirrors not only provides a place for you to check your reflection, but it can also help to make a room feel bigger and brighter and can introduce stylish decoration for powder room wall decor.
Madison Popper, founder of Chill Casa says, 'the biggest statement I see in powder rooms are the vanities, lighting and especially wall mirrors. Utilizing a large or unique wall mirror design can drastically change the vibe and feel of the small room. Not only will a mirror visually stick out to you the most, but it will also help to define the room and can add the perfect finishing touch to the overall room design.'
Based in Miami Beach, Florida, Madison Popper is the founder of Chill Casa Home, a leading interior design studio focusing on luxury residential design.
7. From artwork to hardware, don't forget the decorative details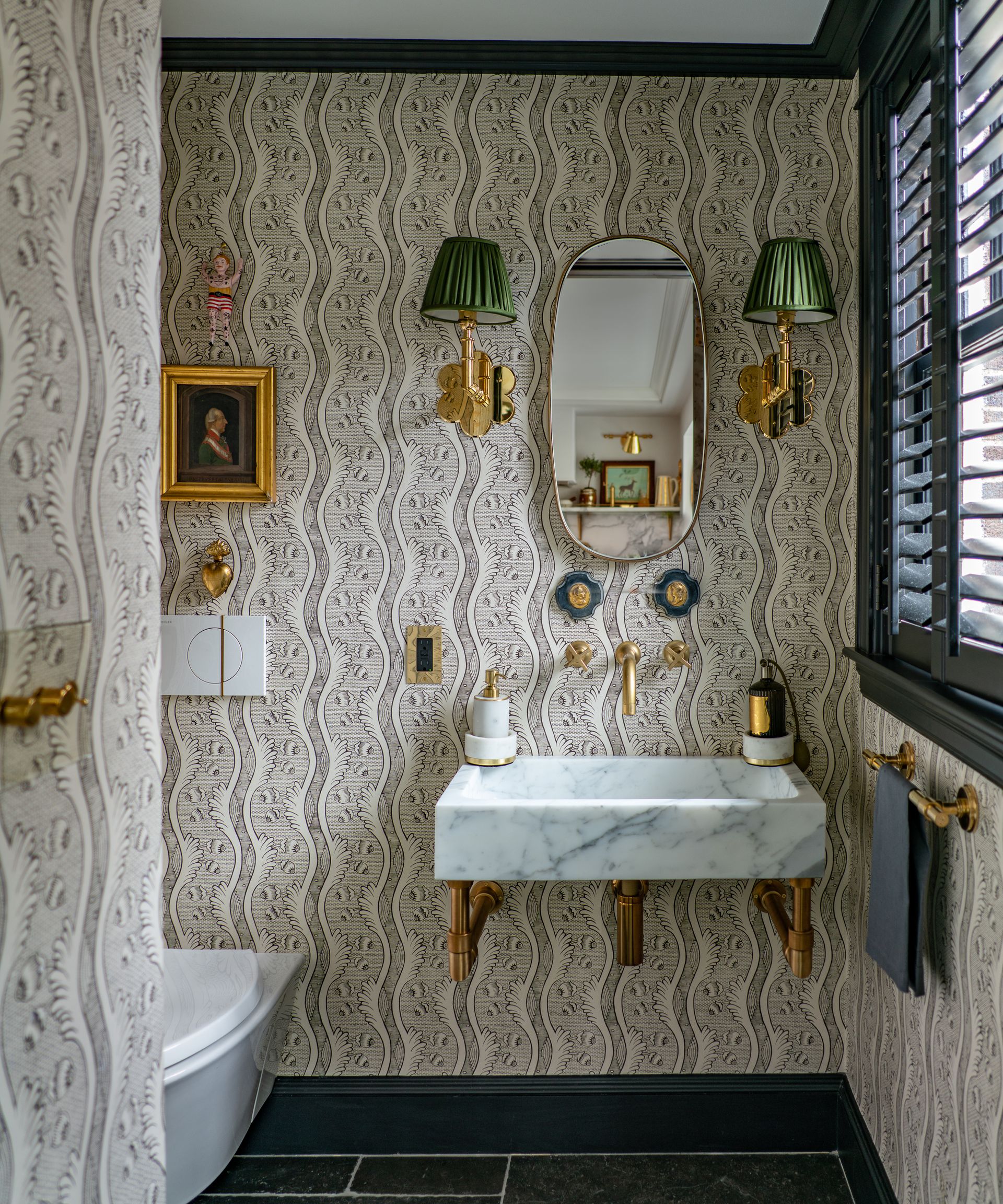 The final flourish of decorative accessories and ornaments, such as artwork, plants and vases, and design details such as stylish hardware and fixtures and fittings, are often the small touches that can tie a whole scheme together – and they will make the powder room feel more personal, unique and more than just a small bathroom.
Interior designer Artem Kropovinsky says, 'accessories can significantly elevate the ambiance of a powder room. Using high-quality towels, stylish soap dispensers, or an artistic mirror can infuse a sense of luxury and lavishness. Remember, less is more; try to avoid clutter and carefully choose items that add value to the overall design.'
Our powder room product picks
A frosted orb and gold leaf finish offer a touch of brilliance to the graceful lines of this sconce. The damp-rated design is perfect for layering light in a glamorous bathroom or powder room.
Undulating lines bring a warming, whimsical touch to this versatile piece, perfect for establishing an eye-catching focal point and design feature in a powder room.
FAQs
How can you make a small powder room look bigger?
As well as exploring how to make a small powder room look expensive, many of us would also like to know how to make these bijou bathrooms look bigger.
Embracing lighter, more neutral color palettes can often work to make small spaces feel more fresh, open and bright, but that doesn't mean you should always shy away from color.
Choosing a more dramatic, colorful design can actually work to distract the eye from the size of a space, so no matter your style, both light and dark schemes can help to alter the perception of the size of a small powder room.
Remember to choose your plumbing and furniture wisely, you don't want to take up valuable space with oversized, awkward fixtures and furniture. Choose pieces that can fit snugly into the room and complement the wider proportions of the space.
Also, be considered when it comes to your decoration and accessories – ensure the small space doesn't become overwhelmed with unnecessary clutter, as this will only serve to make the space feel small and claustrophobic.
For further insight, we explore how to make a small room look bigger in our dedicated feature.
How do you modernize a powder room?
A modern powder room is so much more than a small bathroom.
From a creative use of color, to thoughtful decorations and sanitaryware, the key to a contemporary look is embracing a stylish mix of materials and treating the small space with same amount of thought and attention to detail as you would in any other room in the home.
As we have explored in this piece, choosing a beautiful color scheme, and enhancing the space with unique decorations and alluring lighting are just some of the ways you can make a compact, often neglected basic bathroom into a modern, unique and stand-out space in your home.
---
'The key to luxurious design lies in intentional minimalism. For a powder room to look expensive, every item must serve a purpose and evoke sophistication. This does not mean every item must be pricey, rather, it's about curating a feeling of richness through thoughtful selection,' says interior designer, Artem Kropovinsky.
A powder room should never be underestimated. These small spaces provide a creative canvas for a whole host of decorating ideas, and by making even the smallest rooms look and feel more expensive and luxurious, you can help to set an overall tone of luxury throughout your whole home.
Sign up to the Homes & Gardens newsletter
Decor Ideas. Project Inspiration. Expert Advice. Delivered to your inbox.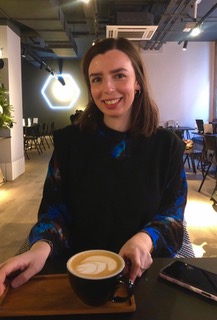 Zara joined Homes & Gardens in February 2022 as a Content Editor. After studying English Literature at University, she worked as an Ecommerce Website Editor, Content Writer and Buying Intern at multiple independent businesses within the luxury retail and lifestyle sectors. Her role at Homes & Gardens unites her love, experience and passion for the world of design and desire to create inspiring written content. She enjoys nothing more than discovering new trends, brands and products, whether that be in fashion, interior design or lifestyle.