Modern powder room ideas – 10 designs to inspire your next remodel
These modern powder room ideas will turn an unused area into a beautiful yet functional space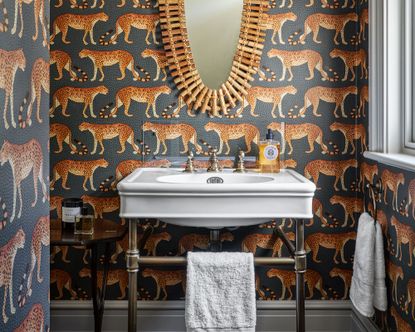 (Image credit: Studio Indigo / Davide Lovatti)
Sign up to the Homes & Gardens newsletter
Decor Ideas. Project Inspiration. Expert Advice. Delivered to your inbox.
Thank you for signing up to Homes & Gardens. You will receive a verification email shortly.
There was a problem. Please refresh the page and try again.
Modern powder room ideas are a smart and contemporary addition to any home – no matter the size or style. Whether you're planning an under-stairs conversion, a new use for an unused mudroom or an extension, a powder room is always worth the extra investment.
Not only will a modern powder room add value to your home, it could also be particularly handy when you're entertaining friends and family. A well-designed powder room will punch well above its weight in terms of household usefulness.
These contemporary bathroom ideas and half bathroom ideas for your downstairs WC will help you revamp an existing powder room – or make the most of unused space with an additional loo.
Modern powder room ideas
For powder room ideas that really work in a contemporary space, choose from a host of statement fittings, introduce bold color or playful wallpaper – or layer up the textures, and enjoy the chance to experiment with options you might be a nervous to try elsewhere. The decorating possibilities are endless when it comes to the best modern powder room ideas and designs.
1. Use tiles to add interest and intrigue
'A powder room often has limited floor and surface areas, and a small-scale tile is a great way to introduce a sense of personality to what is a predominantly small bathroom space,' says Katie Lion, interior designer at Kitesgrove.
Much like paint effects, the bathroom tile ideas you choose can alter the look of a powder room, making it feel bigger than it actually is or adding visual interest to a dull space. Unlike paint though, re-tiling a modern bathroom can be costly, so it's important to choose a design that you won't tire of too soon and will last you for years to come.
Here, the repeated geometric shape of these tiles are softened by the pale grey bathroom color palette, meaning it will not become too overwhelming on the eye. 'Rather than tiling all the powder room walls, we repeated the same tiles in the storage nook to make it feel cohesive – but not overly busy.'
2. Get the lighting right in a powder room
Smart powder room and bathroom lighting ideas are an integral design element that should be planned at the start of a project. When it comes to powder rooms, light fixtures and fittings are built into the very fabric of the room, providing not only bright, general light to help with tasks such as shaving, but also ambient light for mood, which may involve a number of applications.
'Try using a pair of angled warm-white light fittings set into the ceiling above the mirror – their recessed reflective lenses mean you can't see the light source – and no shadow is cast over your face,' says Lucia Caballero, creative director of Caballero.
3. Plan a symmetrical layout
The view when you enter is a good starting point for a modern powder room design. Choose one key piece, be it a statement basin or a striking vanity unit and, if the proportions allow, plot a symmetrical layout, perhaps aligned with an architectural feature such as a window.
'We chose to frame a window in front of the vanity instead of the more traditional mirror,' says Lisa Staton, founder and principal designer at Lisa Staton. 'A round mirror was then integrated into the paneling on the right hand side of the vanity.'
'While the silhouettes in this powder room are mostly modern, the natural materials keep it feeling warm and inviting. This includes Carrara marble, white oak and unlacquered brass.' A powder room is a good chance to use more luxurious materials, since you will require less of them.
4. Experiment with color, pattern and texture
The smallest room in the home is the perfect space to experiment, so don't be afraid to emphasize small spaces like cloakrooms and powder rooms.
'I like to think of powder rooms as 'jewel boxes', where there is something fun and unexpected, and a bit luxurious,' says Jamie Ivey, owner and creative director at Ivey Design Group. 'This is the one room in the house where you can prioritize aesthetics first and functionality second. I always tell my clients to amplify their decorating choices in a modern powder room.'
5. Put the focus on timber
Look to the beauty of natural timber for warmth in a modern powder room. Wood is now the material of choice for its natural beauty and sophistication; it conjures the quiet luxury of a spa. There are many ways to introduce timber to your scheme, from a simple timber-fronted vanity to statement wall paneling. Wood is now the material of choice for its natural beauty and warmth; it conjures the quiet luxury of a spa. There are many ways to introduce timber to your scheme.
'This powder room design is modern at its core,' says Lindye Galloway, founder and chief creative office at Lindye Galloway Design Studio & Shop. 'Here, the teak wood backsplash spans the entire wall from floor-to-ceiling in a chevron pattern centered on the faucet. All elements cohesively go together to make for a relaxing yet simple and stylish look.'
6. Invest in modern materials
Statement powder room wall decor ideas are beginning to incorporate the raw unfinished beauty of plaster and concrete. In their exposed, uncovered state, both plaster and concrete have a bold, utilitarian quality, and an almost brutal sophistication.
'I chose a concrete finish for the walls to give it an industrial and modern style,' explains Olga Hanono, founder and principal interior designer at Olga Hanono. Concrete, in particular, is a versatile material that can be cast into shapes and slabs, or poured, smoothed and polished. It's suitable for floors, walls and even part of the powder room itself if it's an industrial look you are after.
7. Choose compact fittings
There are lots of bijou basins but not all are fit for purpose. Look for a bowl with enough space to get two hands under running water without soaking the surroundings.
In this space, designed by West One Bathrooms, the placement of wall-mounted taps prove more space efficient that surface-mounted. If more bathroom storage is what you are after, consider keeping the furniture wall-hung to create a sense of space and give a sleek, 'floating' look. Wall-hung sanitaryware will leave the floor visible to create the impression of a much larger room.
8. Use wallpaper to full effect
Just as in traditional powder rooms, bathroom wallpaper ideas are a wonderful way to add color, pattern and interest to your powder room – no matter the size.
Wallpaper is more commonly used to decorate bedrooms and living rooms than other spaces such as kitchens and bathrooms. However, technological advances mean that some wallpapers can endure the humid conditions in these rooms and – as a result – have recently become more fashionable for creating more decorative powder rooms.
'Here we used a palm wallpaper pattern paired with a vintage style sink for a modern interpretation of a classic powder room,' says Jessica Nelson, principal interior designer at Etch Design Group. 'The brass sconces and curvature of the mirror really elevate the design.'
9. Play with color in a modern powder room
Bathroom color ideas – and in particular, sanitaryware, is set to be one of the biggest bathroom trends this year. Be it subtle nods or a full-on carnival mode, bold hues will raise the style stakes in a modern powder room.
Sugary pinks and dark florals look strong and dramatic, a winning combination in a small powder room. Dilute the sweetness with a punch of gold brassware and a statement black loo.
Take advantage of the increased availability of custom-colored finishes, like this striking bespoke design from West One Bathrooms. You may have to pay a surcharge for non-standard colors but it's worth it to achieve a beautifully balanced scheme.
10. Embrace maximalism in a small space
The maximalist bathroom trend is all about embracing excess. More might be more, but the current trend for maximalism doesn't equal mess. Think of your powder room as a carefully curated Aladdin's cave of treasures, with each item on showcase even more fascinating than the last.
'Some of our favorite powder room designs come from the Allbright Club project, designed by Suzy Hoodless,' says James Lentaigne, creative director at Drummonds. 'We love how beautifully she has introduced bold, decorative color and pattern – it's maximalism at its best. Powder rooms should be infused with personality and character, and embracing daring prints and colors is the way to go.'
What do you put in a modern powder room?
Before you decide on a look and materials for your modern powder room, analyze the current space and think about how you want this room to function. Draw up a list that takes into account the individual needs of all users and how their requirements might change in the future.
'A modern powder room design will help your space feel inviting and relaxing; beautifully decorated but never at the expense of the room's functionality,' says Louise Ashdown, Head of Design at West One Bathrooms.
At its most basic, a modern powder room should have a loo and basin with space to move between them without bashing limbs. If there isn't an opening window, you'll need to install an extractor fan to comply with building regulations. Switching an inward opening door to outwards – or installing a pocket or sliding barn-style door can dramatically improve spaciousness in a small powder room.
Sign up to the Homes & Gardens newsletter
Decor Ideas. Project Inspiration. Expert Advice. Delivered to your inbox.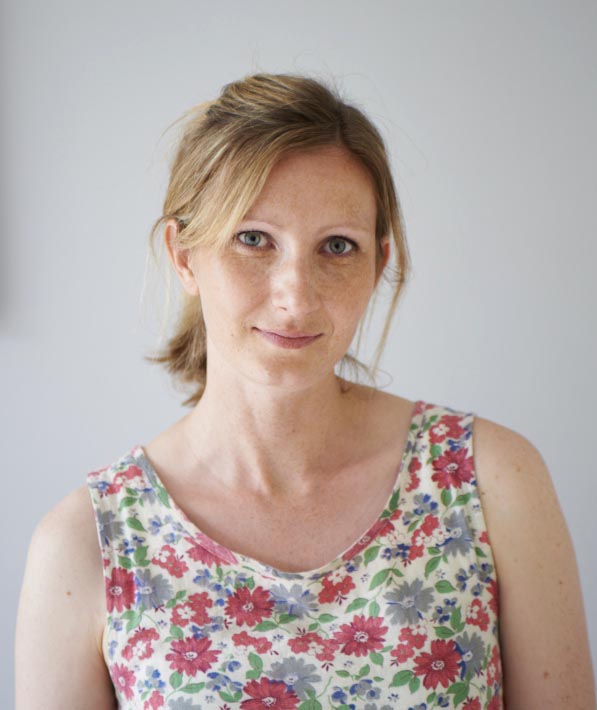 Sophie has been an interior stylist and journalist for over 20 years and has worked for many of the main interior magazines during that time, both in-house and as a freelancer. On the side, as well as being the News Editor for indie magazine, 91, she trained to be a florist in 2019 and launched The Prettiest Posy where she curates beautiful flowers for modern weddings and events. For H&G, she writes features about interior design – and is known for having an eye for a beautiful room.